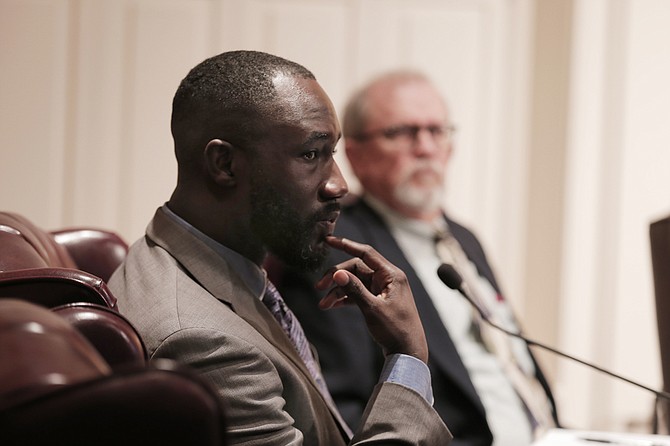 JACKSON — This includes the transcript of the full interview with Mayor Tony Yarber.
Mayor Tony Yarber is different this time around. During his first run for the job vacated when Mayor Chokwe Lumumba died in 2014, a bunch of urgent business suits surrounded and handled him amid a certain amount of arrogant campaign chaos. He and his entourage tended to get irked about tough questions to the man running to lead Mississippi's capital city.
Yarber quickly became white Jackson's candidate then—among a demographic that tends to vote as a bloc here—and combined with strong black support defeated both attorney Chokwe Antar Lumumba and state Sen. John Horhn, who are running against him again this year.
Now much has changed, and Yarber acts like a man who has weathered many storms and doesn't have a lot to lose. He has lost people along the way, including his most generous supporter last time, businessman Socrates Garrett, after city-contract politics plagued the mayor's first term.
Yarber is running against 15 candidates, four with strong name recognition. Horhn signs are dotting yards in whiter parts of Jackson, and Ronnie Crudup Jr. is likely drawing many in the Garrett corner. Lumumba, who has built grassroots support since his last run, polled in March as the front runner, and Hinds County Supervisor Robert Graham is looking to be a spoiler as he presents himself as a grownup in the room who knows government.
No doubt, Yarber has lost political capital, due largely to scandals generated by two ongoing lawsuits alleging sexual harassment and serial infidelity with staff members, mixed with allegations of inappropriate parties that a controversial campaign supporter from Atlanta, Mitzi Bickers, allegedly threw for him and other staffers.
Many voters also blame Yarber for an administration that seems disorganized at best and poorly led at worst with high turnover, including among directors, several of whom have been less than impressive. Then there are budget woes, streets with unmarked deep potholes that are busting up people's cars, and all those contract spats between Yarber supporters and haters.
Yet, under fire, Yarber is relaxed and much easier to talk to now, owning many mistakes while denying salacious allegations against him and a widespread rumor about his wife. He points to progress in the city, while admitting openly that he struggled to manage his administration well early on.
The mayor showed up recently alone late on a Friday to sit in the JFP's Zen Den, casually dressed in jeans, sneakers and a classic Forest Hill High School Rebels T-shirt (they're now the Patriots). The mayor laughed, gestured and talked for almost two hours about his first term and what he will do differently, if re-elected, in a conversation that he laughingly referred to as "therapy" as the sun went down outside.
So you're running for mayor.
Yeah. (Both laugh.)
What's different about running for mayor this time around?
Several things. The first time was just like a blur. I didn't feel like I was in control of anything. I was handled a lot. Go here, be there, go there. I lost 25 pounds in a month and a half. This time I do have more control. I get to control who I call for money, OK. Now I do real call time, so I ask people for money, and I get to look at the call time sheet and say, "No, I don't want to ask him for money. No, I don't want to ask her for money." Last time, I didn't really do call time. ... Folks just went and got money. Interestingly enough, I was looking at my call sheets from last time and saying, "who is this?" ... I didn't know a lot of people on the call sheet.
That's on the campaign side. On the policy side, I own the policy now. It's different because—and I've been saying this on the stump—this job is more than a notion. You can't wake up and because you want to be mayor, think that you can be mayor. There's not anything that can be brought up that I can't directly answer, not one question that can be brought to me ... as it relates to policy and the things that affect the city. I don't have to deflect, I don't have to go negative, and I don't have to start talking about other people. I can speak directly to the issue.
The last campaign, I struggled with that at times because certain things you just don't know unless you're sitting in the seat. Most importantly, this time I also control my circle, the people who are closest to me during the campaign. It was crazy. People in and out; everybody's your buddy. I've done a lot of growing in two years and 11 months.
Were you ready to be mayor when you ran before?
No. Because it's one of those jobs where you don't know that you're not ready until you're doing it. The job has so many faces, so let's say you're a great attorney, right, well, you still got human and cultural services that have nothing to do with being an attorney. It's got to do with people and the human touch, making sure Meals on Wheels are getting to the right people, those kinds of things. Or you're a high-school or middle-school principal. Well, that doesn't necessarily to prepare you to deal with legal briefs.
... Most people are ready based on whatever their prior history is, previous experiences, and that's it, as far as it goes. That might take you to three departments out of all of them, but it won't carry you through every last one of those departments. You have to learn those things. There are nuances that coincide with the science of the job, too ... what I've learned is why it's great to have data; it's so much more important to know how to communicate the data. I don't think that we did a good job at all of communicating data, communicating great things.
Now I'm in forums, and I say things like, "Well, the city's unemployment rate went from 7 percent to 4.2 percent under our watch, and we can tell you several of the reasons. ... Here's why." People are saying, "Really? I didn't know that." And I'm thinking, "Yeah, we did that."
No, I wasn't ready. Now, I was ready to lead; I think there's a difference. But walking in and owning every facet of the mayor's job, no.
It sounds like you think you didn't make enough of your own decisions.
You've got to consider a few things. Mayor Lumumba had just died. Everybody was grieving. I was grieving. I was trying to make sure I did the very best job of, I don't want to say picking up where he left off, but I thought that a majority of the city saw him as their leader, so wherever he went, at least 70 percent of the city would follow. I'm looking at those huge shoes, and I'm thinking, "Uh, I can do this," but it wasn't as easy as I thought.
To be honest with you, he was only there eight months, and there were things that happened after him that would've happened anyway.
Lumumba had remarkable support, considering what many people thought before he got there, especially among white people. I was fond of saying that, for some of them, the other shoe would fall at some point. Not that he was doing anything wrong, but that some people wouldn't like it. He was in a honeymoon stage.
That's what I mean. You said it perfectly. I wanted to be able to carry on that honeymoon stage. Things happen so fast. I can remember getting up at 4 in the morning, getting home at 10, 10:30 at night, then do it all over again. Feeling like I had to be at every meeting, every event ... every Girl Scout program, which would leave a lot of things for other people to make decisions about.
You don't learn what your real priorities are until you get on down on the street. You can say, "Here's what what we're going to focus on." You get started, and you think that's not what I need to be focused on, but you don't realize that for another eight months. Then you say, "You know, I really need to pay attention to this."
I'll give you an example: People were really critical that I wasn't just out front about the airport. I was critical that people weren't as loud about the wastewater situation in West Rankin. I'm all at DEQ (the Department of Environmental Quality), we're having hearings, they're granting permits, about to cause the city to lose a major customer. I'm thinking, "Where are the cameras, the lights, the activists, where are all these folks?"
I had to learn over time what had to be a priority for me. The airport, while it was a priority, makes $50,000 (a year), and it's not even a major funding source for the city. That wastewater, that's an enterprise, hundreds of millions of dollars. You got a hundred warriors on the battlefield for the airport, you don't need Tony Yarber. You've got De'Keither Stamps, who is a warrior like no other. Turn him loose, and let him go get it. I'll handle this wastewater deal. Of course, it's not as sexy ... but it was a priority that I believed I had to make for the city of Jackson. That's what you do. Over time you recognize the priorities, how do I focus on those priorities and create kinds of things that help us measure those priorities, look for kinds of priorities you anticipate.
Again, that doesn't happen overnight. Two years and 11 months, and I still have ah-has. Maybe we need to consider this way, that way. Almost every area I can point you to there are now positive trends where there were negative, whether small increments or major gains.
You have an opponent in the Legislature who was fighting the airport battle (Horhn). When they were having a big airport vote, you were at a political thing with Bill Clinton at CUPS. I've heard people say you don't have a great relationship with the Legislature.
Well, right now the Legislature is considering this Capitol Complex Bill, and the bill is a merging of an idea that I had along with former Mayor Kane Ditto about how we get funding to the capital city. This is, of course, a tax diversion. It's on the verge of passing.
Why is it passing this time?
I've been working relationships. Primarily (Chief of Staff) Jackie Anderson-Woods with (city lobbyist) Worth Thomas; she's been at that capital almost every day, getting it done. ... We did a legislative reception last year. The City hadn't done one of those in forever; we partnered with the chamber to do it. We sat down with the Hinds County delegation and did literal workshops with them about our legislative proposals. We didn't do that this year because (legislative liaison) Synarus (Green) transitioned away ... but we did the last two years.
Last night at the forum, three of the candidates talked about people they can just call. I've got his number, too. I can call the governor, the lieutenant governor, I can shoot a text to the speaker of the House, and they'll respond. I don't do a lot of hobnobbing. I have three children; I have a son who is active. He just won second place this morning at Jackson State for the science fair. I was at Jackson State with my son. I may not be at Johnny T's, so that may be the perception.
Can you give an example of a relationship with a legislator or state official that has improved as a result of your work?
Well, yeah, I would have to say the top three. I'd say the governor, the lieutenant governor and the speaker because I don't think that any of them can say that any mayor has visited them as much as I have over the last two years and 11 months in a long time. Because I get up there, and I see them on various issues.
What has been your biggest lesson to date as mayor?
My biggest lesson is probably getting the right people on the bus. You've got to get them in the right seats on the bus. That's a little ("Good to Great" author) Jim Collins, I think.
You mean staffing and supporters?
Yes, that's exactly what I mean. The job is too big, number one, to leave to chance that the people around you are going to get it done. It's also too big for you to try to do it all by yourself as well. It has to be this optimum level of trust in the skill sets of the people that are around you. There were staffing decisions that I made because I had to make a decision. So if I had to say anything, going forward, I'd rather have nobody than a nobody. That make sense?
Yeah, I've been there.
Before, it was like we've got to get somebody. The first people who raised their hands, you figure out who you could live with. In a second term, I'll do it myself until I find that person who can get it done for me. In that, too, I think I'd also want to be sure that the people around me (can do the job)—not saying this about everybody; some were great, and some evolved. Justin Bruce has evolved into a beast. If I clone Justin 10 times, 80 percent of the city's problems could be solved in five years. But you can't clone Justin ...
Or Imani (the JFP photographer in the room) ...
Or Imani. I think that's the biggest thing I learned.
There's a sense now that people are jumping ship in your administration. There are open seats, pretty high up. I'm curious who among your department heads will definitely return.
As far as jumping ship, I don't think there's anybody. Take for example Gus McCoy (former chief administrative officer). Gus has got a brand-new baby; he had an opportunity to go and make more money in a job that would give him more stability than this staff. He and I talked about it, and I encouraged him to take the opportunity if it arose because people will hail you and then they'll nail you in this. If you're not prepared, then you're out there. ... I encouraged that. (Director of Economic Development) Jason Goree is no longer with the city. Jason comes from the private sector, and he was used to making certain kinds of money.
Where did he go?
Private business. He still lives in Jackson. He had been telling me for the past year and a half, "Boss, I ain't making no money." Well, welcome to public service. It came down to him making a decision about his family and the money. We thought we'd be able to compensate him better, and we weren't able to do that. He said he was working on an exit plan, and I said let me know and give me another month before he did anything, and that's what he did.
Who will be back if you're re-elected?
We want to evaluate everybody, but I can tell you right now that my fire chief is my fire chief, my police chief is my police chief. We'll make decisions about everybody else based on evaluations. We started doing performance evaluations on directors and deputy directors in the last year and a half. I decided I would do that after I made the decision to part ways with the former police chief. ... I need to be able to sit and show people here's why we need to go in a different direction. ... We've got some people under evaluation that if decisions had to be made, some of them wouldn't come back based on evaluations.
Let's talk about crime. I'm super interested in this subject.
I know.
First, set the scene. How have your views about lowering crime in the city changed or evolved since you've been mayor?
They've not changed. I came in saying that we've got to do a better job of community policing, of crime prevention, where we're spending less time responding to crimes. That's still where I am. The data say we're decreasing, that's fine. What our problem is, the entire city, every department, is we spent the last two years, 11 months triaging this city. It's hard to triage and be proactive, and implement these amazing programs, and keep a careful watchful eye on them when you've got cuts and bruises you're trying to mend, bones you've got to set. Same thing with the police department and the crime. Crime's going down, but we see our people killing each other.
So while I can say the chances of you having your property stolen or torn up has decreased drastically, we still got a long way to go helping people find a way not to shoot each other or stab each other. My views haven't changed; my frustration is still the same.
Now, I pump up the police department; I laud the work that the chief does. I think we've got a ways to go to turn the corner on our innovation in terms of crime prevention.
Talk more about that.
I just think that—the chief and I have talked about this—policing is more than beat cops and riding around with blue lights. I think it's about being innovative enough to have those beat officers engaged in community development and building. What that looks like for me, it has to do with not just using data but also using relationships. So I think we've got to figure out a way to really connect police officers with the people in the communities who people trust. These are the movers and the shakers who people not only trust, but they respect them. They've got to have a combination of street cred as well as community cred. Street cred doesn't mean I have credibility with the old lady down the street; she probably sees me as a terrorist.
We've got to figure out a way to connect the beat officers with those people. We've been doing a great job during these COPS meetings on Thursday night. Now it's time to look at how we morph those COPS meeting. Now, it's all about y'all come here. We've got to get us to go there into the communities.
We've got a lot of room for innovation. You've introduced us to some people to help us with that. We just started a great conversation, dialogue, partnership with Cities United to help us, too. Cities United assists cities that are having issues with crime, with programming. They interview and talk to people in the community, neighborhood and folks engaged in the criminal-justice process. Then we determine our priorities: youth violence, recidivism, whatever it is. They would work with the City over time to implement programs they helped develop somewhere else. These are community-based programs, not police.
What has the police department done to better build relationships with people they serve?
Police officers actually canvass now: knock on doors, put leaflets on doors. Apartment managers come together; police officers get to hear what's going on in the apartments. I've had an opportunity to go and canvass with the officers. Folks open up the doors, and it's a police officer inviting them to a meeting, saying we're giving them the opportunity to have their home assessed for safety: You need more lights here; your door is not jamming appropriately. Those are things the chief implemented. You know about the PALs (police athletic league) program; he didn't implement that, but that's been great under Chief Joseph Wade.
What about rebuilding relationships with the kids who are most at risk? What happens with them?
To be honest with you, we're going to have to rebuild, in my opinion, our relationship with Jackson Public Schools and their police department. That's just me being transparent because JPD has taken a hands-off approach (with JPS). Since that is JPS' jurisdiction, we kind of sit back and wait for almost an invite. It ain't about figuring it out. We've just got to make it part of the ring of priorities and say we're going to re-engage the school system.
I'd love to re-engage Officer Friendly. Perry Martin was Officer Friendly when I was in elementary school, and I loved to see Perry Martin come in. I didn't know his name was Perry Martin until I got on city council. He came in schools, talked to classes or auditoriums full of children. Officer Friendly's job was to help children understand certain things about safety; let them know police officers were their friends. Anybody from 35 to 55 years old, if you were in Jackson Public Schools, you know Officer Friendly.
It's pervasive among a lot of teenagers of color in Jackson that the police aren't there to even save them from the other kids around them. They believe that they have to carry guns for self-defense. What do we do about that?
I don't know. I think it goes back to everything else: You've got to engage people where they are. Everything's about relationships: the police officer that's big on social media. Know who I'm talking about, Imani? White guy, bald head, gets out and plays basketball with the kids. He's like America's super-cop. Children trust who they trust, and they only trust you if you engage them in a trusting way.
We've got to figure out how to get officers out of beat cars, but that's hard because if folks don't see cars going around, bad guys assume it's OK to do what they do. When I was on council, they had just purchased Segways. I remember asking Vance, he was the assistant chief then, if y'all were going to use any of these in south Jackson. He said no; due to safety, Segways were mainly for places with sidewalks. So, I say, areas in Jackson with sidewalks don't need extra police officers!
My point is getting officers out of cars gives them the opportunity to engage with people more often. Get them on bikes, on Segways. I know we don't have sidewalks in neighborhoods like mine. Children are riding bikes all the time without sidewalks. If we can figure out how to get (officers) out of cars, they start engaging with kids. You ride up, see a bunch of boys on the corner, you know they have dope on them. You don't always have to address the dope. You can engage the kid.
Jody Owens' dad, Jody Owens Sr., he worked at Terry (High School). Mr. Owens taught history; he was 15-year assistant principal there. My third day on the job, I walked in and he said, "Mr. Principal, if you want to do this job and do it well, you've got to win these kids. You win the kids, you win the parents, and you win the community."
My first day, kids were getting off the bus, and the boys had earrings in. That was a no-no where I came from. You don't wear earrings to school. I was yelling at the guys, and it got back to Mr. Owens, He said, "You've got to win the kids. You're making a problem that isn't a problem." I stopped fussing about earrings, pants being pulled down. I started fussing about grades, cussing in the hallway, things that really mattered. Next thing I knew my office was the hang-out office for the kids.
Now, that's why I've got a police chief, and he's got people who should be able to take that vision and turn it into a plan. If he can't do that, that's a different story. That's what I mean by evolving over time. You realize you get the right people on the bus, understand what your vision is. How I see it is officers in cars, and on bikes, and riding on Segways. If they're riding up to the corner with a group of kids, you're not there to make an arrest but to assist: "Y'all behave." I don't have to say, "I know you got some weed on you." "Alright Officer Friendly, see you later," the kids would say back.
That is my vision. The chief said, "I love it, but you've got to get me some money." I love it or X, Y and Z. Prayerfully with this (Capitol Complex) bill, 15 percent off the top goes to police and fire. We'll look at how to use that money for innovative things. For me, innovation doesn't mean technology; it means using what you have to get better outcomes. ... It's not just about ShotSpotter (gunfire detection tech); I've heard people talking about that. And I just heard about legislation that buying silencers is going to be legal.
We've talked in the past about the fact that police often can't prevent crime? How do you lead on getting a systemic approach going?
My plan on crime starts with education. You'll hear us talking big time about bringing these daycares together to create this Project Read around the city. That's where it starts.
(I also admit) we lost our way. We were doing listening tours, and somewhere along the way when things started getting hectic and the honeymoon was over, we got tunnel vision and forgot about certain things. I want to engage the community and talk to them about this vision, about officers being engaged in the community. Get the community folks telling us, "Here's how we want to see officers in our neighborhoods."
The idea of how we do public safety in the city becomes not just Tony's ideas but what everybody has determined they want to see for their communities. What people have been revolting against is making their neighborhood where all the roadblocks happen. The officers may have been extremely successful getting felons off the street, but that can't be all that we do.
We're going to talk in tandem about this holistic approach to crime, and use our CDBG (Community Development Block Grant) funds for what they really should be used for, not just on infrastructure and economic development, but on development of community centers, making sure children have safe places to go in neighborhoods. If we'd use CDBG money right, we could either build or renovate a community center every year if we do it right. We haven't had time to sit down and make that the priority if that makes sense.
A recent poll showed you polling low. People are complaining about the lawsuits and the scandals. How do you convince Jacksonians to vote for you despite all that?
Really, the election is about whether or not people want to virtually start over or they want to continue with the progress we've started. This job is more than a notion. If we change mayors now, I am telling you, whoever the mayor is, they've got two things to contend with. Number one, are they going to run with my plan that's getting stuff done—streets, all of those things? Or, are they going to start over, create their own plan? If they're going to continue my plan, are they keeping my people to do it? This election is about who's pumping the brakes or continues to move forward.
The thing about polls, it depends on questions, what you're trying to get out of the poll. People thought I was dead in the water until we started having these forums. You get in these forums, and you hear questions asked of all the candidates: "If elected, will you ...?" They say, "If I'm elected, I will ...," They get to me and I say, "If I'm re-elected, I will continue to. Here's how we'll scaffold on that." This isn't something we will do. ... We're already rolling with it.
The lawsuits are extremely unfortunate, particularly in one of the lawsuits where I'm accused of firing because I was denied sex, and I wasn't even in the city. It's unfortunate I'm getting sued, and I wasn't even in the room when you got fired; I didn't know you got fired. As a matter of fact, I only knew she was fired when she called and told me she was fired.
For me, that's unfortunate that I'm accused of pay-for-play when probably more people who gave to my opponents received contracts than people who gave to my campaign. How that works, I don't know. That's unfortunate, but it is what it is. What's not happened is that we stopped working; we haven't been distracted. At no point does our data say that Jackson got off track because of the lawsuits. No point.
We also convince them by pointing at surrounding cities and towns, saying, "Look, everybody talks about Madison, Clinton, those other places, but ask yourself: What do they all have in common? Leadership that's been there long enough to effect change." Jackson hasn't had a stable, two-term mayor since Harvey (Johnson Jr.) (lost to Frank Melton) in 2005, long enough for anything to stick. So how long has Mayor Hawkins Butler been out there, 30-something years maybe? The Madison that we know, whether you agree with what she did or not, it's only 20 years old, maybe. How? It's because stabiliity and leadership, opportunity to establish a bureaucracy, implement systems to work. Without stability and leadership, it won't happen in this city at all. Whoever becomes mayor, they've got a two-year learning curve at least—if they bring any executive experience with them.
I had the opportunity to serve as a principal and an assistant principal for six years, and that still wasn't necessarily enough.
With the lawsuits, there's really no way to avoid asking about infidelity to your wife. Three years ago, you told us you had made mistakes, and it was all behind you. How can you convince readers that's still true, and that they can trust you not to bring further scandals to Jackson?
First of all, I didn't bring these scandals to Jackson. Second of all, my wife is at home happy, and she's extremely content. Ultimately, her testimony is how I convince them: happy wife, happy life. I have little cute text messages (from her) in my phone now. My wife and I were in Mexico, and we got back and found out that she supposedly had torn up a city vehicle.
I've heard that rumor.
We were in Mexico. Together. With a group of people. And, yeah, the city truck was here at the city garage getting a tire changed. Our personal vehicle was parked at a New Orleans parking lot while we were on a cruise ship.
Switching gears, what are Jackson's biggest economic-development hang-ups?
We don't have a big enough incentive pool. Crime and perception. Finally, workforce development. We've started working on workforce development. We know primarily where the bulk of the jobs are going to be in the next several years based on research by the Chamber. We took that data to Mi-Best at Hinds and Working Together Jackson to create Jackson 500, a workforce development program. We've trained 120, 130 people so far based on those primary skills.
We focused primarily on infrastructure improvement. If you're going to spend all this money on infrastructure, we need to make sure people can partake in the economics of it. We're trying to get them trained to be plugged into that, and companies don't have to ship people in here to do work.
The economic incentive is another problem we've been going at alone too often. We've partnered with the Mississippi Development Authority and Hinds County on some things. That's one reason we were able to land Seraphim, a solar-panel company over on Lawson Street, a $50-million company.
What did you do differently that helped you land it?
It wasn't just a city-reaching-out piece. The City of Jackson contacted MDA to help, because this is a company that moved all the way from China. They needed to see we weren't just this little tiny town in Mississippi and know other entities had an interest in them being here. That's an example of what we had to start doing better, instead of just a letter from the mayor of Jackson asking, "Would you consider Jackson as a place to build your next movie theater?" We must help them understand our entire government community spanning three or four agencies is interested in seeing you here.
What big, hairy economic-development things do you want to do in the next four years?
What you will see probably in the next 18 to 24 months is this big boom of downtown residential living because we're going to almost double the amount of units in downtown. Because we've added the resort status, the next thing we want to do is move into having an innovation hub downtown where it gives us the opportunity to be a baby Silicon Valley. We started working on that about a year ago; the City has been declared a TechHire city under the Obama administration. We did Tech Jackson for the last two years. We sent a group of coding students down to New Orleans summer before last to compete at the Essence Fest in coding. Jackson students came back first place overall.
I'm very interested in seeing our downtown become the bona fide designated spot for the state of Mississippi. Since we're the real crossroads of the South, with 55 and 20 (crossing here), all roads lead here, so work has started happening.
Who are you collaborating with outside government on this?
Our first collaboration is with (app developer) Sheena Allen. Sheena started giving us the framework for how (an innovative hub) should look. We were on a roll with it, and then budget cuts started happening to staff, losing people, so we had to go back to what are the priorities right now. Let's do the triage, and if we get a second term, we can move into doing these other things. Sheena was driving conversation with us about an innovative hub.
How are you feeling about "One Lake" right now?
I think it's going to happen, and my sentiments have been the same—that I and the other folks representing Hinds County have to be at the meetings to make sure Jackson gets the benefit of One Lake. Right now, as it stands, we will if you look at who will probably be taxed for it. We've got to be there.
Are there people who haven't been coming?
You've just got to be at the meeting.
There are non-Jackson people on there that can make other decisions.
I think right now we've gotten down the road far enough that we're OK. Any changes in plans at this point, the (U.S.) Corps (of Engineers) would probably throw it out. We still have to be in the meetings because if we're not, there could be other kinds of things that could disenfranchise folks on this side of the river. For the most part, I'm excited for Jackson to be able to take advantage of this development that we haven't been able to have before.
I used to not like pothole complaints, but I've even joined the chorus, because there's some bad sh*t out there. People are now saying, "They're just now fixing them right before the election."
That's not true. We've paved 87 streets so far, in every ward. We started doing that last spring. The first year we generated $13 million (in 1-percent tax funds) from March 14 to April 15. On April 15, 2015, we started resurfacing roads and streets. One of the ones was Old Canton Mart over there by the Burger King, but $13 million split between streets, bridges, water and drainage isn't any money at all.
A lot of that money went to what you've got to do first: designs. You've got to engineer this stuff; it might be a great paved street but not engineered appropriately. Then once we got some more money, we were able to do some other things. We did not have staff to get it moving, or a program manager. So before we had a program manager, we had two projects rolling. Then we brought IMS on last December; since then, we have 20-something projects happening right now. That's in a year.
Here's what we did. In hindsight, it depends on how you look at it. We did neighborhood streets first. Everybody's not riding on those streets. Now we're doing major streets: Raymond, Gallatin, Mill, Ridgewood. What we wanted to do was to show a commitment to communities that we wanted to take care of the places where they lived. ... It also gave us time to understand which of those major thoroughfares we could do without creating too many issues under the ground. We didn't want to pave a Ridgewood, and then in a year have major water breaks.
You can't see water lines engineered. Over on Wood Dale Drive, a street of probably 100 homes, they don't have fire hydrants. They have 2-inch water lines. We're etting ready to replace that, but you don't see it. We replaced Hanging Moss Bridge; only people who see that are people on Hanging Moss Bridge, but that's 1-percent money. Brook Hollow has flooding ... and emergency personnel can't get back there. We have to go to engineering to work on getting that remedied, but you can't see it.
Do you have a good system now for dealing with those things? There for a while it seemed like a road would get dangerous without any warning?
A year ago, each (1-percent) commissioner got our master plan. The reason they didn't consider it was because the first year, in 2015, (Commissioner) Pete Perry accused me of shoving the first $13 million worth of projects down their throats. I won't do that this time; I'm trying to be more diplomatic. There was never a willingness to adopt the entire plan. That's by design. Because if you adopt an entire plan, you move into the next phase of what the commission is supposed to do, and that's only to give oversight. But that's not what he wanted to do; he wanted to be able to control projects.
So the commission was only approving parts of it so they could keep control over it?
See, all the legislation says is two things: It says create a master plan with input from the city, and give oversight. But that's not what the master plan that was adopted by the commission last month does. That master plan is a set of policies. It doesn't give a roadmap, doesn't talk about priorities. It also says that the city, if it's going to leverage any money with the 1-percent sales tax, like this $90 million, it has to get approval from the commission. The legislation clearly says that the City doesn't have to come to them. Clearly, it's not a gray area. It clearly says it.
So, we got that plan, and actually I put it on my campaign's social-media sites last night, and it's on my website, yarberforjackson.com.
Did you have a dust-up with the commission and Pete Perry recently?
It was over that. We walked into a meeting. The meeting before, Ted Duckworth was upset that we weren't giving enough oversight over the money. I said I agree because (the commission) spent too much time trying to micro-manage projects instead of approving a master plan. The next meeting, I said we'd come back with a master plan on the agenda, and we'd have a financial oversight update.
We get in the meeting; I was about to get the financial adviser to give an update on the 90 percent, and Ted makes a motion to have this master plan adopted. It was seconded, and the only people in the room apparently who had seen it were the people I guess who voted for it. I hadn't seen it, the public works director hadn't seen it.
They hadn't sent it to you?
No.
What you'd say?
I said a lot.
Do you feel good about that?
Well, I said something that I apologized to Ted about. ... It was factual, but it was out of place. ... But the rest of it, yeah, I'm proud of it because it was wrong to make it seem it like that was not anything in front of us. There's been a plan. We did it the right way. In 2015, we did a listening tour, seven wards in seven days. We put folks on buses; we took them to almost all of the major assets we had identified that needed something done. We took them to bridges in their wards, wastewater treatment plants, streets. We followed up with a community meeting that night to talk about the framework for a master plan. We talked about using asset management to drive master planning.
Then we put copies in churches, libraries, on the website for public comment. We got all those comments, developed a final draft plan, which is what we sent to each commissioner in 2016.
What happens next? Is that relationship worse now as a result?
I don't think it's worse. It is what it is. Here's my position: The commission has done that part of its job. They've adopted a master plan, which in my opinion is just a bunch of policies, but OK. Work is still going on; we're going to submit to them documentation of the work, and let them give oversight. And that's that. We're going to abide by the letter of the law. For me, it's not a fight. I'm not mad anymore, so they've done that part of their job, and I will give them the opportunity as invoices start to come in for road work, let them do their due diligence, and they can give oversight.
Your administration didn't start out super transparent, and you and the people around you were defensive. Our relationship was tough then. You've been a lot more forthright, at least with us, since those early months. What changed?
Just trust. That's all, it's just trust. When I first got in, I can't describe to you how paranoid, how much anxiety was around the job. You get defensive. What you were able to do was to prove that you had no agenda to get me, that your agenda was to simply get good information out. I was like, "Hell, I ain't doing nothing wrong, so what's wrong with giving the information?" That's what it was.
It wasn't that you proved it. After just paying attention, OK, I don't necessarily like that it was said, but I can't argue with it, it's the truth. Or I wish it had been said this way, but doesn't matter how it's said, still it is what it is. Eventually, I said it's alright. It's OK to be transparent to the degree that whether you're right or you're wrong, people get an opportunity to really get the whole story.
Now, that was you. I'm still not comfortable and have trust issues with other people. However, I still don't mind being transparent because I have nothing to hide. I don't have anything to hide. You asked me about Mitzi (Bickers). I told you she was my friend. You ask me today, I'll tell you the same thing. I have nothing to hide about my relationship with Mitzi. So what I'm saying is that probably in the past, I'd have been like, "I'm not answering that because I don't know what you're going to do with that, how you're going to try to make that look." But now, it is what it is, and there's nothing wrong with that because I'm not doing anything wrong.
Mitzi tried to help you. Has she gone too far?
She hasn't done anything other than be a friend. She ain't paid no bills. There's been no swapping of money to get a deal or any of that, so no.
What about the parties detailed in the lawsuits?
Well, I'll not respond directly to that, but what I'll say is in Mississippi, you can file a lawsuit and say anything, and I'm still waiting for somebody to say other than the plaintiff that, yeah, we were at a wild party with strippers. I'm waiting on some proof of that, and that's not there. Nobody will, nobody can because it's not there.
Are politics going to get ugly in the next month? Will anybody get dirty?
No, nobody can. First of all, the beauty of this poll that just came out ... is that the bullseye ain't on me. So now Antar's got to look out for the darts that'll come. So I get to just kind of continue to go to forums and get my message out. People come up and say, "I didn't know that, that's great, you're right." It's almost like I don't have to run as an incumbent. I can go after them, go get it, get my message out.
Are you going to avoid dirty campaigning?
I don't have to campaign dirty. Look, in two years and 11 months, despite the drama and all that, we've done some really good stuff. I don't have to talk about anybody. I have a tremendous amount of respect for Antar. I love that man, I loved his father, and I say that to say that there's no way in the world that I'd be responsible for putting him in a certain light. I guess it's kind of arrogant of me, but I don't think I'd have to do it with Horhn or Graham. They bring their own baggage, so nobody in this race is really in a position to play that game with each other.
If I said to you that you ended up the mayoral choice last time for a lot of white Jackson, would you agree with that?
Yeah.
Are you still going to draw as much of the white vote?
No. I don't know if I want to answer that right now, because I still think I have an opportunity to get some of them later on. What I will say that is that I think that the scandals have created a real cloud, and while the white community voted for me, the white community don't really know me, so when stuff like that comes out, it makes it hard.
So like out in the Sub(division 2), Rev. Jesse Sutton has never stopped supporting me. People will vote for you for different reasons; I got an idea why they all voted for me last time, but there are other choices now.
Why do you think they did?
I think that the white community saw me as a mayor that they could embrace versus Antar. This time around, I think the scandals have created some distance in that. They're not scandals to me because I ain't did nothing.
White people in Jackson sure can vote as a bloc.
I know they can. Let me tell you something, though. Let me be honest with you. This is what they're forgetting. Since Frank Melton, I'm their only win. They did it with Frank, and they won. They did it with Marshand (Crisler), and they lost. They did it with Jonathan (Lee), and they lost. They did it with me, and they won. You've got to ask yourself why. Because I was an attractive candidate to the white community, and black folks knew me. For the first time, they had a candidate since Frank Melton that could be both embraced by them as well as (black Jackson).
Obviously, Horhn is the candidate for the white community this time around, which he doesn't deny. You don't think he'll be embraced with the black community?
There are issues with trust. People don't know him. I don't know why.
That poll showed that Lumumba and Graham are leading at this point.
I'm going to predict that in the next four weeks, I'll leapfrog both of them because of messaging primarily. Graham is unknown because it's hard to really know who in the black community would get behind him. It is clear now that the black community now more than they have been are really becoming more informed, and they're listening. They're really, really, really listening to the responses and the answers we're giving. I think that's going to help candidates like myself who really want to try to respond and answer the way people are asking us.
I didn't bring the scandals, but I do own the fact that everything starts with me, right, because I'm the leader, and I own the fact that in hindsight, there were some things that I could have done as the mayor that could have kept things from getting to this point. But, like I said, at the time we got in, and we were trying to figure out exactly what to focus on, and you hope that other people could take care of certain things while you were doing other things. I own that there were things that I probably should have done as the mayor to affect the culture a little better.
What are examples?
I'll give you a safe example that wouldn't be an admission. Typically, when it came to who got fired and stuff like that, I figured I've got people that we're paying to do that. I think in hindsight, and I know that in a second term, I'm really going to want to understand why we're doing certain things, and if there are other options. So firing isn't always the best option. Sometimes people just need a wake-up call. I'm going to pay you the same money, but you're going to be a custodian. You can't be a manager. Something that doesn't affect people's livelihood. Sometimes you affect people's livelihood, you push them to do certain things. So just in hindsight, I would be in the weeds a little more.
Managing is a crazy mix. Either you micromanage too much, or you're not there enough. I've made both mistakes. There was a reason I asked you about the department heads.
Yeah, I got it.
Department heads are an interesting question. You can't manage all that. I've got a tiny little business here, and I can't. But at the same time ...
At the same time, something questionable (will happen and) the chief will call and say, "Look, this officer punched the guy in his head," and I say, "I saw the video, pull the trigger," no pun intended. Legal does it pretty well now, too: "Look, we've got somebody, and it's just not working. I'm going to send you the documentation so you know what I'm about to do." I can look at it and feel comfortable enough, or not comfortable enough to ask other questions.
Probably my biggest saving grace has been when the union is involved. We get in trouble with people that are not union affiliated. When the union is involved, they've got this process, and if you ask (union head) Brenda Scott, there have been people that Brenda has represented, when we look at it, I say, "Jackie, this is dumb. Why are we reprimanding people for that?" And we overturn it.
Normally, it's those at-will folks, they get terminated, whatever, and they wind up at EEOC. I don't as mayor have an opportunity to engage it. If they're in the union, you can bet your bottom dollar that they're going to make it to me. The union has been a saving grace in terms of probably the amount of lawsuits that the city could have encountered and been liable for. When we look at them, I'm thinking, "Who made this decision?" Due process, I don't see it anywhere. Where is it? Alright, we're not doing that.
Do you foresee that the city at least under you and this council is going to do anything different on the immigration front?
I don't know. My position and council's position is that we have an ordinance in place that protects not just our citizens but all people from profiling, from any discrimination, and we've drawn a line in the sand. We're going to defend and protect. I don't think the feds will do anything, to be honest with you. They've got bigger problems. They've still got Obamacare. (Laughs.)
Tell me three things that are going to be different in your second term.
How we staff. How we communicate with the public. That's two. Now, internally, I want to bring on like a senior staffer. Somebody black, white, doesn't matter who is respected in the community, who understands politics, policy. This hybrid that I can just turn to and say, "OK, in your 50 (or 60, 70) years on earth, how would you handle this?" A senior adviser. Somebody that gives me different perspectives and helps me see beyond my experiences.
Let's close with big ideas. What would be Mayor Tony Yarber's vision statement for this city in his second term?
I'll say what I always say. Jackson: the place where everybody wants to come, and no one wants to leave. That's achievable.
Read the full interview, with links, at jfp.ms/election2017, along with interviews with other front runners. Email campaign and forum information to William Kelly at [email protected].
Tony Tarzell Yarber
Born: March 17, 1978, Jackson
Education:
 B.S., Education, University of Southern MississippiM.S., Education Administration, Jackson State
Election Office
Mayor of Jackson, April 2014-present
Jackson City Council, 2009-2014
Job: Pastor
Previous Job: Principal
Family: Wife Rosalind Yarber, daughters Carmen Neal, 22, and Toni Michelle, 11; Son Cameron, 14; Grandson Braylen, 6
Campaign Finance: Tony Yarber
Year-to-date, report filed April 25, 2017
Received: $87,200
Spent: $108,464.23
Largest donors:
Rod Hill - $5,000
John Calhoun - $5,000
John May - $4,000
Carvell Cannon - $4,000
Largest expenses:
Trinity Investment Group – $29,000
LDTM - $13,096
Anastasia Apa - $13,000
Support our reporting -- Follow the MFP.