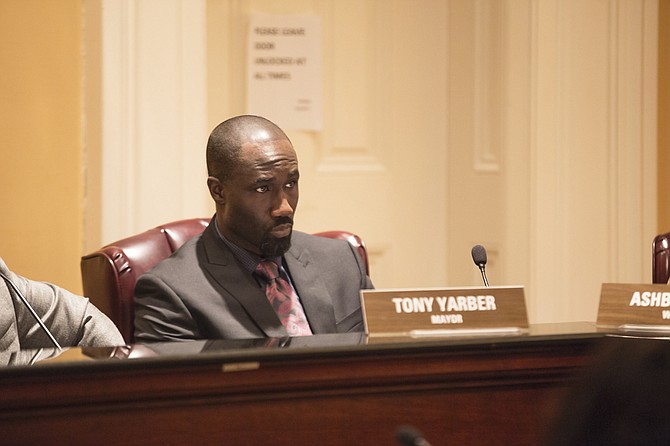 JACKSON — A well-known and nationally recognized political operative that Mayor Tony Yarber refers to as a "kingmaker," Mitzi Bickers, has been mentioned in connection to a federal bribery investigation into the Atlanta, Ga., municipal government.
Elvin R. Mitchell Jr., a 63-year-old Atlanta contractor, just pled guilty to paying in excess of a million dollars in bribes as a part of a conspiracy to secure city contracts for himself.
"In an effort to obtain construction-related contracts with the City of Atlanta, Mitchell and another person in the construction industry agreed to pay, and did pay an individual to obtain government contracts," the Jan. 17 press release from the Department of Justice's Northern Division office states. "From approximately 2010 to August 2015, Mitchell paid over $1,000,000 to an individual in exchange for City of Atlanta contracts, believing that some of the money would be paid to city officials who exercised influence over the contracting process."
"Mitchell also laundered the money received from the City of Atlanta by attempting to conceal the source of the money and by attempting to evade federal currency transaction reporting requirements by withdrawing cash in amounts under $10,000," the release states.
Mitchell pleaded guilty on Jan. 25, FOX5 in Atlanta reported, to conspiracy to commit bribery and money laundering. During the hearing, WSB-TV 2 reported the prosecutor, U.S. Attorney John Horne, said Mitchell and his unnamed co-conspirators referred to the bribes as "upfront" money.
"During this conspiracy, Mr. Mitchell paid over $1 million in bribe payments to this individual, believing that a portion of that money was going to be paid to another person who exercised influence over the city-contracting process," Horne said after the hearing, WSB-TV 2 reported on Jan. 25. During the FBI's investigation of Mitchell, someone threw a brick though a window of his home and left dead rats around it. Police arrested Shandarrick Barnes for criminal damage to Mitchell's property, FOX5 reported. He was on probation at the time for a 2010 racketeering conviction in DeKalb County, Ga., related to bribing public officials.
Barnes is listed as one of the founding members of the Bickers Group, Mitzi Bickers' company, when the company started up in 2014. FOX5 reports that Barnes was an Atlanta city employee in 2014. The year before, Bickers resigned her job as a senior aide to Atlanta Mayor Kasim Reed in 2013 after she came under fire for allegedly filing false financial disclosures about her political efforts.
Document
The sexual harassment lawsuit filed against Mayor Tony Yarber accuses Bickers of organizing fundraisers in Atlanta and New Orleans during which there were supposedly spray-painted strippers. Bickers donated thousands of dollars to Yarber's mayoral campaign efforts.
Despite the lawsuit allegations, Yarber on Monday lauded Bickers' ability to get in contact with leaders of federal departments as well as donors, an ability he said he capitalized on during his campaign for mayor.
"She is a very well-connected woman," Yarber said during an interview at the Jackson Free Press on Jan. 20.
"Let me put it this way: when the opportunity came for us to start talking about renegotiating the consent decree, I was able to have that conversation with the EPA administrator at the time because of Mitzi, because of relationships that she has."
Jackson has been plagued for years by a wastewater consent-decree order a federal court issued demanding that the City rectify improper wastewater treatment at the Savanna Street wastewater-treatment facility.
Yarber said that even though Bickers helped him, she did not receive any contract money from his administration.
"As a matter of fact, Mitzi Bickers has not received one contract from the City of Jackson," Yarber said. "Mitzi is a great friend, a loyal friend. ... Mitzi has asked for the same thing that everybody else has asked for who's given to the campaign, and that is an opportunity to compete."
Bickers was a principal in Mississippi Developers, LLC, a company included in the proposal the JRA approved for the convention center hotel project in early 2016. Engineering Design Technologies, a large company with offices throughout the south, included Bickers' company. The JRA board moved forward with the EDT proposal, although the secretary of state's office shows that Mississippi Developers dissolved as a business in here June 29, 2015. The local address for Bickers on the company registration was 460 Briarwood Drive, Suite 400, which seems to be a "virtual address." Bickers is no longer listed as an officer in any Mississippi company on the secretary of state's site.
"And the only thing that you have seen her compete on, and it didn't even come through us, was with the hotel and JRA," Yarber said, referring to the Jackson Redevelopment Authority's work to get the convention center hotel downtown project moving forward.
Bickers' name also surfaced in a Mississippi Republican race, the 2014 U.S. Senate race between U.S. Sen Thad Cochran and challenge state Sen. Chris McDaniel. The Jackson Free Press reported then that a super PAC, Mississippi Conservatives, that former Gov. Haley Barbour created and which his nephew, Henry Barbour, ran in 2014—paid Bickers to run a robo-call campaign to help Cochran by associating McDaniel with the Ku Klux Klan.
"She's a kingmaker, that's what she is, and she is the kind of person that understands her roles in different spaces," Yarber told the Jackson Free Press. "So in Jackson she thought that her role would be able to do contracts, make some money, but she quickly understood that her role was to help to sustain and make sure that I was successful. And to do that was to get me in front of the right people."
Yarber made it clear that Bickers' role is to help candidates win elections, whether in Mississippi or back home. "Her role in Georgia? It's my understanding that if you want a campaign ran to win, you call Mitzi," Yarber said.
Bickers could not be reached today for comments. Two numbers publicly available for Emmanuel Baptist Church, where she has worked as a pastor, were disconnected.
CORRECTION: The previous version of this story stated that Bickers was involved with a contract for the Westin Hotel downtown. That was incorrect. The JRA proposal had to do with plans for a hotel adjacent to the Jackson Convention Center. We regret the error.
Email city reporter Tim Summers Jr. at [email protected]. See more local news at jfp.ms/localnews.
Support our reporting -- Follow the MFP.