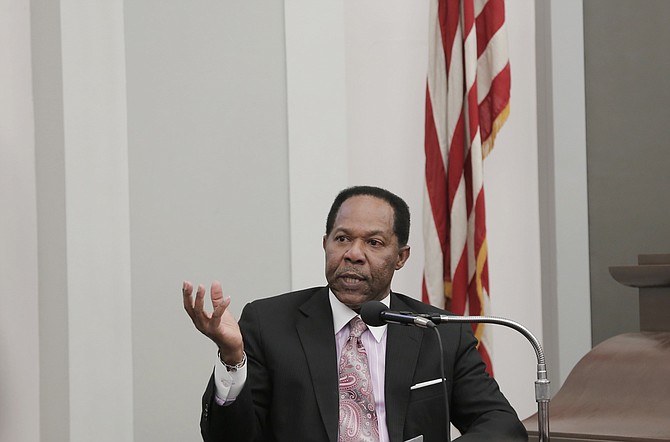 JACKSON — Hinds County District Attorney Robert Shuler Smith spent the morning attempting to attack several aspects of Downtown Jackson Partners attorney Robert Gibbs, during the fifth day of testimony in the trial of DJP President Ben Allen for allegedly embezzling and mishandling public resources.
Gibbs, as a witness, started to lose patience with Smith's continual use of the word "tax" instead of "assessment" when discussing the monies the DJP received from the city—a difference that Allen's prosecution likely hinges on.
"You've used it incorrectly several times because the statute says 'assessment,' but you keep calling it a 'tax,'" Gibbs said to the district attorney during this morning's redirect. "So we are going to use the correct language. You need to stop calling it a tax because that's not what is in the statute; what's in the statute is 'assessment.'"
"Now, how we interpret what the words are is the difference," Gibbs said.
Gibbs has served as a vocal advocate for defendant Allen over the last few days of the trial. His history as both a Hinds County Circuit Court Judge, in the same courtroom as the trial, and as an assistant attorney general give his testimony weight. He has told the jury that the money accrued within DJP but collected as taxes became private when the city cut a check to DJP.
This public/private distinction remains crucial as the case continues, since eight of the 10 charges Allen faces are for embezzlement of public funds, in this case when DJP reimbursed Allen for cell-phone bills and credit-card purchases, as well as transferred a 1998 Chevy truck to his name. A Hinds County grand Jury indicted Allen on those charges in early 2016, including allegations that he used DJP to funnel donations to Mayor Tony Yarber's Inaugural Gala fund.
The DJP Board, including Gibbs, has publicly voiced its support of Allen in a resolution published in the court docket.
Earlier last week, the state presented two witnesses, Melissa Patterson and Derrick Garner, who both participated in the incomplete State Auditor's Office investigation of DJP.
Patterson, an attorney assigned to the auditor's investigation, testified early on in the trial that the funds DJP collects are public. DJP accrues the money as the result of a tax diversion the Legislature authorized. It then passes through the municipality and stays public when it hits the DJP coffers, as well as converts the rest of the funds the nonprofit holds into public funds. That procedure would thus qualify Allen under the public embezzlement laws, she argued.
Garner, a certified public accountant who also worked on the state auditor's investigation of DJP, testified toward the later part of last week that the spending practices of DJP left the majority of the power to authorize payments in the hands of one individual: Ben Allen.
However, while he said that he had reservations about DJP paying Allen back for expenditures he made on his personal credit card, Garner did say that he could not find evidence that Allen mishandled monies relating to the inaugural gala for Mayor Tony Yarber.
Gibbs testified today, after Smith pushed him about the details of Patterson and Garner's findings, that he attempted to intercede during the investigation but received no similar olive branch.
"I knew there was an investigation, I knew that they had sought documents from Downtown Jackson Partners," Gibbs said. "I was not familiar with the why. That's why I was asking Ms. Patterson."
Gibbs said he does not agree that the auditor's office had the right to look into DJP finances. When Smith asked him if DJP should be audited, he replied, "Not by the state."
Smith tried to pin Gibbs down on earlier testimony he gave that it was wrong for Allen to buy his son a Whirlpool tub, an accusation the prosecution leveled in its opening statement, but that it would not be a crime.
"I said it would be wrong if he had took Downtown Jackson Partners money because its not public, once it got to Downtown Jackson Partners, whether it was public or private we all know that once it got to DJP it was private, and if he can use that money to buy a Whirlpool for his son, that's wrong."
It is unclear if Allen did actually purchase a Whirlpool for his son or if it was a hypothetical.
"Now, if DJP says its OK, there's no crime, because it's not public money ... I would tell this jury that's wrong. I am not going to tell this jury that's a crime because you are not using public money for that," Gibbs said.
Smith did get Gibbs to admit that each property owner gets votes for the BID approval, which recently passed with an over-95-percent approval rate. The property owners get more votes if they own more square footage within the district, giving the major owners a significant advantage. But even this, Gibbs said, indicated to him that this was a private decision for the private property owners.
"And the city and nobody else had any input in that except for the people that own property within (the district)," Gibbs said.
"Once again, it's not a tax, but they can decide to vote against the plan. And just like anything else, if you are in the minority, the majority rules," Gibbs said.
The defense rested its case before noon today, although the court will take the rest of the day to conference on jury instructions, Hinds County Judge Winston Kidd said. The court will reconvene tomorrow morning.
Email city reporter Tim Summers Jr. at [email protected]. Read more about DJP and Ben Allen's trial at jfp.ms/djp and the recent trial against DA Robert Shuler Smith at jfp.ms/DAFiles.
Support our reporting -- Follow the MFP.