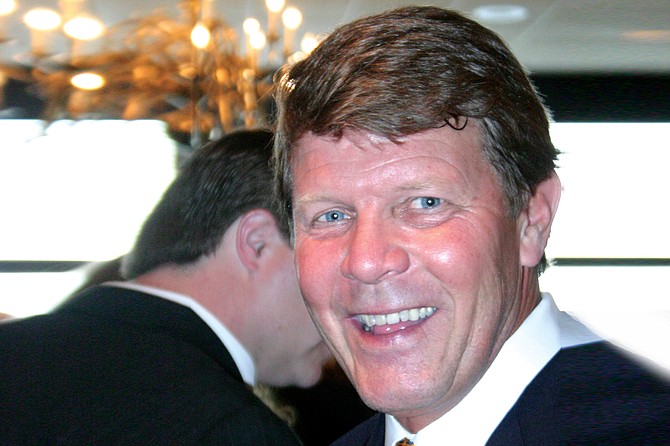 JACKSON — Whether Downtown Jackson Partners is public or private, governmental or nonprofit, is a pivotal issue in the case against indicted DJP President Ben Allen.
Allen faces an indictment of 10 total charges, eight for embezzlement by a public official or trustee, as well as allegations that DJP handled money for then-Mayor-elect Tony Yarber's inaugural gala. The Hinds County grand-jury indictment states that the gala donations violate Mississippi's campaign-finance laws preventing private corporations from donating more than $1,000 to political candidates.
The charges, thus, cut both ways on an organization that is arguably a public-private entity. DJP's position as a "business improvement district" that levies what many call "taxes" on property owners within its footprint is a gray area to many, with some arguing that it is handling "public" money and others that is it is a private corporation, both of which figure into the charges against Allen.
But Allen's defense attorneys argue in their motion to dismiss the charges against him that DJP is a private, nonpublic entity, making Allen a private head of a private firm, which they argue makes the charges he faces non-applicable to their version of the facts even if the businesses in the BID must pay the fees to the organization.
'Private Nonprofit'?
In 2014, after a tip from Linda Brune, Allen's former assistant who registered as a whistleblower, the Mississippi State Auditor's office began an investigation into the DJP's handling of finances. The investigation began after Brune brought a number of documents to a Clarion-Ledger reporter, who published a story questioning Allen's handling of funds and resources while serving as the head.
The auditor's office approached the DJP about the allegations, and Sam Begley, a local attorney and member of the DJP board of directors, requested an attorney general's opinion about the nature of the organization: Was it a public entity, and were the funds it received public?
The response pushes the decision over to the courts to determine, such as in current pending litigation against Allen, as well as DJP's counter civil lawsuit against Brune in Madison County for allegedly forging checks to herself when she worked for Allen. The questions about DJP's public-private status, the attorney general's response states, "require a determination of fact which can only be made by a court of competent jurisdiction; therefore, we are unable to respond with an official opinion."
In his most recent memo to the court asking for dismissal, Allen's attorney Merrida Coxwell argued that the charges of embezzling by a public official do not apply to Allen because DJP is a "private nonprofit" organization.
"This ... chapter does not apply to Mr. Allen. He is without a doubt not a public official," Coxwell wrote.
The second set of charges are the allegations that Allen funneled money through the nonprofit DJP as a collection point for donations for the newly elected mayor Tony Yarber in 2014 for his inaugural gala.
This time, Coxwell argues that by the time of the gala, Yarber was not a candidate, and so that law would not apply to DJP's handling of the gala donations.
Coxwell included in his filing a document that outlines his interpretation of the differentiation between the types of nonprofits, as delineated in federal law. The subset of regulations, 501, that determine how nonprofits should operate separates the organizations into two categories, 501(c)3 and 501(c)4. Coxwell included a primer entitled "The difference between 501(c)(3) and 501(c)(4) organizations" that he used to support his supposition that a nonprofit could provide political support.
"501(c)(4) organizations can engage in unlimited lobbying so long as it pertains to the organization's mission. 501(c)(3) organizations are not permitted to engage in political activity, endorse or oppose political candidates, or donate money or time to political campaigns, but 501(c)(4) organizations can do all of the above," the document states. 
 Wendy Mullins, general counsel for the Mississippi Center for Nonprofits, told the JFP that she could not comment on the public-private question around DJP because her husband is one of the attorneys representing Allen. Chuck Mullins works with Coxwell.
Although the BID is registered as a nonprofit, it still receives the money levied from businesses, and 70 percent of the property owners in the BID, not necessarily business owners who often rent their spaces, vote to renew the BID. Those owners include those who live out of state and own many properties downtown.
This week, DJP announced that 95 percent of property owners in the BID had renewed it for the next 10 years.
"A business improvement district may be funded in whole or in part by an assessment authorized pursuant to this section," the state law authorizing the BID states. "Such assessment shall be in addition to any taxes or assessments that may be imposed on property that is included in the district." Mississippi law does not call it a "tax."
The most recent plan for the BID included a 1-cent increase to the 2011 amount, raising the additional amount levied against businesses to 11 cents per square foot.
Allen compared it to tax assessments for property that are renewed every few years.
"Our assessment will be set in place for 10 years, we can't change it," Allen said during the public hearing held about the increase and election on Dec. 12, 2016.
"We are very grateful for the overwhelming vote of confidence and support from the property owners and members of the Downtown Jackson Business Improvement District. We look forward to continued growth and many more developments, so that all of our state will be proud of 'Mississippi's Downtown,'" Steve Davis, chairman of the DJP Board of Directors, said in a Jan. 23 release announcing the successful renewal vote.
BID Issues Elsewhere
The question of BID management embezzling or misappropriating the funds their organizations accrue for the betterment of their communities is not unusual. The executive director of the Flatbush Avenue Business Improvement District in Brooklyn, which is a 501(c)(3) was accused in 2015 of "allegedly siphoning off approximately $85,000 from the BID's budget to pay for personal expenses, such as food, clothing or entertainment," the Kings County Politics.com site reported on March 17, 2015.
"Davidson, 63, who worked for the BID from June 2009 to January 2014, allegedly made hundreds of unauthorized purchases with the BID's debit card. This includes $3,000 at Fresh Direct, $4,000 at Talbots, $600 for Beyonce concert tickets, $600 at Weight Watchers, $400 on manicures and pedicures, $13,000 paid through Paypal for items such as shoes, clothing, jewelry and makeup, and numerous purchases from restaurants."
Although Allen is not accused of such lavish purchases, he is charged with paying for his cell-phone bills and credit-card balances with DJP money. Coxwell argues that Allen gave the money back to the organization every time, and the organization backs his handling of the funds.
"This key element is missing in the case at bar, and it cannot at any time be supplied or proven by the State: Mr. Allen did not improperly receive money from DJP nor did refuse to turn over money to DJP," the motion to dismiss states. The trial is set to begin at the end of the month.
Clarification: We've edited the above story to reflect that DJP requires payments from property owners within the BID's footprint, not business owners who do not own their property.
Read more about Ben Allen's trial at jfp.ms/djp and DA Robert Shuler Smith's trials at jfp.ms/DAFiles.
Support our reporting -- Become a JFP VIP.
The news business has changed dramatically in the past year, and we need your help more than ever to keep bringing you important stories about Jackson and the Metro. Become a JFP VIP with an annual membership or you can Sign up as a monthly supporter. Thanks for anything you can do to empower our journalism!