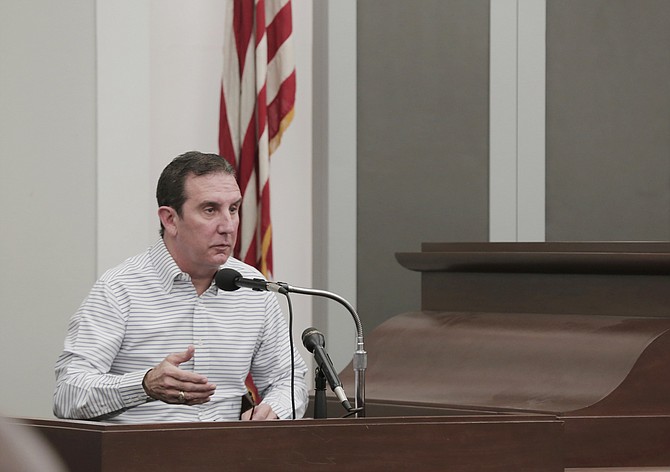 JACKSON — Over the last two days, the prosecution tried hard to convince a Hinds County jury that President Ben Allen mishandled public money while leading the Downtown Jackson Partners business improvement district.
A Hinds County grand jury indicted Allen in early 2016 for 10 counts, eight of which allege that he subverted funds from the entity for his own use, including accusations that Allen illegally co-opted a 1998 Chevy Silverado truck and paid for cell-phone bills for himself and his wife out of DJP funds.
This morning, District Attorney Robert Shuler Smith called John Reeves, a local attorney and former board member of DJP, to testify about how the board operated under the Allen's leadership.
Reeves explained that DJP is a Business Improvement District, tracing its history through the Legislature, of which he was a member for 24 years. He testified that the money the legislation allocated to the DJP from local property owners might as well be called a tax because non-payment ends the same way as taxation—a vital sticking point in the trial because Allen's defense argues that DJP is a "private nonprofit" and, thus, the rules are different fro handing of money.
"No, you have to pay the tax, or they take your property," Reeves said. "You pay it, or they take it."
Reeves said the role of the board in the structure of DJP was to approve what Allen did.
"We generally trusted Mr. Allen to run the show, just like a regular board would," Reeves said, who later said he left the board. At the time of the alleged transgressions, board members ranged from attorney and developer David Watkins to then-Clarion-Ledger Publisher Leslie Hurst.
"I got off of it," Reeves said. "I just didn't like the direction of the group."
When Smith asked Reeves whether the board had to approve all expenses, the witness said the board approved a budget but that he could not remember particular expenditures.
On cross-examination, defense attorney Merrida Coxwell compared the required assessment of property owners inside the BID's footprint to the dues required when a person buys a home in a neighborhood with a homeowner's association. Reeves agreed that the results were the same—a lien could be placed on the property for non-payment—but said later in his testimony that the DJP assessment was unfair to the smaller property owners in the district. They could lose their property if the tax went unpaid but do not have equal weight in the election to continue the assessment. They must pay regardless of whether they vote to continue the BID and the assessments.
No Sign of Brune, Yet
John Reeves was previously the attorney for the "whistleblower," Allen's long-time executive assistant, Linda Brune, who followed him to DJP from the yearbook photo company he used to run. In 2014, Brune gave boxes of DJP files dating back to 2007 to a Clarion-Ledger reporter. Reeves no longer represents Brune, who so far has not been called as a witness for the prosecution and has not been present in court, a possible indication that she will take the stand at some point. She did attend much of DA Robert Shuler Smith's trial for aiding defendants that ended in a mistrial several weeks ago and will start over in June.
Brune faces allegations in a civil lawsuit in Madison County Circuit Court that DJP filed in December 2014, stating that she used 38 forged checks "representing a total sum of $40,439.43," the complaint states. DA Smith's office declined to prosecute Brune in Hinds County because she was their witness against Allen. The Clarion-Ledger, which quashed a subpoena to testify in the trial, has not reported on the allegations against Brune, which the judge let into the trial Monday attached to a resolution by DJP's board in support of Allen.
The JFP has not been able to interview Brune, but she wrote in a comment on the JFP's website that the allegations against her are "bogus."
Documents filed with the court, including canceled checks and other documents, also show that DJP tried to get the Hinds County District Attorney's Office to prosecute Brune for the alleged embezzlement, but it refused, scribbling that DJP's case against her was "retaliation for whistle-blowing" on a "Recommendation for No-Bill" dated May 29, 2015.
This morning Smith and the prosecution attempted to call two attorneys to the stand but failed at both. Smith argued to Hinds County Circuit Court Judge Winston Kidd first thing Thursday that he should be able to put defense attorney Merrida Coxwell on the stand. During Smith's trial, his own defense attorney Jim Waide was allowed to take the stand during he proceedings, resulting in a bizarre situation wherein the accused had the opportunity to cross-examine his own attorney.
Today, Kidd made clear that no such thing would happen on his watch, stating that he had never allowed a defense attorney to testify. He denied Smith's request.
"Never in this courtroom," Kidd said.
Then the district attorney attempted to subpoena the son of the accused, Matt Allen, who is an attorney himself. Smith told the judge that he wanted to ask Allen about an article in the local feature-magazine, Portico, that Brune alleged Allen spent $5,000 of DJP funds to secure.
The defense argued with the jury outside that Allen should not be allowed to testify because he was subpoenaed only this morning and was present during the previous testimony, as well as had participated in preparatory discussion with the defense team prior to the trial. Kidd agreed, quashing the subpoena.
Coxwell, in a memorandum filed with court on Nov. 28, 2016, responded to the Portico allegations.
"DJP is permitted by its By-Laws and budget to support, sponsor, and donate to magazines events, cultural activities, and economic development," Coxwell writes. "DJP has given a donation to Portico for the past eight (8) years. There is nothing improper or illegal about this donation. Mr. Allen did not 'pay' to have Portico feature his son. Rather, his son was chosen as one of ten up and coming young lawyers. Portico does a feature on up-and-coming lawyers every year."
Coxwell also pointed out that Matt Allen was not the only attorney in the room that was featured in that particular edition of Portico.
"In that same Portico edition, District Attorney Robert Shuler Smith had three (3) pages devoted (to) his art collection," Coxwell wrote.
Randall Harris, the Hinds County assistant district attorney who argued for the subpoena, said the intent was not to have Matt Allen as a surprise witness but that the scheduled witness, local developer David Watkins, was in the hospital and could not appear.
Too Close to the Process?
Yesterday, the Certified Public Accountant with the State Auditor's Office that investigated DJP testified that his findings, while incomplete, raised questions about how Allen used the money the organization took in.
Derrick Garner, who still works for the state auditor, testified that he investigated DJP in that role, citing among other things, political donations the organization made in past years. He said that during the investigation he worked with Monday's witness, Melissa Patterson, to determine whether Allen embezzled funds from DJP.
DA Smith first asked Garner to review an audit DJP's accounting firm EKD performed, despite objections by the defense. Garner said the 2013 audit showed that the nonprofit allowed Allen to make purchases with his personal credit card. He said most of the purchases were reimbursed but that it was not the best practice for a nonprofit.
"DJP uses electronic fund transfer to pay bills. These transactions do not provide the same level of separation of duties as the typical check-writing process," Garner said. BKD also felt that Allen was too close to the process, recommending that DJP tighten up its management practices, Garner testified.
Smith had Garner go through his incomplete report on the stand. As the witness called out an amount, the district attorney wrote each amount on a large notepad sitting on an easel in front of the jury.
Garner said that in his investigation, he found Allen had directed DJP funds for his own use, although during cross-examination he admitted that he did not think that the "pass-through" of around $80,000 for Mayor Tony Yarber's inaugural gala constituted embezzlement but that he had questions about whether the money was still private when it entered the DJP accounts. Patterson had testified Monday that all private money becomes public when intermingled in an account.
After lunch, defense attorney Chuck Mullins attacked the scope of Garner's knowledge of DJP, highlighting the fact that the State Auditor's Office report, which the prosecution leaned on for much of their case against Allen, was incomplete.
When pushed by the defense, Garner stated that he did not find any evidence that Allen had embezzled any funds in several of the counts but that the funds went to his private needs.
Tameka Garrett, daughter of local contractor Socrates Garrett and organizer of Mayor Tony Yarber's Inaugural Gala, took the stand briefly to discuss the receipts of the event, stating that she handed all the documents related to the gala to a city employee. She could not testify to any details about the payments to or from DJP.
Judge Kidd took the opportunity late Wednesday to admonish the attorneys for both sides for the amount of time it took to get through the tangle of objections during Garner's day-long testimony.
This morning the pace increased, and the prosecution said that it expected to be finished presenting its case by 2 p.m.
Email city reporter Tim Summers Jr. at [email protected]. Read more about this case and DJP at jfp.ms/djp and DA Smith's trial at jfp.ms/DAFiles.
Support our reporting -- Become a JFP VIP.
The news business has changed dramatically in the past year, and we need your help more than ever to keep bringing you important stories about Jackson and the Metro. Become a JFP VIP with an annual membership or you can Sign up as a monthly supporter. Thanks for anything you can do to empower our journalism!