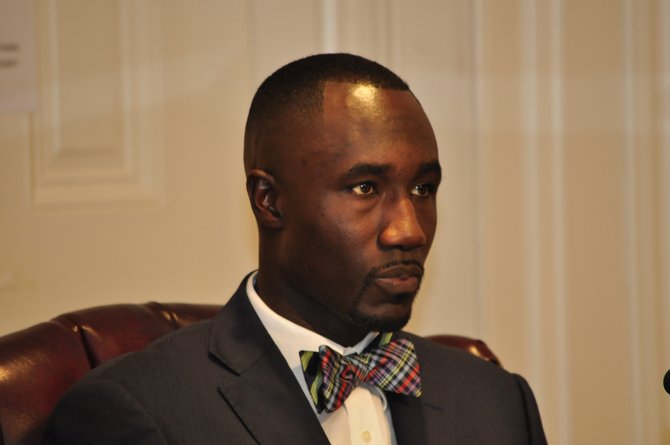 Mayor Tony Yarber's inaugural gala committee spent almost $85,670—raised from a mostly new crew of donors than those who publicly backed his candidacy. Few of the individuals and companies who contributed to the gala fundraising committee donated to his mayoral campaign earlier this year, records show.
Downtown Jackson Partners, which controls the business-improvement district in downtown, was the conduit for the event, both collecting the money and dispersing the payments to vendors. "Our Moment, Our Time" was the theme of the black-tie inaugural gala on Saturday, June 21, at the Jackson Convention Complex.
Top donors included the Jackson Convention and & Visitors Bureau, which donated $10,000, Trustmark and Nissan North America, which gave $7,500 a piece.
Prominent area law firms Baker Donelson, Butler Snow and Jones Walker LLP gave $5,000. Dale Partners Architects P.A., Atmos Energy, BlueCrossBlueShield, C Spire, real-estate management firm Hertz Investment Group, and engineering consultants Warnock & Associates also contributed $5,000.
Most of these firms are heavy hitters when it comes to political campaign spending. C Spire is owned by privately held Ridgeland-based Telepex Inc., which has given thousands to state and federal candidates in recent years and is the top contributor to U.S. Sen. Thad Cochran's reelection effort. Butler Snow is where former powerbroker and Republican Gov. Haley Barbour is an attorney.
Yarber filled the vacant seat after Mayor Chokwe Lumumba passed away in late February. A former south Jackson councilman, Yarber won the election over a packed field of candidates that included two council colleagues, a state legislator, a former mayor and Lumumba's son, Chokwe Antar Lumumba.
Yarber's inaugural ball was free to attend. Organizers stressed that no city tax dollars went toward the gala, which Tameka Garrett of Garrett Enterprises chaired, and is separate from Yarber's mayoral fundraising committee. Her father, Socrates Garrett, was the finance chairman, and Greater Jackson Chamber Partnership Duane O'Neill helped organize the gala. Othor Cain was the public-relations chairman of the event.
The organizers are stressing that no city or campaign funds were used for the event. City officials drew criticism in April when WJTV reported that the city spent approximately $2,000 on printing copies of Lumumba's obituary for his memorial service, which was held at the Jackson Convention Complex.
Receipts for Yarber's inaugural gala show that nearly all of the money raised was spent—$85,670.47—on entertainment, printing and decorations. Of that, $33,155.17 went to the Jackson Convention Complex for venue fees.
O'Neill said the committee was expecting to make at least one more payment; if there are any funds remaining, O'Neill said the committee is looking at the possibility of creating a 501(c)(6) organization, similar to the Chamber's structure, which could be used for miscellaneous future purposes.
Top Donors
Jackson Convention and & Visitors Bureau $10,000
Trustmark $7,500 (banking)
Nissan North America $7,500 (auto manufacturing)
Baker Donelson $5,000 (legal)
Butler Snow $5,000 (legal)
Jones Walker LLP $5,000 (legal)
Dale Partners Architects P.A. $5,000 (architecture)
Atmos Energy $5,000 (retail natural gas)
BlueCrossBlueShield $5,000 (health-care services)
C Spire $5,000 (telecommunications)
Hertz Investment Group $5,000 (real estate management)
Warnock & Associates also contributed $5,000 (engineering consulting)
Top Recipients
Jackson Convention Center $33,155.17 (venue)
Thomas Roots by Design $8,968.77 (decorations)
Endzone & Willie Clayton $7,946 (entertainment)
Legend Seven $6,000 (entertainment)
Promo Guyz $3,510 (printing)
More stories by this author
Support our reporting -- Follow the MFP.