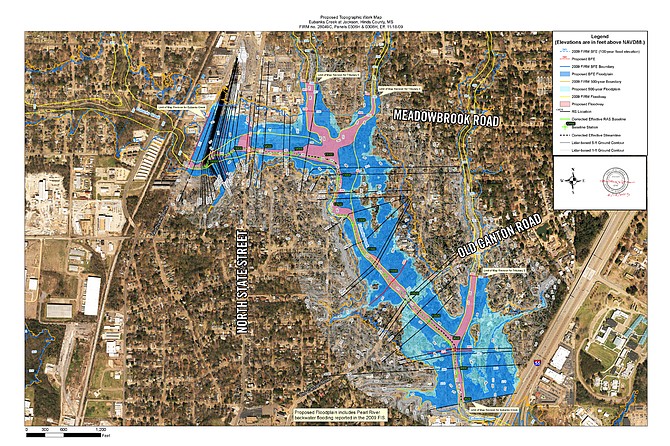 Residents along a section of Eubanks Creek in Fondren are a step closer to getting relief from flooding and high-cost flood insurance. In the past year, developers, architects and city officials have analyzed the creek for solutions.
Venyu, a Louisiana-based company remodeling the former McRae's Department Store into a data center and telehealth center at Meadowbrook at State Street, paid the costs for engineering studies, which sought to analyze whether the creek's boundaries needed updating. The creek runs east to west behind the future Venyu site.
Roy Decker, a principal in Duvall Decker Architects, said the creek has not been maintained over the years, which contributed to the flooding. Creek channels should be cleared of debris regularly so that the water flows freely instead of backing up.
In the assessment, Bill Colson of Aqua Engineering Services redrew outdated FEMA floodplain maps for the area; Colson's updated maps show that flooding can be reduced an average of 3.2 feet.
In January, the Federal Emergency Management Association granted conditional approval to those maps, clearing the way for the City to start construction work, which could include the removal of the Seminole Street Bridge, also behind the old McRae's.
Jackson taxpayers, through the 1-percent sales tax, will help defray the costs of the $1 million to $1.5 million construction price tag. Once the work is complete, if FEMA signs off, hundreds of homeowners could see a reduction in their flood-insurance rates. "It's a really good example of the city working with a private owner. It's a good example of how this should work," Decker told the Jackson Free Press.
More stories by this author
Support our reporting -- Follow the MFP.