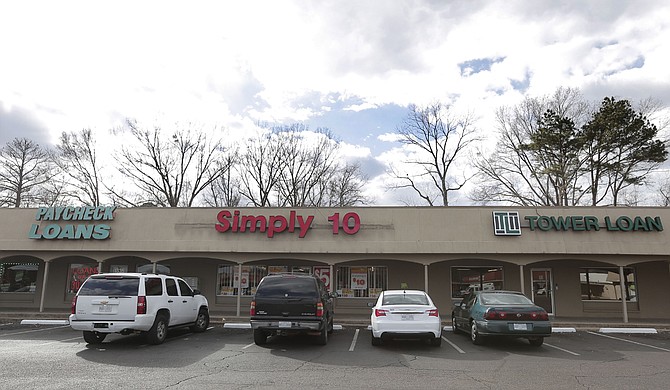 Like a sadder version of Las Vegas, the signs towering above Jackson's payday-loan shops and check-cashing joints seem designed to entice motorists in the city's major thoroughfares. In some cases, the businesses' color schemes mimic those of cheap fast-food restaurants. And, ironically, several of the businesses happen to operate out of repurposed fast-food restaurants.
The signs make statements that often are alliterative (e.g. "Quick Cash"), rhyme (e.g. "Fast Cash"), or straight and to the point (e.g. "Check Cashing" and "Payday Loans"). Because of the principles of supply and demand, one might argue that the concentration of these kinds of businesses—which say they offer customers the convenience of a microloan in exchange for not looking at their credit history for a premium—is a sign of an economy working the way it should.
De'Keither Stamps, who represents Ward 4 and serves as chairman of the Budget Committee, argues the converse. In his view, these businesses depress the economic potential in the city. Wearing a purple golf shirt buttoned to the neck in his City Hall office looking out onto President Street, Stamps said the "fringe economy" is holding Jackson back.
"We've got to figure out what we're going to do to change the economics of the city so that people can afford other types of retail and businesses," Stamps said.
The councilman's view is also rooted in supply-and-demand theory: In essence, the more money people spend on payday-loan and check-cashing fees, the less they have to help bolster the City's treasury by purchasing goods and services.
That's why Stamps is pushing for a one-year moratorium on future growth of such businesses. His proposed ordinance would deny business licenses to new payday-loan and check-cashing locations as well as pawn shops and liquor stores. Stamps said the ordinance would also include a financial-literacy component, which he believes could help end the intergenerational cycle of relying on high-interest financial services instead of traditional banks.
In Jackson, more than 30 percent of people live below the poverty line compared to 22 percent of people across Mississippi, itself the poorest state in the nation. But under the Mississippi Check Cashers Act, people can borrow up to $410 from payday lenders. State law allows the loan company to charge $20 or less per $100 on loans of up $250. For loans between $251 and $500, lender can charge up to $21.95 per $100.
"For example, a borrower writes a $500 check, pays the $90 fee, and receives $410 in cash. It is illegal to write a check for more than $500," according to a factsheet from the state banking department.
Charles Lee, director of consumer protection at the Mississippi Center for Justice, explains: "People use what's closest to them. If that's the closest financial—quote—institution to where they live, that's what they'll use."
A Growing Trend
If Stamps' proposal sounds radical, it isn't. As of 2010, the Mississippi cities of Byram, Canton, Clinton, Flowood, Jackson, Laurel, Pearl, Rankin County, Ridgeland, Starkville, and West Point had either imposed moratoria or restricted the businesses with zoning regulations.
Nationwide, more than 120 cities have imposed similar restrictions, information from the Washington, D.C.-based Consumer Federation of America shows.
If Jackson follows through, it would be the latest blow to a high-cost lending industry already reeling from regulatory crackdowns from the federal government as well as the state of Mississippi, which holds the distinction as home of the most payday-loan companies per capita in America.
In 2014, the Mississippi Department of Banking and Consumer Finance ordered All American Checking, a Madison-based payday lender, to end a practice that the department said was tantamount to illegal rollovers of payday loans. Mississippi law requires customers to pay loans in full before taking out a new loan.
State regulators said All American unlawfully allowed customers to pay the fees, but delay paying the principal. All America sued the state in federal court in Jackson on Jan. 29, saying the state's regulatory actions could unlawfully shutter the business.
Dale Danks Jr., an attorney for the company, did not return a phone message. In response to a follow-up email, Danks referred a reporter to the complaint, saying, "At this time, I do not feel it is proper to discuss matters concerning All American Check Cashing's motion against the Mississippi Banking Commission."
All American's complaint against Charlotte Corley, the state banking commissioner and other individuals, states that in June 2014, banking department agents showed up at six All American locations, including its corporate headquarters in Madison.
The company said the agents used "heavy-handed and unnecessary tactics" and forced their way into back rooms and bathrooms to present employees with a questionnaire about the company's lending practices.
"These heavy-handed tactics were intended to cause and, indeed, did cause fear in All American's employees," the complaint states.
Officials with the state banking department also did not respond to a phone message. A hearing is set in the matter for Feb. 12.
Not Without a Fight
The payday-loan industry, which asserts that its products simply help people with limited options out of jams for a small fee, will not fade into oblivion without a fight, however.
The Community Financial Services Association of America, the group's national lobbying organization, argues on its website that the "payday loan industry makes significant contributions to the U.S. and state economies employing more than 50,000 Americans who earn $2 billion in wages and generating more than $2.6 billion in federal, state, and local taxes."
The organization has an influential lobbying presence, both in Washington, D.C., as well as in state capitals. During the 2014 election cycle, the CFSA spent $161,500 on campaigns and $1.5 million lobbying, data from the Center for Responsive Politics show. Since 2000, the CFSA has spent almost $21 million on political races in U.S. states, including Mississippi, where candidates receive contributions of between $250 and $1,000, according to the Helena, Mont.-based National Institute on Money in State Politics.
Felicia Lyles, vice president and regional branch administrator for HOPE Enterprise Corp., which operates credit unions that offer alternatives to payday loans, believes some consumers are making better decisions in eschewing payday loans in recent years. Even though HOPE and other banks increasingly offer alternative loan products and financial education to their customers, Lyles, who has worked for HOPE for nine years, said despite all that high-interest lenders continue to thrive.
"If all financial institutions offered solutions and alternatives, that's how (they) can put the predatory lenders out of business," Lyles said.
More stories by this author
Support our reporting -- Follow the MFP.