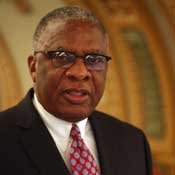 UPDATED: This story has been updated with additional information from this afternoon's hearing.
Also see:
Flaggs: Keep Check Cashers Act
Payday Lenders Big Donors to Lawmakers
"2011 Legislative Preview: Not All About Money" in this week's issue.
Despite inclement weather conditions, the Mississippi House Banking and Financial Services Committee is conducting a hearing on the statewide industry of payday lending this afternoon at the state Capitol.
The purpose of the hearing is to consider legislation that would extend an exemption allowing payday lenders to charge what can amount to a 572percent annual-percentage rate on $100 short-term loans. Currently, short-term lenders like payday lending companies are the only businesses exempted from a statewide 36 APR cap on loans. However, that exemption expires in July 2012, setting the stage for a battle between payday lending opponents who argue that the 572 APR is too high, while advocates say the 36 percent interest rate does not provide enough revenue to justify a $100 short-term loan.
Payday lenders point out that a 36 percent APR cap on a $100 loan would amount to a daily charge of 7.5 cents.
To get a short-term payday loan, a borrower writes a payday lender a personal check for the total amount of his or her loan, which the lender holds until the loan's due date, which generally coincides with the borrower's next pay check in two to four weeks. In exchange, the borrower receives cash from the lender, minus $21.95 per $100 in interest. Companies like Advance America, a public corporation with numerous offices in the Jackson metro area, offer a $300 maximum payday loan, requiring a fee of about $66.

Under state law, borrowers may not extend the same loan, but Mississippi Center for Justice Advocacy Director Beth Orlansky says that many payday borrowers begin a cycle of taking out subsequent loans with different payday lending companies to fund previous loans. Borrowing eight $300 loans a year means amassing $526.80 in fees. The practice puts the borrower at risk of bank overdraft charges, as well as a lender's insufficient funds fee of up to $30, if they don't have the money in the bank to cover the draft.
House Banking and Financial Services Committee Chairman Rep. George Flaggs, D-Vicksburg, said letting the exemption expire would kill the payday-lending industry in the state.


"I'm not in the business of putting people out of business when unemployment in this state is at 10 percent," Flaggs said in November. "How much more fair could I be than to bring the bill out into committee for a vote? The other option is to kill the bill. Is that fair? That's what (payday-lending critics) want. I want everybody to vote on it. It has to go through my committee, go to the (House) floor and get through the Senate."


Flaggs, who went on to say that payday lenders' $21.95 fee compares favorably to often-higher late fees for utility, credit cards and phone services, said that he would hold hearings and let legislators decide for themselves whether to let the extension pass or die in the House Banking and Financial Services Committee.
At this afternoon's hearing, Flaggs said he planned to introduce House Bill 455 to the House Banking and Services Committee tomorrow. The bill would extend the exemption beyond 2012.
Dan Robinson, who owns 28 payday lending stores in Mississippi, spoke at today's hearing. He said the payday lending businesses could not stay in business if lawmakers do not extend the percentage-rate exemption.
During the hearing, Ward 6 Jackson City Councilman Tony Yarber told lawmakers that he was concerned about the high number of payday lenders on Terry Road and Bailey Avenue in Jackson. He likened the payday lending industry to a herd of lions cornering a baby buffalo.
"It's a predatory industry takes advantage of those without education and resources," he said.
Updated Jan. 31 to reflect correct APR of 572 percent, per the Mississippi Department of Banking and Consumer Finance.
More stories by this author
Support our reporting -- Follow the MFP.