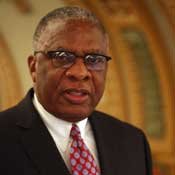 Rep. George Flaggs, D-Vicksburg will participate in a House committee hearing on continuing to allow short-term lenders to charge a 572 annual percentage rate on $100 loans.
Stories this photo appears in:
Capitol
UPDATED: This story has been updated with additional information from this afternoon's hearing.
Capitol
The Mississippi Center for Justice says short-term lenders donate heavily to legislative banking committee chairmen in hopes of extending an exemption allowing them to charge up to $21.95 for every ...
Health Care
The Mississippi Department of Medicaid's high estimates of what the federal health-care legislation will cost the state are overstated, Mississippi Health Advocacy Program Director Roy Mitchell said today.
Capitol
The Mississippi Legislature was back in action April 20 to approve a $5.5 billion fiscal-year 2011 budget and the re-authorization of the Mississippi Department of Employment Security.