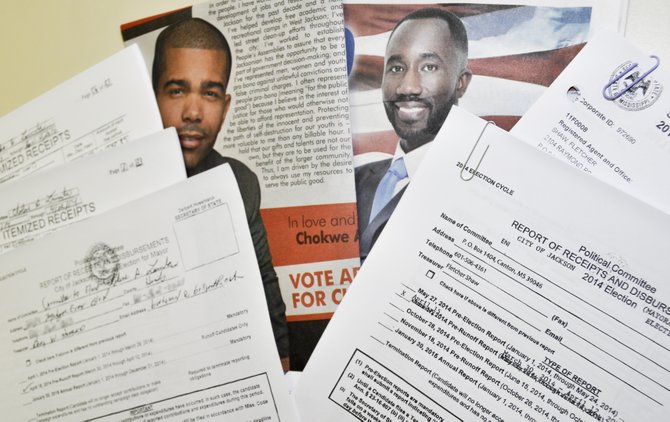 JACKSON — Chokwe A. Lumumba's fundraising committee remains in the money lead, the latest information from the Jackson city clerk's office shows.
Through April 15, Lumumba raised $224,965.57 since announcing his intentions to seek the seat his father held until his death in late February. His rival in the April 22 runoff election, Ward 6 Councilman Tony Yarber, raised $158,681.
Lumumba also reported having about $34,000 in cash on hand in the final week to Yarber's $1,800.
Those totals include contributions from two political action committees.
Mississippi Laborer's PAC, a state affiliate of the roughly 800,000-member Laborers International Union Of North America that represents construction workers in the U.S. and Canada, gave Lumumba $2,000.
Another PAC, ENI, which lists a Post Office Box in Canton as its address, reported raising $25,000. Of that sum, candidates for the Jackson mayor's office received $5,000—Yarber received $3,000 and Ward 2 Councilman Melvin Priester and Lumumba received $1,000 each.
The majority of the expenditures went to two political-consulting firms that list no address. State records show that J & J Consultant, which received $7,500, is owned by Minnie and Stephen Johnson of Tunica. The business lists its email address as [email protected].
Other donors to ENI include:
Samuel Agnew, Baton Rouge, La.
$7,500
ETEC SERVICES, INC.
His company bio states that Agnew "has been selling chemical process equipment, as well as water and wastewater treatment equipment, for over thirty years."
Mr. and Mrs. David P. Harrison, Florence
$4,000
David Harrison was president of a non-profit called the Jackson Drivers Sick Fund, which lists the address of a private home in Clinton as its address, according to the group's 2012 tax form. It appears to be a "sick and accident" fund for employees of UPS. Harrison also gave $1,000 to Phil Bryant in 2011
Robert B. Collins, Brandon
$4,000
Mississippi Secretary of State records show Collins as an officer with several companies associated with Hemphill Construction Co., a multistate general contractor that does business with local governmental agencies, including the city of Jackson.
Reynolds Engineering LLC, Jackson
$1,000
The Mississippi Secretary of State show that Carl Ray Furr is the sole officer of the company and records searches show Furr as being involved with several engineering consulting firms over the years.
More stories by this author
Support our reporting -- Follow the MFP.