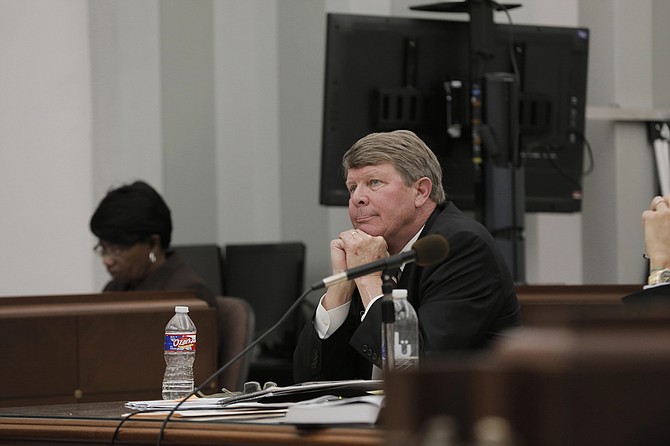 JACKSON — The trial against Downtown Jackson Partners President Ben Allen wound up on Feb. 7 with a conviction on one of 10 counts—over $1,737.38 in cell-phone bills—even as the woman who landed him there remained conspicuously absent from the courtroom, probably because DJP accused her of writing over $40,000 in forged checks on its account.
A Hinds County grand jury indicted Allen in early 2016, alleging that he subverted funds from a public organization for his own personal use for expenditures such as cell-phone and credit-card bills. The indictment also accuses Allen of using DJP to funnel political funds to Mayor Tony Yarber's inaugural gala in 2015.
To fight the charges against Allen in the final days of the trial, his defense team brought in Robert Gibbs, DJP's board attorney, to discuss his own investigation into the allegations. The former Hinds County Circuit Court judge and assistant attorney general presented his opinion that the conclusions of the State Auditor's Office were fundamentally incorrect.
The funds Allen allegedly mishandled, he insisted, were not public and, thus, it was up to DJP to decide whether his actions were appropriate or not, not the State of Mississippi and its lawyers.
Gibbs vs. Patterson
Gibbs has served on retainer as the board attorney for DJP since 2011, he said, when he transferred from public work to private. In this position, Gibbs conducted his own version of the state auditor's investigation, finding that he disagreed greatly with Melissa Patterson, the assistant attorney general assigned to the original investigation.
Patterson had testified for the prosecution early in the trial that DJP, a business improvement district with 501(c)(4) nonprofit status, assesses "taxes" on property owners within the BID's footprint, and the county tax collector can punish them if they do not pay.
The two attorneys exchanged letters over the "tax" question, Gibbs said in court, although he failed to convince her that Allen was not handling public funds. Gibbs maintains that the money is an "assessment" that goes to DJP after the county collects it and pays it to the City of Jackson.
"The statute itself says that this is an assessment," Gibbs told the jury, adding that unlike a tax, the property owners within the 66-block downtown DJP footprint decided themselves as a group how much and whether to assess their own property.
"A tax is something that a government levies on its citizens, and it is for betterment of the entire citizenry," Gibbs said in his testimony.
"The government had absolutely nothing to do with the assessment besides collecting," Gibbs added. "In my opinion, this is not a tax."
Patterson had testified earlier in the week that the "tax" funds are public money because they pass through public entities and that co-mingling of DJP's other private funds and the assessment dollars cause the whole lot to become public. If the prosecution can prove that the money Allen is accused of moving is public, then he would fall under the laws punishing embezzlement by a public official.
Gibbs, the last witness to testify for the defense, told DA Smith to stop calling the assessment a "tax" during proceedings.
"You've used it incorrectly several times because the statute says assessment, but you keep calling it a tax," Gibbs said to the district attorney during his cross-examination. "So we are going to use the correct language. You need to stop calling it a tax because that's not what is in the statute; what's in the statute is 'assessment.'"
Brune's Trial Looms
Hovering over these proceedings, like a specter, is DJP's case against Linda Brune in Madison County Chancery Court. There, DJP filed a civil suit in 2014 alleging that the former long-time executive assistant to Ben Allen and registered "whistleblower" with the state auditor's office methodically forged and falsified 38 checks on DJP's accounts for a total of $40,439.43.
"(Brune) further concealed her embezzlement scheme by altering the images of the checks found on the monthly bank statements for the DJP and Marketing Accounts," the complaint DJP filed in December 2014 states. "Specifically, the Defendant 'whited out' her name on the payee line of the image of the forged checks appearing on the bank statements and in turn falsely and fraudulently wrote on the payee lines the names of various venders of DJP."
Downtown Jackson Partners says it found those altered checks after learning that Brune removed boxes of files from its offices, handing them over to both the state auditor's office and a Clarion-Ledger reporter who published a story about the allegations against Allen on July 26, 2014.
The day before that story appeared, Ben Allen says he had terminated Brune.
"On July 25, 2014, after a(n) internal company investigation, I terminated my executive assistant named Linda Brune, for leaking company business secrets to the local media," he wrote in a statement presented to Jackson police and included in a packet requesting a Hinds County indictment of Brune for embezzlement.
"From the termination of Linda Brune information began to reveal itself through bank audits of accounts belonging to the Downtown Jackson Partners at Trustmark National Bank," Allen added.
That investigation, Allen wrote, found that "Brune had written several checks payable to her between the years of 2009 through 2014 in which she forged my signature on the endorsement line without my permission or knowledge." When the original checks returned from the bank, he wrote, "she would white out her name on the payable to line and replace it with the name of a venders (sic) in which the Downtown Jackson Partners does business with." His statement ended by requesting that "a bench warrant be issued for the arrest of Linda Brune on the charge of Embezzlement."
DJP presented dozens of pages of cancelled checks, lists of vendors and other documentation to support its allegations against Brune.
The district attorney's office, however, passed on the recommendation to charge Brune, issuing a "no-bill recommendation" to the grand jury on May 29, 2015, with a handwritten description of the perceived "problems with evidence" being that the Brune allegations were "retaliation for whistleblowing."
The district attorney's refusal to prosecute Brune on the allegations against her relied in part on a letter from the state auditor's office dated May 13, 2015, stating that Brune was a "confirmed whistleblower" as of March 20, 2014, because she had come to the auditor to report "alleged improper governmental action" on the part of Allen.
That characterization, of course, was at the heart of the trial against Allen for both the prosecution and defense. The jury was asked to decide if Allen's handling of resources is correctly characterized as "governmental action," and thus, it had the authority to rule that Allen committed a crime even if his employers did not consider what he did to be wrong. At least on Count IV, involving the cell-phone bills, the jury claimed that authority, but not on the other nine counts.
Eyes on Madison County
After the Hinds County district attorney refused to pursue against Brune, Downtown Jackson Partners filed a civil lawsuit against Brune in Madison County Chancery Court in December 2014, stating that she used 38 forged checks "representing a total sum of $40,439.43," the complaint states.
Brune has not consented to an interview, but wrote in a comment on the Jackson Free Press website that the DJP allegations against her are "bogus." She also had strong words for DJP's board of directors, posting: "As for the Board who sprinkles their holy water on the shenanigans on Ben's little Faux Pas, they are in it up to their hair follicles so they HAVE to back him ... more trials to come on that one!"
Madison County Court Judge Staci O'Neal ruled in January that because Brune was likely to be a "star witness" in the Hinds trial of Allen, she would delay her case until after his concludes, and scheduled a hearing for Feb. 8, 2017. Still, DA Smith never called Brune.
Assistant District Attorney Randy Harris had asked Judge Kidd to prohibit Allen's defense from mentioning Brune during his trial because the effect "would certainly be more prejudicial than probative." Yet, the Brune embezzlement allegation was attached to a DJP resolution package that the judge allowed the jury to see. The court also issued a subpoena for Dr. Daniel Quon, a Jackson oral surgeon, to appear and produce business records to show why Brune allegedly wrote him checks on DJP's account in 2009. The motion attached copies of the checks to Quon totaling over $2,500.
The Clarion-Ledger, which quashed a subpoena for reporter Jerry Mitchell to testify in the trial, to date has not reported on DJP's allegations against Brune, its source on the initial story about Allen.
Brune did attend most days of DA Smith's trial, taking notes from the upper or lower galley. When a reporter asked her if the reason for her attendance was related to the criminal charges against Allen, she said she was simply "interested" and refused the opportunity to make further comment.
Read more about DJP and Ben Allen's trial at jfp.ms/djp.
Support our reporting -- Follow the MFP.