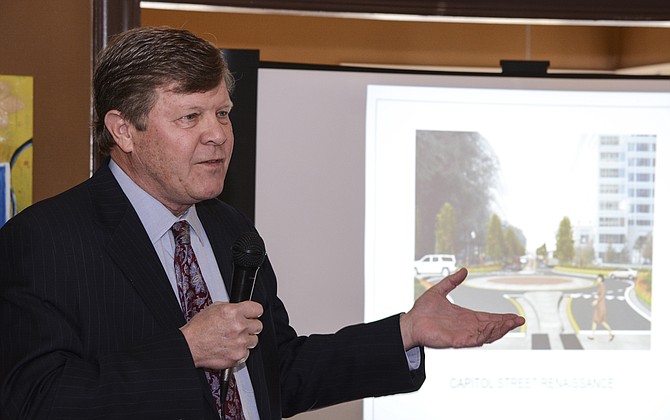 JACKSON — The trial of Downtown Jackson Partners President Ben Allen, who faces 10 counts, including embezzling a 1989 Chevy truck and tens of thousands of dollars from the business improvement district, is set to begin Jan. 30. The trial moves ahead even as Allen's attorneys say the case against him is "defective as a matter of law" based on their reading of an investigative report by State Auditor Stacey Pickering's office and other evidence the defense has compiled.
"Evidence developed during this investigation shows that Ben Allen," the auditor's report states, "improperly transferred ownership of a 1989 Chevrolet vehicle from Downtown Jackson Partners (DJP) to his personal ownership. DJP still incurred the cost of repairs, tag registration, and insurance premiums after Ben Allen transferred ownership. In addition to the transfer of the Chevrolet vehicle (sic)."
However, Allen's attorney, Merrida Coxwell, wrote in a November motion that the auditor's report actually supports Allen's innocence, emphasizing that the Office of the State Auditor, or OSA, found the funds Allen used were private. "It is clear from (the report) that the OSA never concluded that a crime occurred, that Mr. Allen committed a crime, or that these funds were public funds," the Nov. 28 motion states.
Coxwell's motion quotes an OSA investigator writing in the report that "Mr. Allen may have illegally obtained things outside the scope of his employment ...." The auditor's report pointed to a complaint "that Ben Allen was misusing DJP's funds and illegally in possession of DJP's vehicle." The motion argues that Allen's "disgruntled" executive assistant, Linda Brune, made those claims, and that the auditor's office never checked with the DJP board to see if Allen was acting within the scope of his employment, which the board maintains. In addition, the auditor "never looked into the DJP's I.R.S. recognition as a 503(c)(4), not a typical nonprofit," Coxwell wrote.
Even though the auditor's report does not outright exonerate Allen, Coxwell says it proves that he did not commit criminal activity and that Downtown Jackson Partners fully support him.
"If there is no victim, there is no crime," the motion concluded.
The Charges
Hinds County District Attorney Robert Shuler Smith doesn't see it that way. He put the case before a Hinds County grand jury, which indicted the former Jackson councilman in February 2016 of 10 counts. Eight of the charges are for violating Mississippi Code 97-11-25, a special law governing embezzlement by public officials. Downtown Jackson Partners, a business improvement district, levies businesses within its footprint, which some consider a tax and some do not, likely an important distinction for the defense.
The ninth count is for allegedly defrauding DJP of $65,754.24 to use for a business-incubator program, supposedly one of the organization's projects.
The last count alleges that Allen violated Mississippi Code 97-13-15, which prohibits any corporation from giving or donating an excess of $1,000 per year to a political campaign or candidate.
The indictment accuses Allen, while serving as president of DJP, of donating approximately $86,000 to Mayor Tony Yarber's inaugural campaign gala fund from April 16 to June 21, 2014.
The eight counts of embezzlement vary both in the amount and type. For instance, the first count states that Allen took possession of a 1989 Chevrolet pickup valued at $3,500 in March 2010 and never returned it. The second count accuses Allen of spending $2,724.76 for repairs to the same truck from March 2010 to December 2012, and the third alleges that Allen spent $1,810.21 of DJP funds from September 2010 to January 2014 for the truck's insurance coverage. Counts four through six allege that Allen spent various amounts from DJP funds to cover his and his wife's credit-card debt and phone bills. The fourth count alleges that from September 2010 to January 2014, Allen used $1,738.37 to pay off a cell-phone bill for his wife and himself.
Downtown Jackson Partners also allegedly footed the bill for $6,620.97 of Allen's AAA Financial Credit Card bill from November 2009 to May 2011. Count six raises the amount up to $38,372.99, alleging that Allen used DJP funds to cover his personal Capital One credit-card bill from August 2010 to July 2014.
Coxwell's Nov. 28, 2016, motion contained 100-plus pages of evidence he says proves that the Hinds County district attorney's office has no claim to charge Allen.
"The ten (10) counts in the Indictment charged against Mr. Allen are defective as a matter of law. The Court should dismiss the counts against Mr. Allen," Coxwell's motion states.
"If the prosecutor feels the Court is wrong, then he can appeal the dismissal to the Mississippi Supreme Court. Otherwise, the law and evidence are clear that Downtown Jackson Partners manages private money coming from assessments. It is not public money. In these types of matters, doubts should always be resolved in favor of the accused."
The History, DA's Involvement
The controversy started in March 20, 2014, when the State Auditor's Office received a complaint from Linda Brune, Allen's long-time executive assistant, accusing her boss of embezzling resources from the DJP for years. She registered with the OSA as an official whistleblower, and the auditor's office began an investigation, eventually writing a report with its findings.
In August 2014, only a few weeks after a Clarion-Ledger article raised questions about the DJP's and Allen's "accounting practices," the organization reported to Jackson Police Department and Trustmark Bank that Brune had allegedly forged more than $40,000 in checks from DJP.
DJP, in turn, filed a lawsuit against Brune on Dec. 10, 2014, accusing her of forging Allen's signature on 38 checks for a total amount of $40,439.43 that she allegedly deposited into her personal bank account.
DJP further accuses her of fabricating monthly bank-statement pages to show the checks as paid to regular vendors of the organization. Brune is currently in civil court in Madison for the charges.
In a court filing, Brune called those accusations "frivolous."
"Any funds taken from the DJP or Marketing Center Accounts were delivered directly to Mr. Allen to enable him to circumvent the maximum amount of funds which he was allowed to sign for," it stated.
"This entire scenario was manifested when Mr. Allen learned that I had cooperated with the State Auditors Office in their investigation of him and his misuse of DJP funds," the Brune response stated.
The auditor's report against DJP interested DA Smith, who brought the case before the grand jury on Feb. 26, 2016, indicting Allen on the current charges.
Coxwell's motion recounts that Smith could not get the report from OSA investigators, who argued it was a part of an ongoing investigation. On Feb. 26, 2016, Smith indicted two of the investigators for hindering prosecution, charging that the state auditor was intentionally hiding the report.
This is the exact same charge, for violating Mississippi Code 97-9-105, Smith himself faced during his recent two-and-a-half-week-long trial, which ended in a mistrial, and is scheduled to start up again in June.
Brune attended most days of the Smith trial, listening and taking notes from the galleries. When a reporter asked her if the reason for her attendance was related to the criminal charges against Allen, she said she was simply "interested" and refused the opportunity to make further comment.
On June 23, 2016, DA Smith faxed attorneys for Downtown Jackson Partners a letter responding to their motion to compel discovery from Brune in its lawsuit against her in Madison County. Smith, who had already indicted Allen, was was acting on his former assistant's behalf in the civil trial at that point because she had not yet retained counsel. "The State of Mississippi represents Ms. Linda Brune as a victim in the criminal case of State of Mississippi vs. Benjamin Wade Allen," Smith wrote in the letter to DJP attorney Sam Begley. Brune would not be available for depositions, Smith said, until she had retained counsel. Smith also wanted the lawsuit "in abeyance" until after Allen was prosecuted.
Begley's June 29, 2016, response treated Smith's letter on Brune's behalf, asking that she not be deposed about DJP's accusations of her until after Smith had tried Allen, as a legal transgression. "The Plaintiffs further move the Court to order Robert Shuler Smith, Esq. to curtail his participation as an attorney for the Defendant in the instant civil matter until he enters his appearance as counsel," Begley wrote. He asked the court to schedule deposition dates and order Brune to appear. Then, on Nov. 29, 2016, DJP filed a motion of default against Brune because she "refused to be deposed."
On Jan. 10, 2017, new Judge Staci O'Neal entered an opinion slapping DJP for not following proper procedure in asking for a summary judgement against Bruni or in scheduling a deposition. The judge wrote that she was "sympathetic" to DJP's difficulty in getting a deposition from Brune who had been "extremely uncooperative," she could not order the summary judgement without proper notice and procedure by DJP. She also set aside a request to issue a warrant for Brune's arrest for not showing up for the improperly scheduled deposition. The judge agreed that Brune's deposition should wait until after Allen's trial because she is likely to be the "star witness" and tentatively scheduled a hearing for Feb. 8, 2017, which will be delayed should the Allen trial not have concluded by then.
Smith's and Allen's cases have another person in common as well: When Allen resigned from the Ward 1 city council seat in 2007, Jeff Weill successfully ran for the seat in 2007, and Allen was his finance director. Later, Weill ran for the judicial seat—Allen donated $1,000 to his judicial campaign—and the judge is now one of Smith's targets in his effort to free Christopher Butler on drug charges.
Smith also mentioned the Allen case in text messages between himself and a Clarion-Ledger reporter, Anna Wolfe, who wanted him to talk about "Tony Yarber's white support (Leland speed, NE Jackson etc) for a story."
"If you want an African American perspective of the 'machine' then you can read some old articles from Jackson advocate (sic). He talks about downtown partners, Ben Allen, etc. monopolizing and strong arming politics, therefore leaving the citizens in dire straits," Smith texted Wolfe back on May 26, 2016.
The Jackson Advocate is a local black newspaper that was a strong critic of Allen when he was on the city council.
DJP Internal Report
After the grand jury indicted Allen in February 2016, the DJP board and its attorney, former Hinds County Circuit Court Judge Robert Gibbs, launched its own investigation. Gibbs submitted his findings to the board in a May 17, 2016, report, which Allen's defense counsel included in a June 23, 2016, motion to dismiss all charges.
"I have concluded," Gibbs wrote, "that based on this evidence and the relevant law, the charges in the Indictment are without merit, and I recommend the Board adopt this resolution. The Board and the Executive Committee have properly exercised governance over Downtown Jackson Partners. There are no instances in the Indictment where Mr. Allen has stolen or converted DJP funds for his own benefit. In fact, Mr. Allen has acted in compliance with the Bylaws, DJP policy and following the directives of our approved budget."
The board approved a resolution in response to Gibbs' report, supporting Allen's actions. In the 24-page document, dated May 13, 2016 and including Gibbs' full memo, the board outlines objections to the accusations first stated in the auditor's report, which eventually ended with the grand-jury indictment.
Gibbs' memo addresses first the counts in Allen's indictment that involve the 1988 (not 1989 like in the indictment) Chevrolet pickup truck that DJP purchased in 2007 from Earl Smith, a supervisor with the company Wackenhut which at that time handled their landscaping, for $3,500. DJP transferred ownership of the truck to Allen that same year, shortly after he began his tenure as DJP president, the memo said.
After the organization received a $2,000 Travelers insurance bill for the truck, the memo states, Allen approached the executive committee of DJP, which then included Mike Peters, Ted Duckworth, David Watkins, Sylvia Stewart and Hilda Owen. This group decided to allow the title to transfer to Associate Director John Gomez, who would pay for the insurance of the truck, a move they began in February 2009 that continued through early 2010. Transferring the ownership to Gomez, the memo states, saved DJP around $1,600 in premium costs.
Later, the memo states, the truck was transferred over to Allen, "as Mr. Allen carried a larger comprehensive insurance program ($1,000,000 umbrella) than Mr. John Gomez." So in March 2010, the truck, used mostly for landscaping work since 2007, the memo states, was transferred over to Allen. Gibbs stated that the manager of the company that had taken over landscaping duties, Block by Block, arranged for repairs to the truck and asked Allen for authorization each time.
"It was understood that the truck belonged to DJP, and the transfer was not done for the purpose of stealing or converting the truck to Mr. Allen. It is clear from my investigation," Gibbs wrote, "that Mr. Allen had no financial benefit or interest in obtaining title to the truck, rather he took a significant liability to save DJP money."
Cell Phones, Credit Cards
Gibbs' memo also refutes count four of the indictment, which alleged that Allen took money from DJP to pay personal cell-phone accounts, specifically that of his wife, Susie Allen. Gibbs wrote that Allen regularly paid back the money he owed DJP for the lumped-together accounts, which also sometimes included the phone of Block by Block manager Bobby Viverette, Linda Brune and another individual, named Emily Damiens, in addition to Allen's wife's phone. The memo said Allen paid DJP back: "This was always done, and none of the money alleged in the indictment was converted by Mr. Allen."
"DJP did not have a credit card for many years," the memo says in response to the indictment's claims that Allen repaid credit-cards with DJP funds. "It was always incumbent on Mr. Allen to make charges or purchase on his personal cards and to turn in a receipt explaining the expenditure."
It was the task of staff to go through the credit-card statements to code each expenditure for accounting, Gibbs wrote. Gibbs said that Allen and Gomez went back through the expenditure records in response to the indictment and that "there were a significant number of missing (stolen) backup receipts for the credit card."
"With a significant amount of effort, the staff has been able to recover receipts for nearly all of the credit-card charges since many were reoccurring monthly marketing charges, office supply charges, conference charges and dues-related charges."
Gibbs said the corporation possesses validation for every credit-card charge and that all charges are business related or that Allen properly reimbursed the corporation for non-business charges. "Based on my investigation, I cannot find any evidence where Mr. Ben Allen stole or converted money to his own use," he wrote.
Mayor Yarber's Gala
As to the allegations, counts seven and 10, that Allen misappropriated DJP money for Mayor Tony Yarber's Inaugural Gala, Gibbs rejects that Yarber was a candidate at the time and that the funds violated campaign laws that limit the amount a corporation or its representatives can donate to political candidates.
The memo states that "an ad hoc group of the mayor's supporters" requested in 2014 that the DJP serve as a "clearinghouse for donations" for the incoming mayor's gala. In this way, Allen—with the permission of DJP's accounting firm and Gibbs himself—passed contributions totaling $86,000 to the Inaugural Committee, "whenever the committee submitted invoices to pay for expenses before, during and immediately after the event."
Gibbs argued to the board that because DJP is a private nonprofit, it is not hamstrung by campaign-finance law limits to donations, and that Yarber, at the time the monies were transferred, was no longer a candidate.
Count eight alleges that Allen, in his capacity as DJP president, handed out sponsorships and grants from the organization. Gibbs' memo states that "the indictment alleges Mr. Allen converted these monies to his own use, and this is categorically wrong." Instead, the memo states, DJP staff would review requests to "determine if the project meets standards of relevance, and if so, how much to fund the project."
Gibbs also refutes count nine of the indictment, that Allen allegedly defrauded a special DJP project called the venture business incubator.
"The indictment alleges Mr. Allen misrepresented or falsified something to DJP in regards to this count. This allegation makes no sense whatsoever. The incubator was fully vetted, considered and voted on by the Board," Gibbs wrote.
The trial for Ben Allen is set for Jan. 30 in the Hinds County Courthouse in downtown Jackson.
*Clarification: The original story above said that DJP "draws on taxes" of businesses within the BID. Whether or not the levy is a "tax" is part of the legal dispute. We have edited the above copy to reflect that disagreement. It is also edited to reflect that she filed the rebuttal to the lawsuit herself, and not "Brune's attorney."
Read more about Ben Allen's trial at jfp.ms/djp and DA Robert Shuler Smith's trials at jfp.ms/DAFiles.
Support our reporting -- Follow the MFP.