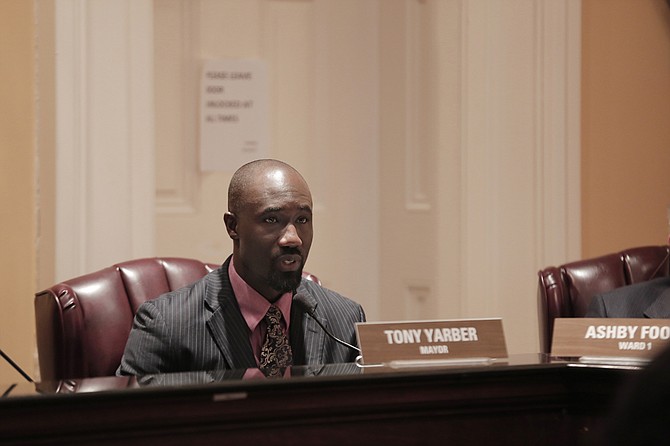 Mayor Tony Yarber and his administration recently became defendants in another sexual-harassment lawsuit, this time saddled with charges of steering city contracts to campaign supporters.
Former Equal Business Opportunity Manager Stephanie L. Coleman claims she was pushed out of her role in 2015 when she became aware she was "unwittingly" caught up in a pay-to-play scheme to steer contracts, including to Socrates Garrett, a well-known supporter of Yarber's first mayoral campaign in 2014.
Coleman filed a lawsuit against the City of Jackson, Yarber, and several unknown "John Does 1-3" on Feb. 2, alleging that she "has been subjected to sex discrimination, sexual harassment, and a sexually-hostile work place" and "unlawfully retaliated against" for the pay-to-play scheme.
Both Yarber and Garrett deny illegal steering, and have gone separate ways after public contract battles of the last two years.
Fighting Over Sludge Hauling
The scuffle over what is commonly known as the "sludge hauling" contract is key part of Coleman's lawsuit, and caused a split between Yarber and Garrett, the mayor told the Jackson Free Press just days before Coleman's lawsuit went public.
Garrett wanted that contract for his company, working with Russellville, Ark.-based Denali Water Solutions. (Out-of-state companies often pair with local minority contractors to increase their chances at lucrative municipal contracts.)
Yarber said then that Garrett's proposal should have won, but politics derailed it. "Their proposal was the best proposal," he said of Denali-Garrett. "So we put them in front of the council. It wasn't that we shunned them or didn't do, but it was the council that rejected that. It was plain and simple that it was rejected because he supported me. That's all that was."
Yarber said rumors that he influenced the sludge-contract decision ultimately killed Garrett's proposal. He said he did not allow Garrett or others to meet with the committee, and said he received backlash for that from the contractor's team.
In her lawsuit, Coleman paints a picture of a mayoral administration doing everything it can to get Garrett the contract. She served on the $15-million Bio-solids Disposal Evaluation Committee, the body that deliberated over the bids.
"The scoring criteria was changed and scoring sheets were altered to justify awarding the contract to the Denali-Garrett Team, which included the Mayor's campaign finance chairman (Garrett) although the competing proposal from Synagro-Fisher was more than $1,000,000 less and received a superior rating from the Evaluation Committee," the complaint states.
Coleman's attorney is Wilson Carroll, who also represents Synagro-Fisher.
'Nothing to Lose'
Coleman alleges that former City of Jackson Public Works Director Kishia Powell, consent-decree attorney Terry Williamson and consultant CDM Smith "made disparaging remarks about the Synagro-Fisher Team in order to discredit the strength of their proposal." She accuses her superiors, including Powell, of altering scoring sheets on Denali-Garrett's behalf during the selection process, which Powell denied to the Jackson Free Press last summer.
"I don't steer," Powell said then. "I have specifically told our staff that our evaluations are to be our own, they are to be done based on the information in the RFP." As a professional engineer, she has to adhere to ethics requirements, she said. "No one tells me how to evaluate and assess. And I expect my staff to do the same thing."
Coleman's complaint alleges that Yarber told her to publicly state that she had altered the scoring sheets, "because she had nothing to lose" and that Powell could lose her engineering license if she altered the sheets herself. Coleman refused.
Neither Synagro-Fisher or Denali-Garrett ultimately won the contract. In an interview this week, Garrett blamed media coverage for the controversy that led to the council voting against the contract.
"You guys have created an environment that portrays any individual or business person that supports a candidate is negative or wrong or illegal or immoral until I don't know exactly how we as a community are supposed to operate," he said.
Reached after the lawsuit went public, Yarber declined to comment. But in January, he said it was vital for his administration to create distance between their donors and the contract-awarding process.
"For me, wrongdoing isn't simply steering contracts. For me, wrongdoing is creating a situation that could be taken advantage of by a contractor or putting my department heads in situations where they have to make political decisions that they shouldn't have to make," Yarber said.
"So I never would allow Socrates or any others for that matter to have meetings with Kishia," Yarber said of Powell.
Powell announced in late May 2016 that she was moving to Atlanta to become its watershed director.
'I Don't Know What to Do'
In the Jan. 20 interview, Yarber confirmed rumors that Garrett is not supporting his re-election campaign, indicating its due to ugly contracting controversies.
"There are several people who will not be a part of my campaign who were a part of it last time because the competition scene did not work for them," Yarber said.
Yarber said contractors might not appreciate the hands-off approach he says he has taken to the contracting process.
"I think that Socrates is a good man. I think that he has done well and shown that entrepreneurship with an African American man is not only possible but can also be extremely lucrative and put your family in a great situation," Yarber said, adding that Garrett got other city contracts. "But as mayor, when this job is over, I go back to doing whatever is next for me, and I need to be able to do that without having to do it with any residue of wrongdoing."
Garrett, though, said that there is no ill will between him and the mayor. He said he does not know who to support in the upcoming election, citing the hard-learned fact that a contractor in Jackson invites criticism when donating to a candidate.
"Is it that I cannot support a candidate if you are a contractor?" Garrett said. "You support them. You declare publicly that you support and then because you made the contribution, it's negative or wrong. I don't know what we are supposed to do. I don't know what to do."
"If I wanted to support a candidate, is that going to hurt me and the candidate?" Garrett added. "It would be better to just not do anything."
Garrett said if steering happens, the minority contractors aren't benefitting. "If the City of Jackson is steering contracts to minority firms, they are doing a real lousy job, because I don't know any minority firms that have any contracts," he said.
Read more about this and other lawsuits against Jackson at jfp.ms/citylawsuits.
Support our reporting -- Follow the MFP.