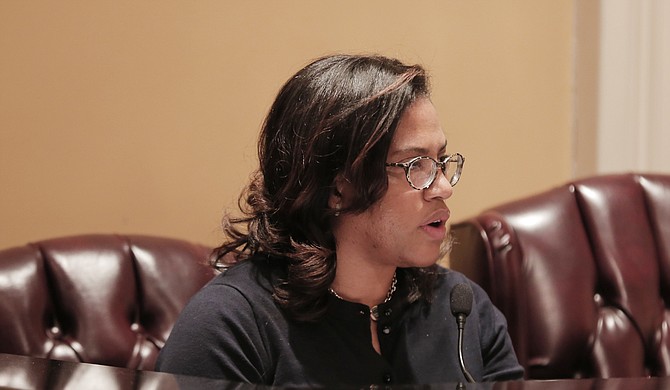 JACKSON — After almost two years on the job, Jackson's Director of Public Works Kishia Powell tendered her resignation to Mayor Tony Yarber's office this weekend. She told the Jackson City Council today that she is leaving to be the new watershed director for Atlanta. She told the council and the mayor that was "proud to have served," and called the mayor "visionary."
"I thank the Department of Public Works team for their hard work and diligence and know that it will continue," Powell said in a release from the mayor's office. "Many thanks to the mayor for his support as I make my way home."
Powell, a Maryland native, used to head the Baltimore water and wastewater bureau and also spent time with U.K.-based engineering consulting firm AMEC, before Yarber recruited her in 2014. In Jackson, Powell was dealing with a mountain of pre-existing problems from recent discoveries of lead in some Jackson homes' pipes, to worsening potholes, to water-billing issues, to understaffing in the public-works department due to budget problems.
One of the highest-paid city employees with a $150,000 salary, Powell inherited multiple commitments during her tenure including a $90-million Siemens contract rife with difficulties in implementation, an Environmental Protection Agency-mandated consent decree, and a long list of contracts attached to the 1-percent sales tax commission.
Accusations about helping steer certain city contracts to the mayor's campaign contributors, pushed by his political rivals, placed Powell's department under scrutiny of both the public and the Jackson City Council—and caused her consternation that she expressed in a recent interview with the Jackson Free Press.
"With the other consultants and contractors that we have to deal with on projects but also in terms of selections, negotiations, I was very disheartened at the story regarding steering, and I am just going to say and be honest, because I don't steer," Powell said during the May 4 interview. "And I have specifically told my staff that our evaluations are our own. They are to be done based on the information in the RFP, and I specifically had a discussion with the mayor (about that) before I came here."
Powell said she did not know Yarber before she interviewed for the job here, and that she was clear with him that she would only take the job if she could fully direct the public-works department. "I told him that I am not coming here to be a figurehead and when it comes to getting the work done and doing the work I have to exercise my professional judgment and expertise," she said in the interview.
"What that means, bottom line, is no one tells me how to evaluate or how to vote; I don't vote, but how to evaluate and assess. I use my professional judgment and my years of experience and knowledge of the work. And I expect my staff to do the same thing," she said.
"Director Powell has rendered amazing service to the City of Jackson since her arrival in 2014," Yarber said in a statement. "We celebrate her as she transitions to the next phase of her career."
Her time as director has also seen a fair share of questions about how contracts are awarded. MAC Construction, a subcontractor for the Siemens contract, announced that later today it will file a $36-million civil lawsuit against the large company concerning the handling of the $90-million city water contract.
As of press time, the Hinds County Circuit Court did not have the filing. Powell did not return calls by press by press time.
Powell's predecessor, Willie Bell, said Tuesday morning that the job, even for the short time he led the department, was certainly stressful.
"If done correctly, it is a stressful job," Bell said, citing current morale difficulties like furloughs as an added burden. "Those things can create problems. There is a lot of work that the City has to get done right now." Bell served first as deputy director during 2013 before being promoted to the head of the department.
"She came on the rear workings of the Siemens project," Bell said. "That was a debacle, and it still is, and so now they are struggling with the revenues.
"It was a lot; it is a lot," Bell added.
Socrates Garrett, a Yarber campaign supporter and contractor whose company has lost bids for several contracts with the city including the high-profile biosolids contract associated with the consent decree, said Powell's departure should not result in any delays in work.
"We are a contractor, we respond to bids and RFQs and RFPs, and we will continue to do that regardless of who is running the public works department and the administration," Garrett said during a phone interview this morning. "Business goes on, so I don't see any impact there."
In this morning's city council meeting, Ward 5 City Councilman Charles Tillman indicated that Powell would be missed. "I used to say thank God for Kishia Powell. I still say thank God for Kishia Powell for the time we had her. I appreciate the leadership she gave this city, this administration and this council."
It is not clear for how long Powell will remain in her position, or when the City will name a replacement.
Email city reporter Tim Summers, Jr. at [email protected]. See more local news at jfp.ms/localnews and read more about the City's water challenges at jfp.ms/water.
Support our reporting -- Follow the MFP.