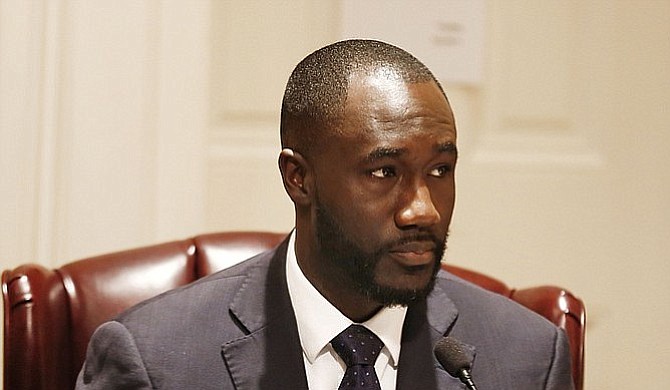 JACKSON — Mayor Tony Yarber and the City of Jackson are facing another lawsuit alleging sexual harassment from its former Equal Business Opportunity manager asserting that she "was unwittingly caught up in" a "pay-to-play" scheme for lucrative contracts alongside an Atlanta woman the mayor calls a "kingmaker." The attorney for one of the contractors on a losing side of the contentious "sludge-hauling" contract battle detailed in the lawsuit is representing Coleman in the case.
Stephanie L. Coleman of Byram filed a suit against the City of Jackson, Mayor Tony Yarber, and several unknown "John Does 1-3" alleging that she "has been subjected to sex discrimination, sexual harassment, and a sexually-hostile work place, all in violation of the Title VII of the Civil Rights Act of 1964, as amended, and has been unlawfully retaliated against for refusing to participate in certain illegal activities and for refusing to make public statements about such activities."
After Coleman went to work with the City of Jackson starting in January 2015, she became aware over time that she was "unwittingly" part of a pay-to-play scheme involving contract steering for some of the more lucrative contracts the City of Jackson has handed out over the last few years, she alleges.
One of her roles was was as a member of the evaluation committees for the $15-million bio-solids disposal contract, the EPA consent-decree project-management contract and the 1-percent local-option project-management contract.
Coleman alleges that she was told to help steer those contracts to Yarber's hand-picked choices, as well as asked to perform sexual acts with superiors, and was ultimately fired for refusing to. Her attorney in the lawsuit, Wilson Carroll, was the attorney for Synagro-Fisher, the contracting alliance that publicly fought for the bio-solids contract against a major contributor to Yarber's campaign, Socrates Garrett.
Back to Bickers
On May 1, 2015, Coleman received a call from Mitzi Bickers, the well-known political operative who also donated thousands of dollars to Mayor Tony Yarber's campaign, she alleges in the lawsuit. The incumbent recently told the Jackson Free Press that Bickers is a good friend and a "kingmaker," providing him connections that helped him during his election. "(Bickers) is the kind of person that understands her roles in different spaces," Yarber told the Jackson Free Press last week. "So in Jackson she thought that her role would be able to do contracts, make some money, but she quickly understood that her role was to help to sustain and make sure that I was successful. And to do that was to get me in front of the right people."
Bickers is also cited in the sexual discrimination and harassment lawsuit that former executive assistant Kimberly Bracey filed last year, which is still pending in court. Bickers was also recently mentioned, although tangentially, in a federal bribery case against an influential Atlanta, Ga. contractor, 63-year-old Elvin R. Mitchell Jr.
Document
Coleman alleges in the new lawsuit that Bickers told her on the call that "Mayor Yarber instructed her to call and set up a meeting with (Coleman) to discuss government contracting opportunities." Bickers then suggested the two meet at Parlor Market, a small fine-dining establishment in downtown Jackson, for dinner.
"When they met, Ms. Bickers told Plaintiff that she was a major campaign donor and a close friend of Mayor Yarber. She stated that the Mayor wanted to express his gratitude for her service by allowing her to participate in a few upcoming major contracts," the legal complaint states, citing only one side of a legal dispute.
Today's complaint says Coleman, during the meeting, explained the requirements for minority contracting, emphasizing the need for "qualified, experienced local businesses in her proposals." Often, minority contractors become the middlemen between larger, majority-white-owned contractors and the city.
"Ms. Bickers stated that Mayor Yarber had decided that she would get the EPA Consent Decree Management Contract with a partner of her choosing," the complaint states. "Ms. Coleman's help was needed to make sure the paperwork looked good enough to justify awarding the contract to the Bickers team."
The complaint states that Coleman, weeks later, received documentation for several "virtual office" Mississippi addresses of recently formed companies with Bickers name on them. The Jackson Free Press reported earlier this week that Bickers had used virtual addresses when she was seeking contracts in Jackson.
Later, when Coleman served on the committee to evaluate the $15-million bio-solids contract, "the scoring criteria was changed and scoring sheets were altered to justify awarding the contract to the Denali-Garrett Team, which included the Mayor's campaign finance chairman (Garrett) although the competing proposal from Synagro-Fisher was more than $1,000,000 less and received a superior rating from the Evaluation Committee," the complaint states.
Powell: 'I Don't Steer'
This isn't a new accusation. Yarber has repeatedly stressed that he was not trying to steer the sludge contract to Garrett, as far back as 2015 and recently as in an interview last week.
Asked about allegations that the city had changed scoring to benefit Denali-Garrett last May, then-Public Works Director Kishia Powell said her department independently scored the contracts.
"I don't steer," Powell told the Jackson Free Press. "I have specifically told our staff that our evaluations are to be our own, they are to be done based on the information in the RFP." Powell said she told Mayor Tony Yarber when she was hired that she was not just there "to be a figurehead," and that as a professional engineer she has to adhere to ethics requirements. "No one tells me how to evaluate and assess," Powell said. "And I expect my staff to do the same thing."
It wasn't just a matter of cost, Powell argued then. After the City had issued a request for proposals for sludge disposal at the Savanna Wastewater Treatment plant, it received two proposals: one from Denali-Garrett and another from Baltimore-based Synagro-WWT Inc. working with subcontractor Fisher Construction and Transportation. Denali's proposals came in at $15.46 million, less than Synagro's offer of $15.53 million. At the time, Carroll told the Jackson Free Press that his client's best and final offer was $13.6 million. Garrett said at the time that his company also lowered their offer by $1.5 million.
Powell previously said the process was about more than money—that it was a "cost proposal" rather than a "low-bid process" and that Synagro-Fisher's proposal lacked detail that "lessened our confidence in the price they proposed." Specifically, Powell said Synagro-Fisher's proposal did not demonstrate that the company had negotiated a tipping, or disposal, fee with landfills, nor did it specify transportation routes.
Last May, Powell did not deny that her department felt a lot of heat from different directions over how to award contracts. "There is a lot of politics involved when it comes to the work that we do ... So you have a lot of folks trying to influence various people's decisions. Not mine. I stay in a bubble, pretty much," she said then.
Weeks after that interview, Powell tendered her resignation to become Atlanta's new watershed director. Ultimately, neither side ended up with the sludge contract even after a public battle with ample finger-pointing. The Jackson City Council approved a contract for the bio-solid removal in March 2016 with PSI-GA, registered with the Mississippi secretary of state's website under Donald Richard Partridge of Florence.

'Nothing to Lose'
Coleman tells a different story in the lawsuit her attorney Carroll filed today. She alleges that former City of Jackson Public Works Director Kishia Powell, consent-decree attorney Terrell Williamson and consultant CDM Smith, who also donated to the mayor's inaugural gala, "made disparaging remarks about the Synagro-Fisher Team in order to discredit the strength of their proposal."
Document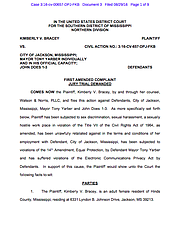 After rumors began to circulate about the contract, the complaint alleges, Yarber approached Coleman, telling her to publicly state that she altered the scoring sheets of the committee, because she "had nothing to lose." The mayor told her that Powell could lose her engineering license if she altered the sheets herself. Coleman refused, she claims.
Coleman's complaint states she met similar attempts "to steer this contract to the Mayor's preferred bidder which included Mitzi Bickers as a minority participant" in another evaluation committee, that time for the EPA consent-decree program.
The complaint states that Coleman spoke up against this alleged steering and faced backlash for it. However, since Coleman did speak up, Bickers was no longer included in future consideration for the contract because "Bickers failed to meet the City's EBO criteria," the lawsuit alleges. The City then had to issue another RFP.
Coleman said she voiced her objections during one other meeting as mentioned in the complaint during the June 2015 discussions about the 1% Local Option Sales Tax Project Management contract, eventually awarded to IMS Engineers, who also donated to Yarber's gala.
"Plaintiff was aware of numerous conflicts of interest due to the relationships between Mayor Yarber and his various campaign contributors who were being awarded these major City contracts, and eventually there was much media attention to these allegations of cronyism and favoritism in the awarding of major city contracts."
Yarber again allegedly confronted Coleman about her objections. He allegedly "advised her that 'everyone is sick and tired of you always raising questions and creating issues.'"
"Mayor Yarber accused Plaintiff of leaking information about illegal contract steering to the media and others. Yarber stated that 'it was one thing for you to raise your concerns and objection during the evaluation meetings, but public discussion is something that will not be tolerated,'" the complaint states, adding that Yarber told her to keep her "mouth shut."
He allegedly told her that if she would not do "what she was hired to do," that he would "find someone that could."
Reached tonight, Yarber said he could not comment on the pending litigation.
'Gardening and Landscaping'
At this point in the timeline, Coleman's accusations of an alleged pattern of sexual harassment starting in early 2015 come into play. She alleges that "Yarber created a hostile work environment for female employees," and that this environment was used against her after she rebuffed the administration's attempts to steer contracts.

Coleman alleges that her immediate supervisor in January 2015, Director of Economic Development Jason Goree, called her into his office "and began sexually harassing her." Goree allegedly told Coleman that he felt "stressed," asking her how she dealt with stress.
After Coleman allegedly told Goree that she preferred "gardening and landscaping" as her stress relief, he "demanded that Coleman perform sexual favors for him as a condition of her continued employment," she alleges.
Coleman said that a couple of months later, she started receiving text messages from other City employees asking for nude "selfies" and proposals for sexual relationships.
The complaint alleges that the "sexually-charged environment" of the Yarber administration had harsh consequences for those that would not acquiesce to the "quid pro quo sexual harassment."
"Employees who refused to engage in sex, or stopped engaging in sex, (were) terminated," the complaint states.
After Yarber allegedly admonished her after the IMS contract evaluation committee meeting, she accuses Goree of stating "that he could be Ms. Coleman's advocate, but he would be reluctant to expend that much political capital unless there was some kind of incentive she could give him." Coleman "flatly rejected" the offer.
A few days later, City of Jackson Director of Planning Eric Jefferson called her to his office, the complaint alleges, stating that "the man at the top gave me instructions to fire you immediately."
The complaint, which is only one side of a legal dispute, states she was released the same day.
Email city reporter Tim Summers Jr. at [email protected] Read more about lawsuits against the City of Jackson at jfp.ms/citylawsuits. Donna Ladd contributed to this report.
Support our reporting -- Follow the MFP.