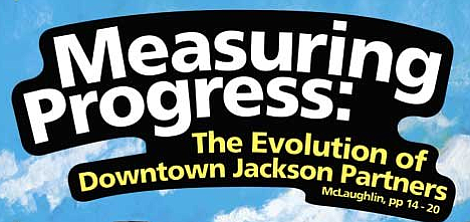 JACKSON — Downtown Jackson Partners President Ben Allen resembled a proud father during a presentation to downtown property owners at the Mississippi Museum of Art on May 26. A video displayed images of a vast cityscape, streets filled with smiling young professionals and renovated lofts.
"We are proud," the large projection screen read. "Proud of our progress." If you hadn't been to Jackson in 20 years, you might not recognize the city on the screen.
"Doesn't that just make you want to cry?" Allen asked the group after the video. He seemed to be holding back tears of his own. The presentation, created by Hilda Owen, DJP board secretary and Communication Arts Company co-owner, showcased Jackson's milestones and many projects Allen says he had championed when naysayers said otherwise.
The organization manages a 66-block Business Improvement District under a law that the state Legislature enacted in 1996. The law allows any city in the state to form a BID and levy an assessment on all taxable property in those districts.
DJP charges property owners 10 cents on each square foot of buildings and "unimproved" real estate located within the district. DJP is up for renewal Aug. 16.
The district must undergo a reauthorization process every five years. In recent weeks, property owners have cast votes for or against the BID—and subsequently Downtown Jackson Partners, which manages it. The district must receive 70 percent approval or it will dissolve.
In addition to recruiting potential developers and facilitating developments, DJP offers marketing assistance to businesses, year-round landscaping, daily street sweeping, event promotion and an online directory of real-estate property. In 2009, DJP opened a marketing center inside the Electric 308 Building at 308 E. Pearl St. that BID members can use for free.
Allen isn't one to put his emotions on the shelf. The story of how the presentation made him cry is one he would later tell twice to Jackson City Council members to demonstrate the emotional stake he has in downtown Jackson.  
That passion can resonate with city dwellers and advocates who have big dreams for their city. Allen likes to stand up in a room full of people and give passionate speeches that are a cross between a comedy routine and a pro-Jackson monologue. Speaking to a group of community members April 1 at Koinonia Coffee House, Allen even took a few friendly jabs at the suburbs to make his point about Jackson's uniqueness.
He shared a story about joking with Madison Mayor Mary Hawkins Butler about "diversity" in the suburbs. "In Madison, your diversity is what color BMW do you have," Allen said he told her. "It's where do you play golf: Annandale or Reunion?"
Hawkins Butler didn't return calls to confirm the story. Allen likes that joke, having also told it in a post on the JFP website in 2008. "We do not want our only diversity to be what color is your BMW," Allen said, referring to the suburbs.
A Rocky Start
    Downtown Jackson needed a shot in the arm in the early 1990s. The city was hurting from decades of flight, which resulted in empty buildings and unkempt property.
In 1993, under Mayor Kane Ditto's administration, a group of downtown investors and business owners formed Capital Center Inc. The organization raised money from local business owners and developers to provide security, landscaping services and marketing downtown.
Cities had begun using BIDs in the 1970s—Toronto was the first—as a way to restore downtown cores at a time when many Americans were migrating to the suburbs. BIDS in New Orleans have been so successful that the city has implemented multiple BIDs.
Mississippi Development Authority Executive Director Leland Speed, who was chairman of Eastgroup Properties at the time, served as chairman of CCI. Franklin "Kim" Kimbrough, who now works in economic development in Pensacola, Fla., served as president.
"We ran that for three years on a tin-cup basis—just on the basis of contributions," Speed said. "The city made a contribution at that time, but the bulk of it came from raising money that property owners kicked in. ... We were raising close to a million a year."
In 1996, Mississippi Transportation Commissioner Dick Hall authored a bill to establish BIDs in Mississippi, along with co-author Sen. John Horhn, D-Jackson.
"It was at a time when we were seeing a transition in Jackson from a government that was predominately white to predominately black," Horhn said.
"As a result, community leaders felt that this law was a way for mostly white businesses to circumvent any kind of authority presented by the majority-black leadership."
Horhn said that the entire Farish Street Entertainment District was originally included in the proposed BID boundaries, but BID advocates ended up excluding the district due to opposition from the black community that might have cost votes. Now, more than 15 years later, Downtown Jackson Partners is proposing to add the second block of Farish Street in the BID's expansion; the first block is already included.
"The irony of the whole thing now is that there is a strong interest in (including Farish Street) in the district," Horhn said.     
"People realize that it wasn't the ulterior motives they thought it would have. It was something meant to enhance businesses, and today they want to be a part of those enhancements."
In 1996, CCI failed to get enough property owners' votes to authorize the district. The next year, however, it was successful. Speed maintains that the Legislature established tight restrictions for authorizing the BID, such as requiring 70 percent approval from property owners, as a tactic to see it fail. BIDs in other states typically require less than 70 percent approval. Memphis, for example, does not even have an election, and property owners have no choice in paying an assessment fee.
What About Me?
    Ben Allen, a Vicksburg native, graduated from Mississippi State University with a bachelor's degree in marketing and political science in 1973. He ran for Jackson City Council in 1996 and won after working for a yearbook publishing company, Taylor Printing, for more than two decades.
After Frank Melton was elected in 2005, Allen soon became a critic of the controversial mayor's tactics. Then, he unexpectedly resigned from Council June 20, 2007, citing health problems.     
"Recent events and subsequent tests have confirmed that the effects and demands of this position, coupled with the demands of my personal and professional life, have a defined, adverse impact on my health, both short and possibly long term," Allen wrote in a handwritten resignation letter.
On Nov. 1, 2007, Allen began his job as Downtown Jackson Partners president, saying his health had improved.
Since 2007, and during Allen's tenure, DJP has helped fund various marketing studies including a downtown parking study, a retail study and another on property owners. The marketing budget also includes promotion and funding of special events such as Downtown After Dusk and the inaugural legislative conference last January between legislative officials and Jackson's business community.
During the May 26, 2011, presentation, Allen gave an overview of growth that occurred in the BID since 1996. It includes big projects like the renovated Plaza Building, King Edward Hotel, Standard Life building, Tombigbee Lofts and the mixed-use Electric Building. The district has a total of 200 apartment units.
DJP researches financing options for developers who have an interest in downtown properties to help them determine if a project is economically feasible. "I have these tax guys on my speed dial," Allen said. "That's what we do. It might be hard for people to understand, but I don't know about a deal that happens in this city that (developers) don't call us about."
When it came time for questions, there were a few moments of silence, but then from the back of the room came a voice of concern.
Tanya Scott is the managing partner of Ceva Green, a proposed $70 million mixed-used development planned for State Street. Scott and her father, Corbett Scott, purchased the property six years ago to border another proposed development, Old Capitol Green. She says Ceva Green has struggled to get the city to assist with infrastructure needs, even as Old Capitol Green has attracted more public support, assistance and attention from Downtown Jackson Partners.
"How does the BID assist with our infrastructure needs so the development can move forward?" Scott asked.
"If you would have asked me three years ago, I would have been able to give you a definitive answer," Allen replied with a tinge of defensiveness. "... Now I would have to go through (Jackson Public Works Director) Dan Gaillet who is a very competent, capable, wonderful guy that we lost and got back. I can't answer that," Allen replied.  
Scott tried her question again. "If you have property owners (who) are moving toward the capacity to do something that will absolutely benefit downtown, ... how does the BID insert itself in this process in order to assist these things?" she asked.
Allen took a few detours before answering Scott's question.
"Well it's not 'insert,' it's 'be a part of the process,'" Allen said. "If you take something like Old Capitol Green, it's not as complicated as you think. Listen to me: If a building cost $1 million to build, it assesses for $600,000. For every $100,000 in assessed value, there is $16,000 in taxes. ... So if someone is going to build an $800 million business, do the math. You can work it in your head. For every thousand dollars in tax income, you got $15,000 in money you can bond. I'm just going to lay it out to you: There are people in downtown Jackson who want crazy prices for their buildings. They won't work. ... In your instance, when you want to do this massive infrastructure in a $1.1 billion deal, run the number on what that generates in bonds—it's a fortune.
"To answer your question: You can't believe everything you read in the press. But I did read in the Jackson Free Press today that (Old Capitol Green developer Malcolm Shepherd) feels really good about the project moving forward," he added.
Scott wasn't satisfied with Allen's response—in fact, she felt like he had skirted around the issue.
"If you make a statement like that, are you saying that you aren't or you are capable of facilitating it? My perception is that DJP are there to help facilitate things, but maybe not," Scott told the JFP. "Maybe it is just security, landscaping and things like that. It wasn't clear."  
As of press time, Old Capitol Green had missed a deadline to submit a term sheet to the Jackson Redevelopment Authority to negotiate a cost-sharing agreement. And on Friday, July 22, the Stimley-Brown law firm filed suit against Old Capitol Green developers Full Spectrum South and Full Spectrum New York for not paying rent at their 802 North St. office over the course of a year. Full Spectrum South developer Malcolm Shepherd said he could not comment on the lawsuit and assured that he would submit the term sheet to JRA by the end of the week.
DJP Board member and developer David Watkins was one of the most vocal supporters of the BID at the meeting. Watkins and HRI Properties of New Orleans redeveloped the King Edward Hotel and Standard Life Building. Together, they pay $51,815 in BID assessment fees for those properties, and Watkins has also agreed to pay the assessment fee for the future Farish Street Entertainment District he is developing, even though the Jackson Redevelopment Authority owns it and is not required to pay taxes or fees. Because JRA is a quasi-governmental agency, it also does not have a vote in the reauthorization process.
"If you look at where we were in 1996 and where we are today, the difference for downtown Jackson has really been this organization," Watkins said at the May 26 presentation. "The only way for us to have the resources we need to do what we need to keep downtown Jackson clean and safe is to go through with this BID."
Watkins and Allen worked together to save the King Edward Hotel, including when then-Mayor Frank Melton tried repeatedly to derail the project. DJP board member Sam Begley says that Allen "stood between (Melton) and a wrecking ball" to keep the hotel from being completely demolished.
The night of May 26, 15 of the 17 property owners attending the meeting voted to expand the district to include the "second block" of Farish Street—from F. Jones Corners to the Alamo Theatre—and start the reauthorization process. Scott and her father were the only two opposition votes.
The vote cleared only the first of many hurdles for reauthorization. Then DJP had clearance to ask the city council to set a public hearing within the next 30 days.
After the hearing, the Council set an election date for Aug. 16. During the month leading up to the election, DJP mailed ballots to owners.
Under state law, the property owners themselves must send the their marked and signed ballots directly to the city clerk's office.* (See clarification under story for more information on the laws governing BID balloting.)
A city attorney then verifies the votes after Aug. 16, and it is final.
'Move Your Arms and Legs'
    Block By Block Ambassador Kay Washington and her colleagues know just about every business owner, employee and street in downtown Jackson. DJP contracts with Block By Block, to provide safety and maintenance in the 66-block district. Block by Block is owned by Nashville-based SMS Holdings, along with numerous sister companies offering security, janitorial and facilities services to U.S. cities. SMS Holdings donates heavily to Republican Party candidates throughout the country.
DJP Associate Director John Gomez said that DJP uses a national company because of its "knowledge and involvement in downtown projects from working in cities all over the country."
The company hires locally for the Jackson office including management, Gomez said. On July 28, the ambassadors won the Jackson Convention and Visitors Bureau's "Shining Examples" award.
Even in the most unbearable heat, Washington is outside from 7 a.m. to 3 p.m. each day, carrying her large trashcan filled with rakes, trash bags and cleaning products. Ambassadors are on the streets until 10 p.m., when patrols from Securitas Security Services Inc. take over for the night shift. Block By Block has nine ambassadors. Property owners pay the ambassadors' salaries through their assessment fees.
Washington has worked as an ambassador for the past two years after she got laid off from Nissan when it moved a manufacturing line overseas.
After a thunderstorm the night before, the morning of June 23 is uncommonly cool and overcast.
"Move your arms and legs," Washington calls out to man she knows as he walks during his morning exercise routine.
"That's what I always say to the people working out."
The man gives a friendly wave. As Washington sweeps leaves from the sidewalk on West Street, she says hello to everyone who passes by. "We really are the eyes and ears of downtown," she says. "I know all the business owners, and I can tell if someone isn't doing what they are supposed to."
The ambassadors reported a monthly average in 2010 for assisting pedestrians 656 times, contacting property owners and building managers 216 times, covering 807 miles by bike, assisting with 19 vagrant calls and assisting stranded drivers three times.  
The ambassadors not only keep downtown clean and safe, but they are also a good public-relations strategy even though crime tends to be low downtown.
Many people come into Jackson for the first time to attend meetings at the convention center or at government offices, and they meet a smiling, attentive person eager to help them. The ambassadors, who are always clad in yellow shirts, also have a working relationship with the Jackson Police Department.
JPD Assistant Chief Lee Vance said the patrols have been a welcome addition to downtown and praised the partnership between the organizations. The ambassadors, he said, are always on the lookout for criminal activity.
Washington also gets some out-of-the-ordinary phone calls. In May, she had to help move an armadillo from the front of Keifer's Restaurant on Congress Street.
A few weeks ago, a prisoner escaped from the back of a police car, and the ambassadors clued in law enforcement officials on his whereabouts.
But most days Washington spends her shift filling up her trashcan and assisting people any way she can. The ambassadors remove an average of 8,962 pounds of trash per month.
Prior to Block By Block, DJP contracted the Wackenhut Corp. to run a 24-hour security service. DJP hired Block By Block in 2008.
'Virtually Crime-Free'
    Before Allen took the DJP reins in 2007, then-President John Lawrence had decreased the security budget as crime steadily dropped downtown. Lawrence was at DJP from 2001 until 2007 when he left to start his own development consulting business in Memphis.
"The vast majority of our funds were going to our safety and security patrol program," Lawrence said. "But we reduced it a lot when the need wasn't as strong. Incidences cut dramatically and improved over a six-year period."
From 2002 to 2006, DJP's public safety budget steadily dropped from $400,000 to $300,000. From 1996 to 2001, the district had an annual average of 280 crimes including minor offenses, but that dropped to 79 incidences in 2001; 90 in 2002; 92 in 2003; 75 in 2004; and 96 in 2005. Wackenhut compiled the crime numbers and JPD does not have crime totals available for the BID.
In 2007 DJP reduced its public safety budget to 30 percent, or $270,947. Public safety now accounts for 33 percent of the budget, or $284,240.
On May 26, Allen told property owners that before the BID was established, downtown Jackson had an average of 458 crimes per year, a number provided by Wackenhut Security, DJP says. Now, they report, there are an average of 93 incidents per year including minor offenses such as trespassing.
During a June 7 Jackson City Council meeting, Allen reported that downtown is "virtually crime free."
In his current role, Allen routinely challenges those who push a crime meme about Jackson—a radically different tone than when he co-hosted the Ben & Larry Show on WJNT-FM along with Larry Nesbit. Then a Ward 1 city councilman, Allen played to a constituency that was more fond of hearing about "thugs" and crime in Jackson, and he didn't hesitate to feed that need.
In an April 17, 2003, email to a Fondren resident, later forwarded to others including the Jackson Free Press, Allen said that a Clarion-Ledger columnist was coming on his show to co-host that Friday. "I need calls ON CRIME from victims ... short, sweet, and horrible .... Please line up a few po'd victims to call in...," he wrote.
Downtown Jackson Partners' 2010-2011 fiscal-year budget is $1,043,613, and the majority of budget expenses go toward security. DJP spends $491,125 on administration, which includes payroll for five full-time employees and five contracted employees at $301,000.
Downtown Jackson Partners spent $132,850 on landscaping and maintenance and $120,00, on marketing and economic development. Gomez said that he could not disclose how the salaries break down for individual staff members.
When former DJP President Lawrence started his role in 2001, the assessment rate for business owners was 8 cents per square foot, but during the 2006 reauthorization, the BID increased its assessment rate to 10 cents per square foot.
  
From 2001 to 2006, the organization operated on an $800,000 to $900,000 annual budget.
During Lawrence's tenure, DJP's marketing and economic development budget made up just 10 percent of the overall budget. He says that while he decreased the marketing budget during his term, the organization's long-term plan was to increase its marketing and economic-development efforts as soon as it had the resources.
"We stopped doing special events that took up a lot of the budget," Lawrence said.     
"An event called First Night took up a lot of staff time. We stopped doing that and reallocated funds to other events. That's one of the reasons the numbers look low, but that doesn't mean we weren't doing things."
Arena or Not?
West Jackson businessman Bill Cooley was a little skeptical when he decided to go on DJP's annual peer city development trip to Little Rock, Ark., in July 2008, just months after Allen started leading the organization. He couldn't understand what was so great about Little Rock.
Each year, DJP rents a charter bus and takes a group of Jacksonians to a mid-size southern city on an educational trip.
When Cooley saw Little Rock's 18,000-seat multi-purpose Verizon arena, he was sold. The trip inspired Cooley and more than 50 Jacksonians to spearhead efforts to bring a similar arena to Jackson.
"We came back and were fired up about the arena," Cooley recalls.
Verizon Arena cost $52 million and was paid for with a one-year, 1-cent tax increase that voters approved in a referendum. It is actually in North Little Rock, a city just north of Little Rock.
"I was looking for my hammer to go out there and build an arena in Jackson. ... What I really saw was a city that didn't have a lot going for it and could do it."
Cooley was one of 55 people who attended the trip (including the publisher of the Jackson Free Press). A few months later, some members from the trip met at the University Club to discuss the possibility of Jackson having its own arena.
At the request of the Melton administration, Gomez said, DJP then facilitated a series of meetings with interested parties resulting in a steering committee, with Cooley as its chairman. The committee agreed to write a request for proposal for a company to research the feasibility of a downtown arena. An RFP Committee, made up of city and county leaders, formed to select the winning proposal.
In May 2009, the committee selected Populous Sports of Kansas City, Mo., from the nine proposals. Although Allen maintains that DJP did not have a vote or a role in getting Populous to do the study, Populous submitted a description of its services totaling $150,000 for conducting a study directly to Allen on July 20, 2009, listing DJP as the company's primary contact.
Populous' website states that the company offers design and consulting services to arenas, which raised questions about its objectivity in conducting studies to determine whether or not Jackson should build one. It also offered in its July 20, 2009, proposal to DJP to provide a "pre-design" services such as landscape architecture and on-site construction representation for an additional fee. Populous did not return phone calls for this story.
By early 2010, questions were arising, including in this newspaper, about the role Populous might eventually play with the arena as well as concerns about the arena's costs. Little Rock's Verizon Arena has only been profitable in six of 11 years of operation, losing money in 2000, 2001, 2005, 2008 and 2011. Allen waved away those concerns in a Feb. 17, 2010, comment on the DJP blog about people who questioned Two Lakes, another of his pet projects: "Some remind me of the folks that scream 'We can't pay for an arena!!!!', which may be true, but I trust the opinion of the company that studied/built/managed Yankee Stadium, more than the locals and our attitudes."
Allen wrote in an April 2011 email to the Jackson Free Press that the original RFP specified that Populous could not be part of the process after the feasibility study, but that limitation is not apparent in the RFP provided to the Jackson Free Press.
On May 25, 2010, newly elected Mayor Harvey Johnson Jr. met with Allen to discuss planned and proposed projects in downtown Jackson, including the arena idea DJP was pushing.
"For about a year, the project was shelved," Gomez wrote in a June 24, 2011, email to the JFP to explain why the project momentum seemed to wane.
"Mayor Johnson never seemed really excited about the prospect, but did not discourage these efforts, either."
More than a year later, on June 16, 2010, the Jackson Chamber of Commerce agreed to jumpstart the project and formed a new steering committee. Cooley chaired the steering committee, which helped secure more than $66,500 in pledged donations from supporters throughout the state.
Gomez said that the goal was to raise $80,000 for the first phase of the study, which would have determined the feasibility of an arena. The second phase, which would have cost another $80,000, would have determined location, construction costs and financing options, and was contingent on a $80,000 grant from the Hinds County Economic Development Authority.  
Building an arena in Jackson would need the support of Johnson and his administration. During a Dec. 9, 2010, Jackson Chamber of Commerce meeting, Johnson said he wanted the city to have a more authoritative role in the project and spearhead leadership efforts. "With this in mind, the leadership and ownership of the arena project was graciously and enthusiastically turned over to the mayor," Gomez wrote.
Johnson told the Jackson Free Press in January 2011, however, that it appeared the study was losing momentum. "The message that I got was that it would probably fall off the table because there was no longer any leadership there," Johnson said. "... I said, 'Well the city will take over, will step into that spot.' There was a lot of fanfare in rolling out the effort, and we certainly would want to try to complete that."
The mayor started the entire selection process over and appointed a new selection committee.
Gomez maintains that DJP did not have a vote in the selection process and that its role in the arena study was managing a pro-arena website and serving as a conduit of information. The RFP Committee that selected Populous included DJP board member and developer Ted Duckworth who represented DJP but did not have a vote on the proposal, Gomez said. Jackson State University Senior Vice President for Finance and Operations Troy Stovall was also a DJP board member at the time but represented JSU and not DJP.  Gomez said DJP hasn't been in contact with the city about the project since December.
Johnson, however, maintains that he reached out to DJP by offering Duckworth a position on his new arena committee to conduct a new selection process for a company to conduct the feasibility study.  
Three different companies, including Populous, presented new proposals in June 2011 to the committee comprised of representatives from the city, the Chamber and Downtown Jackson Partners.
"Now we have a selection process, scored it and are now approaching the firm with the highest score to negotiate a contract," Johnson said, adding that once negotiations are complete, the city will announce the company to conduct the feasibility study.
City spokesman Chris Mims said the city plans to fund the study with the pledges Downtown Jackson Partners and the Chamber helped bring in and does not have another plan to fund the study.
"We are expecting people who made pledges for this study to honor those pledges," Mims said. "Once we get everything ironed out, then we will be expecting that to occur. But what we wanted to make sure specifically was that the city didn't sit on its hands, and that we selected a firm to conduct a study so that we hold our pledge to that process."
Duckworth, who pledged money for the study, said it's unclear where the pledges stand with the change in leadership and the amount of time that has passed.
"Now that the city has taken over, there are still those pledges hanging out there, but they need to be updated based on the quotes (the city) gets based on these companies," Duckworth said this month..
Jackson Chamber President David Powe said the city, chamber and DJP worked hand-in-hand on the study, and he is confident that there is still solid support for the arena. "I don't think (the study) has lost momentum," Powe said. "As you work with so many people working forward on this issue, you want to make sure people are being cautious and making sure that the right things are going along the way. All of us need to keep working together."
The Elephant and the Lion
    A peek back into history reveals an unsteady relationship between Jackson's black community and the BID's leadership, and a long history of race politics. Former Mayor Kane Ditto, who is white, worked hand-in-hand with business leaders for the BID's creation in the 1990s. In 1997, Johnson became Jackson's first black mayor after winning the election with 70 percent of the vote—beating Ditto in the city's Democratic primary election.
At the time of Johnson's election, the Legislature had recently established the BID process, and many blacks in the community viewed the Jackson BID as a way to preserve the city's traditional white power structure even as the city became more African American. The majority of BID members and supporters were white and affluent.
Stephanie Parker-Weaver, the executive secretary of the Southern Christian Leadership Conference at the time, was one of the most vocal opponents of the district. She says CCI took the place of a similar organization called Downtown Jackson Inc.
"They claimed that they were going to be the cheerleaders for downtown, bring in businesses and establish a security force in boundary of a 64-block area," Parker-Weaver said. "The Downtown Jackson Inc. was a vision of bipartisan group of individuals who wanted to see downtown grow, but the greed factor of CCI took over. They basically kicked out coalition members under DJI to form their own little clique of property owners who were primarily wealthy and white."
In 1996, Jackson Advocate Publisher Charles Tisdale filed a lawsuit against the city of Jackson, Ditto, Speed and Jackson City Council members. Parker-Weaver claims that the black newspaper publisher filed the suit after discovering that Jackson City Council distributed funds to CCI without a contract through the city's claims docket.     
Tisdale died in 2007.
Ward 2 Councilman Chokwe Lumumba remembered when the suit was filed. The attorney said he was tempted to represent Tisdale but wasn't available at the time. "I agreed with them that it looked like a problem. At the time, they thought that the money that would come from CCI would be used to make its own decisions and govern itself," he said. "I wasn't in favor of our resources being used for a selected group who is more affluent than most of us."
Because of Mississippi's history of violating the 1965 Voting Rights Act, the U.S. Department of Justice must give preclearance to the BID's election process. During the 2000 reauthorization, Johnson withheld the district's assessment fees of $255,432 until the Justice Department issued clearance. The BID election was extremely controversial with media reports of ballots being hand-delivered by the group to the city clerk's office in violation of state law.
In 2001, CCI changed its name to Downtown Jackson Partners. Parker-Weaver believes this was an attempt to distance the organization from a tarnished reputation. Speed, however, maintains that the name seemed to confuse people about the organization's mission.
Tisdale's outcry caused the BID to face opposition at every turn. Developer Cornelius Turner, who is black and was the CCI vice chairman at the time, said he believes the organization was, and is, a plus for downtown's future despite opposition from the black community.
"Downtown Jackson Partners was a group that became controversial before Harvey (Johnson) became mayor for the first time," Turner said.
"Tisdale used to hit it tooth and nail, and his reason was that white people owned all the property downtown, but black people were the majority in the city."
Turner added that the group has become more diverse over time. "I think that Jackson has gone far enough along now ... that control of the city isn't going to be controlled by any one person," he said. "I think it's pretty well diversified now."
During a June city council meeting, Lumumba raised concerns about the BID creating an economic divide between disadvantaged parts of the city and downtown. He cited Harlem, N.Y., and Washington, D.C., as cities where gentrification displaced residents in some neighborhoods.
"Gentrification does not help us," Lumumba said. "It just reshuffles us and creates the same problems we have in other spots." After the meeting, Lumumba said he wasn't necessarily against the BID, but he questioned whether the organization could do more to address the racial disparities that exist in Jackson.
Allen and board member and local developer Mike Peters told Lumumba that including people of color on its board and advisory board is a step toward addressing issues such as gentrification and minority-business participation. Board members have a vote on DJP's president position and all other business matters. Advisory board members do not have a vote but meet regularly with DJP to voice their opinions.  
Of the 21-member board, seven members are black, and seven out of 20 are black on the advisory board. Socrates Garrett owner of Garrett Enterprises is a black DJP board member but said he could not comment on the BID because he has been absent from several board meetings. Gomez said board members are not required to attend a certain number of meetings.
DJP executive board member Sylvia Stewart, who is black, is the co-owner of Peoples Insurance Company and Monroe Animal Street Clinic. She said she has been associated with the BID since 1994.
"The board is not made up of not only property owners who own property in the BID, but it also has business members from the (city's) central business district," she said. "... There are black people, white people and males and females on the board. It's also socio-economically diverse."
    
Development Politics
    In 2002, John Lawrence and Johnson appeared to butt heads over a redevelopment plan DJP introduced to the city council to revitalize the King Edward Hotel and add 600 apartments to the city.
Implementing the plan would have required $29.4 million in public funds. Johnson said the plan overlapped with projects the city was already working on. The city had also recently designed a master plan called FABRIC.
"He's preaching to the choir," Johnson told The Clarion-Ledger then about Lawrence's plan.
Johnson also raised concerns that property owners in the BID would be unlikely to support future citywide tax increases.
The past issues Johnson had with the BID foreshadow the current relationship between the two entities—one that can resemble a power struggle framed by partisan race politics.
Allen and Johnson have very different personalities and political leanings. Allen, a self-described "advocate" and Reagan Republican, likes to be front and center, and is not one to hold back his opinions, including of Johnson's administration. He grabs onto big ideas and hates to let go.
Johnson, one of the state's most prominent Democrats, is more reticent and pensive over ideas, and doesn't always volunteer information about projects and deals his administration is involved in. He is known for taking his time.
The mayor is also not one to automatically embrace the desires of the city's business elite—a fact that has caused some consternation and led many business leaders to support his opponents in mayoral elections—whether Daryl Neely, Frank Melton or, most recently, Marshand Crisler.
In 2004, then-Councilman Allen said in a JFP interview that he hadn't voted for Johnson, but was working with him.
"I supported his opponent (Daryl Neely), which could be political suicide. But after it was over with, I went to see (Johnson) and said, 'Look, I've got one or two things to say, my hat's in my hand because you're the mayor, I'm a no-power city councilman. I want you to know that you're my mayor, I'm going to support you, and I'm not going to try to be a stick in the mud or hurt you in any way, and I want to work together.'"
Allen said then that he had learned a lesson when he supported Neely against Johnson in the election.
"The truth is, I made a huge mistake last time, when I came out and unfairly and overtly supported the mayor's opponent." However, in the 2005 election, Allen voted for Melton, he later told the JFP.
When Johnson took the job back in 2009, Allen refrained from publicly supporting any candidate, perhaps because he and Crisler had publicly knocked heads before Allen resigned from city council.
Now, though, with Allen heading Downtown Jackson Partners and the mayor in his third term, the men's relationship seems more strained than Allen described it in 2004, with the two seeming to keep their distance from two sides of a political divide.    
Allen hasn't always been able to keep his personal politics off the DJP brand. At times, the DJP blog seems to be an extension of Allen's personality and Republican politics on a site that is promoting a solidly Democratic city.
On March 19, 2010, for instance, he posted a video criticizing president President Barack Obama's federal spending, which DJP took off the front page after emails criticizing the group for playing partisan politics.
DJP board member Sam Begley, whom Johnson appointed, said that despite Allen and Johnson's often-public differences, the city and DJP are dependent on one another. For one thing, Johnson has the authority to appoint four board members to DJP's 21-member board. Those appointees currently are Begley, David Watkins, Debra Griffin and Mende Alford.
On July 5, Johnson told the JFP that he believes DJP should work with the city to establish a more clearly defined relationship between the two.
"When you have two entities providing services to the same areas, there has to be a very clear distinction on which entity is responsible for which service," Johnson said. "That's critical to a relationship running smoothly. In reviewing the plan they have for reauthorization, that's one of the things that I pointed out. There needs to an affirmative statement that the city and DJP would work in a cooperative way."
Allen refused to be interviewed for this story, and thus could not be asked for a response to Johnson's statement.
The success of the BID is indeed contingent on a healthy and successful relationship between the city and DJP, Sen. Horhn said. "In an ideal situation, DJP and the city would work hand in hand. My sense is that there is a good bit of tension. It comes down to power. Some people seem more concerned about who controls development," he said.
    
"The city is like an elephant, which is strong and steady, and DJP is like a lion—very nimble and very quick to move and agile," Horhn said. "They are passionate. Each is needed to preserve the kingdom.
"Each has a role they play, and I think that if each understands their role, then all is well in the Kingdom."
    
What About the Little Guys?
    Sept. 22, 2010, was just one of the days that Allen—once a Mississippi State cheerleader—declared himself a "prophet" for Jackson. He seemed giddy over a Clarion-Ledger story indicating that Old Capitol Green was moving forward. "For years I have been dubbed 'the cheerleader'. Looks like the "cheerleader" is actually the 'prophet'....," he wrote (punctuation his).
Still, Allen doesn't always take credit for downtown's successes. "Read my lips; I do not have vision," Allen told city council members during a June 7 meeting. "What we do is visit other places to see how they do things and try to copy them."
To avoid reinventing the wheel, Allen has pushed for programs and projects that are near identical to other cities. These include contracting with Block by Block; pushing a proposed Town Creek development that would create waterfront property next to downtown, like Chattanooga, Tenn.; and providing seed money for Jackson to have its own business incubator, just like Birmingham, Ala.
As much progress as the city has made in the last two decades, especially with large-scale projects such as the King Edward, Standard Life and Pinnacle Place, there are still critical challenges on the horizon.
 
Developers are complaining that the vacancy rate for office buildings downtown is rising; Gomez, however, said that of the 3 million square feet of office space available in the BID, 70 percent is currently occupied.
DJP has been a proponent of a city project that would transform Capitol Street back into a two-way street to increase foot and car traffic and bring more businesses downtown—an idea that media archives show date back to the Dale Danks Jr. mayoral administration, and which Johnson has also long pushed. But the project is still several years away.
Then there is the challenge of small retail businesses and restaurants. While downtown is the home of 30 restaurants, several spaces sit empty, as do many storefronts.
In late May, Wired Espresso Café owner Gary Davis closed his café on State Street. Located in owner John Arthur Eaves' building, the café sat next to several empty storefronts with for-lease signs. Davis said the lack of foot traffic took a toll on his business. On weekends and nights, there just weren't enough people downtown.
Gomez said DJP helped Wired with marketing efforts, but he understands that the lack of traffic outside of office hours can be an obstacle for business owners in downtown. Gomez also pointed out that Parlor Market on Capitol Street has not relied on the downtown's lunch and business crowd and has been able to bring people downtown nights and weekends. He said that DJP offers lots of services to business owners, even if they aren't the ones paying the BID's assessment fee.
Two new businesses, Smoothie King and My Cup Runneth Over Bakery are scheduled to open at the end of the summer. Gomez said that DJP was not involved in recruiting those businesses and have not yet been in contact with them.
"We provide them with demographics for the area," Gomez said. "We will help them navigate the permit process. We will look at our contacts and see if there are any business loans available.'
Still, Gomez said DJP has placed priority on residential developments over retail for the time being. "National companies aren't coming here because we are far below the residential numbers that they are looking for," he said. "They are not just going to locate downtown unless they have the numbers. That's why we think it's so important to get our residential base up."
But by Gomez' logic, residential occupancy rates at 100 percent means that downtown desperately needs to see more residential spaces come online before the small business and retail base will grow.
Due to a lag in new residential developments in the hopper, it could be a while before units are available. This lag is no more evident than with the 300 apartments long promised as part of the TCI convention-center hotel deal that now may never happen.
In 2007, Dallas-based developers TCI purchased four blocks along Pascagoula Street in front of the Convention Center as the future site of the supporting hotel with the support of then-Mayor Melton.
Allen has long been a proponent of the convention center and the TCI hotel, even as the JFP and others urged caution, but it's unclear whether he played a direct role in recruiting or advocating for TCI to oversee the development. A May 2010 Clarion-Ledger article said that Allen "talks regularly with TCI and has seen marketing materials prepared for what has been called a $200 million development."
TCI developer Mark Small said he had met with Allen a few times about the development but that DJP had no formal role in the process. The developers, who are connected to controversial Texas businessman Gene Phillips, a friend of Melton's, haven't yet broken ground on the development—citing a poor economy and lack of financing options. All the while, the land sits empty, essentially locked out of development.
On May 27, 2010, Allen announced on the DJP blog that "the (TCI hotel) dream should be a reality soon" and that the actual hotel "would be second to none." He wrote that a deal with the city was imminent and vital: "If local governments do not have 'skin in the game' in developments of this size, private money becomes uncomfortable. Private investments go where they are comfortable." He said that TCI would finance 300 apartments if the city could provide adequate funding to help guarantee the hotel "was securely financed."
Allen ended the post with a promise: "You WILL NOT recognize downtown Jackson in three years. No I am not a cheerleader. I am a prophet (grin)."
At the time, the city had approved a non-binding cost-sharing agreement that essentially made the city a co-signer for TCI to finance the $200 million project. But the developers have been unable to obtain funding sources and, in March, submitted a proposal to the city asking it to consider 50 percent ownership of the hotel.
The mayor has made it clear that the city isn't pleased with the TCI saga; it's not the deal he would have wanted, but the city has no choice but to play it out.
Allen now appears to share others' doubts about the viability of the TCI project. In a February 2010 email to the city, Allen wrote that "the developers may be near snake eyes" and suggested two alternate firms to take over the project: Dallas-based developers Garfield Traub and Missouri-based developers John Q. Hammons Hotels and Resorts.
Because TCI owns the land, it's difficult for the city to bring in another developer to take on the project. City spokesman Mims said the city is not considering anyone else to do the project at this time.  
Additional downtown developments include developer Mart Lamar's renovated buildings on Capitol Street including five lofts above Parlor Market and Metro Shoe Repair. Allen told city council May 26 that he is working with a developer who wants to renovate the Lamar Life Building to include residential units.
Other proposed retail units for downtown include the $65 million mixed-income housing development Ceva Green; Old Capitol Green on Commerce Street; and residential units at Jackson Place and the Regions Deposit Guaranty building.
Jackson Redevelopment Authority Executive Director Jason Brookins said during a July 27 JRA board meeting that Don Hewitt of Advance Technology Building Solutions is renovating the Regions building. Hewitt did not return calls for more details on the project.
(Re)Building Trust
    Getting a 70 percent majority vote from property owners for reauthorization is not an easy task. In recent weeks, DJP has even gone door-to-door to get the votes they need to keep their own doors open.
The owners of downtown's largest properties have weighted votes, but Gomez said that, historically, it's been a collection of smaller property owners who have been instrumental in reauthorizing the district. Property owners have until Aug. 16 to mail their ballots to the city clerk's office. Not voting is recorded as a no vote.
"The larger property you have, the more you are paying," Gomez said.
"Some of these buildings aren't making a whole lot of money right now because they are vacant."
While there is a lot of local support for the BID, getting out-of-state property owners to vote is one of the biggest hurdles.
"It's an issue in cities all across America right now," Lawrence said.
"... If you are a property manager that lives in Chicago and you are just looking at a spreadsheet and see that this one particular property is producing so much revenue and expenses, you might say, 'If I don't vote for this BID, it will cut my expenses.'"
Lawrence said it's harder to convince property owners when there isn't a personal relationship established; out-of-town owners don't see the day-to-day impact DJP has on downtown. The out-of-town properties in the Jackson BID include the Marriott Hotel at 41,184 square feet, the future site of the convention center hotel with 28,050 square feet and the Regions Plaza building at 56,018 square feet.
Gomez said that the owner of the Marriott has historically voted no. Alfred Crozie of TCI Investments did not return calls for this story. Mark Small, president of MJS Realty (an offshoot of TCI), initially oversaw the convention-center hotel project and said Aug. 1 that he was not aware of a DJP reauthorization process.
Parkway Properties, a national real-estate investment trust with headquarters in Jackson, is located in the BID. Chief Executive Officer Steve Rogers said his company is supportive of the BID and will vote yes.
Gomez also said that 61 percent of properties inside the BID are exempt from paying taxes because they are government entities, churches, or non-profits, and therefore do not vote for reauthorization or pay an assessment fee.
The majority of property on the second block of Farish Street is owned by the Jackson Redevelopment Authority and is currently vacant while Watkins finalizes leases with new tenants.
Adam Hayes, co-owner of F. Jones Corner, said he isn't crazy about paying additional fees for services he would like the city to provide, but said he is supportive of the BID and will vote yes during the reauthorization. Gomez said that DJP will collect approximately $30,000 annually by including Farish Street in the BID.
Rev. C.J. Rhodes, pastor of Mount Helm Baptist Church, the city's oldest African American church, and president of the Farish Street Main Street Association, said that business owners and residents in the area have questions about the BID's impact on the district. The business owners are not necessarily property owners, however.—a primary complaint of opponents such as Tisdale and Parker-Weaver back in the days of fighting CCI in the late 1990s.
"There have been some concerns," Rhodes said. "What are the ramifications for smaller business? If they do pay, what kind of economic impact will it have?"
Roderick Ephram, who runs Peaches' Cafe on Farish Street with his mother and company owner Willora Ephram, said at first he had questions about the BID's expansion, but Watkins has brought him into the process. He said he supports the BID because he sees it as a sign that the Farish Street Entertainment District will soon come online. He also said that the presence of the ambassadors will help curb crime in the area.  
As the JFP goes to press, DJP board members are saying that they believe they have enough votes pledged for reauthorization. But Tanya Scott still plans to vote no.
Over the past few months, Scott says she has received several calls from DJP representatives asking her to vote "yes," but she says that it's too little too late.
"There has been an eagerness to have individuals who were feeling somewhat disfranchised by previous years to feel better about how things are going," she said.
"But the challenge that I have is that I have been a property owner since 2006, and I don't see how we benefit directly as the result of the business taxes we are paying."
"To attend a meeting of the same body that we are paying money to (who) are supposed to represent us, and the individuals who are on the board don't think it's necessary to shake our hands and thank us for coming, I don't see where my support or money is necessary," Scott added.  
Scott says that she mainly just wants to have a place at the table. She worries that board members and representatives are making promises to help with her development only to get her vote. She sees their offers as empty promises.
Otha Burton, an urban planning professor at JSU and former director of planning for city, said that BIDs are an important aspect of revitalizing a downtown area but only if they are managed correctly—and everyone must be welcomed to participate. He said DJP must work to resolve any lingering mistrust people have from when the BID first formed.
"History says that mistrust is justified," Burton said. "We have evolved over the past 20 years from when there was a decline and erosion in the city's tax base. Now we are smart enough to say, 'This is our community—black and white, public and private sector.' We've got to find common ground because that mistrust is pulling us down."

* Clarification: In the above story, JFP news editor Lacey McLaughlin wrote that state law requires property owners to mail their ballots directly to the city clerk's office. According to Sec. 21-43-117 of the Mississippi Code, which governs BIDs:
"Ballots shall be marked, signed and submitted by the eligible property owner to the clerk of the municipality by the date designated on the ballot."
John Gomez of DJP wrote after this story to say that "state statute regarding the BID does not stipulate how ballots are to be delivered." He has also said that some property owners send ballots directly to DJP.
A 2001 attorney general's opinion seemed to have softened the original requirement that property owners must submit their ballots to the city clerk, saying a property owner may choose an agent or person to deliver it, but without specifically addressing whether the BID district itself can be that agent. It reads in full:
ATTORNEY GENERAL OPINIONS
Absent lawfully adopted procedures, a property owner can choose the method of submission of a ballot to be used, which may include U.S. mail; however, a clerk may not accept ballots which are postmarked by that date, but received on a later date. Clark, Sept. 7, 2001, A.G. Op. #01-0535.
In the absence of procedures lawfully adopted by the municipal governing authorities, there is no requirement the ballots be placed in an envelope. Clark, Sept. 7, 2001, A.G. Op. #01-0535.
Absent any procedures lawfully adopted by the governing authorities, a property owner may determine the method of submission of a ballot to the clerk, whether it be by personal delivery or delivery by a designated or appointed person or agent; similarly, it is a determination of the property owner how to document any designation or agency. Clark, Sept. 7, 2001, A.G. Op. #01-0535.
Previous Comments
ID

164272

Comment

Someone asked me last night about the following sentence in the above story in the "Development Politics" section and to clarify what it means: The past issues Johnson had with the BID foreshadow the current relationship between the two entities—one that can resemble a power struggle framed by partisan race politics. I added that sentence in the editing process as a transition between Lacey's discussion of the BID's rocky past, which was steeped in race politics, to the current relationship between the DJP president and the mayor, which was a bit abrupt without it. Reading it now, I can see how it can appear a bit "two-faced"--a phrase we use in journalism for a sentence that can have more than one meaning. The point is not that the differences between Allen and Johnson are all about race politics. They're clearly not, with a more diverse board and a deliberate effort by DJP to reach out to more African American businesses, board members, supporters, etc. Watching Allen address the Koinonia Friday Forum crowd and their positive response to him alone shows how far DJP, and he, have come from the days when he and Stokes used to squabble on Council. Our hat is off to that kind or progress, as well to all of DJP's accomplishments, as well as the mayor's. The point of that statement was simple: to say that Allen and the mayor still seem to be divided, which is likely made more challenging by the gauntlet of race politics that they've both had to run to be where they are. Even in his last election, the mayor played some divisive politics against powerful whites to solidify his vote (and they against him, to be fair); Allen came to prominence in the city as a Ward 1 councilman who had to please a constituency that routinely has voted based on race. All of this is common knowledge, and it is what "frames" their positions today (as the section just above that one set up) whether they like it or not (and I suspect neither do). Personally, I think DJP is an interesting experiment in overcoming the racial politics in the city. As you can see in the above article, much (if not most) of the DJP praise comes from African Americans, and our business community is becoming much more diverse in general -- thanks to men like David Watkins and Dr. Cooley, and now arguably Ben Allen, who aren't afraid to be deliberate with diversity efforts. And it is true as Dr. Burton (and Lacey) conclude above: Our city's future is going to depend on these ongoing efforts to work together despite differences and for groups from DJP to the city to walk the diversity talk. I think the biggest challenges could be egos on all sides, especially when it comes to taking credit for something that lots of people have done and still working with someone who criticizes your ideas. I urge everyone to put those differences aside, or to use them to help us get to the second best ideas.) (See my editor's note this issue to see what I mean by that: Second Best Ideas.

Author

DonnaLadd

Date

2011-08-04T09:28:44-06:00
ID

164273

Comment

One more thing, and I'll shut up: I think the challenge that bothers me most about downtown is how to ensure that residential and small-business support continues at a steady pace, even as DJP and the city court big ideas. We have long said (since back in the day when we warned that a Convention Center would be hampered by the need for an expensive hotel) that the big projects alone won't get it done (based on research on other cities and just looking at the depressing empty storefronts). John Gomez addresses this challenge in the above story in what seems to be a very honest way, and that should make us all think about it seriously. That is, how can we all overcome differences and work together to make sure that an integrated development approach is occurring downtown and throughout the city. And I don't mean race here; I mean a steady pursuit of new residential that support local businesses, even as we think about bigger projects. How can everyone overcome differences and get around a table to be creative? The mayor and DJP can't do it all, and shouldn't. How can we get artists into some of those spaces that are just rotting from lack of use and disrepair? How can we make shorter-term efforts to make downtown look really exciting and a place to be? It also struck me that Parlor Market could serve as a lesson to many other businesses in how to market yourself to a younger demographic. Let's really pick their brains, and others', to get best practices on really using social media and relationship-building (which those guys did for months before opening that restaurant) to get people excited and to build a bigger and even more diverse "downtown tribe." And let's make sure that younger faces are constantly out in front of the marketing (which is what we're doing much more with BOOM now). As I say in my editor's note, welcoming diverse opinions and ideas (and even dissent) is key to our city's future. Let's really build on what's happened already, and not let the excitement slow down.

Author

DonnaLadd

Date

2011-08-04T09:37:26-06:00
ID

164274

Comment

BTW, Whitney and Neil and others at the Jackson Community Design Center probably have a lot of great ideas that could inspire us all -- even if it's to get the second best idea. I urge everyone to really use that resource, especially when we're talking about how to do bottom-up kinds of projects to balance the big, audacious concepts like lakes and arenas and hotels.

Author

DonnaLadd

Date

2011-08-04T10:35:31-06:00
ID

164319

Comment

This clarification has been added to the bottom of the above story: In "Measuring Progress: The Evolution of Downtown Jackson Partners," JFP news editor Lacey McLaughlin wrote that state law requires property owners to mail their ballots directly to the city clerk's office. According to Sec. 21-43-117 of the Mississippi Code, which governs BIDs: "Ballots shall be marked, signed and submitted by the eligible property owner to the clerk of the municipality by the date designated on the ballot." John Gomez of DJP wrote after this story to say that "state statute regarding the BID does not stipulate how ballots are to be delivered." He has also said that some property owners send ballots directly to DJP. A 2001 attorney general's opinion seemed to have softened the original requirement that property owners must submit their ballots to the city clerk, saying a property owner may choose an agent or person to deliver it, but without specifically addressing whether the BID district itself can be that agent. It reads in full: ATTORNEY GENERAL OPINIONS Absent lawfully adopted procedures, a property owner can choose the method of submission of a ballot to be used, which may include U.S. mail; however, a clerk may not accept ballots which are postmarked by that date, but received on a later date. Clark, Sept. 7, 2001, A.G. Op. #01-0535. In the absence of procedures lawfully adopted by the municipal governing authorities, there is no requirement the ballots be placed in an envelope. Clark, Sept. 7, 2001, A.G. Op. #01-0535. Absent any procedures lawfully adopted by the governing authorities, a property owner may determine the method of submission of a ballot to the clerk, whether it be by personal delivery or delivery by a designated or appointed person or agent; similarly, it is a determination of the property owner how to document any designation or agency. Clark, Sept. 7, 2001, A.G. Op. #01-0535.

Author

DonnaLadd

Date

2011-08-08T17:38:29-06:00
More stories by this author
Support our reporting -- Follow the MFP.