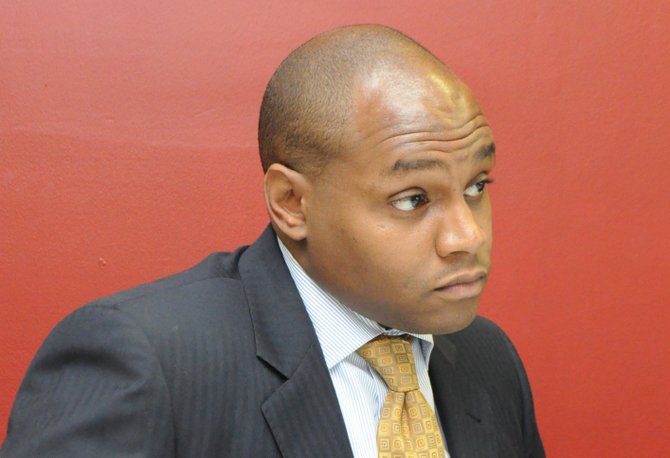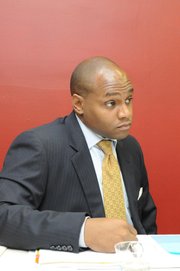 "You Can Be Right or You Can be Happy"
Jonathan Lee may not be a business owner, but he rode his business credentials to becoming the top vote-getter in the city's Democratic mayoral primary.
The 35-year-old husband, father and former businessman earned a spot in the May 21 runoff by running an on-message, well-funded campaign that has spanned at least a calendar year. He has consistently criticized police department morale, political gridlock, and Jackson's education system and crumbling infrastructure.
Lee, who holds both an undergrad and master's degree from Mississippi State University, proposed early on that he would find a way to create and pay for free after-school care for every child in Jackson, emphasizing the need to re-incorporate more arts and sports into public schools throughout the city.
"If we're looking at it pragmatically," Lee said, "you could, essentially, be driving down the crime rate, (and) at the same time helping bust those test scores. So when we're trying to attract business from out of state, or even from in the state, Jackson all of sudden becomes a better place to do business, because we have a great school system."
Likewise, Lee's message on infrastructure deficiencies seemed to ring louder in voters' ears than incumbent Harvey Johnson Jr.'s pitch for ongoing improvements in many of the city's major thoroughfares. Lee has a plan to allow bedroom communities to buy into Jackson's water-treatment facilities in order to create revenue to pay for looming Environment Protection Agency-imposed fines and infrastructure improvements that the mayor warned would remove Jackson from a leadership position with the facility.
The Long Run
Lee has been setting himself up to be mayor of Jackson for far longer than this election cycle. In fact, most everything Lee has done since his return to Rankin County nine years ago and Jackson four years ago seems to have been building to the upcoming May 21 runoff between him and Ward 2 Councilman Chokwe Lumumba for the mayorship of Jackson.
When Lee moved back Rankin County from Starkville, where he earned two degrees and served as student body president, he seemingly jumped into every committee and onto every board he could find.
Lee ran his parents' business as president of Mississippi Products Inc. from 2004, when his father died, until December 2011, and became chairman of the Jackson Chamber of Commerce, a sub-chamber of the Greater Jackson Chamber set up to help businesses inside the city, the same year he and his wife moved into Jackson. He also served on the board of directors for Operation Shoestring, Midtown Partners, the I.S. Sanders Farish Street YMCA, the Greater Jackson Arts Council, the Mississippi Minority Business Alliance and Mississippi Baptist Medical Center.
The candidate won his support running as a small business owner, which he recently admitted that he has never been. He did lead MPI, a disposable-goods supplier and warehouser for government agencies in the city and state, as president from the time of his father's untimely death in 2004 through 2011. But that's where the certainty ends--and questions about his business history and his veracity about it begin.
On April 24, in response to questions about four lawsuits his company had lost over non-payment to out-of-state vendors, Lee laid the lawsuits at the feet of his mother, telling the JFP editorial board that he had stepped down as president Dec. 31, 2011, to run for mayor full-time. But a 2012 corporate report, dated Oct. 8, 2012, indicated that Jonathan J. Lee was president as recently as last fall, which he adamantly denied in 
the interview.
Lee did resign as the company's "registered agent" Dec. 21, 2011, a week after the first of five known companies sued MPI. Indeed, in an interview dated July 4, 2012, seven months after Lee says he stepped down as president, he told the JFP that "I run a business on the corner of Valley (Street) and Raymond Road," referring to the location of MPI.
The companies that filed suit against MPI received default judgments for what Lee estimated was about $200,000 because MPI did not show up in court to defend itself or respond to legal complaints for longer than a year. The candidate maintains this is a natural and normal business dispute and that his family's company is working through the issues. MPI recently responded to the newest complaint, by Amsterdam-based Diversey Inc., which has not yet reached the judgment stage.
The Front-Runner
These controversies do not, however, preclude Lee from being elected mayor, and 35 percent of primary voters--11,929 people--seemed more than happy to overlook assertions from incumbent Johnson that another candidate "got (their) business driven into the ground."
In past Jackson elections, observers have been tempted to define mayoral candidates by race, even though most candidates for the job are usually African American. That narrative has arisen in this election too, and an analysis of precinct data pretty much affirms that the electorate in the current election is as racially polarized as ever.
Based on Census tract data used to draw voting-precinct lines, Precinct 34 in Ward 1 has the highest proportion of white voters in the city at 99 percent. Lee drubbed Lumumba in that precinct with just over 90 percent of the vote. Lee's next closest competitor there was incumbent Mayor Harvey Johnson Jr., who garnered 6.3 percent of the vote.
That trend continued through the 11 precincts with the largest percentages of white voters, all of which are located in northeast Jackson. In these precincts, which average 1 percent to 15 percent African American voters, Lee captured an average of 79.6 percent of votes compared to 11.2 percent for Johnson and 3.4 percent for Lumumba.
Lee did poorly as the percentage of black voters increased, however. In the top 11 solidly black-voting precincts, which are located throughout the city and range from 100 percent to 84 percent African American, voters chose Johnson or Lumumba over Lee.
That could be because Lee has stayed on-message through the poor news cycles, indicating that his promise to be a change agent has, so far, spoken louder than the judgments against his businesses or his opponents' charges that he could sacrifice Jackson's control over its own interests such as the waterworks facility or the state-tax commission.
Lee and Lumumba seem to be polar opposites politically and ideologically, but the most glaring difference may be their views on legislative oversight tied to Jackson's proposed 1-percent sales tax increase. The current legislation, as it stands, would create a committee to oversee the spending of the added revenue from the tax that includes members from outside the city--legislation that applies to only Jackson, not other municipalities. The commission would contain eight members nominated by the Greater Jackson Chamber, which is routinely much more conservative than Jackson's electorate. The mayor would select four commissioners from the chamber list. (Its incoming chairman, for instance, is Andy Taggart, former ueber-Republican Gov. Kirk Fordice's chief of staff and a strident opponent of anything Democratic, including President Barack Obama.)
Lumumba, along with outgoing Mayor Harvey Johnson Jr., sees the commission as a slap in the face to Jackson and a way to erode Jackson's local control over its own citizens' tax dollars. He also believes it might keep enough voters from passing a sales tax referendum.
Lee says he doesn't like the commission, but would not let it derail implementation. He would allow the sales tax to go to a vote later this year, he says, even with the commission requirement in place. "You can be right, or you can be happy," he said at a debate before last Tuesday's primary.
"I think in a city like this, in an urban environment, that's going to be the way we get things done: nontraditional, out-of-the-box ways to really involve the entire community, working together to solve a problem," Lee said last year.
The Unifying Candidate?
Although he campaigned as third-generation son of Jackson, Lee spent many of his formative years outside the city.
Lee was born in Jackson in 1978, and spent the first decade of his life in the capital city, where his father was a prominent member of the community. When he was 11, Lee's family moved to Rankin County and, eventually, enrolled him at Northwest Rankin High School.
His campaign web site, jonathanleeforjackson.com, says he is the son of two Lanier High School graduates, but doesn't mention where Lee got his high school education. He graduated from NWR in 1996 and did not move back into Jackson proper until 2009 and voted for the first time in the city 29 months ago.
But the Lee campaign has tried to shake that Rankin County tie since its inception, when he announced his candidacy on July 31, 2012, in front of his grandmother's former home at 1320 Perkins St. in Jackson's Georgetown neighborhood.
Lee drove his maroon SUV with a Rankin County tag until Aug. 13, 2012, when he registered a Hinds County tag.
Another rumor, seized upon by the Johnson campaign, said that Lee voted as a Republican. This rumor, the most non-story of all the allegations against Lee, is only marginally true.
Lee told the JFP editorial board that he voted once as a Republican in Rankin County, which is about as conservative a county as exists in the United States, to vote for a neighbor in the 2009 primary race (with Gov. Haley Barbour heading the ticket), but could not recall the neighbor's name. Records show that he also voted in the Republican primary runoff in the same election. In the same interview, Lee alleged that three of his mayoral opponents, including Lumumba and Quinn, also voted Republican in the past, which they deny.
Records show that Lee has consistently voted in Democratic primaries otherwise, and has called the charge that he is a DINO (Democrat-In-Name-Only) "ridiculous political posturing."
Regardless of his voting record, Lee has plenty of Republican and even ultra-conservative support. An analysis of Lee's 2012 and 2013 campaign-finance reports, as well as the Jackson 20/20 PAC (which, to date, has given thousands of dollars to Lee's campaign advisers and just $250 to a council candidate), shows that many of the donors are heavy Republican supporters. He also shares many of the same supporters of Frank Melton in his successful 2005 bid and Marshand Crisler's second-place finish in 2009.
His conservative donors don't necessarily mean Lee is a Republican, but it does raise questions in the minds of many Jackson voters, who overwhelmingly vote Democratic. This year, there isn't a single Republican in the mayoral race--because it is conventional wisdom that a Republican cannot win a local race in solidly blue Jackson.
Republicans have lined up behind Lee, who has spun his well-funded campaign by saying he is a candidate for all of Jackson.
In a debate two weeks ago, Lee stepped out of any politician's comfort zone to talk about the racial and economic divide we have in Jackson. He acknowledged publicly the fact that roughly 80 percent of Jackson's population is black and wields incredible political power, and that the 20 percent that is white wields economic power. He said the only way both groups can coexist is to come together and work toward common goals.
It could have been an honest moment for a candidate who has ties to both communities--or it could be a way to redefine his staunch Republican support. Lee has pitched himself as a unifying figure; now it's up to Jackson voters to decide if they believe him on May 21.
Read more about Lee at jfp.ms/jonathanlee.
More stories by this author
Support our reporting -- Follow the MFP.