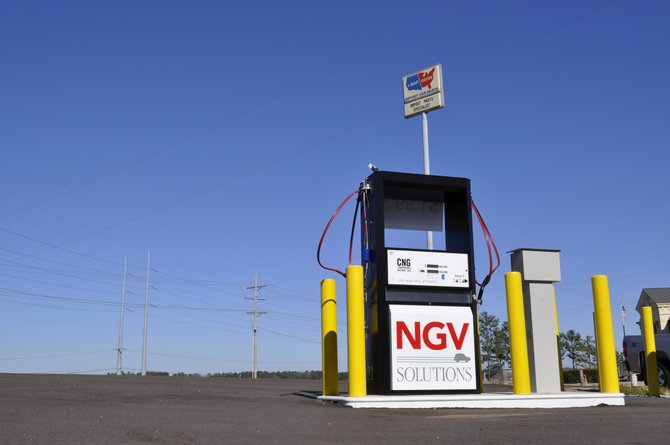 The purchase of three new squad cars for the Jackson Police Department breezed through approval last month, but some city leaders are calling for the city to take a new approach to buying vehicles.
Ward 7 Councilwoman Margaret Barrett-Simon, Ward 4 Councilman De'Keither Stamps and Ward 1 Councilman Quentin Whitwell have all gone on the record saying there is no reason, in 2014, for the city to be purchasing vehicles that still run purely on gasoline.
In a Dec. 30, 2013, meeting of the Jackson City Council, Barrett-Simon complained to Department of Administration Director Lee Unger that the council had requested a change in the approach the city takes in buying new vehicles.
"I had asked earlier that we begin watching carefully our purchase of automobiles without looking at alternative fuels," Barrett-Simon said. If the city's contracted garbage pick-up company, Waste Management, can run its trucks on alternative fuel, she asked, why can't the city?
Barrett-Simon said it "just didn't make sense" that the city was falling behind neighboring communities like Flowood, which has made a commitment to get away from vehicles that primarily use gasoline.
"There is a very limited number of natural-gas vehicles on state contracts," city Fleet Manager Joe Snow said. "Some of that ability to get them on state contract depends on the infrastructure we have around the state. I am aware that Waste Management has a fueling station, but if you have to go on a long trip, we might run into problems."
"Then you just don't take those cars on long trips," Barrett-Simon responded.
Natural gas creates lower levels of harmful emissions, and is less carbon-heavy than petroleum, which an overwhelming majority of Americans use to power their vehicles. It's also cheaper: The average cost of a gallon of gas in Mississippi is $3.08, more than a dollar more expensive than the approximately $2.00 it costs for a gallon of natural gas at the NGV station in Flowood, and it's produced right here in Mississippi.
Records from the U.S. Energy Information Administration show that Mississippi ranked 21st out of 50 states in natural-gas production, with 6.4 billion cubic feet in 2012. The state produced, at least partly through a process called fracking, an average of 8 billion cubic feet of natural gas over a six-year period from 2007 to 2012.
Cities like Flowood, which have a smaller fleet of municipal vehicles, have already started switching over some of its fleet vehicles, which can cost between $10,000 to $11,000.
Kent Meadows of NGV Solutions at 5495 Lakeland Drive in Flowood, the site of one of two public filling stations in the state, said that city has committed to the idea of a conversion to natural gas vehicles in its 2014 budget.
Numbers from Flowood's budget were not available by press time, but Meadows said he is scheduled to convert two Flowood municipal vehicles to a dual-burning system this year. Once converted, the vehicles will be able to run on natural gas and gasoline.
Flowood Mayor Gary Rhoads did not return a phone call for comment for this story.
"We don't touch the part of the car that allows it to run on gasoline," Meadows said. "We just outfit it with another system that allows it to also run on natural gas."
There are two types of fueling stations. A quick-fueling station is similar to a typical gas station, and the other is a slow-fueling station or "return to base" station, which can take all night to refuel a vehicle. Quick fueling stations can cost between $500,000 to $750,000 to construct, but slow-fueling stations can be built for less than $30,000, depending on the size.
"What I would like to see is a public/private filling station in the city of Jackson," Whitwell said. "What I mean by that is the city, along with JATRAN and JPS, make a commitment to fuel at night at a minimum of 'X' amount of gallons a month. Then during the day, the places open up for individuals who want to buy these cars or get these kits added to these cars.
"Essentially, with that, the NGV Solutions group might be willing to open up a store as long as they knew they would have a commitment from public interest."
In an interview with the Jackson Free Press last week, Snow said he thinks it would be worth it for the city to look into partnering with Waste Management and looking into the feasibility of switching to more natural-gas vehicles.
"(The idea of natural gas vehicles) is in its infancy," he said. "Big-freight shippers like FedEx and UPS are adding natural-gas options to their fleet vehicles... . I'd be more than happy to look into the viability of natural gas, or anything the city asks me to do."
More stories by this author
Support our reporting -- Follow the MFP.