Hinds County Sheriff Malcolm McMillin says his fleet is suffering from increased gas prices and claims the Hinds County Board of Supervisors does not have a serious grasp of the problem. The board denied McMillin's request for $58,750 at its recent board meeting, forcing McMillin to swap money from other places in the department. McMillin says he has accounted for past budget deficits within the Sheriff's Department by leaving department vacancies unfilled.
"It costs 60 cents more per gallon now, and you can't make allowances for that? We're not asking for money in any other line item. Let the cost of gasoline be reflected in the budget. That's all we're asking," said McMillin, who argues that his department is on-budget in every line item except fuel. "I don't want a blank check, but I've contacted everybody I know in the business and tried to get the best price I could."
Supervisor Charles Barbour suggested reining in fuel costs.
"Since we can't control the price of fuel, we can control, to a certain degree, the number of miles that are driven. I've always encouraged buying more fuel-efficient vehicles. In some cities they have Geo Metros for the administrative stuff when they're out serving papers and so on," Barbour said.
The dramatic jump in gas prices has not registered in the Sheriff's Department budget. Average costs for regular unleaded in the department ran from $1.43 in 2004 to $1.76 in 2005 and up again to $1.99 for the beginning of 2006. During that same three-year period, however, the fuel budget for the sheriff's department sat unchanged at $235,000.
Department fuel expenses in 2003 crept up to $297,248, and again went over budget in 2005, logging in $414,688 worth of fuel bills. Early this year, the fuel cost has already been recorded at $138,788, with a projected cost of about $415,000 at the end of fiscal year 2006, which ends in September.
Numbers provided by McMillin reveal that the county general fund purchased only 24 of the 155 vehicles used by the department. Federal grant money bought 64 of the vehicles. The rest are donated or seized vehicles or financed with seized money, making the sheriff's office less a county agency and more a beggar's pan with blue lights.
The vehicles themselves are not top quality. Almost 50 percent of fleet vehicles are pushing 200,000 miles on their odometers, while another 17 percent are knocking on 300,000. An embarrassing 19 percent are virtually car zombies with up to 400,000 miles behind them.
Supervisor Doug Anderson said McMillin is wasting budget money on raises and is using public perception of crime to grab a bigger budget.
"McMillin will go and give raises that were not planned for or allocated for," Anderson said. "The sheriff has already given $21,000 in raises. Supervisors give him over one-third of the county budget. That's over $17 million. The sheriff will spend every dollar he gets and then ask for more. He knows that this gas issue is an issue that the public will support him on."
McMillin said all raises were within his budget and said he reserves the right, as the department's elected head, to give raises based on merit.
"I give raises by merit because the people who deserve them ought to get them, and those raises didn't have anything to do with gas prices going up," McMillin said.
Anderson insists that the sheriff's budget could absorb the cost of gas, citing that last year McMillin returned $200,000 in unspent money to the general fund.
"If the sheriff had not added additional monies to side items and his gasoline budget last year, he would have had an excess of over $300,000," Anderson said.
McMillin said as department head he reserves the right to give raises based on merit. He says ignoring the efforts of hard-working officers causes greater attrition as hard workers flee the sheriff's department in search of better paying jobs. Starting wages for a patrolman in the sheriff's department are $18,050 annually. Beginning wages for a sworn police recruit in the city of Jackson,
however, is $23,750.
McMillin also said he took extreme cost-saving measures that year (mostly from the county jail) in order to turn money back in to the county to be later used for the purchase of 15 automobiles. Anderson later cut the 15 cars to 10. McMillin added that if the gas money continues to come up short, he might have to find more impractical means to cut costs.
"Do they want me to park the cars? Do they want me to cut patrols? I don't want to jeopardize public safety, but we'll soon get to a point where we'll have to make a decision," McMillin said.
Supervisors have an emergency meeting this Thursday taking up the sheriff's $58,750 request. Anderson said he predicted supervisors voting in favor of McMillin's request, though Barbour warned that a $58,000 budget amendment now might mean a shortage of money for future emergencies.
"If we give this $58,000 this time, the next quarter we can't do it. The (air conditioning units) at the city jail will break, or a roof will fall through. This county doesn't have any extra money," Barbour said.
Previous Comments
ID

65130

Comment

If there is one thing anyone who has ever done business with the state/fed/education it's that they have a budget and if they turn in money and don't use it all then next year it gets cut to last year's amount. Spending is the solve-all for paper pushers and malcom was doing what he thought was a noble thing, take wath ya got spend it, move it around to make some departments look sparse and they will throw money at you. 400,000 miles wow, mine has 250k and i thought i was pushing it. Someone should tell Mr.Barbour that they don't make geo metros anymore. I think the last one in the state is used by the traffic light cop when the fair and rodeo is in town.

Author

*SuperStar*

Date

2006-02-02T10:10:16-06:00
More like this story
More stories by this author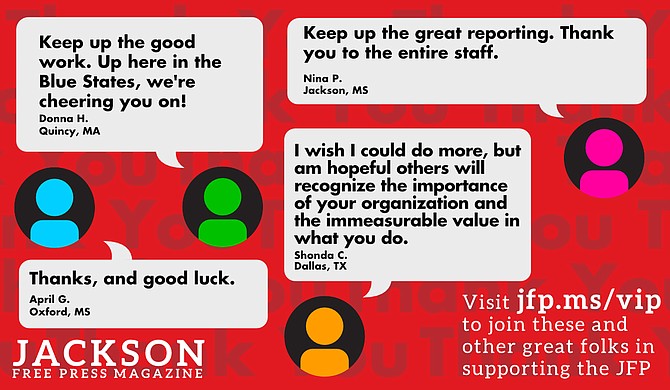 Thanks to all our new JFP VIPs!
COVID-19 has closed down the main sources of the JFP's revenue -- concerts, festivals, fundraisers, restaurants and bars. If everyone reading this article gives $5 or more, we should be able to continue publishing through the crisis. Please pay what you can to keep us reporting and publishing.