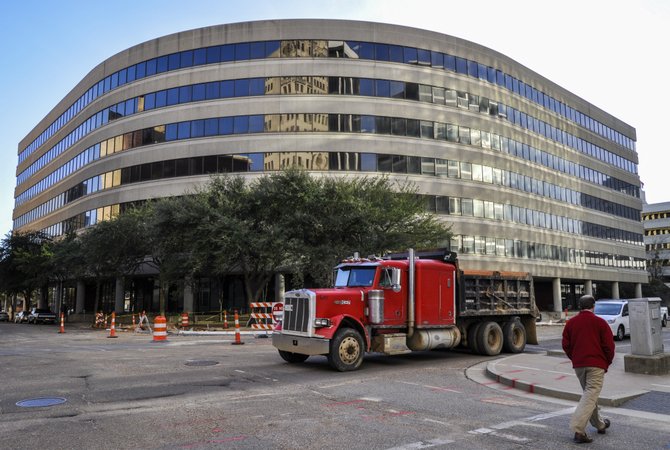 The vacancy rate of offices in the downtown Jackson area will soon drop, thanks to two moves from state-level government entities.
A deal is now in place for the University of Mississippi Medical Center to purchase the long-vacant Landmark Building in downtown Jackson, UMMC spokesman Jack Mazurak confirmed to the Jackson Free Press.
That news came on the heels of an announcement Thursday from the management at Capital Towers at 125 S. Congress St. to tenants that Secretary of State Delbert Hosemann had signed a lease to move a portion of his offices into the building.
The UMMC deal is expected to bring at least 300 new workers to the downtown area.
The school reached an agreement with Capitol Street Associates, the group that currently owns the building, to purchase the 366,500-square-foot, seven-story building for $6.25 million. It was previously listed for $7.5 million.
"The building is in relatively good shape," Mazurak said. "But we're still working through a couple of requirements we have to meet because we are a state entity. It could be a couple of months before we close the deal, but the good news is that they want to sell it, and we want to buy it, and we've agreed on the price."
The Landmark Building has been empty since primary tenant AT&T moved out in 2011. It was previously one of two sites proposed as the new home for the State of Mississippi Department of Revenue in 2012, but the state eventually chose a location in Clinton.
Mazurak, who serves as assistant director of media relations for UMMC, added that the renovations, which include a new roof for the building, are the last obstacle holding up the sale.
UMMC is expected to do some additional renovation, depending on how the school's leadership ultimately decides to use the building. Mazurak said tentative plans include using the first floor as commercial space, and possibly a health clinic of some kind.
"We currently don't have any kind of specialized health-care services like that," Downtown Jackson Partners Associate Director John Gomez said. "But we're very excited about that proposition, if it comes to fruition, because it would just help our attempts to grow our neighborhood of already 300-plus residents."
At Capital Towers, the secretary of state will have offices on multiple floors, but it is still unclear whether or not Hosemann himself will have an office in the building.
Hosemann's current Jackson offices are located at 401 Mississippi St. downtown near the governor's mansion, 700 North St. in Belhaven and in the Capitol Building.
"It's all really exciting," Gomez said. "UMMC should bring around 300 new people into downtown. That's 300 more people eating downtown, so it's great news for the restaurants. With the secretary of state's office, that's 90 more people. More people means more traffic, and potentially more downtown residents as well."
More stories by this author
Support our reporting -- Follow the MFP.