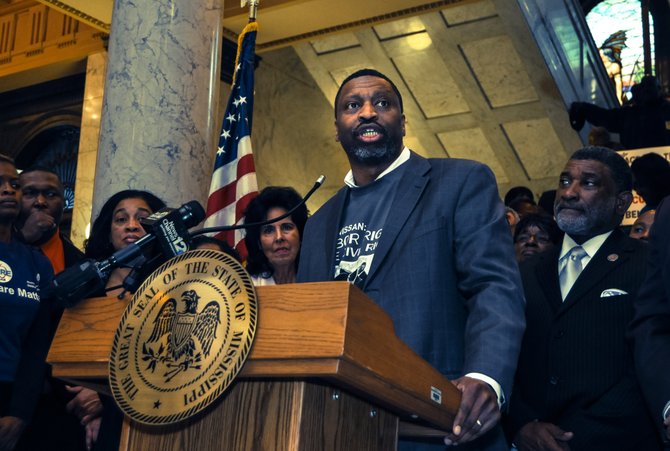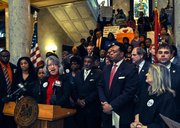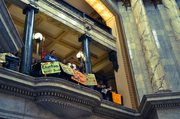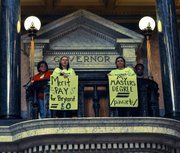 Public Enemy's "Fight the Power" provided the soundtrack as hundreds of teachers and public-education advocates filled the steps of the Mississippi Capitol Monday to demand full funding of the state's public schools.
Under state law, the Legislature is supposed to use a complicated formula to determine how much money should go to schools. That formula, known as the Mississippi Adequate Education Program, is the bare minimum that schools need to operate, but lawmakers almost never follow it.
Today, as a result of this failure, local schools are between $1.25 billion and $1.5 billion in the red. Many of the speakers bemoaned the Legislature's practice of setting aside 2 percent of the state budget for the so-called rainy-day fund, which would help pay for emergencies that might have arisen during the Great Recession, while consistently shorting K-12 education.
"Well, the recession is over," Barbara Brooks, a representative with the Southern Rural Black Women's Initiative, said at the rally. "It's raining in our school districts right now."
MAEP, the roadmap for the minimum funding schools need from the state, has only been fully funded twice since 1997. A recent report from the Center for Education Innovation looks at how local districts have to adjust to inadequate MAEP funding and shows that Jackson Public Schools are expected to experience MAEP underfunding of $17.2 million during the 2013-2014 school year, which follows underfunding of around $15 million each of the previous three years. In that time period, JPS was forced to eliminate 90 positions, 50 of which were teachers.
Jed Oppenheim, a newly appointed member to the JPS Board of Trustees, called the funding failure "a clear injustice for kids, our community and our state."
MAEP funding will be a large part of the conversation during the session, though it remains unclear whether there will be any movement on the issue. Neither the budget recommendation of Gov. Phil Bryant or the Joint Legislative Committee contains money to fully fund MAEP.
Later, many of the demonstrators moved inside to call for across-the-board pay raises for teachers.
Information from the National Education Association, a teachers' union, shows that for the 2011-12 school year, Mississippi teachers were paid an average of $41,646, the second-lowest rate in the country. House Speaker Philip Gunn, R-Clinton, says he supports a statewide teacher pay hike while the other top Republican policymakers, including Bryant and Lt. Gov. Tate Reeves, support a system that would give raises based on performance.
Derrick Johnson, president of the Mississippi branch of the NAACP, agreed that MAEP funding and teacher pay are about justice and said the two issues align with his organization's mission of ensuring that all children receive a quality education.
"Teach for America cannot fix the problem," Johnson said, referring to the national program that deploys young educators to poor and failing schools. "Charter schools cannot reverse the trend."
More like this story
More stories by this author