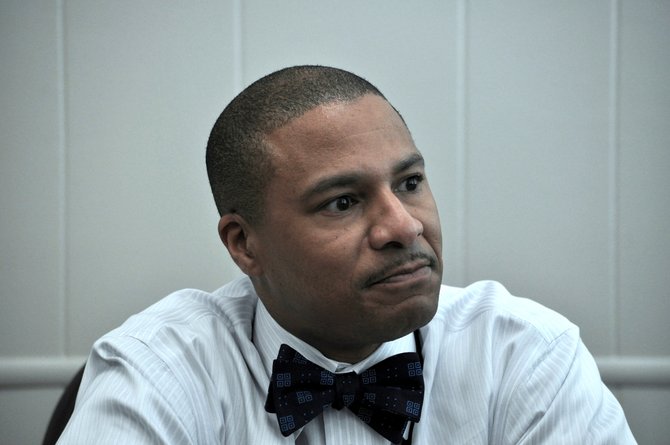 The Jackson Public School district recently replaced a boiler system in one of its buildings that was constructed in the 1950s.Thankfully, it happened before the recent cold snap, when the mercury in Mississippi dipped below the freezing mark for several nights, JPS Superintendent Dr. Cedrick Gray said.
Gray said such emergencies further strain the district's finances, which are already stressed as a result of falling state funding support. Gray and other school superintendents say that because Mississippi isn't fully funding its education formula, their districts have fewer classroom aides, larger class sizes, outdated computers and aging buses.
"We're always looking for creative ways to pursue funding," Gray told the Jackson Free Press.
The Center for Education Innovation released a report Thursday calling attention to what districts say are real-world consequences of not enough money. The report collected examples of pinched budgets from five school districts—Cleveland, East Jasper, Hattiesburg, Jackson and McComb.
The Mississippi Adequate Education Program calculated state aid to local districts. Lawmakers have only fulfilled the formula's demands twice since it was enacted in 1997. Over the last six years, appropriations have fallen more than $1.25 billion short.
The report states JPS is expected to experience MAEP underfunding of $17.2 million during the 2013-2014 school year, which follows underfunding of around $15 million each of the previous three years. In that time period, JPS was forced to eliminate 90 positions, 50 of which were teachers.
For the 2015 budget, the formula calls for $2.35 billion. Legislative leaders are recommending holding funding flat at $2.13 billion, leaving a $215 million gap. That gap would actually be $28 million smaller than in the current budget year because the formula underwent a once-every-four-years recalculation. Districts used in the calculation spent less during the recession, cutting down the amount the formula calls for.
Rhea Williams-Bishop, executive director of the Center for Education Innovation, said the impact of shortfalls "get lost in the numbers and the statistics."
The Cleveland district, said Superintendent Jacquelyn Thigpen, has eliminated teacher aides in second grade, and is sharing them among first-grade classrooms. She said kindergarten classrooms can have as many as 25 students, up from the 20 that she prefers. With more money, she'd reverse those cuts and hire math and language arts coaches to help teachers at the district's six elementary schools. Right now, there's only one part-time reading coach provided by the state, part of the effort to make sure all third-graders read at least at a basic level.
Gray said the district has raised class sizes and rezoned schools to save money. In 2011-2012, the Jackson district reported cutting 50 teacher positions. With more money, Gray said he'd implement tutoring programs before school, after school and on Saturdays. He said he'd hire new teachers to coach high school students on taking the ACT college test, spend more on technology and provide more training for principals and assistant principals.
It's not the first time the plea for more money has been made, and it's not clear whether it will change any minds. Though more than 40 lawmakers attended the lunch, only four were Republicans.
"We know we have to reach out to both sides of the aisle," Williams-Bishop said.
Rep. Randy Boyd, R-Mantatchie, who was there, said he's sympathetic to the plea, but also agreed with legislative leaders that it's more important to use increasing revenue to end reliance on one-time sources of funding.
"I think that will enable us to have more money later," Boyd said. "We do realize that funding of education is an important thing."
House Appropriations Committee Chairman Herb Frierson, R-Poplarville, said he hoped to increase the initial recommendation, but he's concerned about growing administrative costs. MAEP calculations found that studied districts spent almost 20 percent of money on administrative costs, compared to 16 percent in 2008. The share of money spent on instruction fell from 64 percent in 2008 to 59 percent.
The Associated Press contributed to this story.
More stories by this author
Support our reporting -- Follow the MFP.