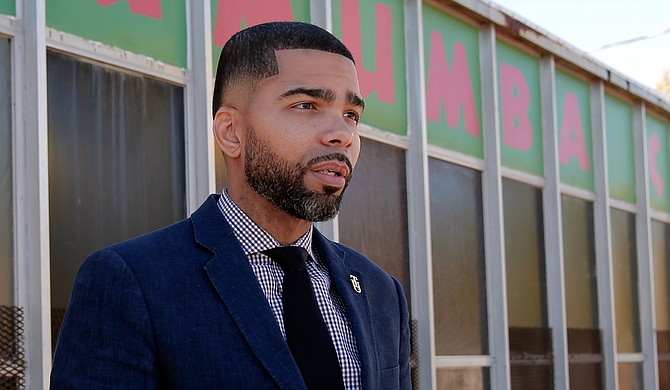 Chokwe Antar Lumumba, 33, walks through downtown Jackson on Nov. 19, 2016, soaking up the warmth of the sunshine on the cold winter day as he outlines his plan to carry on the work of his late father, former Jackson Mayor Chokwe Lumumba, who died while in office.
His father was a nationally known leader of the Malcolm X Grassroots Movement who originally came to Jackson from his native Detroit, Mich., taking a sabbatical during his second year of law school to join the black-freedom fight here. He was a part of a group of young intellectuals involved in the controversial Republic of New Afrika during the violent riot-filled years following the Civil Rights Movement in Jackson, resulting in several unsolved murders of local black people.
The elder Lumumba served as a cabinet member of the national RNA but was vice president of the provisional government that the group constructed for a theoretical new black nation in the South where African Americans would be safer.
The movement stalled in 1971, when Jackson police and FBI raided the group's headquarters at dawn on Lewis Street near Jackson State University, which ended with one dead police officer and 11 of Lumumba's fellow RNA members arrested. He was not in the house at the time.
The elder returned to Detroit to finish law school, and in 1977, he met a flight attendant named Patricia Ann Burke, who would change her name to Nubia when they married. Lumumba had a son from a previous marriage, Kambon, and soon after, the couple had their other two children, Rukia in 1978 and Antar in 1983. Lumumba moved the family to Brooklyn, N.Y., where they lived as he worked to grow his budding legal career, even representing rapper Tupac Shakur.
After New York, Lumumba brought his family back to Jackson in 1988 to organize social initiatives here, raising his children in the life of community advocacy, as well as trying to keep young black men out of the criminal-justice system. For years, the elder worked outside government, often a critic, but in 2009, became the Ward 1 councilman before later running for mayor. In his seven months as mayor, Lumumba grew popular even among many white conservatives who had opposed him, due to his intellect and his willingness to work across divides.
A defense lawyer like his father before him and his older sister, Rukia Lumumba, Chokwe Antar Lumumba said he wants to continue the work his father began, filling what he calls Jackson's lack of leadership. He ran for the seat after his father died but lost to current Mayor Tony Yarber, who is running for re-election.
Lumumba is no friend to crime, he said, telling the story of how his older brother was shot in the head in Jackson many years ago, paralyzed as a result. He said addressing that issue in a comprehensive way means getting to the core systemic issues that lead to many of Jackson's problems, including poverty and a lack of economic opportunity.
How do you plan to address the association the voters will have with your father, now that you are essentially attempting to step into his place?
It is something that I anticipated my whole life. I can get into my whole relationship with the Lord and the prayers I had as a child because of how much I looked up to my father. I would say, not knowing what that meant, "Lord I want you to use me for something powerful, I want to serve my people in a powerful way, and I want you to use me."
Running for political office (is) not what I envisioned (even) when my father mentioned, "Well, Chokwe, some people have been coming, and they want to know if we can really take some of this work we are trying to do and take it to a political, electoral like-fashion."
From the gate, the suggestion was that (my father) would run for mayor, and I would run for city council. And I said, "No, I am not doing that. I just got my law degree; I haven't been home for a year. I don't think it would be proper for me to run ...."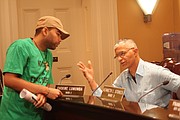 My father had a certain magic about getting his way ultimately. So he didn't push it. He never did try to push us, going into law, for instance. But his example spoke volumes, so it made you want to do it.
But I also discussed with him that "Look, you know I am going to be doing whatever work is necessary," and so I worked behind the scenes and with him all the time. And so I said, "I'll be honest with you, I think that people know who you are, and they know you in a certain capacity, though, and I don't think that you are viable to run for mayor at that time."
When was this?
Two-thousand-eight to 2009. I told him, "I don't think you are viable (as a candidate)," and we had a debate. It wasn't just me having a conversation with him, it was a number of people. We concluded that ... he should run for city council and see what he could do from there. Then we would, kind of, gather ourselves at the end of that and see whether that was sufficient or whether we needed to do something else. And so, obviously, you know where we went with that. And so he ran for mayor, and once again people said (to me), "Why don't you run for city council because he is vacating that seat?" And I said, once again, "No, that's not what I am interested in."
So the day (my father) died is the first time I started to contemplate whether I would take a step like that. And I didn't share that with anybody. I kept it to myself. I shared it the next day. I prayed with him, over my father, and I came to the decision after my prayers that sometimes political or leadership should come less out of political ambition and more out of necessity.
I thought it was necessary not because I think there is something so special about me, but I am committed, and I had the benefit of witnessing what I feel are the characteristics of leadership that must be embodied. That was my father's ultimate purpose, and he spoke of it often. He knew he had far more yesterdays than tomorrows, right? But he wanted to provide a model of leadership that he felt that we should seek and subscribe to.
What is a central initiative you want to implement as mayor?
We are going to make certain that we see the 1-percent-sales-tax plan that he adopted go into fruition, go fully through, and that is not happening now. There are some parts of it that the current administration is not aware of. Even though we invited and engaged some of the other council people, to be honest, the mayor wasn't one of those people that was working. So I think there are things that they failed to understand about how that should work. In terms of what we will adopt, we will adopt the same ideology that the people have to be incorporated into this process to a greater extent.
What's the first step in addressing infrastructure?
First of all, people have to understand the complexity of the issues with the infrastructure. We have probably a billion dollars' worth of infrastructure issues, and people complain the most about the roads, but the problem with the water and our pipes may be worse than the actual roads. What we designed to do with the 1 percent (sales tax) was to take the money that was coming in from that and leverage those dollars to take advantage that Jackson at that time had a really good bond rating.
We have a bond rating that we could still take advantage of, but it isn't as good as it was at that time. If you take advantage of that bond rating, and if you leverage that 1 percent, you could actually double and triple that money. We discovered how we could do that to get more money.
We had already contacted the governor's office (with a plan); my father had already met with (Mississippi Gov.) Phil Bryant. My plan would be to do the same, to sit down with him. There were already agreements in place that (Bryant) would provide money to the City of Jackson, which the current administration had a plan to do.
But this is where (Mayor Yarber and I) disagree. We disagree where we see a commission attached to a large sector of Jackson, creating a district which will be controlled, which incorporates all of the revenue-producing institutions in the City of Jackson, to be run by a governor which 85 percent of the citizens in that area more than likely did not vote for. And a state that is providing less than 1 percent of contracts to minorities. That's egregious.
Our view is this, to put it simply: You can't sell the house to pay the rent. So we feel that there are some agreements that we can come to and had come to in order to receive or get the State to take on its fair share of the process. But it's taking that 1 percent, utilizing that; it's leveraging that to fix the infrastructure issue, and it's also going and taking advantage of different grants and different procedures from the State to get it to do its fair share.
Do you support possible legal action against Siemens over the $90-million contract to repair Jackson's water infrastructure?
What I can tell you from the capacity of a lawyer is that what the federal government wants to see is movement, that you are taking action steps to reach your benchmarks. And the federal government usually is more inclined to negotiate than you might expect, and so I think that we need to take advantage of the opportunity to negotiate some extensions with the federal consent decree.
I am in favor (of suing), and I won't go too deep into that, because I don't think it's wise when you are looking at legal action, but I think that we need to investigate some serious legal action against Siemens. I have looked at some other cities in which Siemens has had contracts, and legal action has been taken on behalf of those cities, and they have succeeded. In most of those circumstances, far less money was given to Siemens in those deals than what Jackson gave. The Siemens deal was a horrible deal.
And for anyone that is spreading the rhetoric that it was a Lumumba deal, that's inaccurate. That Siemens deal was done under (former Mayor) Harvey Johnson. It was already a go; their names were already on the bonds. The only thing that my father had the responsibility of doing was signing the notice to proceed. (My father) really had his hands tied, and he even told Siemens, "Look, I'm inclined not to sign this; however, I realize that I would be setting Jackson up for all kinds of legal backlash. We could get sued." It would be failure to abide by a contract; that is a binding agreement.
Not to mention one of the things that was of a concern (to the elder Lumumba) is that a lot of the money that was supposed to be an upfront payment for the consent decree was tied into that deal. So he could not afford to (not abide by it). And so it was not his deal. He did not come up with the agreement. That was not something that he manufactured or dreamt up. But it was something that he had to sign: the notice to proceed. But that does not mean that we still don't see a need to pursue legal action against Siemens. And I think it would be advantageous for us to do so.
How would you improve the revenue stream for the City of Jackson?
We look at the fact that Jackson has some $80 million in uncollected revenues. And so if we are in an approximate $15-million deficit, $80 million in uncollected revenue can certainly help out. So what do we look at? How do we look at means in which we bring more of that money in?
I think we need to explore measures of ... the possibility of Amnesty Day; we have to be aggressive in bringing that revenue in. So we make agreements; if we can bring in $40 million of the $80 million in, that helps us.
Then we have to look at innovative ways of bringing in more revenue. I have been talking about (the need to upgrade parking meters since) before the council started talking about them. ... I disagree with the theory that we outsource to another company to do this.
I think that we can handle this ourselves, and the money that a company would take as revenue or as profit, we put back into our budget. Why aren't we doing this. Why are we looking to outsource every single thing?
Oftentimes when we outsource all of this work, that's paying back political debts. That's paying somebody a contract or giving somebody a contract that is going to put money back in your pocket. ... We don't have that luxury. Jackson is hurting, and the people need to see more for their dollar. And so we need to recover more money for the city.
I think that we can look at the option of making ourselves the most sustainable city in the nation. We could take advantage of solar panels and reduce our energy cost for the city. We could put solar panels on lights, on streetlights and reduce a lot of our overhead so that we are spending less money.
Then I think that we have to look at the option of whether we restructure some departments. Some people, what they are doing, they have to go to two or three departments to get something done when it could all be streamlined into one department. I think all of those things would help, in order to talk about everything you do to raise the budget; that is essentially the job of the mayor.
How do you address our increasing homicide rate with dropping police numbers and a dwindling budget?
I talked (earlier) about my brother getting shot in the head here in Jackson, and so I am no friend of crime. My family has actually felt the effects of this crime, so we can relate to what people are feeling and the experiences they are having. We have to be serious on crime. We have to be tough on crime, we have to be very tough on crime, and we have to give officers the resources they need in order to combat it.
With that being said, what you will hear from me, which is different, (is that) a big part of the issue of crime is the opportunities that exist in the city. If you don't do anything to combat the conditions which lead to crime, you can't out-police it. So what we have to do is engage our young people; we have to have greater opportunities to give them something else to do. And we have to fund that.
One of the things that was my father's baby was the basketball program that he worked (on) for years. He created the Jackson Panthers. In that program there were probably somewhere in the neighborhood of 700 boys that came through that program. And it had about a 98-percent success rate for getting young men in college.
The reason that succeeded so tremendously was because he took something that captured their attention and used that to keep them close enough to the process of learning: You're not able to play basketball if your grades aren't right, you can't go on these trips, you can't do any of these things. When we look at our young people, and I am not just leaving the issue of crime to young people, we have to find ways to connect with them. 
Clearly, that isn't happening enough. How do you change that?
My parents were organizers and put us in that, and one saying we have in organizing is "If you can only organize people who think like you, you are not much of an organizer."
So we have to meet people where they are, and have to engage our young people. We have to take advantage of the things that are of their interest and use that as the draw.
One thing that I like is the idea of investing in music studios. We have young people who are interested in music, interested in the arts. It could be a photo studio. And we take those things, and if we are looking at a music studio, so we have some rules. When you come in this studio, there is no derogatory language, there is no misogynistic language, but we are going to nurture your interests, we are going to nurture your talent, we are going to invest in your talent. And that engages young people.
I grew up here. I've been here since I was 5. I know what every young person has said at some time living in Jackson: There's nothing to do. And we have to take that criticism to heart, right? We have to take that criticism to heart and change that dynamic. Because the reality is that if there is nothing to do, they will find something to do.
Every block is going to be organized by somebody. It is either going to be organized by a positive force or a negative force. So we have to be the ones that control the blocks. So that's what we need to do. I said that I was going to come around to what people are suffering from.
How do you plan to deal with the complex relationship between the City and the State Legislature?
It really gets to the heart of how you get business done. How do you move the ball when you need to? And I understand some of the common rhetoric that is used against me as it was against my father: that we are too radical, that we don't have the relationships. People have to understand that I am an attorney throughout the entire state of Mississippi. I practice in Fulton County I practice in Neshoba, I practice in all of these places where the opposition doesn't look like me, the judge doesn't look like me, but yet I am able to have success in the courtroom.
The reason is because I understand that friendship is nice, icing on the cake, but more important than that is your respect. If you respect me, then that's the starting point that we need. Jackson hasn't fallen into the place that ... is because it has had too radical leadership. Jackson hasn't had anybody to fight for Jackson, first and foremost. ... Currently, we have a void of respect for our leadership taking place in the City of Jackson. And you talk about people investing. I won't go into those specifics, but good try.
How do you get more people, including state leaders, to invest in Jackson's future?
You talk about people investing, you talk about trying to get things passed in the Legislature. You wouldn't invest in a company you didn't respect. If you had questions in terms of its leadership or who is at the helm, that is one of the major things that company's stocks go up and down based on their leadership.
That's what I want: to establish that you are, one, serious about what you are trying to achieve, and I am willing to have a conversation with anybody. I am willing to talk to anybody, but the starting point of those conversations is that we have a mutual respect for one another and the things that we are trying to do. If a friendship develops in the process, great, but the first thing is that we understand what we are trying to do and identify common interests.
And I think that there are some common interests. I think that if we talk about the state of Mississippi and the view of the state of Mississippi and how we build the state of Mississippi, that is closely associated to the progress of Jackson. The state of Mississippi will never progress, the state of Mississippi will never stop being last in everything unless the city of Jackson is able to succeed. So we need to identify how we do that and ... our common goals.
You have to be a negotiator, but you can't view negotiation from the standpoint of, "I am going to friend you to death, be the best friend to you." It's about identifying common interests and about identifying points of leverage. How do I leverage my point so that I am able to advance my agenda? 
 One of the things said about the Legislature when my father took office was they didn't feel the leadership had come across there enough, had spent enough time with the Legislature, asking them. I'm going to be over there. I'm going to be knocking on some doors. I'm going to be letting you know, "This is what we need."
How do you plan to address or support efforts to revitalize downtown?
In terms of downtown revitalization, I don't think downtown Jackson is suffering because you have a couple of panhandlers. That isn't the crux of our problem. We need to focus on downtown. We are (walking) on Capitol Street right now. There should be opportunities to take people's money right here, in terms of businesses. There should be some opportunity where we have some retail spaces. Maybe a Gap or Banana Republic. There should be opportunities to do so.
I am going to be a building mayor. I am not going to stop development. At the same time, the tone that I want to strike is that we want businesses to come. We will do whatever we need to do to incentivize businesses coming. Come to Jackson and make a lot of money, but also invest the money back in the city.
Sam's (Club) made a lot of money in Jackson. But Sam's wasn't invested in Jackson, and so they left. And so we need businesses that want to come and also be invested enough to see us develop and see us grow and see us go into the next phase. 
 As we focus on how we develop Jackson and specifically downtown, we have to make certain that we bring businesses that are about the business of investing back in Jackson. And we can't let ourselves to just be focused on downtown. We have to be focused around town. Because what you achieve if you don't focus around town is you see an island of wealth surrounded by a sea of poverty.
Whether we are talking about how we create opportunity, how we look at contracts, how we look at city employees and how they are paid, how we look at our budget, it comes to two essential options to me. We have the option of economics by the people and for the people, or economics by a few people for themselves. That's what it has been thus far; it has been economics by few people for themselves.
I don't want to push people from the table; I want to bring more people to the table. I am trying to broaden the tent. Because Jackson doesn't have a problem producing wealth; it has a problem maintaining wealth. And how we do that is not going to happen by mistake.
It is going to require an intentional effort in which we make the strategic decisions and enforce policy that makes that happen, that allows for us to recover more money for the city of Jackson.
It comes back to leadership.
Email city reporter Tim Summers Jr. at [email protected] and follow him on Twitter @tims_alive. Read more on the mayoral race at jfp.ms/election2017.
About the Candidate
Chokwe Antar Lumumba, 33
Education: Callaway High School, graduated 2001
Tuskegee University, political science, 2005
Thurgood Marshall School of Law, Texas Southern University, 2008
Experience: Worked with his father, former Mayor Chokwe Lumumba, during his time as city councilman and mayor.
Managing Law Partner of Lumumba and Associates, LLC, for more than three years
Married to Ebony McNeal, whom he met in kindergarten, and together they have one daughter, almost-3-year-old Alake Maryama.
CORRECTION: A previous version of this article reported that Chokwe Antar Lumumba's brother was shot fatally in the head in Jackson. He was left paralyzed from the incident. We regret the error. The story has been changed to reflect the correct information.
Support our reporting -- Follow the MFP.