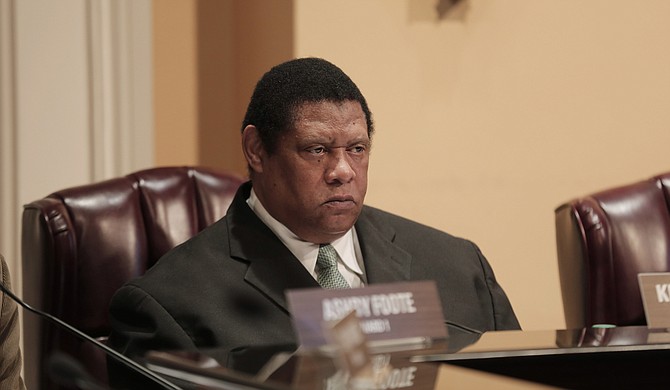 JACKSON — As the City of Jackson continues to mull over the next year's budget and its myriad cuts, the talk from recent city-council meetings about possible legal action against Siemens for the $90-million contract has morphed into discussions on how to address the billing problems facing citizens.
Ward 3 Councilman Kenneth Stokes proposed an order to the council during its regular Aug. 9 meeting but decided to push the vote back to consult with the city's lead attorney, Monica Joiner.
"So I told her that I would hold this to the next meeting," Stokes said. "We just want to make sure that we talk to everybody so that nothing comes back to bite us."
The text of the order authorizing legal action against the large, international company outlines the City's central complaint .
"Whereas," the order states, "the Jackson City Council has concluded that Siemens has not performed as contractually obligated, has acted negligently, has misrepresented, and has failed to perform: including, but not limited to: inaccurate meter installation and readings, over billing or no bills at all, and lack of identifiable cost savings to the City of Jackson."
Ward 4 Councilman De'Keither Stamps and Council Vice President Margaret Barrett-Simon of Ward 7 both stated their intentions to vote in favor of suing Siemens when Stokes asked to place it on the next meeting's agenda. The council is set to reconsider the item on Tuesday, Aug. 23.
The Cost of Suing
Not all of the council is in favor of the lawsuit, though, at least at this moment.
Ward 2 Councilman Melvin Priester Jr., an attorney, pointed to the shared work and cooperation between Siemens and the City so far to address the billing issues.
"I think that litigation is a something that needs to be on the table; I have no problem exploring it," Priester said. "But I want everyone to go in with their eyes wide open about what litigation entails. Once you go in on a litigation footing, cooperation tends to stop."
"What we need is cooperation to get this finished as soon as possible," Priester told the Jackson Free Press. "Because right now I think that Siemens and the public works department have made some real progress in trying to close the loop and get things where the City is able to close this project. Suing now, I think, would be counterproductive to getting people billed every month and having accurate bills."
Priester said he did not think that a lawsuit or his opinion would help close up the problems with the billing system, no matter how he felt about the contract.
"The real challenge in discussing this is you want to be frank about what's gone right and what's gone wrong and who is to blame," Priester said. "I admittedly don't have a lot of patience left, but I don't see filing a lawsuit or threatening a lawsuit today as what gets people consistently billed properly."
"Just because something doesn't work doesn't mean that somebody sold you something that didn't work," he added.
Cooperation is key to the little progress that has been made so far, interim Director of Public Works Jarriot Smash told the council on Aug. 17.
"We are working, and our key focus is really revenue generation, also improvement in collections. We have been working through, obviously, the implementation of our billing system, which has been a challenge," Smash told the council. He said that because of his team and "our renewed approach to working with the contractor on this project," progress and more revenue would come.
Smash said that Siemens has provided additional staff, as well as remote assistance to this department.
"Siemens values its relationship with the City of Jackson and is working hard with the City's Administration to bring the project to successful completion soon," the company said through a press statement on Aug. 22.
Problems with the Programs
Ward 5 Councilman Charles Tillman addressed the billing problems that lay at the source of the city's revenue issues during that Aug. 17 hearing, asking Smash to take apart the reasons his department has had so many problems. Tillman wanted to know what exactly caused the problems.
Smash told him it was the programs themselves, first the billing system the city originally used and then how the new program and the old one interacted.
"[A] lot of it was based on starting with what we already had and then trying to mimic that, and I think a lot of it did need some additional changes to kind of meet where we were going as opposed to where we were," Smash said. "And in the process of implementing it, I think that has been the realization; (Siemens) recognize, as have we, that we kind of need to migrate to something that is a little different."
Smash said that now, after recognizing some of the "work flow issues," the city has new systems to determine why an account is "frozen," and his department can move the account forward to billing. He said a lot of the progress has resulted from cooperation between Siemens and the City.
"So at this point, having gotten to almost a year for the rollout for the billing system, we have seen a lot of up and downs here and there, but they should be, right now, to the point where there is a comfort level there," Smash said.
Tillman expressed the cries from the public, fed up with high and late bills, if they receive them at all. In particular, the broken system puts those on fixed incomes in a difficult place, comparing the spiral of payment plans and increasing bills to payday lending.
"People that are on fixed incomes, it's causing them a big, big financial headache," Tillman said. "And I am afraid that some of their bills are so far behind, it is going to be stretched out at least a year or more because new bills are coming, and old bills are still hanging out there."
"It's going to be like, and I hate to say it, but it's just like some of those check-cashing places," Tillman said.
Email city reporter Tim Summers Jr. at [email protected] and follow him @ tims_alive on Twitter.
Support our reporting -- Follow the MFP.