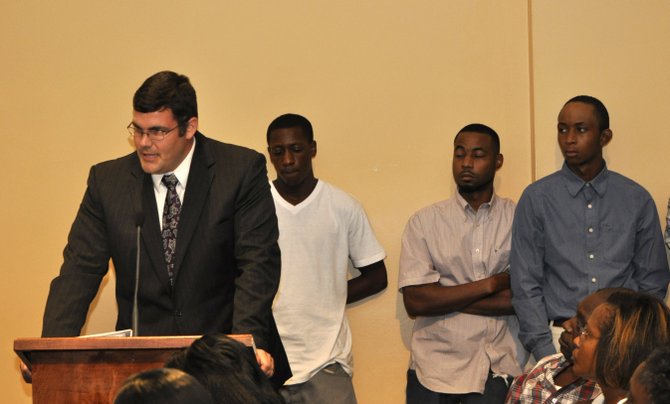 Two of the Jackson City Council's newest, youngest members had many questions for the folks at Siemens in an hour-long public hearing Monday afternoon at City Hall. With a potential $90 million deal on the table to replace pipes and old water meters for Jackson's aging water distribution system and update software to ensure accurate readings and billing, it's easy to see why.
The Siemens deal, which has been in the works since May 1, is a big obligation of the city's resources, even if the upgrade will pay for itself in savings as Siemens claims. First-year councilmen DeKeither Stamps, Ward 4, and Melvin Priester Jr., Ward 2, questioned that plan vigorously.
Stamps prefaced his intense line of questioning by saying he wanted everyone in the room, which included nearly 50 contractors, subcontractors and construction workers, to be able to get work through the deal. His main line of questioning centered around the cost of each part of the contract, as well as who would ultimately perform the work.
"With a lot of these projects in the past, it's like a game of musical chairs, where everyone comes together in the beginning, and there's a lot of talk like, 'Hey, you are going to be doing this,' and 'You are going to be doing that.' Then a lot of people have verbal contracts," Stamps said. "Then the music stops and there are a bunch of people who don't have a seat."
At issue are two provisions in the deal—which Mayor Chokwe Lumumba claimed credit for during his campaign—that mandate Siemens hire Jacksonians for non-skilled labor positions and award 58 percent of its subcontracts to minority-owned businesses.
Siemens representative Chris McNeil, who has handled the contracting thus far, said they are on course to hit both of those marks.
"I would point out that with these contracts being signed, we're obligated to meet those numbers," McNeil said. "The mayor mentioned about being committed to working for Jackson, and we're certainly committed. It's written into the contract that if something happens to one of our subcontracts (with a minority-owned business), then we have to replace it with another, so there's checks and balances in place to make sure the money stays in Jackson and we don't dodge the parameters of the agreement."
McNeil added that under the contract, if he doesn't meet the hiring numbers, he must write the city of Jackson a check for up to $9 million.
"Believe me," he said. "I'm making sure we're doing what we're supposed to be doing and, right now, we're hovering around 60 percent minority-owned on our contracts."
Priester raised the question of whether it was wise to spend so much money on a water distribution system at a time when the city is staring at a $400 million consent decree from the Environmental Protection Agency to fix the infrastructure of Jackson's wastewater management system. Priester indicated he also wants the deal to go forward, but is wary of the cost.
"We're in a difficult budgeting position," Priester said. "Because we have agreed to the consent decree, and so now every project in the city is now connected to that consent decree in trying to figure out how to pay for it."
McNeil pointed out that the improvements should save the city money in several ways.
First, he said the city's current water system is losing 12 percent of its profits to bad meters, which result in readings lower than the actual usage, or people who are just off the grid altogether and never receive a bill. Second, he said the city of Jackson has approximately 500 turnoffs a week due to non-payment of bills. He said that a service truck has to go out and turn off the water, then head back out and turn it back on when the bill is paid. The new meters would have a remote turn-on, eliminating the need for much of that maintenance.
Councilman Tony Yarber, Ward 6, asked when the savings would start coming in, to which McNeil responded, "immediately."
"When you start adding numbers up, this money could do a lot of good for the city," Stamps said reluctantly. "I just want to make sure we have our priorities straight."
The council originally gave the OK to the Siemens deal last October with a 5-2 vote. The "no" votes came from LaRita Cooper-Stokes, Ward 3, who was not in attendance Monday, and City Council President Charles Tillman, Ward 5. The council must vote to give final approval of the deal, likely at the council's regular meeting Tuesday, July 30, before work can begin.
"It's a lot of money," Tillman said. "I'm glad to hear the council asking some tough questions. If it's done right, it could be very good for the city and provide good work for our people."
More stories by this author
Support our reporting -- Follow the MFP.