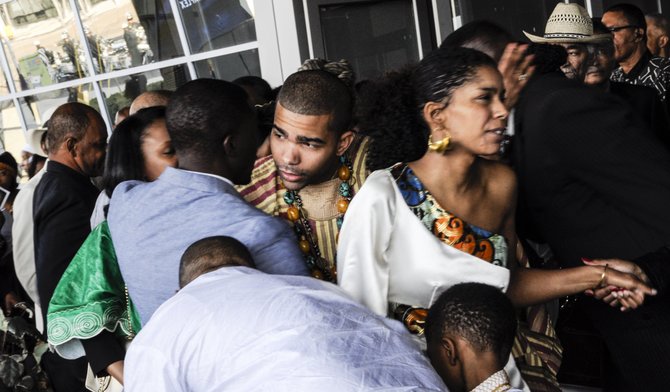 As expected, the special election to replace Chokwe Lumumba, who died in late February, is now in full swing—just days after the late mayor's funeral.
This afternoon, former Mayor Harvey Johnson Jr. is expected to formally announce his candidacy with a news conference at the Smith Robertson Museum. Over the weekend, a flyer promoting Johnson was reportedly circulated at Cade Chapel M.B. Church. A flyer featuring state Sen. John Horhn, a Democrat who represents Jackson and parts of rural Hinds County, is also out. Horhn has not officially announced his candidacy.
Ward 2 Councilman and Jackson City Council President Melvin Priester Jr. has also scheduled a press conference for Tuesday afternoon. Over the weekend, Ward 6 Councilman Tony Yarber told the Jackson Free Press that he is "heavily considering" seeking the seat. Lumumba's son, Chokwe Antar—who goes by Antar to distinguish himself from his father—is also expected to announce that he would attempt to succeed his father at a Tuesday morning press conference at city hall.
Antar's eulogy of his father could be interpreted as his first campaign speech.
"I am Chokwe Antar—another Christian brother with an African name," he said at his father's memorial, repeating a phrase the elder Lumumba used often during his 2013 mayoral race when opponents attempted to cast him as a Muslim.
Antar, who is expecting his first child with wife, Ebony, retold the story of how his parents met in the late '70s, when his mother, Nubia, was a flight attendant, and his father was traveling.
"My father lives in the people's struggle, and he will never die," Antar said. "My father lives in me."
Several potential candidates attended the memorial, including Johnson and businessman Jonathan Lee, who lost to Lumumba in the 2013 Democratic primary runoff election but finished in first place during the heavily contested primary.
The Jackson Convention Complex was packed Saturday for the memorial services for Lumumba, who died Feb. 25 at the age of 66. Lumumba family members had promised the service would not be a somber affair and would feel more like a celebration, a promise that memorial organizers delivered on.
The service commenced at with a processional of Lumumbas and Taliaferros— Lumumba's surname at birth—as the Mississippi Mass Choir sang and African drummers played.
The program lasted almost five hours and included several musical and poetry tributes.
Jackson State University professor C. Liegh McInnis recited an original poem he wrote titled "Free the Land Man," a reference to the phrase with which Lumumba often began speeches. McInnis described Lumumba as "our own Afro-American Robin Hood with MXG on his chest," referring to the Malcolm X Grassroots Movement, an organization Lumumba co-founded.
Members of the New Afrikan People's Organization, which Lumumba also founded, along with the MXGM, NAACP and Nation of Islam, representing Minister Louis Farrakhan, gave remembrances as well.
Dr. Safiya Omari, a former Jackson State University professor who managed Lumumba's campaign and worked in his administration as chief of staff, said Lumumba "not only wanted to build institutions, but to improve institutions to better serve the people."
"This man, that people thought was too divisive, was able to bring every segment of this city together," Omari told the crowd.
Acting Mayor Charles Tillman, U.S. Rep. Bennie Thompson—who was formerly the mayor of Bolton, near where the Lumumba and the Republic of New Afrika wanted to start a new black-led state—and former Mississippi Gov. William Winter also spoke. Winter confessed that he had reservations about Lumumba's election as mayor last year.
"Based on the stereotypes this old white man had formed about (Lumumba), I thought that he would divide our city. I couldn't have been more wrong," Winter said, adding, "The strong leadership of Chokwe Lumumba has opened the door to a bright future for us." He encouraged Jacksonians to honor Lumumba's memory "by moving through that door together."
Myrlie Evers, a civil rights icon and widow of slain Mississippi civil-rights hero Medgar Evers, said she was grateful for Lumumba and challenged attendees to continue his goal of "one city, one aim, one destiny," which has also become an unofficial motto for Jackson city government.
Bill Chandler, a veteran labor organizer and immigrant-rights advocate who has known Lumumba since the 1970s, said he moved to Mississippi for many of the same reasons Lumumba moved here from his native Detroit.
"To change America, we have to change the South. And to change the South, we have to change Mississippi," Chandler said.
Lumumba's children, Chokwe Antar of Jackson and Rukia, who lives in New York City, eulogized him.
"He was complex. He was a man who loved deeper than we could comprehend," Rukia said in her remarks. "He knew that if he loved his people, he loved all people."
Chokwe Antar, Lumumba's youngest child, whom family members and other longtime family friends often called "little Chokwe" during the memorial, closed the service with his powerful speech.
"Love changed Jackson, Mississippi," Antar Lumumba said. "Chokwe Lumumba was love."
More like this story
More stories by this author