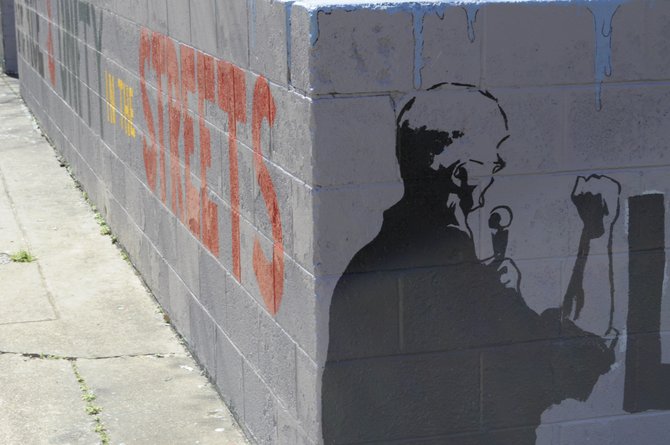 The removal of a mural in Jackson's Monument Park that honors the late Mayor Chokwe Lumumba, inscribed with Lumumba's portrait and the phrases "Peace & Unity in the Streets" and "One City. One Aim. One Destiny," is turning into an emotional and politically charged issue going into Tuesday's special election for mayor.
The scuttlebutt is that a number of people, including one or more candidates for Jackson mayor, complained to city officials that the mural gave an unfair political advantage to Lumumba's son, Chokwe Antar Lumumba, who is one of the people vying to become the next mayor and uses similar messages in his campaign materials.
Early Thursday morning, crews from the city's parks-and-recreation department painted over the mural, which artists began when Lumumba died in late February and completed the day before his memorial.
It's unclear who gave the order to have mural covered. Calls to city-hall communications Director Jewell Davis, parks Director Allen Jones and Chief Administrative Officer Synarus Green were unreturned as of this evening. Acting Mayor Charles Tillman issued a statement in which he reaffirms the city's respect for the late mayor.
"It came to our attention that one of our city-owned parks had been painted with certain words, slogans, and designs that had not been authorized or permitted by the City. Consistent with our policies and City ordinances, the painting was removed," Tillman wrote.
"In continuing our quest to honor the memory and legacy of our late Mayor, our actions, in this instance, were in keeping with Mayor Lumumba's high moral and ethical standards that we were fortunate to experience."
Reached by phone this evening, Ward 4 Councilman De'Keither Stamps said he does not know who complained about the mural to get it brought down, but that Tillman likely felt the city should remove it as a precaution ahead of what could be an tight and potentially testy special election.
"We need to do everything to not be another Hattiesburg," Stamps said, referring to the 2013 Hattiesburg mayoral election that was entangled in court challenges and allegations of impropriety before incumbent Mayor Johnny Dupree re-won his seat over the challenger.
"We shouldn't have been in this place. I don't think this (the mural) was a big enough issue to be contested," but someone could have used it to demand another election, he added.
Rukia Lumumba, the daughter of Mayor Lumumba and sister of Chokwe A. Lumumba, wrote an open letter to Jackson saying she is "saddened and disappointed to hear" of the removal of the tribute to her father.
"The mural was painted prior to my brother's decision to run for mayor and absent my family's request or knowledge. That is why it was especially hurtful and came as a shock to learn that the mural was painted over due to complaints, by a few, that the message of the mural was too close to my brother, Chokwe Antar Lumumba's platform," Rukia wrote.
She went to say that the "mural served as memorial and a reminder of the love my father had for the City of Jackson…a constant call to Jacksonians, near and far, that we must work together" to help improve Jackson.
Stamps said the council has put out a number of fires, referring to complaints about city resources being used for political purposes.
"We've been having to referee this thing. I wish (candidates) would keep it clean and run your race," he said. "What they should do is let us run the city, and everybody go run their campaigns ... instead (of us) trying to safeguard against possible contested elections. ... It would tear the city apart if we had to do the election again."
Stamps is one of three members of the council who is not seeking public office this year. He said candidates should rein in their campaigns and their supporters.
"If I was a candidate, I wouldn't have complained about a mural ... painted by supporters and families (of Mayor Lumumba)," Stamps said. "I wouldn't be that dadgum low."
Support our reporting -- Become a JFP VIP.
The news business has changed dramatically in the past year, and we need your help more than ever to keep bringing you important stories about Jackson and the Metro. Become a JFP VIP with an annual membership or you can Sign up as a monthly supporter. Thanks for anything you can do to empower our journalism!