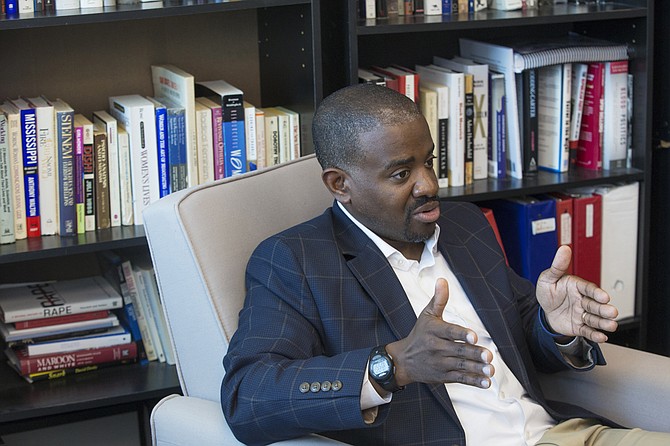 Many Jacksonians did not know Ronnie Crudup Jr. before he announced as a candidate for mayor. But due to sharing a name with his prominent dad, the 39-year-old quickly emerged as one of the presumed top-five candidates, alongside Tony Yarber, attorney Chokwe Lumumba, Sen. John Horhn and Supervisor Robert Graham.
Crudup does not shy away from the paternal leg-up. He regularly quotes his father, who is the primary backer of his campaign. It is not Bishop Ronnie Crudup Sr.'s first political rodeo; the founder of New Horizon Church International helped long-time U.S. Sen Thad Cochran, a Republican, weather a re-election firestorm that Tea Party candidate state Sen. Chris McDaniel caused in 2015.
This Crudup is aiming for the capital city's top office even though he has no government experience. He is relying heavily on his own history of ministry work and social entrepreneurship that seeks to bring Jackson's most needy out of poverty and onto a path of home ownership and business acumen to help them become self-sustaining and to start building wealth.
Like his father, Crudup's touchstone is business, and although he can come across shy and unassuming, he does not hesitate to criticize public entities he perceives as wasteful or slothful, whether in cutting grass, painting a gym or demanding excellent educational leadership such as Dr. Willie Killins has brought to Wingfield High School in recent years. And like his father and fellow church member Socrates Garrett—both with strong Republican connections—Crudup Jr. can sound less like a Democrat than his primary opponents. He supported charter schools in Jackson, for instance, although he now criticizes the local ones, and he thinks many people rely too much on the government.
Both the senior Crudup and Garrett were part of a group of black business owners who pushed back against the awarding of government contracts during the Yarber administration, which the mayor says ending up costing him Garrett's support. Crudup Jr. talked at length about contracting, not denying that he wants more minority contractors eligible for city contracts, as well as be taught how to get them and then perform well once they have them.
Crudup is a graduate of Murrah High School and now lives in Alta Woods.
You don't have a political background. What made you run for mayor?
I did it because the people in my community wanted me to run for political office for a while now. They have tried to get me to run for city council, they've tried to get me to run for the Legislature, also the last supervisor's run. ... A guy in my community kind of grabbed me by the suit coat and said, "You know what? It's not about you," or so. That was the first time I went about really trying to think about (running for mayor), and I went home to my wife and told her. The first thing out of her mouth too was, "No, you're not going to do it." But about two days later, she woke up and said, "You know what? I think we should do this."
We gathered a team around us, and from that point on we've just been running a race. I've been doing a lot of work in my community in south Jackson over the years, and this was just out of the love for my community because I believe in trying to have a good quality of life for the residents in the area. ... I think the people in my community saw that and said, "You know what, you're a guy that's already doing the work, so we need you to be kind of more on a broader scale of public service to do that on a larger scale."
Who was the person who grabbed you and told you to run?
I don't want to say his name right now. He is just a really good friend of mine. He kind of likes to stay private, but I'll just tell you he's a really good friend of mine. We talk quite often, and he just kind of grabbed me by the suit coat, jacket like this and just said, "Hey." ...
Why wouldn't you tell us who he is?
Well, I just want to kind of keep that confidential. I can tell you this. It's not a family member.
Is he giving you campaign money?
No, this person ain't give any campaign money. ... I did ask my father. I did ask my father-in-law because not only is my father a pastor, but my wife's father is a pastor. So both of them (said,) "You know what Ronnie, I think you should do it." So it wasn't any kind of push from them, but it was more like a confirmation from them that, you know what, you should try.
What would you say that you can offer that the other candidates can't?
I think I can offer my relationships. I have a lot of relationships in the business community. The work that I've been doing has really been a collaboration of myself pushing but kind of giving a vision to the business community of like, what we can do.
For instance, I would take a school like Wingfield High School, where Dr. (Willie) Killins (is principal). The first time I went and saw Dr. Killins, I was hearing about such good work that he was doing at Wingfield, so I went to go see for myself. I was really impressed by the work that he was doing, but I see that they needed a lot of help. So I was able to rally some of the businesses in south Jackson, bring them together and say, "Hey, we gotta help Dr. Killins at Wingfield, get him the resources and funds that he needs." So I've been able to do that for Wingfield.
At the beginning of the year, they didn't even have an air-conditioning unit. That school was out of air from August for about two weeks. We were able to push to purchase them some new air-conditioning units, portable ones. ... A friend of mine when he moved his gym to another part of Jackson, he wanted to start over fresh, so he donated his old gym equipment to Wingfield High School for their sports program. So I believe from my relationships and the work I've been doing already for the south Jackson community, I feel like I can transfer that same work all over Jackson.
How long have you lived in south Jackson?
Off and on, probably about 20 years. My dad moved us to south Jackson in 1993.
I was a junior in high school (when) we moved there, but I was going to Murrah. My dad worked some connections that still allowed me to go to Murrah. I didn't know anything about south Jackson or Wingfield, and so I graduated from Murrah still. I didn't go to college right off. I kind of played around a little bit. I eventually went to Hinds (Community College), and then graduated from Belhaven University in '06.
After graduation ... I got my own apartment for a while, but I still stayed in south Jackson. When I got married, for about two years, I moved back to north Jackson. My wife and I settled there in our old family home that my dad still owned, and moved there for about two years, had our child and after that there was an offer for a home in my community where I stay now in Alta Woods. I moved there. We've been there about eight years.
You have a lot of name recognition due to your father, but you aren't as well known, especially in the whiter communities.
Before this, I kind of liked it that way. (Laughs) (I was not) trying to stay out of the public light, but I've always been one of those guys that all I care about is getting the work done. So the thing that I was doing ... I was actually letting certain individuals take the credit for it. Because I really didn't care about who got the credit as long as the work got done.
Matter of fact, the swimming-pool project that we did over on Terry Road, I called Councilman (Tyrone) Hendrix at the time, and I said, "Councilman, I want to paint that pool." He said, "That's something I've been wanting to do, too." So I gathered a group of youth together, (and) we went and painted the pool. ... Ace Hardware is right there on Terry, right across the street from them, so just trying to keep those funds inside the community, and so we painted the pool. The kids painted the best they could, but then I came on after that and paid for the rest of it to be professionally done.
Once that was over, the guy who was over the youth program, Tyrone Hendrix, wanted to honor us. I told Tyrone, "I appreciate it, but I don't have to come. Let the youth program go, let them be honored." Nobody kind of knew that I did it. So there's a number of things like that.
Greenview Drive at one point, that was the worst street in Jackson; it's right off McDowell Road. At one point, I would say it had about 80-plus homes on the street, (and) about 60 of them were abandoned. So it was a huge eyesore over the years, and people ask me what's so important about Greenview Drive. Because Greenview was one of those streets that connect from McDowell, kind of a thoroughfare to Treehaven (Drive), but also it's right behind Key Elementary and also Peeples (Middle School) and now even the charter schools.
So you've got three schools surrounding this one street that was looking kind of more like a dump. People were dumping tires, other kinds of debris and litter. So I had a couple of clean-ups on the street. I got Hinds County to come and actually remove some of the debris. ... I said, "I know the exact project, let's go give money to Habitat to help them tear down the housing to start the new construction." I actually used some of my own resources and paid to tear another house down, so I think we tore about three or four houses down in that one day. That kicked off and jumped off the project that's going on Greenview now.
You can ask Habitat, and they'll tell you, "Ronnie, if it wasn't for you getting involved in the project, it would not been a go today." Now the mayor has come out there and done a public event, and I showed up. ... I did the work but didn't necessarily tell anybody about (it). ... It's all about trying to make the quality of life at that point for south Jackson residents better.
Every time something was happening in the news, it was happening in south Jackson. So I just kind of got fed up with it and said, "You know what, we're going to do something about this." We started a T-shirt group called South Jackson Proud. We started wearing that proudly to try and tell people to be proud of where you come from. We wanted to change the image of south Jackson even more so we started doing a lot of business highlights ... doing kind of free marketing for businesses that were staying in the community ... because everybody at that point could have left.
We asked, "Why have you decided to stay?" We wanted to let people know that.
Those are the same ideas that I actually want to try to bring across to the entire (city of) Jackson as well because any business at this point could leave Jackson when they want. ...
What needs to happen to improve economic development in Jackson?
I think we do have some economic development that's happening, especially over in that Eastover area in north Jackson. The problem is it's not enough economic development happening in south and west Jackson and some parts in north, too, that northwest part. So I want to be very proactive of trying to recruit businesses to come to those parts of town.
For one example, I was very instrumental when Kroger decided to leave (south Jackson). I sat in the meeting with John Horhn and Mayor Yarber with the Kroger exec they sent down here. ... We wanted to make sure Kroger did not put a restriction deed on that building, like they've done in the past. We were able to do that, and that's why we had a rally outside the store to let them know that we are a little bit upset that you're leaving, but do not leave us like you've done other places where you'll have the building there and tell another grocery store they cannot come into the building.
From that, we have Cash & Carry now, but it moved to that Terry Road building. Now we have to do a better job at making sure we get the word out and start supporting them. ... Cash & Carry has just opened up, but a lot of residents in that south Jackson part ... now drive all the way to Byram to go to that new Walmart ... or a lot of people drive all the way to the Kroger in Clinton. So that's money that is lost in the City of Jackson. When we come down to the 1-percent sales tax and all of that, we're not getting (enough of) those dollars because people are going to those outside stores. Jackson is losing some of that revenue.
Right, people going to Walmart aren't shopping local, but if they went to the Walmart in Jackson at least we would get more of the sales taxes. How do you lead on convincing people to spend money inside Jackson?
Jackson is more of a small-business town. How can we help the small businesses grow more? And not only that, but we need to support them. ... Every month I want to have what they call a lunch with the mayor. I would announce it on social media or whatever and say, "Hey, today I will be at this local restaurant, come have lunch with me." That's going to drive people to come to that local shop to come hang out and ask the mayor questions. ... Let's have (the State of the City address) at businesses. Let's not just do it at the Metrocenter; that's a good place to do it, but let's do it at more of the businesses that'll drive traffic to these places, because there are a number of businesses that are doing quite well, but they just need a little extra boost, and a lot of times people don't know they necessarily exist.
How can we use our public-access channel a little bit better? How can we highlight and do marketing for businesses who don't have the funds to do that? ... We have to really scale down and make sure that the people who are starting businesses in Jackson know that we are going to be very business-friendly and know that we are going to come check on you. We don't need another business leaving the city of Jackson.
In Jackson, we've got to start looking at ourselves more like a family. We have outside cities that talk (negatively) about us a lot of times, but in your family you know you may have a sister or brother that you can talk about, but you won't allow anybody else to talk about them. So I think Jackson has to look at it like, "You know what, we may have our dysfunctions, but we're still a family, and we have to take up for each other." So if there's something good happening in north Jackson, let's all rally to it. There's something good happening in the south, or something negative is happening. Let's tell the outside forces, "Hey, this is our family. We care about this place. We can probably talk about them but you can't."
We're going support each other and see that the businesses of Jackson are growing, the people here are flourishing, and everybody feels like Jackson is the best city in this entire state. That's my vision for the city. I want Jackson to be the number-one city in Mississippi, and I feel like we can do that. We have the people already; we've just got to bring the people all on one page and under one vision and bring our power together. Not just the financial power but the people power to really rally the mass and say, "Hey, come to Jackson." Let's get people to move back from some of these other places. That way we could say, "Buy Jackson. Eat Jackson." Really just have a wonderful place and wonderful quality of life.
A lot of young people tend to move out and go to bigger cities like Houston or Dallas.
I've been trying to encourage a lot of youth, especially people who are coming out of college, like I did myself. When you're in college, first thing every summer, you can intern somewhere else. Go and see the other cities around you. If you graduate, go do an internship for two or three years but come back to Jackson. Bring that same knowledge, those same skills that you learned in Atlanta, or D.C., or Dallas. Bring those back to help make Jackson a place.
We are constantly losing people and losing students going to these places like Atlanta. When are we going to stop making Atlanta rich? When are we going to stop making Dallas and Nashville, all of these places rich around us? We can help make Jackson a wonderful place. We can make Jackson rich.
What are specific reasons for that brain drain?
I would say part of it are the politics. People feel like we have so many racial issues still in Jackson right now. We see certain laws that are put in place by the government and state that tend to rub people the wrong way. So I think we have to do a better job as Jacksonians and from the leaders of Jackson to make sure we let people know that Jackson is a city that we can all love and enjoy. Let's not worry about what our state leaders or some of those guys say. They're going to do what they do, so let's not focus so heavily on them. Let's focus on how we can make Jackson the best place.
No matter what they say, no matter what the governor says, no matter what the speaker of the House says that may be in opposition of what we think, we can still think determine what's going to be our outcome here in Jackson. So that's the kind of attitude that I want to bring. Let's not have any more excuses.
Everybody me asks all the time, "So what's the biggest thing that you've learned?" I've met so many great individuals around the city that want to do better for this city. How can we bring all of those people to the table, to the masses and say, "Hey, we're going to let you try your ideas." I'm a visionary, I'm an ideas guy. I like helping people with their new ideas to see how can we help.
One of my friends, when he moved here from Washington, D.C., wanted to start a mixed martial arts program and said, "Man, I've been training in D.C. how to do this, but I don't have the money to do it." Well, I just so happened to run up on some money, and I gave him a $5,000 start, and now he's doing very well. So, how can I help more individuals like him who have ideals and visions of trying to do something, help get them the resources they need to be able to start a business or start something else.
I'll share this. One of the things that we were going to start, and it kind of stopped, in south Jackson we started a somewhat of an online media paper called the South Jackson Sound. It didn't get much traction at all. It was a start-up because we were trying to create some new positive media for south Jackson. I think we only did about two or three articles, and then I got involved in this.
Starting a media outlet is harder than people think, like anything.
A couple of months (in,) I was like, "Man, I've got to get somebody else to do this." Usually I'm the guy that has the visions and the ideas, but I have to have somebody around me that I can kind of pass it along to, to take it to that next step further. My wife always tells me, "You're the guy that needs to start something and then get out of it because you'll start over-thinking stuff sometimes and sometimes make a little bit of a mess out of it."
So I've learned that over the years. We started a basketball program in south Jackson where Higher Gym is, and I brought a guy on as a coach, and his name is Tony. Tony is doing very well with the students now; we started a little basketball team called the South Jackson Warriors. I got really involved with it, was going to the games, and I said, "I've got to pull out." At first I was thinking, how was Tony going to do this on his own, but I've been so very impressed; he's taken it to another level now. I didn't have to give him any money for jerseys, any money for basketballs this year. The first money that I gave him to get it started, he started with that and just really grew with it, and it's growing tremendously now.
You're saying that you're a visionary, you're the guy that likes to start things and get out of it. How do you translate that style into running a city?
I think there's two parts to that. When I say I'm a visionary, those are the things that's the ideals. Take, for instance, the Jubilee! JAM that we used to have in the city. I want to be a guy that can help hopefully start something. I know we have the Jackson R&B Festival right now. What can I bring that can help start something else in this city that can really go further along and really bring people back to the city?
From that standpoint, I can start a new event and then pass that along to somebody else, but when it comes to running a city, that's when my management skills really kick in. Over these years, since all of my career basically, even when I was in college, when I interned in college in Weaverville, N.C., I've been managing people. That's the difference: I've been managing people pretty much all my adult life. From Weaverville to south Jackson where I'm executive director now, we run a childcare center. We have a staff of about 14 employees.
Even when I was working for (my father's) church, the church has a pretty large staff. From full-time staff to part-time staff, I was the guy that was pretty much the overseer of that staff. I've been on a number of boards like Stewpot, Working Together Jackson, the Spencer Perkins Foundation, the Voice of Calvary Ministries. I've done collaborations with Habitat, the CJ Stewart Foundation, I've worked for Young Life, so I have a lot of management experience, management experience across the board dealing with whites and blacks. So that's the difference between me and a lot of other candidates. That I come with executive-level managerial experience.
What is your management style?
I'm not a micromanager. I'm one of those guys that believes in hiring good, competent individuals. A lot of times I believe in hiring people that's smarter than me and trusting them to do the job. So when I tell them that this is what I want, I expect them to do that job and do it well. We will go and evaluate that to see how's it going, and if it's not meeting the standards, we will see if somebody needs to be moved to another position. I believe in trying something out first to see what fits.
I believe in hiring good people of integrity. I always kind of operate by this principle. I only have two things in my life—I have my name, and I have my word. If I mess those two things up there, I don't have anything. So, if I'm hiring people, I think about if this somebody is going to mess my name up. Also, when I give my word to something, I keep my word.
My leadership style is very visionary, very proactive, very hands-on with people, letting people know that I care about them. When it comes to the city staff, (I would have) an open-door policy; if you need to come talk to me about anything, please come do that. I don't like a bunch of "yes" people because that can't get us anywhere; it has to be people that can shoot it to me straight. Most of my friends are older than me, I love hanging around older people.
One of my good friends, Dr. John Perkins, is 85. I love him because he shoots it straight. I went on the Charles Evers Show yesterday. Some of the other candidates sent somebody else to talk on their behalf. I told him, "I'm here to look you in your eyes and tell you what I plan on doing." I love people that are going shoot it to me straight; don't shoot me a bunch of B.S. Tell me exactly what you think and then we can go from there and have a good working relationship.
During this campaign, my wife tells me, "I don't like some of the people that's been doing (and) saying this and saying that about you." I said, " Actually (I'm) OK with those folks because at least I know where they stand." It's the people that's kind of sneaky a lot of times that I kind of have a problem with because you don't know where their standing is. If there's somebody from Robert Graham's campaign that says on social media that "I think Robert Graham is the best person, I don't think Crudup is fit to do this," I'm OK with that because they're supporting who they support. But when you got certain snakes around here that kind of try to play both sides ... those are the people I have problems with.
Who are you considering to be your chief administrative officer and chief of staff?
I can't give you any names because right now I really don't know. We're still looking. We want to hire somebody that's very confident, who can do the job. I want to bring people in that's new with some new fresh ideas who can handle a really large budget like the city's. People who understand money and finances, (and) grants and all of that type of stuff.
What about the police chief?
Once again, I've said it constantly. I don't think that when it comes to the crime in Jackson, that it is all to blame on Chief (Lee) Vance. I believe we have a systematic problem. I think we have a problem when it comes to our youth. We have to invest in our youth. We have youth that's ages 15 to 23 who are committing a lot of crimes, and I think that's happening because a lot of those youth are disconnected from the educational system, they're disconnected from work, and they're disconnected from recreation, so we have to bring those things back.
Then, I want to work very hard to make sure that police have proper training they need. I want to make sure that they have the support from the administration, the technology and the equipment. When it comes to Chief Vance, I think that he's doing the best that he can do. (Replacing him) is not really on my radar right now.
If crime is a systemic problem, then we have to tackle it systemically. How would that work with you as mayor?
I want to be very, very involved in the youth and education system. I started a program called the Development Academy. Its program motto is "Better Player, Better Person," and we started that with the idea and the knowledge that every child is gifted in a certain way. Our thing is, how can we find out what is that gift that child has that we can cultivate it even more? So, the five programs that we have (that) are going on over there at this very moment is a basketball program, South Jackson Warriors. We have a football program called the South Jackson Cowboys. We have a music program called HD, which stands for High-Def Performing Arts. We have a tumbling program called Tumble Cheer, which teaches tumble and gymnastics. Then we have a mixed martial arts program called Marshall Arts MMA.
How many kids are involved?
Oh now, I think we have about 75 or 85 total. They start from age 5 up to high school. Those are the types of things we have to bring to the city of Jackson on a larger scale. We have to open up and start new programs.
When I was in high school, one of the things that really kept me in high school—I'm going to be honest with you; I was a terrible student when I was at Murrah and when I was at Chastain—but one of the things that I really appreciated was shop class. I really love woodwork. (My teacher) taught me so much when it came to how to make a table, how to make wallets, things like that. Also gym class. Learning that I had a lot of athletic gifts that I didn't know about. I was a pretty good volleyball player but didn't know that until I was really involved in P.E.
Going to school for those two things helped me to go learn math, and more about English and reading. Now in the public education school system, we don't have those programs anymore. Gym is there, but it's not a requirement. They have taken technical drawing out of school. They've taken shop class out of school, so a lot of youth are just going to school all day just for the normal, basic subjects, and that's not going to keep their attention.
So when I say systematically, we have to work with the educational school system to create new programs. That's why I love what Wingfield is doing. They started the chess club, they started a robotics club, they started the mixed martial arts program at the end of the day. I ran track when I was in high school, and cross country. So, I gave a lot of my own personal resources to the track team because I believe in investing in those. I was able to get shoes over to the track team and cross-country team when they needed stuff. I bought them Gatorade and other foods because I think high-school students are eating lunch at like 11 a.m. and then they have a track meet at 5 p.m. in the evening. They didn't have anything, so I provided the snacks.
We really have to invest in our youth fully. I was mentioning this to Mayor Yarber. I was asked to come to Forest Hill (High School) recently, about two weeks ago, to see possibly what I can do. People have heard about my involvement at Wingfield: "You're doing so much at Wingfield. Can you come help my school out too?"
At first I was like, "Man, OK, one school is enough"; then I thought about it: "You know what, I have enough connections and resources that we can give a lot of schools to help." Whitten (Middle School) called me last year. They needed some new desks for their teachers and some new chairs. I had some friends at Baker Donelson; they had just moved to their new location. I said, "You got any desks and chairs?" They're like, "Sure, we got plenty of them."
When I was at Forest Hill the other week, I went into the auditorium, and I saw that it looked bad; it looked very bad. The carpet was old; it was ripped. A lot of the seats were torn up, and so I told Mayor Yarber—I know he went to Forest Hill—I'm like, "Man, what are you going to do about that auditorium?" He said it was the same carpet as when he went there. I said, "Well, we got to go and fix it." We can go and rip it out, go put some new carpet in there or something. We can no longer wait on JPS to do stuff. We have the power and the resources and the connections to go and do a lot of things ourselves.
So when JPS says, "Hey, we cannot get something accomplished," let's bring in some power players to the table and take care of it. We have alumni all over this city who went to Murrah, who went to especially Lanier. How can we bring those individuals back to their schools and say we need you guys to invest back into your schools?
Does the city need to be involved in that effort?
I think so. I know they have a liaison right now between the mayor's office and JPS, but I want to be very hands-on with that. I want to be very hands-on (with) who's going to be the next superintendent. This is something that I feel that I have to be because my own children are there. I have two children right now in the JPS school system and in about two more years, I'm going to have three. So I want to know who's going to be the superintendent, and hopefully we can have somebody who's going to be there for a long time.
I believe that Jackson Public Schools needs some stability. Not just from the superintendent but also at these local schools like the elementary schools, middle schools and high schools. We have a constant cycle of constantly turning principals over. They'll stay there three years, and after that they'll send them somewhere else. We can no longer do that because it takes a parent usually about two years to build trust in the administrators.
When my daughter first started at Lester Elementary, the principal that was there, I knew him already. Dr. William Merritt, I used to work with him when I worked at the Boys & Girls Club. Two years later, he left and they brought a new principal in. Now she's a nice lady, but we had got used to Dr. Merritt and his style. The same thing that happened when he left, a lot of teachers left behind him. They said, "I only wanted to work with him."
So when you have these constant recycles of principals, it's not just the principal that's going to leave, it's going to be teachers that's going to leave, it's going to be office staff that's going to leave because people like to work for certain individuals. So we have to bring some stability back to the JPS school system. The doctor who used to be the old principal at Lanier years ago ... you hear about families that said generations knew that principal. He knew the families. We need to have that again. One instance I would say is like Dr. (Shauna) Nicholson-Johnson at Baker Elementary. Now we've heard about the success she's had, that she was able to take that school from a D when she first started all the way now to an A. Baker is right next to Rebelwood Apartments in a really kind of a low-income area, but she's shown that you can have success. But the number one thing is she's been there now (for) about 10 years. So they have the stability they need. The parents know they can trust her. They know all their children are going to be under that same administration. She's got a full staff now.
New Horizon Church, we are an adopter of that school so when she needs resources she calls me and says "Ronnie, we need some new swing sets," we'll, go get them. "We need our flower beds redone," we'll do it. One of the things that I really take pride in is when we did a clean-up and planted some new flowers. I believe that every little girl needs to see flowers. That's one of my things. I planted a rose bush right there at the front door, and that rose bush is still there and still looking beautiful and blooming today.
Those are the things that I feel like we have to do as citizens, as leaders, but also nonprofits and churches as well. We have to bring the resources that we have to our school system; our children need it, but not only just that, our children need to see positive examples ... of what a person should look like. We don't know what these children are dealing with day in and day out when they come to the schools in the morning. We just can at least have somebody there on a weekly basis to put a smile on their face. To come and say, "Hey, it's going to be OK.", "What can I help you with?", "What can I guide you through?"
The money that's being pulled out of JPS to charter schools is creating another level of instability. What do you think about the charter schools?
I will be totally honest about it. I did support charter schools in the beginning, the reason being, like I said, I stay in south Jackson and when my daughter first started in elementary school, I worried about the middle schools. ... A lot of parents are comfortable with the elementary schools in Jackson, but it's the middle schools when you really begin to get a little worried. So (when I heard) a middle school was coming to south Jackson,' I was kind of in support of that, thinking about my own self-interests of my own children to have a decent middle school to go to.
Now, I did not understand the full legislation of the dollars and things like that when it first happened. So I do not agree with that the money is not following the children, but we see a lot of our schools are doing very bad, but the charter schools (are) not doing so well itself right now.
Where are you now on charter schools in general?
Right now I don't necessarily like them, but I think parents still have that choice of what they want to do. At this very moment we know that it's here, it's not going anywhere, but I want to talk to the folks who are running the charter schools, (to see) what can we possibly do together ... because it's not going anywhere. Matter of fact, we see the state is constantly giving them more money. So I want to figure out how can we collaborate a little better.
I know in other places sometimes the public schools started their own charter. I don't know if we can do that here in Jackson, but we need to look into that, and that way we can keep some of our own best teachers so we don't have to have the fear of losing those teachers to the charter-school system.
The Legislature passed the dyslexia vouchers. What do you think about vouchers?
I can't really answer that one. I don't have enough information.
Research shows that police connection with youth can actually increase crime. As mayor, how would you instruct the police department to deal with young people?
We have to have community policing, but I also believe we have to go back to what we used to do. One of the things when I was in school, we used to have Officer Friendlys going to the schools. I know JPS has their own police force right now, but I think we have to have a stronger collaboration with that force that lets JPD come in there. A lot of those officers, they are from Jackson. They have connections to these schools as well. So you can let them know that the police are not anybody you have to be afraid of; they have family members.
We need to bring more policeman back to the community. I've talked to a number of policemen who do not own homes in the city of Jackson. A lot of them are in apartments. How can we bring our policemen, and our firemen and teachers back to Jackson youth need to have positive role models? Not only just at school but also in their communities. You go to these older neighborhoods like Hemingway and Bel Air where you have these teachers and educators who stay in these communities. ... Children respond differently when they know they are cared for. When they know that there is somebody that really has my best interest in mind, and there's a police officer, there's that teacher, or whoever it is, they will respond differently.
People define "community policing" very differently. What do you mean by it?
I mean that police are placed to cover a certain area. That the residents of that community will know that this is Officer So and So's beat. That the residents will have his phone number. If they see something that is out of place, they have that trust, and they know they can call on that person in that community.
A lot of times in urban communities, we know mental health sometimes is a huge issue, and if that police officer knows the people in that area, if that person has a breakdown or is not taking their medication in the right way, the police from outside would come in and say, "Oh, this is person is being irate." Well, if that policeman knows the community, he would know that person has just not had their medication today or something else has triggered that individual. So, when I say community policing I'm talking about that police will be very hands-on in that certain area or community or that beat.
What are crime-prevention programs you have seen in other cities that could possibly work in Jackson?
One of the things I think could work in Jackson is not an outside thing. Jackson Police Department has the opportunity to do something similar to the Sheriff's Department. They do a lot of reserve officers. I believe that Jackson Police Department should consider doing something like that. Bring reserve officers in to handle certain smaller misdemeanor problems (so) the regular officers can deal with more of the felonies and the armed robberies, things like that. That would be a way to bring more police back on the streets. Those individuals won't need necessarily the vehicles; they can be on bikes or on foot.
Are there any programs we're not doing that you think would be worth looking at?
I know that JPD, right now, are pretty involved in the basketball program. I think the police department can do more athletic programs for the kids in our community. One of the things I saw in New York, in Brooklyn, when I was there recently, they had a certain area called the Pier, and on that pier you had a number of athletic kind of events. On one pier, you had nothing but basketball courts, probably seven or eight. A lot of youth were there playing basketball. On another pier you had nothing but volleyball courts. On another pier you had nothing but soccer nets and football and tennis.
That would be very easy to police, if you had one or two officers that could just manage that area. I think that's something that we can do in the city of Jackson, pretty easily. We have a kind of athletic area in the city that people know they can come to, they can be safe, and have a lot of youth activity right in that same place. This would be a place they can come hang out ... and police can just really police that area in a positive way.
How would you address Jackson's infrastructure issues?
I think it's two levels; we need a short-term plan and a long-term plan. The short-term plan would be strictly about fixing potholes ... because we've got to bring a better quality of life for the citizens of Jackson. A long-term plan is we have to work with our city council, our state leaders, our federal government, all the way up to get the dollars that we need to handle our infrastructure problem.
This is not an overnight thing, and this is not just a Jackson problem. That's what I've been trying to tell individuals. This a national problem. A lot of urban communities all across the country are having huge infrastructure problems, and I think that's the one thing I will continue to say that President Trump has said. He said he's been trying to get over, I think, a trillion dollars for infrastructure needs all over America. So how can we get some of those funds here in Jackson to address our infrastructure problems?
Isn't the point of Trump's plan is that companies get tax breaks to do it?
Well, I'm not necessarily for a lot of tax breaks for the wealthy, but we've just got to find some kind of way to get some infrastructure help. One of the things that I think I can bring to the table is working again with our business community. I've met individuals across this city, (who are) businessmen who say, "I wouldn't mind helping to pave a street." We need to possibly have a fund in place where people can give money to that fund to address some of those issues (and) those needs.
But I think that comes back down to trust. That they know that if we have the money that's put into that pot, that it's going to be spent, and it's going to be spent wisely. That it's not going to end up in the wrong person's hand, and so that's what I want to bring to the table.
We did that same type of thing actually with JPS. A lot of the stuff that we did at Wingfield, with those private dollars and individuals, they were saying: "You know what, I don't necessarily feel like I want to give my money to JPS. I want to make sure I put it in the hands of people who are going to do right with it." I'm not saying that JPS is stealing but some people feel that sometimes throwing money into the school system is like throwing it down the drain, and I think people feel the same way when it comes to the City of Jackson.
Do you feel that way?
I don't feel that way. I'm just saying there are people who feel that way.
What would you do differently from this administration when it comes to paving streets and infrastructure?
First of all ... it seems like Mayor Yarber and people on the 1-percent sales tax commission don't get along very well. I want to have a better working relationship with those guys. The things that we put on the table, the things that we can get done, the things that we would do. If there's money that's there, if there's money allocated to fix stuff, let's have a quicker plan to get streets paved. Why do we have to wait 60 to 90 days to get money spent?
Let's have a faster bidding process to fix streets when it needs to be fixed and addressed. We've got a bridge out right now in south Jackson over there on Robinson Road Extension that's been out for over a year now. There are businesses on that street that are losing revenue because people can't go down that way anymore. We have to really address those needs faster (and) quicker.
Yarber told us Commissioner Pete Perry and others on the commission want too much control of how the City spends the infrastructure money. How would you address the balance-of-control issues?
I do know Pete. I've talked to Pete (and) had a conversation with him. I feel like we can get along. I haven't met some of the other guys on the commission, yet. I do know Jonathan Lee; he and I had a talk. I'm not a hard guy to get along with. I'm a pretty easy-going guy. ... The name of my platform is called Let's Rebuild Together. How can we get past our differences and work to see Jackson improve?
Pete stays in Jackson and all the other folks on the commission, they stay in Jackson. So let's stop playing these games; let's have a better working relationship. All of it comes back to good relationships. If we don't have good relationships at the end of the day, you can't get anything accomplished. That's what I feel like I can bring to the table.
I can have a better working relationship with not only the commission but also the city council. I've talked to Councilman (De'Keither) Stamps a number of times. Councilman Hendrix and I have worked together pretty closely, but I know he's leaving now so whoever is going to be there I want to have a great working relationship. I've talked to Kenneth Stokes a couple times already about what I want to do and how I want to have a relationship with him. ...
What needs to happen to improve city contracting?
What needs to happen? That's a good question. First of all, I believe that we need a better, I guess, bidding process. More transparent. I want to bring those things to the table a little bit earlier. One thing that seems to happen right now is that if there's a contract brought to the table, sometimes it seems like the city council members don't see the contracts themselves until the day of (the) council meeting. I want to work with the city council beforehand (so) that I'm not just throwing them something the day of and say, "Hey, I need you guys to sign this now because if not we're going to lose it." We can't operate in that manner.
I want to have a more transparent way of working with the city council so people will know that we're not going to be giving these contracts to certain individuals. If there's somebody who really can do this job and can do it well, these are the people that we're going to seek to hire. It's not going to be a pay-for-play tactic. We're going to make sure that people feel like it's a fair chance to get the job and get it done well.
I've worked with a lot of contractors myself with New Horizon Church and New Horizon Ministries. We do a lot of stuff that people have to come and do bids on or requisitions for. I'm able to hire those individuals and say, "Hey, if you do a good job ...we'll keep having good working relationship. If you don't do a good job, that's when will have to kind of put a halt to it and go back to the drawing board." I just want people to know that I'm going to be a guy they can trust and know. I'm not going to be a guy just trying to pay back favors or anything like that if I'm the mayor.
People want to know who's getting the contracts and whether or not they're political favors. How do you as mayor, especially seeing what Yarber went through, make sure the best people are getting the contracts even if some bidders blame you because they're not getting the contracts?
We're going to have a better vetting process. I can deal with people being upset with me about them not getting certain contracts. That doesn't bother me. People are going to like you some days, they (are) going to hate you some days, so that doesn't really bother me. The main thing is that the mayor's job is to make sure that business is getting done in this city. Taxpayers are paying a lot of taxes here to get streets paved. They're paying taxes to get certain things done, and I'm going to be there to make sure they get it done.
The contractors are not going to be the guys that are going to come first in my book; it's going to be the taxpaying citizens of the city of Jackson. I have to answer to them, not to the contractors. That's my position. We want to have a good working relationship with certain contractors, but it is not my duty to see that all the contractors of Jackson are just so happy. I want to make sure that the residents in Jackson are happy first.
We hear a lot about a lot of corruption in the contracting process. At the same time, I think all of us, at least in this room, can agree that we want locals and especially African Americans to get contracts because that reflects our city. What can make this process better?
I would say (we should) make sure that the contracts look a little bit more similar to the demographics of Jackson. That we give African Americans and others a chance to get in on the bidding process. How can we not help other minority contractors have an opportunity and chance to do certain jobs? You know, like tearing down a house. You see, it's a lot of times the same contractors getting those same jobs. How can we give other individuals a chance to have a piece, I guess, of this pie, per se? Instead of just giving it to the same individuals over and over and over again?
Well, how can we?
I think we just got to try some new stuff. I think we got to be creative. I think we got to really just give folks an opportunity to see.
But what do we need to do to make that better?
Let's open it up for new contractors to come to the table.
Why can't they come to the table?
I think they are coming to the table now, but I think there's still a certain number of individuals who (are) still getting the same jobs over and over again.
I've heard people say that some of that it goes back to preparation. An African American business person told me recently that the city needs to better prep contractors to be ready. So this kind of turns into a workforce question.
That's what I was saying: let's start them off small like tearing down a house. Let's start them and let's feel like we can build that trust. Like, OK, if you did these few jobs and did those jobs well, let's gradually take some things up. We can't give you a big $20-million contract, and this is your first time ever coming to the city (for a contract). We can start you off small and see what you're capable of doing. If you're going to do the job the right way. That's what I believe in doing. I believe in giving people an opportunity, but you've got to start small first.
Do you have ideas on how to train or mentor potential contactors?
Hopefully, we can work with some of the larger contracting firms to hopefully mentor some individuals and certain contractors. As the city of Jackson ... we have to look at growth for new leadership over this city. I could go on and on but, how do I say this, we've got to start training the younger generation, and a lot of times that's not happening.
Training them in what? How do you mean?
Whatever the job may be. If that's in education. If that's in business. If that's in contracting. We have to be able to train the next generation because these same contractors, they're not going to be here forever. Are you doing anything to help the next generation coming up? That's why I'm so heavily involved in the youth because there were individuals who helped (and) trained me how to do the work that I'm doing.
Like I said, Dr. John Perkins is one of my good friends. He's been a mentor of mine for about 10-plus years now. He's been leading me, taking me on trips with him, showing me things, opening my eyes, and exposing me to new ideas and thoughts that I never would have had. So we need individuals constantly training new, young, fresh minds and saying, "Hey, this is what you do. This is how you do it."
My dad likes to say, "Most things are caught and not taught." Sometimes that means you're just hanging around certain people, and you will catch certain things. You can try to teach me how to do it but, like how you got him (pointing to news intern William Kelly), if you don't show me how to do it, it doesn't work a lot. So it's better to show me so I can catch it and pick it up than just telling me, "Well, go do this."
That's what I'm saying. We got to have a group of individuals, and contractors, and businessmen, and leadership all over this city say, "We have to train this next generation." Donna, we have to rebuild this city. This city is not looking that well right now. In certain areas of the city, it's dirty; it's not clean. We have to train a new generation of some of those old things that I was taught. When I was growing up, people would say things like, "Cleanliness is next to godliness." You don't hear those types of things anymore from young students; they don't even understand what that means.
I was at one school one day, and in the back it was just trash that was sitting there, and I was like, "Why is this trash sitting here?" They were like, "Well, the janitor hasn't picked it up." Why should the janitor pick that up? That's your responsibility, too, but we have to train people in that manner and in that light that we have to take care of our own. We can no longer just wait on the government or somebody else to take care of us. We have our own responsibilities.
How do we as a city get people ready to get contracts and not, frankly, just earn them by political support?
That's happened nationally, and I think we have to change that because like I said that, that does not go back to the thing like I said I want to do. I want to take care of the tax-paying citizens first. That's got us to the place that we are now in a lot of cities that were bought down—that the contractors are seen as the number one. You have certain individuals who are elected into office, and they feel like, "I got to take care of this person first. I've got to get them their money back." Well, that shouldn't be the priority. Matter of fact, I'm happy to say I have not received funds from a number of contractors because (I) believe in taking care of the individual and doing things the right way.
You've gotten them but not from a number? Is that what you're saying?
At this point, I've only gotten money pretty much just from my family and a few friends. ... People tell me I don't know how to ask for money yet, but I'm not seeking to get a lot of dollars from people who feel like they own me. I don't want to be a guy they feel like, "Oh, he's been bought already." At the end of the day, I've got my name that I need to take care of ... (and) I want to keep that trust. If I go and start doing certain things and rewarding certain contracts because of this person and that person, they'll say, "Crudup, you're doing the same thing as the past." I have to go and answer to these older adults who are telling me, "I'm trusting and depending on you to do right."
... I'm going to make sure that (the bidding process) is done correctly. It's going to be very transparent about who's getting it. Everybody will know this is the individual who got it and if they did right about the contract (or if) they did wrong, we're not going to want them again because they did not handle their business the right way.
I feel we got to look at that all across the board. ... I want to work with the JPS system right now. One of my pet peeves with contracting at JPS is (that)t some of these contractors do a very crappy job at some of the lawns for JPS. They drive over trash. They don't pick the paper up first, and they just blow it on these main streets. I have a real problem with that, and I'm going to go talk to JPS. ...
We hope you do that whether or not you're elected mayor.
We've got to have that approach when it comes to these jobs. Like I said, people depend on somebody who's going to run it and do it the right way, and they want to know that it's somebody who's going be leading this thing who has the citizens' best interest at heart. I have to be the mayor for everybody. My mother is from Doodyville down off of Gallatin Street. Whether they stay in Doodyville or whether they stay in Eastover.
Doodyville's my favorite neighborhood name, by the way.
Yeah. Now my mother will tell you the real name is Hightower Subdivision, but the people in the community call it Doodyville.
I have to be the mayor for everybody. Whether that person is white, black, rich, poor, even if that person doesn't even have a home. A homeless person. I have to be that person (and) let people know, "Hey listen, I'm going to be a good mayor regardless of who you are. I will be very transparent of what I do, and you will know that you can trust me."
Councilman Hendrix introduced an ordinance for more subcontractor transparency. The current administration wouldn't give us a list of subcontractors. Do you think they should have?
That's a good question. I'd have to really think about it. I can't answer that one honestly right now.
We've heard people say that you are Socrates Garrett's new candidate due to his relationship with your father.
I can honestly say Socrates is not giving me any money.
Is he supporting you?
He's not giving me any money.
But do you not know if he's supporting you?
I don't know.
Has his family given you any money?
No. Nope. Othor Cain works for Mississippi Link, that's (the Garretts') paper. Othor did an interview for me, with me a couple of weeks ago, and I did buy some advertising from him, but I hadn't received anything from Garrett or his family.
We're church members, but like I said I hadn't received anything from him. I don't know what he's telling folks. ... Since I've been on this campaign right now, I've probably been to my church maybe twice, so I really haven;t talked to him. I tried to call him one day about something, but I haven't received any call back.
Fair enough. We ask because he emerged as a prominent figure after supporting Mayor Yarber in the last election.
He's a businessman in the city. He's a prominent businessman; a lot of folks know him. I hate that a lot of that got caught up last time with Yarber, but it is what it is.
Who would you call your three biggest supporters?
My father, my wife, I mean pretty much like I said, it's been my family.
Who are your big campaign donors?
Oh, I don't have any big campaign donors. Like I said, it's really just been my father. My father has been the one who has really been supporting me, him and my mother. They've given me most of the money that I had for this. I've got a friend of mine who is one of the one's I've helped put into business; he's given me some money.
Who's that?
My friend Marshall Thompson. I helped him with his gym. Him and then another guy who I helped move over to south Jackson; he has a gym. He's given me some money, but other than that I hadn't gotten any of the big bucks. Matter of fact, I think everybody, from what I hear in the community right now (say they'll) "see if it you can make it to the runoff first. Then we'll give you some money."
Well, you do have a big name recognition. Not to take away from you, but your name helps propel you to the top five.
I do know that. If I didn't have the name Crudup, I probably wouldn't be one of the top guys.
Do you have any concerns about the Capital City Complex District bill?
Well, I would say I do. I'm glad we got the bill passed, (but) it's not enough money. They're starting off next year with, I think, $3 million first, then it continues to escalate and then once you get to a certain point, it's supposed to stay there, but I don't think it's enough money. I think that comes back to trust.
I believe, I really believe that the state leaders probably decided, "We're going to put it there because we don't know right now who's going to be the mayor." I believe once they feel like they got somebody in there that they can possibly trust and work with, I believe that we possibly can bring more resources to the table then. That's just my theory. I'm glad we finally got it because I believe the state has to do their part.
Do you have good relationships with state lawmakers and/or members of Congress?
Well, John Horhn is a member of our church, too. Sen. Hillman Frazier is my uncle, my mom's brother. I've had conversations with Congressman (Bennie) Thompson already, and I actually went to a dinner the other day that Gov. (Phil) Bryant had, so I have certain relationships. I've met with (Transportation Commissioner) Dick Hall before, around this grass around the highway that, to me, they don't cut enough. I have those relationships already. ... I have a lot of friends who know them even better though, so I don't think that'll be a problem to get those relationships even further.
Where do you stand on the One Lake development?
I think it's a good deal. Like I said, my family's from Doodyville. That area, right now, it still floods all the time. That's probably one of the first places that floods when the river starts to get high, and in that '79 flood, my family from that area lost pretty much everything and had to start over. Matter of fact, when I was a history major in college, my historiography paper was on the 1979 flood and the damage it caused, and my thesis was we still have not done anything to this day in Jackson for flood control.
So, it can still happen at any time. I believe that we need that "One Lake" project. If not, if it floods in Jackson again, you're talking about over $1 billion in repairs. My only issue is I want to see that most of the development happens on the Jackson side, and I think that's still to be seen. I know they said that it's supposed to be half and half, but you know how that works.
So you're feeling good about it environmentally?
Yeah, I think it's better now than the past one. I think there was an environmental issue with the "Two Lakes" project, but I think, right now, from what I've read about the One Lake project, I think it's going to be a good one.
It at least sounds like they're a lot more focused on the environmental part than they have been in the past.
Which I think is needed. As we look around this country, I think we have to be concerned about our environment. About what happens, I mean we got birds, and fish, and everything else that's using the Pearl River. Hey, you've got to be the mayor for everybody. So, I think that's good that they got to look at it from an environmental standpoint.
You come from a strong church ministries background, right? What do you think about HB 1523?
I'm just going to tell you like this, I don't believe in discrimination of any kind, even in my hiring practices. I don't do it. It doesn't matter about my beliefs in that; I just don't believe in discriminating people of any color, any faith, anything, it doesn't matter. So I plan on being mayor for everybody. I'm not here to try to change any laws or pass any laws when it comes to that.
So, you wouldn't say let's pull the Jackson City Council's resolution against HB 1523?
No. Definitely. Definitely, not.
Anti-immigration folks consider us a "sanctuary city." What would you do on that front if the feds try to force Jackson to reverse course?
I have a lot of Hispanic friends. Israel Martinez is one of my good friends, and I know Israel knows you really well. Israel and I have done a lot of work together, and so when it comes to the Hispanic community, I don't believe in discrimination. I believe in helping. I want Jackson to be a place ... that people know they're taken care of, and they don't have to worry about our police department trying to handle them or take them to jail. I was there at the City Hall the other day we had that press conference, and I think right when (Daniella Vargas) got on the highway, they took her to jail. They didn't touch her in the city of Jackson; it seems like they were waiting 'til she got outside of Jackson. But like I said, I don't believe in discrimination at all.
So if the Trump administration says they will withhold federal funds if you don't arrest immigrants, what do you do as mayor?
Tell them, "OK, we'll make it." I believe in treating people fairly and treating people right. You treat people the way you want to be treated. That's the biblical mandate. Do unto others as you have them do unto you. So, that's how I would operate, as I do now as a citizen but also as mayor, I'll do it the same way.
Anything else you want to add?
I would say, I've done so much stuff in Jackson. ... One of the things that a lot of people don't know that I've done is my nonprofit called New Horizon Ministries. We focus on two things. We focus on a lot of youth activity, but we also focus on housing because I believe in affordable homeownership, and I distinguish that from just affordable housing. It's different. So we've helped over 20 families become homeowners in South Jackson.
We were able to, when people were leaving the city or places were abandoned, we were able to grab that property, renovate it slightly, and then put people in there now to own their own home, and I want to do that for the citizens of Jackson. Right now the state has over 3,200 parcels that the state owns. How can we get those parcels and get them back on the tax rolls? I've already had experience in working with banks and with other individuals to getting property and giving people, minorities or anybody else, a chance and opportunity to own their own home. I believe that is still part of the American dream, the key to success to how to get out of poverty.
We've done that for a number of our employees, and I've talked to the City of Jackson, especially the police department and the fire department. A lot of those guys don't own their own homes. I want to give them the opportunity to own their own homes ... 
And that's about wealth creation ...
Exactly, and that way we can have a stable force that are not leaving every three or four years and going somewhere else. That way we don't have to pass laws to say, "Hey ... you guys have to stay in Jackson to get hired." Then they would say, "You know what? I know Jackson is taking care of me so I don't want to leave Jackson." (I want) people to know, and employees to know that, "Man, we have a guy that's going to take care of us, going to have our best interest in mind, that employees are going to come first." Kind of like that old motto people say, "When mama's not happy, then nobody's happy." If employees are not happy, you can't get business done in the city of Jackson.
It's a big ship, Jackson is, and when you have a big ship it's not like a little speed boat. It takes a long time sometime to get that thing turned around, but I believe we can really see Jackson start to really progress and become a city that we will all love and be happy to be in.
How do you get those 3,200 parcels back from the state?
I think we got to go and talk to Delbert Hosemann, and let's work a deal. Let's see what we can do. Don't give it to us all at once, but let's fix up 10 houses first, (then) let's fix up another 20. Let's start slowly to show you this is what we can do, get some banks involved, and they can work with the police department. Let's give (them to) our policeman, and fireman, and teachers. We've got (many) teachers that don't stay in the city of Jackson. How can we bring them back, too?
How many teachers don't stay?
I think they say it's around 3,500, I believe. I may be wrong, but that's a lot of revenue that we're losing. All of those people are getting checks here, but they're leaving and going outside of Jackson. So that means they're getting their groceries outside of Jackson, they're getting their everything, so how can we bring those individuals back?
Like I said, they will help create some good examples for children to be able to see. Like I said again, going back to that old phrase that my dad taught me: "Most things are caught and not taught." If you have teachers and businessmen, policemen, these folks back in the community, I think children will start to see again that, "Man I want to be like that person when I grow up."
That's why I always respected Dr. Freda Bush. She stays still in west Jackson, even though she's a prominent doctor right now. ... She has a really nice house there. ... She says, "If I leave the kids in my community they're not going to be able to have an example to say there's a doctor that I can look up to, that I want to be like her when I grow up." So we have to bring those examples back throughout the city, and I think we can start off with our firemen, our teachers, our police department, and then more and more. Ask some businessmen to come back to the city of Jackson. We're not trying to gentrify Jackson but let's bring people back that we can have work both sides, both sides working together.
Sometimes that gentrification question can be a fine line, too.
It can be. It can be.
There are ways to do it right, though, without just giving everything to white people.
My thing is, I've been, even before I've been running for mayor, I've been trying to tell the people in my church and other folks the property in west Jackson right now and south Jackson is really low (priced). Go and buy you some property. Go buy some property, fix the stuff up, make it the way you want to make it so you don't have to worry about the outside investors coming in and then pushing you away because that can happen.
We've seen that happen in a lot of cities when outside investors come in and start buying everything up and then push everybody out. So go ahead and buy you some property now while you can while the real estate is low, and then you can have something of your own. Then if you decided to sell, you can at least make a nice penny on it.
Editor's note: This is the longer and less-edited interview with Ronnie Crudup Jr. Please alerts us if you see type errors. Also, Mr. Crudup often quotes other people in the interview; we have not confirmed those quotes and caution that they may not be exact statements by other people.
Read interviews with major mayoral candidates and candidate questionnaires from Jackson City Council candidates who have returned them at jfp.ms/election2017.
Campaign Finance: Ronnie Crudup Jr.
Year-to-date, report filed April 25, 2017
Received: $57,658
Spent: $47,685
Largest donors:
Ronnie Crudup Sr. $25,044
Exsail (Kehinde Gaynor) - $10,500
Jucquline Crudup (wife) - $5,000
Stewart Hood $2,500
Largest expenses:
Exsail (Kehinde Gaynor) - $10,500
Ray Con Media - $3,055
Alpha Media - $2,741
Support our reporting -- Follow the MFP.