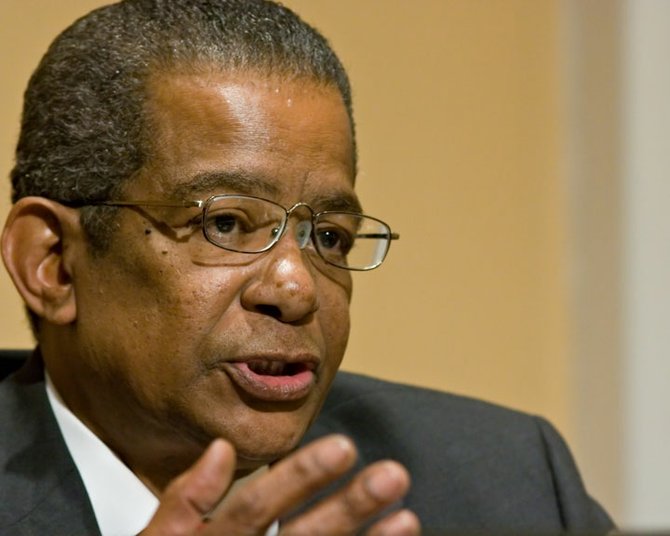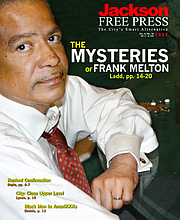 JACKSON — It was Sunday, April 9, 2006, and Frank Melton hadn't called me, yet. This was odd because the Sunday before, I had gone on my first ride-along with him on the Mobile Command Center, and he had invited me back for a second nighttime. He was supposed to call me that day to tell me what time to show up at his house at 2 Carter's Grove. It was getting late, and I hadn't heard from him.
We had talked nearly every day, at least once, since I had been doing a series of interviews with him; the famed "Batman" trial was the week before, and Melton was hyped up, especially about the district attorney dropping his star witness, Christopher Walker--who was living in his home at the time.
Over the past week, my first interview with Melton had come out, as well as a story revealing documents about Melton's financial assistance of Walker--which he called "witness protection?--help that had forced the prosecution to drop Walker as a witness.
"I'm mad at you," he said when I finally reached him on my cell phone. I was walking through Kroger, hoping to get the go-ahead to show up at his nearby house as planned.
"What for?" I asked. The Sunday before, he had been effusively nice to me during the "raid."
"You put Chris in danger."
"Walker? How did I do that?"
"You printed where he lives. Now Batman will know."
He tried to hang up quickly. But I managed to ask him about the ride-along that night and get the go-ahead to join them after all.
When the three of us--including photographer Kate Medley and illustrator Darren Schwindaman--met up with Melton's crew, we saw that unlike the week before, they were followed closely by a variety of media, and he seemed to be putting on a show for them at an Exxon station by searching the car of a young man there.
As we walked up, he wouldn't look at me, but I went and climbed into the MCC anyway. When I did, I saw a long, brown shotgun lying on a seat.
When Melton, his bodyguards and Sgt. Billy May returned to the police RV, the mood was anxious, unlike the joking atmosphere the week before. I could hear intense talk about apprehending someone.
Soon, we pulled up in front of an apartment building. Melton grabbed his shotgun and stormed off the MCC as media crowded along the street to watch and film. He pounded on the door of an apartment with the butt of the shotgun.
Puzzled, I turned to a reporter standing next to me and asked, "Where are we" Who is he trying to arrest?"
"Christopher Walker," one of them answered.
"Christopher Walker?!" I answered incredulously to blank stares. "Walker's been living at his house. Why are we looking for him?" With a long shotgun, no less.
The Sunday before, I had eaten dinner at Melton's house sitting next to Walker. Within a week of Melton's shotgun episode, on Good Friday, Walker would be back in Melton's house--lying on Melton's sofa with his girlfriend--as Melton and I sat in the "bat cave" (his home office) in the next room.
Walker wasn't at what police said was the apartment of his mother, and Melton soon returned to the MCC, as the other media scattered into the night. As we continued the evening's ride-along, and with the shotgun lying casually only a couple feet away, I leaned into Melton's angry face and explained to him that I had actually learned about the legal filings about his assistance of Walker from a Donelson family member, while standing in the courthouse. Thus, my story couldn't have told them something they did not know already, including where Melton had rented an apartment for Walker.
Melton's face softened a bit. Then he told me that he was then trying to arrest Walker for the murder of Harrison Hilliard, during which Walker had allegedly had driven the car for the killers. But this allegation wasn't exactly new; Walker had gotten immunity for his role in the Hilliard case in exchange for his testimony against Batman in the Aaron Crockett case.
After our conversation, Melton relaxed, and the urgency of finding Walker seemed to melt away as we headed toward Bailey Avenue so that Melton, his bodyguards, Sgt. Billy May and dog Abby could stop traffic and search cars.
Melton did "bring in" Walker that week--of sorts. Walker said last fall that Melton took him against his will to the jail in Jefferson Davis County, where Melton was once a deputy, and then let him go without charging him.
By the next Friday, though--Good Friday--Walker was back hanging out in Melton's house, comfortably, when I arrived to interview the mayor again. He was no longer the feared, wanted fugitive of the Sunday night before.
The spat was over, at least for the moment.
How to Be a Man
Christopher Shirod Walker, known as "Smiley," is only one of many troubled young men who have come in and out of Melton's life, his house and the criminal-justice system.
"This is what God put me on this Earth to do," Melton said in one of several March 2006 interviews with me in his office in City Hall. "Working with young people is what I do best because I used to be one of them. And it's only by the grace of God. I mean, I grew up in Fifth Ward, Houston."
He said he had a very strong father and mother, but was hyperactive, and that he was saved by after-school activities like swimming and football. "I'd have had the same plight that these kids have had. ... I'm very sensitive to what they go through," he said.
Melton didn't grow up in a place with a drug problem. "I grew up in a neighborhood where doctors, teachers, everybody lived in the same neighborhood ... and we all knew each other. Everybody kind of disciplined you and kept you in line. These kids today, these don't know where their fathers are. That's significant," he said.
Ironically, Melton's biological son, Matthew, grew up without his father living in the same state. Now in college and a football star at the University of Texas, Matthew's father left him, his mother and his sister behind in Tyler, Texas, in 1985 to run WLBT in Jackson, although the father would go home to visit in his private plane, sometimes taking mentees from Jackson along, and the family would come here to visit.
In Jackson, Melton quickly found the support of then-Mayor Dale Danks Jr. (now his personal attorney) and now-Councilman Frank Bluntson, who then ran the Hinds County Juvenile Detention Center and would send troubled young men and boys to live with Melton and be mentored by him.
"[A]t some point in a boy's life, it takes a man to teach a boy how to be a man," Melton said in the City Hall interviews. Melton added that he has taken in dozens of young men over the years, with some of them turning out better than others.
From the outside looking in, it is easy to see a folk hero who has sacrificed much, including his own family life in Texas, to house, feed and mentor needy young boys of Jackson.
Or, one might see a disturbing and rumor-worthy houseful of young men, many of them with criminal records and easy access to weapons, with few female role models.
Either way, Melton's tangled web of young men has made little sense to many people over the years--especially how exactly they're connected with him, leaving many people to speculate about his role in the city. The speculation was fueled in April when District Attorney Robert S. Smith released an explosive deposition in the investigation of R.J. Washington, a police officer killed on Nov. 13, 1995. The deposition of Stephan Hickman accused Melton of being close to alleged murderer Sharrod Moore, as well as being a force in the city's drug trade over the years.
Media coverage of Melton and the young people in his life has leaned toward superficial reports about his work with young people--the ones he's sent to college, the wanted criminals that turn themselves into him instead of police, the ones he's "had to bury" (his words) over the years and how other people and groups have "failed" these young men--the so-called "thugs" that few others want to acknowledge, much less help out of the situations they are born into.
Seldom, though, have reports delved into Melton's own difficulties with the young people in his house or his unofficial custody--or unraveled the complicated relationships that have even resulted in serious allegations by some of the young men against Melton.
In the past, Melton's relationships with young men have even led to police investigations that eventually hit dead ends due to insufficient evidence and unreliable or dead witnesses.
After Melton urged me in March 2005 to look into "rumors" about his past, the Jackson Free Press has waged a three-year investigation into just what those accusations have been.
'Handle My Business'
In an interview last fall, Walker said that he had known Melton from the Farish Street YMCA, long a second home of sorts for Melton, where Walker used to swim as did many of the young men of the area who would become close to Melton. For years, Melton volunteered to lord over the pool at the Farish Y--a habit he says he picked up back in Houston at the South Central YMCA in the Third Ward when he was growing up there. He attributes that Y with helping him, and gave the branch $250,000 in 2001, the largest, single gift in that Y's history. (The Houston Chronicle reported that Melton grew up in the Third Ward, not the Fifth.)
Walker said he fell into a life of crime because that was the life most easily accessible to him. He started hanging out with drug dealers around Wood Street and became a runner--or a "crash test dummy?--for them. He readily admits now that he made mistakes, but says he didn't know any other way.
"I worked for my money, although I did it the wrong way," Walker told me last fall. He said he had a 3.2 grade-point average when he dropped out of Lanier.
By the time Melton had taken over as the director of the Mississippi Bureau of Narcotics in late 2002--and refocused its energies on cold murder cases in Jackson, at the statistical expense of drug-related arrests--Walker was one of the young men whom Melton claimed in MBN documents was involved in two different murders: those of alleged drug dealers Harrison Hilliard and Aaron Crockett. Melton brought Walker in and took a statement from him that implicated several "Wood Street Players" for the 2001 murder of Aaron Crockett.
In an Oct. 29, 2003, MBN interview, Walker said that he answered a call from Albert Donelson from jail to his brother Terrell the same day that Donelson was indicted for aggravated assault on Aaron Crockett at Soops nightclub.
Walker said he handed the phone to Terrell, and Albert ordered the "hit" on Crockett.
"So the day he got indicted, he wanted Aaron killed that day, so he told Terrell, "Man, you out their bullsh*t, you need to get off your fat ass and handle my business. When I watch the news tonight I want to see that punk ass ... on the news,'" Walker told MBN agents Roy Sandifer and Faron Gardner. In exchange for immunity in the Hilliard case, in which Walker allegedly drove the car to the "hit," Melton then offered Walker to a grand jury as his star witness to testify against a number of members of the so-called Wood Street Players for the murder of Crockett.
But District Attorney Faye Peterson decided to drop Walker as a witness in April 2006--during the week between my Sunday ride-alongs with Melton--after defense attorneys filed motions about the possible inducements Melton had made to Walker in the case, including giving him a Frank E. Melton credit card, an apartment in Ridgeland, money and allowing him to handle weapons although he was out on probation.
The Donelsons and James Benton were acquitted on all charges in the case, which they say was a set-up from the start.
Worried that the Donelsons were after him, Walker told me last fall that he did not take that call from Donelson, though, and that Melton had told him to say that he did in the MBN interview, and tell the same story to the grand jury. Melton could not be reached then for comment on that accusation or other statements in this story, and he told a JFP writer this week that his attorneys have advised him to no longer speak to the Jackson Free Press.
When Walker called the JFP before that interview, he was on the outs with Melton, whom he said had distanced himself from him since the Donelsons were acquitted, refusing to help him with shelter or money. Walker was shaken and paranoid, saying in a chess-analogy-filled interview on County Line Road that he feared that young men in Jackson were "pawns" in a powerful game, and that people from Wood Street, where he grew up, were going to kill him, or he would be forced to kill them, because he had agreed to help Melton in the case.
Three weeks after the JFP interview, Walker was arrested for shooting Donelson's friend, Craig Spiva, in front of a store on Maple near the corner of Wood Street. Walker called the JFP before he was picked up on Nov. 17, 2007, saying that the Wood Street guys had, in fact, ambushed him and had shot one of their own. "I done told you they trying to kill me. ... I done went to Frank. Frank don't want to help me, man oh God, I'm going to go to the feds and tell everybody on Frank. ... That man's started all this sh*t," he said.
"I called and called and called," Walker continued. "I called Frank's house, I called his cell phone, I called (Michael) Recio and Marcus (Wright). ... That man (Melton) ain't called me right now to see if I'm in jail, to see if I'm dead, to see if I'm in health or good spirits, to see I done killed myself, to see if I've eat, if I'm dying or anything."
Albert Donelson, however, maintained that witnesses had seen Walker shoot Spiva--and pushed some Melton paranoia of his own. "I really believe Frank put him up to that," Donelson told me the same day.
The day of the shooting, Melton told WAPT that Walker did not do it. "Christopher Walker wasn't involved in any shooting," he said.
Walker is now back in jail for aggravated assault.
In past years, police suspected Walker of shooting Samuel Berry (alias Tony Smith), along with Beth Anderson, at 2153 Mobile Ave., on Dec. 18, 2001. According to police reports, Dets. Will Gardner and Michael Recio responded to the scene and found two witnesses injured but alive. Both witnesses identified Walker as the shooter, who had walked into the house with a Winchester 12-gauge shotgun and a pistol.
The next day, Walker turned himself in to officer James Cornelius of Precinct 3, saying that he had gone to Mobile Street to buy drugs from "Big O," and the house occupants started shooting at him. He shot back in self-defense, he said. The two witnesses later recanted their statements, and the charges were dropped.
Berry, incidentally, was slated as the primary witness in an Oct. 22, 2001, murder case in which Dennis "Smurf" Martin, Marques "He Man" Webb and Michael Wayne Williams were accused of killing Maurice A. Davis at 130 E. Cohea St. After the arrest warrant was issued for those men, Frank Melton turned them into Precinct 2 on Oct. 26, 2001; both waived their rights. After eyewitness Berry was killed, the charges were dropped in that case.
'That Damn Frank'
Melton's response to the complicated web of associations he has woven over the years--or what Walker called him "starting sh*t"--is that he came to Jackson and quickly became determined to tackle gang crime by focusing on the young men most in trouble. Sometimes that works out better than other times, he has told me in past interviews. Some young men respond well, choosing education over crime; others return to the streets, deal drugs, kill each other.
In our 2006 interviews, Melton said he was motivated to take to the streets after the July 9, 1986, murder of Charles Louis Triplett, 16, in the parking lot of the Jackson Mall (now called the Medical Mall). Triplett, the nephew of then-Ward 2 City Councilman Louis Armstrong, was shot in the back with a .22-caliber pistol at around 1:15 a.m.
Police believed that the murder was gang-related, saying then that Triplett was a member of the "Cue Boys" gang and had himself been charged in a gang-related incident in Ridgeland the August before, which left one person with a gun wound to the foot.
"It was unusual because I'd never heard of anything like that in my life," Melton said in 2006 about the Medical Mall shooting. "A bunch of kids chasing another kid down the street, (and) they shoot him and kill him. And, to this day, I don't know who did it."
News archives show that police arrested four young men--18-year-old Paul Anthony Thames and three juveniles (in those days, neither police or media named minor suspects)--and that the Triplett murder shocked the sensibility of Jackson, which then didn't expect high rates of violence among young people. Mayor Danks assembled a gang task force, and according to law-enforcement officials of the time, the mayor asked police officers to allow Melton to ride along with them to talk to young men on the streets. By 1987, Melton had taken a three-month leave of absence from WLBT to focus all his time on reaching out to members of street gangs.
Melton says the first young person he met was 15-year-old Anthony Staffney. At the time, the young man was head of the Vice Lords gang; his brother Joseph Staffney was head of a rival gang, the Folks. "[They were] two separate gangs, but they were two brothers who lived in the same house," Melton told me in City Hall in 2006, with Anthony Staffney, then 37, sitting next to him. "It took me a little time to figure that out. But if there is anybody in this community that knows me, it would be Anthony because he has the longest history with me. He has known me for 20 years. He made his mistakes. He did his time. He's back on his feet."
Weeks before the interview, Staffney was acquitted for the murder of Carey Bias, alongside Vidal Sullivan and Maurice Warner, Staffney's cousin and another long-time mentee of Melton. Staffney had previously served time for drug crimes.
But by late March 2006, Staffney was a free man after a witness recanted, and working for Melton, counseling young people to avoid the life he had chosen and trying to earn an honest living to support his own seven children, Staffney said.
After introducing Staffney to me then, Melton left to look for Christopher Walker--whom I hadn't met as of yet--elsewhere in City Hall, allowing me to talk alone to Staffney, his earliest mentee. Melton particularly wanted me to talk to Staffney about whether he had known Melton to deal drugs or mistreat young men, sexually or otherwise, as he had been investigated for in years past, leaving lingering rumors despite a lack of evidence for the allegations.
"She has my permission, Anthony, to ask you any and everything she wants to ask you," Melton said as he walked toward the door. He wanted Staffney to tell me about "the way you all were mistreated because of that damn Frank."
"At first I thought he was the police," Staffney said of Melton after he left. But once he saw that Melton was trying to help him and others, he said he decided that God had sent the Texas man on a mission to Jackson. He remembers Melton taking dozens of young men--including him and his brother Joseph, then 20--to the Leander Rehabilitation Center, a ranch in the woods in Leander, Texas, in June 1987. Melton's good friend, Det. Victor Mason of Danks' new Gang Suppression Unit, was one of five counselors on the trip.
The young men, ages 14 to 22 and representing a variety of gangs, not all of which got along, had to get up at 4 a.m. and take long hikes in the woods, and work together like they were at a boot camp. A Clarion-Ledger reporter went to Texas and interviewed the men.
"We didn't think camp was going to be like this," Joe Staffney was quoted as saying. "We thought it would be like a vacation." He was pictured in the paper talking during a rap session to the group in a "Jackson State University Loves You" T-shirt, with Mason standing next to him.
The paper also reported that Melton had backhanded two of the young men when he caught them smoking marijuana, violating the drug ban. The camp rules also disallowed earrings, hats worn sideways or backward, and racial slurs.
"We don't have any n*ggers on this trip," The Clarion-Ledger quoted Melton saying.
'You Telling A Lie'
But any positive effect that the camp had on Joe Staffney and some of the others, including his brother, would be short-lived. Joe Staffney, for instance, would return to a short life of crime, even as he also had a "straight" job with WLBT.
"Well see, my brother, he was working with Frank," Anthony Staffney said in City Hall. "My brother was, what do they call them, field photographers. He filmed parts of football games and basketball games. ... So really he was into that, but then he was still doing his thing."
"And his thing was what?" I asked.
"Selling drugs. Crack, marijuana, whatever fed the family."
During this period, Melton had become very close to Joe Staffney; even now he calls him "one of my closest friends."
According to Melton, some police officers weren't happy about Melton's ease and familiarity with young men on the streets, and his ability to shame the police by getting information from them quickly. The officers, he said, took their displeasure out on the young people with harassment and beatings. Anthony Staffney said a lot of police animosity with Melton came after Staffney had complained to Melton that one gang officer had told him that if he caught him in an alley, he would kill him.
"So I just went up and told Frank what happened," said Anthony Staffney, who was back to dealing drugs at the time, although he said he stayed away from dealing near schools and to kids. In response to his complaint about the officer, Melton "talked to somebody and, before you know it, (the officer) wasn't over the gang unit any more. He got transferred." After Melton's intervention with a higher-up, Staffney said, the situation got worse because officers would "jump on us and say, go tell Frank this."
The officers paid Melton back, he says, by spreading rumors that the mentor was having sexual relations with the young men he was helping at the time, especially his good friend, Joe Staffney.
Anthony Staffney said that he had heard the rumors, but that Melton had never approached him in an inappropriate way. "I stayed with Frank when I was 16 and 15, and he never approached me like that," he said in City Hall. "So somebody else says Frank a fag, this and that, he's fcking them little boys, I can tell them, sht, you telling a lie."
Still, some police officers in the 1980s saw it differently, even launching an investigation of Melton's relationship with young men, conducted by a special internal unit that pulled detectives from other beats to work on special assignment on an on-call basis. According to police documents the Jackson Free Press obtained over the last three years, some young gang members told police that Melton had some of the older boys come on to younger ones to test their willingness. The documents state, however, that the allegation was never proven.
One of the primary accusations against Melton hinged around Joe Staffney, whom police had arrested on a different charge in early 1989, according to JPD documents. "[O]n this occasion, I talked to (Joe) Staffney and advised him of his rights and told him that due to the nature of this offense that he would not be able to get the support that he had been getting from Frank Melton," one officer in the unit stated in a transcription of an interview with a superior officer for an investigative report. The officer said that he had interviewed Staffney, the Folks gang leader, in the past and "(Staffney) would get immediate assistance being it by means of an attorney or telephone calls in his behalf from Frank Melton."
The officer said he told Staffney that he would get no help from Melton on this accusation. "It was at this time that the conversation with Mr. Staffney turned to Mr. Melton's private life," the officer stated. "Mr. Staffney indicated that he would obtain or that he knew Mr. Melton was involved with sexual relations with male, young male juveniles that he would take home. Staffney indicated that what Melton would do was that he would have other older juveniles in the home that would screen or try this newer member of the family to the point that the older male would have or try to have sexual relations with this new individual. If the person complied or consented, then they would tell Mr. Melton who at that time would bring this individual in into imitate (sic) sexual relationship."
The officer said Joe Staffney offered information on another crime as well: "Staffney stated that he would also be able to provide information as to other activity alluding to the fact that Mr. Melton was involved drug or narcotic sells. (sic)?
Melton told the Jackson Free Press in past interviews that Staffney came to him and told him that officers had tried to get him to say that Melton had abused him.
Regardless of how the conversation with Staffney really went down--the report on it and related issues would later turn up missing from the Jackson Police Department--Melton's attorney Melvin Priester wrote a letter (PDF, 548 KB) on March 24, 1989, to one JPD investigator, Det. Gerald Jones, threatening legal action if he tried to "procure testimony" from Staffney or other witnesses about accusations against Melton. Priester wrote that JPD had "already conducted a full and complete investigation of the allegation accusing Mr. Melton of use and distribution of drugs and have found such allegations to be totally false and without any basis in fact whatsover... ."
Priester, who is now a Hinds County municipal judge appointed by Melton, also warned that looking for such testimony from the accused might yield false testimony: "It is not inconceivable that faced with the prospect of receiving your "help' versus facing the wrath of the criminal-justice system, it is simply a matter of time until a prisoner is found who would be more than willing to say and/or do anything asked of him."
But Joe Staffney would not live to answer questions about the rumors, one way or another. He was shot and killed on May 13, 1990, at Rondo and Scott streets about a year after the interrogation in which accusations of Melton were discussed. The murder has never been solved. Police say his brother, Anthony, was a witness, but say he and his uncle, another witness, frustrated police by refusing to talk about what happened.
"It is not known if [the uncle] and Anthony Staffney know Joseph Staffney's killers and are looking for them or not at this point," one investigator wrote in a case narrative. "Melton said he would keep making attempts to locate both subjects to find out what they knew and to have them contact the Homicide office with this investigation."
Melton soon provided at least one witness who told police that Staffney got into the back seat of a gray four-door Toyota Camry with two black males in it. "Partner, we're going to bust the block," the witness quoted Joe Staffney saying.
In internal police memos, one officer who investigated the case expressed frustration that witnesses told very different stories about what happened to Staffney. Some of his family members said that the shooter was a stranger to Staffney and believed he was shot by the assailant riding in a blue Toyota Camry or Corolla because he was selling fake cocaine.
However, another witness gave a different car description and said that Staffney had "walked up to the suspect vehicle, and talked to the driver of the vehicle as if he was well acquainted with him, that it was someone he knew, in fact the conversation was "What's up, man... .'" That witness said that Staffney got into the car with the acquaintance, who drove for about half a block, and then Staffney was shot in the chest and pushed from the car. He was scratched up and had $5 clenched in his hand.
"Shortly after I was told this by this individual," the officer stated, "two to three days later the individual who gave me this information was himself shot in a drive-by shooting." The witness wasn't killed, but told the officer he couldn't give him any further information and that the officer was "messing with someone who I didn't know who I was messing with... ."
The mayor has talked eagerly about Staffney's death and the rumors, clearly wishing to clear his name of such horrible accusations. Melton said he regrets that the sexual rumors about him and Staffney kept him from helping the young man near the end, and possibly keeping him alive.
"That was my mistake, and I'll have to live with that for the rest of my life," he said after he rejoined Anthony Staffney and me in his City Hall office. "Joe and I were very close, and he called me for some help. And because of all this garbage that goes around and my immaturity at the time, I didn't want to go down there (to see Joe) because of all the rumors, this, that and the other, and I made a mistake, and he's dead."
Direct Contact
On Aug. 20, 1993, Jackson Police Chief Jimmy Wilson wrote a four-page memo (PDF, 1.41 MB) to the FBI asking for assistance with an investigation of the Hinds County Youth Detention Center for bribery, sexual assaults and other violations, which began after then-Detention Center manager Frank Bluntson "was cited for a series of administrative violations in connection with his official duties," the memo stated. Wilson was asking for federal help, he wrote, because the scandal might have involved "local politicians and other prominent residents of Jackson," and that Bluntson had "close personal ties" with then-District Attorney Ed Peters, who was refusing to prosecute any of the Detention Center cases, indicating that the allegations were overblown.
On page three of that memo, Wilson pointed to the need to investigate "civil rights violations that involve Frank Melton, president of NBC television affiliate WLBT, Frank Bluntson and Hinds County Youth Court Judges." He then added: "Young boys complained that they were sexually molested by Melton after they were placed in his custody by youth court judges and Bluntson. Melton was not a certified foster parent and took custody of the young boys in violation of the Department of Human Services' policy guidelines.
"A review of police files and interviews with police detectives reveal that several persons who had direct contact with Melton and were involved in the overall investigation have been killed or have disappeared. At least two of these persons provided information about Melton and the liberties that he taken with young boys before they were shot and killed."
The entire official police investigation files of Melton, Wilson wrote, "had been stolen."
Wilson did not name Staffney in that memo, but police sources and documents obtained by the Jackson Free Press later would reveal that Joe Staffney was one of the young men to whom Wilson referred.
I first learned about the rumors about Melton's past at a campaign fundraising breakfast in March 2005 when Melton himself mentioned that the police, including former Chief Wilson, had been out to get him back in the 1990s. He challenged me afterward to look into the cases to show how he had been set up by the police. I went back to my office and did a Nexis search and turned up an April 18, 1994, article by New York Newsday reporter Jim Mulvaney, which also appeared in the Dallas Morning News. The article detailed the Hinds County Juvenile Detention Center sex and bribery scandal of the early 1990s in general, and sexual accusations by two young men against Melton in specific, as well as the fact that the local FBI agent, Joe Jackson, resigned during the scandal to go to work for Melton at WLBT.
In 2006, Melton said the physical conditions at the detention center were bad, "but all the rest of that crap was just a bunch of political stupid stuff," he said about the allegations. He added: "I can tell you this about Mr. Bluntson and Mr. Peters. They are very, very close friends, and they have been for about 30 years, if not more, I mean very close. ... Joe (Jackson) is someone that I feel very, very close to. And you know I did take him to MBN with me."
Reporter Mulvaney did not name the two young men who allegedly had accused Melton of improprieties, but he did say at the time that Wilson was trying to no avail to get the FBI to investigate the allegations, and the fact that the two young men had been killed.
It wasn't until months later--after I wrote a profile of Melton that mentioned the allegations reported by Mulvaney--that Melton talked about the other young man who had accused him of sexual misbehavior, and called him by name: Robert Sheppard. We were standing next to his car in front of Lester Elementary School in South Jackson after a campaign stop when he started talking about the case. He was talking fast, and at first I wasn't sure what he was talking about.
"Jimmy Wilson couldn't solve a homicide if it happened in his office," Melton said, talking about how the former chief had held a press conference and held up a brown envelope (that apparently contained the Aug. 20, 1993, memo cited above). Melton then brought up Robert Sheppard, whose name I had not heard before.
"His killer was from New Orleans--Buster Ball. He murdered (Sheppard) and fled."
"Robert was very smart," he said, shaking his head as I tried to keep up. The young man's father had been a coke addict, he said, and was killed while robbing a convenience store. Then Sheppard himself was shot several times at Hill and Valley Streets, he said. Melton told me that he helped bring in his murderer Augusta Ball.
Armed with two names of young men, the Jackson Free Press began to seek out background and records on the young men that Melton said the police had falsely accused him of molesting and perhaps even having murdered.
Probable Cause
Robert Sheppard was 15 years and one month old when Circuit Court Judge C.A. Henley--who doubled as a youth court judge--signed a temporary custody order for him to go live with Frank Melton on Sept. 13, 1989. "[T]he court finds that there is probable cause to believe that said child is a child in need of supervision and the court finds further that it would be in the best interest of said child that his care and custody should be temporarily placed with Mr. Frank Melton, until further orders of this court."
Less than a month later, Henley signed a permanent order that Sheppard should be placed in the "care and custody" of Melton. Henley was one of two youth court judges who placed young men in Melton's care. The other was Judge Karen Gilfoy. Both have since died.
Sheppard had stayed with him in earlier years as well. About two years before the Henley orders, according to Melton in 2006, Sheppard's mother filed an assault charge against Melton for being rough with Sheppard because he "whipped his ass," in Melton's words, "when I caught him on Canal Street on a dope corner."
Police offense reports show that the officer investigating the alleged physical assault on Sheppard, sometime between 1985 and 1987, meaning he would have been between 11 and 13, asked two other officers to help interview Sheppard because he also alleged that Melton had touched him inappropriately.
"Sheppard at the time was living with Mr. Melton," one officer wrote in a 1993 report that replaced the earlier JPD transcripts of the interviews with Sheppard, which had been part of Melton's missing investigation file. The officers recreated the reports from memory.
The officer recounted in the report: "Sheppard reported that he didn't like living with Mr. Melton because he had to sleep in bed with him and that one time, Mr. Melton made him strip so he could search him because, according to Sheppard, Mr. Melton thought he had placed a razor in his rectum. Sheppard didn't want to talk too much with us because he stated that Mr. Melton was too powerful, and we couldn't help him. There were other statements he made, but without me being able to read the original report that was made, I don't recall all of what he reported to us."
A different officer also filed a report based on memory in 1993: "Shepherd (sic) revealed that he had been touched (uncomfortably) by Mr. Melton. ... During the course of the interview, Shephard (sic) was not very specific in telling what had happened, and was hesitant about giving any information. However, I do not fully recall all the questions asked or the responses. I did not conduct the investigation, but assisted personnel during the process.
"During the second attempt to interview the complainant, he then recanted his story; reason being, he was angry with Mr. Melton about disciplining him earlier."
In his March 31, 2006, City Hall interview with the JFP, Melton brought up the assault charges, blaming Chief Wilson for dredging up rumors from which he had been cleared, saying the chief had done it because Melton had criticized his crime-fighting efforts in his WLBT editorial.
Melton said his actions were in Sheppard's best interest: "I beat his butt, put him in the car and took him home, and his mama filed assault charges against me, and the judge dismissed the charges appropriately so, and the kid goes out and gets himself killed."
Sheppard did not go right out and get himself killed, however. Police reports put the assault charge in the mid-1980s; he was not killed until Nov. 17, 1992. His murder at the Dairy Bar occurred when he was 18, the month after Wilson launched his Youth Detention Center investigation.
The officer on the special internal unit described the murder in the 1993 report to a superior officer: "Mr. Sheppard had entered The Dairy Bar at Hill and Valley Street, stayed in(side) a couple minutes (for) just a brief period of time, watched briefly a pool game, turned around walked out, and for no apparent reason, a black male walked up behind him and shot several times with what we found to be a 9mm semi-automatic handgun. This individual then walked back in a southerly direction on Valley Street." Witness reports indicated, however, that Sheppard and the shooter might have exchanged words inside the Dairy Bar.
Soon, the officer said, Melton called detectives on the case, offering assistance. Police identified Augusta "Buster" Ball as the primary suspect, who had fled back to New Orleans helped by one of Melton's mentees. Melton volunteered to pay for the police to go to New Orleans to find him.
Police officials said that Melton, in fact, sent his own people to get Ball, who confessed and was sentenced without the investigating officers being interviewed in the case.
The internal unit officer said he did not know that Sheppard was one of the young men who had accused Melton of sexual impropriety when he was killed in 1992. "It was not until later on, almost after the arrest warrant had been issued that ... I recall(ed) that Sheppard was one of the young persons who had actually made a complaint about Mr. Melton."
Melton told a different story about Sheppard's murder to me in March 2006: "When Jimmy Wilson was police chief, they accused me of killing this kid, and I went to the district attorney and the FBI to get some help. The district attorney (Ed Peters) called the police department wanting his file. The police department said they had lost it, they couldn't find it. Ed Peters will verify this for you. (Melton speaks as if quoting Peters:) "I'll tell you, you've got 15 minutes to find it.' All of a sudden they find the file. The FBI went down to New Orleans, and they arrested a guy named Buster Ball, I believe was his name."
The mayor then added: "The boy that took (Ball) to New Orleans was Aaron Brown. He admitted it to me. Aaron is another kid I worked with very closely. Aaron also is brilliant. Aaron, right now, should be retiring from the NFL, but he's in Parchman for the rest of his life." Brown was convicted of murder when he was 27.
"[Aaron] is one of the smartest kids I've dealt with in my life. And Frank Bluntson is the one who brought me Aaron Brown, when Aaron was 12 years old," Melton said.
After bringing up his history with Sheppard to me in City Hall, Melton said to me: "... Donna, it's something that you've asked about. And I think you have the right to know the truth about it. And I told you the truth about it.
"Anthony can tell you, Chris (Walker) can tell you, I mean, we've gone through things just like every other family. I mean I had to bury (Joe Staffney) and hold his nephew in my arms when he was 2 years old when his dad was killed."
Also see:
DA Alleges Cop Murder 'Cover-Up'
Dairy Bar of Confusion (Donna Ladd)
Melton Drug-Dealing Rumors Back (Donna Ladd)
The Cowboy Who Wants to Be Mayor (Donna Ladd)
One Jail's Tale (Jim Mulvaney)
Read the full JFP Melton Blog/Archive here.
Previous Comments
ID

130100

Comment

This is some kind of web! I just spent 30 minutes reading this, trying to understand it all. I've gotta pick up the print edition. All these names and dates makes my head spin.

Author

golden eagle

Date

2008-05-21T23:33:51-06:00
ID

130101

Comment

You know, I could see this story adapted really well as a graphic novel--b&w;charcoal, heavy anime influence. Lots of breaking the fourth wall, where Melton is looking at the reader and telling him/her exactly what he told Donna and other JFP folks (with asterisks giving citation--sort of like Jack Chick did with Bible verses). Ad-supported, released sometime between now and next May as a one-off... I can see it. And it'd really get the story out there.

Author

Tom Head

Date

2008-05-22T01:38:28-06:00
ID

130102

Comment

All these names and dates makes my head spin. I feel you.

Author

DonnaLadd

Date

2008-05-22T07:41:32-06:00
ID

130107

Comment

Wow, wow, wow! Lots of "coincidences." I've heard rumors about Melton's sexual improprieties but never in as much detail. Very interesting (and scary), indeed.

Author

ellen

Date

2008-05-22T09:09:08-06:00
ID

130135

Comment

The JFP should put a Frank Melton "family" tree on Jackpedia.

Author

msgrits

Date

2008-05-22T15:44:18-06:00
ID

130137

Comment

I have been considering some sort of link chart to help people follow the stories, much like the reader's guide I did with the interviews two years ago. I'll need the office iGeeks to help me figure out the best way to do it, though. That's above my pay grade.

Author

DonnaLadd

Date

2008-05-22T15:48:47-06:00
ID

130143

Comment

How come the only reporting of happenings west of State Street is about Melton, gang activity, and drug dealers? If I were fortunate enough to be in your position, I really would like to think I would try anything to better these communities and not expose them. People make mistakes and some honestly are just doing what they know. I have met one or two of the men you mention in this article and they seem to be great guys. I am sure they want all of this behind them. I don't think a person's past should define them as an individual. Ha! Ha! Especially mine.

Author

saint H

Date

2008-05-22T18:55:28-06:00
ID

130147

Comment

Saint, we do report on positive things people are doing around the city, and feature and highlight people from all over the city, more than any other media outlet, I'd argue. I agree with you that people make mistakes; in fact, there are people in this story that I have great compassion for; my interviews with Chris Walker, to name one, were heartbreaking. And I truly believe that Anthony Staffney is working hard to do the right thing for his kids, to name another. I've had good conversations with Albert Donelson, about how he ended up where he ended up, and how he's trying to live differently. And I've always had immense compassion for Melton, as I've stated many times. I view very little, or few people, in black or white, and I pray that by telling real stories of real human beings, and figuring out how problems start in the first place, that we can help make our city a better place. I strongly believe that everyone in Jackson needs to stand up and own our problems, and then do everything in our power to fix them, and give all of our citizens more opportunities to be who they can be. And I'll be honest: I don't know how we can fix our city's problems without exposing them in some way. I believe that journalism is about telling the truth, about the positive and the not-so-positive, and suggesting solutions when possible, or at least encourage the people to think about solutions.

Author

DonnaLadd

Date

2008-05-23T00:08:41-06:00
ID

130151

Comment

Could someone please tell me what the Dairy Bar is?

Author

LatashaWillis

Date

2008-05-23T09:21:13-06:00
ID

130155

Comment

It's a little store at the corner of Valley and Hill. Been there for quite a while. I was told they used to serve ice cream to kids of the neighborhood, but not any longer. Now, a lot of older kids and adults hang out there, apparently, and it's been the site of a lot of "activity." It's odd how it's flown under the radar with places like the Upper Level commanding front-page news. A shooting happens near the Upper Level, and Melton, McMillin, etc., go crazy over it and try to shut it down. Someone gets shot in the stomach on Valley Street, and it doesn't even make the news. You can understand why neighborhood folks over there aren't happy about that.

Author

DonnaLadd

Date

2008-05-23T09:46:40-06:00
ID

130157

Comment

Good Lord! My eyeballs just fell out of my head onto my desk. I too spent forever reading this and I STILL don't "get it." Kudos Donna for keeping up.

Author

sharon

Date

2008-05-23T09:52:37-06:00
ID

130175

Comment

Great story! Although the details make me shudder. Frank Melton is the epitome of evil—the very child of darkness. I see why he can't sleep at night. How on earth can one man be so closely connected to so many murders and walk away—every-time—unscathed? impossible! These occurrences are more than just simple coincidences. I know you can't say this Donna, but it appears that Frank's deep pockets (at the time) paid off someone (a police officer maybe?) to make police files/statements against him conveniently disappear. He's untouchable. The man has connections—someone from on-high--protecting him, and I don't mean our Heavenly Father.

Author

blu_n_a_redstate

Date

2008-05-23T13:55:32-06:00
ID

130177

Comment

I don't think Frank is evil, but where there's smoke, there's fire. Too many things--true or untrue--about him have circulated throughout the community to not stop and wonder what's really going on.

Author

golden eagle

Date

2008-05-23T14:30:18-06:00
ID

130182

Comment

Golden, the phrase, Where there's smoke, there's fire, means that there is truth floating around somewhere in the midst of all that smoke. Therefore, smoke+fire=EVIL. Frank Melton is the epitome of evil!

Author

blu_n_a_redstate

Date

2008-05-23T14:47:02-06:00
ID

130183

Comment

where there's smoke, there's fire Actually, my experience as an investigative reporter has shown that that is not always true. I've learned not to draw conclusions beyond the evidence, but to pursue answers to questions as they arise. It is important to note that none of these allegations has been proved, to my knowledge, which is a major point of this article and the one last week.

Author

DonnaLadd

Date

2008-05-23T14:55:01-06:00
ID

130185

Comment

Maybe I used that phrase for lack of a better term, but like many people, I've heard the rumors about Melton going back to the days of my youth. I'm not one that wants to judge him on rumors because I cannot prove them to be true, but I must admit that the more pervasive those rumors have become, the more I've allowed myself to wonder if they really could be true.

Author

golden eagle

Date

2008-05-23T15:27:43-06:00
ID

130214

Comment

I don't see how Donna endured the "ride-a-longs" as well as any other further contacts with Melton. It would make me feel real yucky for some reason. I don't think I could have done it.

Author

JMK

Date

2008-05-27T08:55:13-06:00
ID

130215

Comment

JMK, the ride-a-longs were scary at times (like when they burst into that house in the middle of the night without notice; I just knew someone was going to come out shooting). But first-hand observation/interviewing on someone else's turf—especially when they're doing something, thus ensuring "movement in your narrative—is second only to documents as the best reporting source. Interviewing people in a neutral place is probably third. Getting quotes over the phone brings up the bottom and should only be done when it's impossible to do it any other way. The worst reporting technique is interviewing in e-mail and/or submitting questions in advance for them to give written responses. This violates the JFP's code of ethics, and will get a writer fired and/or dropped if they're freelance. No real reporter does that.

Author

DonnaLadd

Date

2008-05-27T09:49:28-06:00
ID

130216

Comment

Actually, my experience as an investigative reporter has shown that that is not always true. I've learned not to draw conclusions beyond the evidence, but to pursue answers to questions as they arise. --ladd If only there were more reporters like you in the media business, Donna. Thank you for keeping us on the right track and informed in a truly fair and balanced manner.

Author

blu_n_a_redstate

Date

2008-05-27T10:12:26-06:00
ID

130217

Comment

Donna, I wasn't speaking of the scary stuff. I've been there done that and have several T Shirts. I was just wondeing about how to deal with such a man as Melton. He seems kind of YUCKY!!! to me. Kind of like I'd want to wash my hands, if he shook them.

Author

JMK

Date

2008-05-27T10:15:08-06:00
ID

130218

Comment

He was interesting and very cordial during that time -- except when he was mad at me as described above, but that didn't last long. He has a down-to-earth charm that draws many people in, I think. I approached him as a curious writer, which is how I try to approach everyone I'm interviewing. And I've found over the years that many of the most controversial people are very charming and friendly one-on-one—that's how they get into the positions they're in, regardless of other flaws. Of course, journalists have to check judgment and elitism at the door, too, which many don't, especially the ones who claim so loudly to be "objective." You can't interview (or observe) from "on high" and do real stories. And to Melton's credit, nothing was off the record during the ride-alongs, although a few things were during the interviews in his office. I've probably been more protective with some names he dropped than he has been, in fact. Thanks, blu. I should add that it helps to have (or strive to have) compassion for everyone despite their shortcomings, which is what my spiritual beliefs are rooted in. Many journalists don't, and hide it behind fake objectivity and surface reporting. I believe in a different way, and I truly don't know why anybody would be in this business to collect diametrically opposing sound bites and call it a "story." I'd go be a lawyer or something and make more money before I would waste my life doing that.

Author

DonnaLadd

Date

2008-05-27T10:30:37-06:00
ID

130219

Comment

BTW, I will add that although Mr. Melton has been consistently cordial to me over the years, with a few exceptions, but he has often tried to embarrass members of my staff, and interns, in public and harangue them for working for the JFP. I find that very sad, considering that many of the people he's talking to are using their experiences here as a real launch pad for their careers, with some even winning national awards along the way. I've always thought that if he's mad at me, then he should call me and talk to me about it, instead of playing games with hard-working young people of Jackson. But to their credit, I can't think of a single JPF-er who left because of it. So, hey. There's value in being toughened up in such a way. ;-)

Author

DonnaLadd

Date

2008-05-27T10:41:34-06:00
ID

130220

Comment

The last news account I could find stated that the trial of Sharrod(sp?)Moore for the homicide of Officer Washington was scheduled to commence today.Can anyone tell me if the trial got underway or, if what likely has happened, it was continued so the defense could conduct DNA testing of the victim? If postponed,then when is the new trial date?have any additional motions been filed?Has anyone determined whether Moore's legal team is representing him pro bono or,if not, how someone of such modest means can afford to be represented by the best criminal defense lawyers in the city? just askin'

Author

chimneyville

Date

2008-05-27T13:28:59-06:00
ID

130224

Comment

Chimney, I have the motions that were filed as of Friday with the Circuit Clerk. The trial is not happening today. They're fighting over discovery still—it seems that neither side is giving the other what they're asking for. Chuck Mullins of the Coxwell firm is Moore's attorney. It seems that he's been his attorney in past cases as well, supposedly initially appointed, but I don't think that is the case now. I couldn't tell you how Moore affords him. Otherwise, we'll get back to you with answers as we have them.

Author

DonnaLadd

Date

2008-05-27T14:17:57-06:00
ID

130225

Comment

And yes, for those tracking the tangled web of connections and coincidence, Mullins works with Merrida Coxwell, who defended Melton in the Ridgeway trial, along with Dale Danks et al. Melton says he does not know Sharrod Moore. Making it all more interesting, D.A. Robert S. Smith (who defended one of the bodyguards in Ridgeway) is prosecuting Moore in the case, and released, and is apparently using, the deposition of Stephan Hickman, which said that Melton and Moore were close, that Melton was involved in the drug trade and that Melton may have been involved somehow in this case (unsubstantiated). And bringing it all full circle, we reported issue before last that Melton wrote R.J. a letter years ago threatening legal action for an apparent investigation of him (Melton). What complicated webs this city weaves.

Author

DonnaLadd

Date

2008-05-27T14:20:16-06:00
ID

130226

Comment

I believe your readers would be interested in the JFP posting the motions(and all pleadings) on your web page. It has been suggested that there are more persons out there besides Sharrad Moore who dont want a trial to take place,with the possibility of Moore being convicted by a jury that credits the testimony of stephan hickman.Does anyone know whether the family of Officer washington embrace the prosecution's position that Moore is the killer?

Author

chimneyville

Date

2008-05-27T15:52:35-06:00
ID

130230

Comment

What complicated webs this city weaves. With this many webs, Spiderman would be jealous.

Author

golden eagle

Date

2008-05-27T19:15:49-06:00
ID

130232

Comment

Chimney, I just posted my new story about R.J. case, out in print tomorrow. It answers some of your questions; others I'm still working on.

Author

DonnaLadd

Date

2008-05-27T21:17:24-06:00
ID

130246

Comment

Melton's name has somehow surfaced in the Manship shootings of four people this week. He came up with a taped confession by one of the suspects. The sad thing is that recent history has shown that many, if not most, criminals who turn themselves into Melton end up going free.

Author

DonnaLadd

Date

2008-05-28T11:56:15-06:00
ID

130248

Comment

Whoa. Over on that Manship story in the Ledger I just linked, this comment was below it: no2obama wrote: Bennett used an AK-47 assault rifle in his attack. Wonder how he was able to get it being as bad a criminal as he was, and why no one took responsibility and turned him in? Goes back to people watching out and reporting criminal activity to the police. The black community does a very poor job of turning in the criminals. If they knew how much Crime-stoppers paide, maybe they would get more tips. 5/28/2008 12:50:11 PM Beyond the blatant racism, how untrue this statement is. Even with complaints about Melton's tactics over the years, you've heard many more complaints from "the black community" than from powerful whites. And on that topic, where have all the white people of North Jackson been with questions about their beloved former D.A. Ed Peters' actions (or non-actions) over the years? The bottom-line truth is that complaints coming from "the black community" haven't been taken as seriously in this city, and that doesn't exactly encourage people to come forward and, potentially, in the case of reporting violent crime, put their own lives in danger. Sigh.

Author

DonnaLadd

Date

2008-05-28T12:37:01-06:00
ID

130249

Comment

Also, I cannot tell you how many cases I've studied from years past where people accused of very violent crimes went free due to a dead witness or a low bond or the victim recanted suddenly. (See my story posted today.) This city has a very long history of this problem, and the last district attorney seemed to be trying to reverse the trend, against some large odds. (It remains to be seen what this D.A. will do.) Thus, why would witnesses have enough confidence in a broken system to turn in people and agree to testify? Sorry, this is an aside, but that comment under the Manship story is so absurd that it set me off.

Author

DonnaLadd

Date

2008-05-28T12:42:44-06:00
ID

130250

Comment

DLadd, unfortunately the statement is very true. The black community does take issue with reporting crime. It is getting better, granted. However, for the norm..."snitching" is frowned upon heavily in the black community. Yep, even at risk of putting our community and our own lives in danger. The fear of becoming a target generally takes precident in the our community. It's very unfortunate, but it's true. This, coupled with the fact that our complaints are usually chalked up to be "the norm" and not taken seriously...who'd put themselves out there for a known criminal to come after - with no police protection. It's a catch 22 situation. And the statement was very indeed racist.

Author

Queen601

Date

2008-05-28T12:55:12-06:00
ID

130251

Comment

Thanks, Queen. Why is "snitching" frowned upon—fear mostly? Or something else? Your latter point about not being taken seriously was the gist of my point. That, and the fact that so many crimes by white people are covered up, or taken care of behind the scenes so as not to "embarrass" families—or that certain crimes aren't taken as seriously. It is such an awful double standard. Definitely a catch-22. What do you think it would take to change this situation so that our entire community is safer and gets response? Maybe we can start exposing and demanding some of these things.

Author

DonnaLadd

Date

2008-05-28T13:11:28-06:00
ID

130252

Comment

"Stop snitching" is the result of fear of retaliation combined with misguided racial and cultural solidarity against a society more interested in locking young brothers up than actually addressing the root causes of urban crime.

Author

Jeff Lucas

Date

2008-05-28T13:21:08-06:00
ID

130254

Comment

Well put Jeff. That's exactly it Donna, fear. Fear of being considered a "snitch" by the community because generally the black community does not trust cops. We do not trust them to protect and serve US. They are viewed as the enemy and not as public servants. This is because of what Jeff mentioned - the urge to just lock us up. Most young black males would rather take their changes with the cops than to cross a drug lord or a serial criminal. We know what goes on in our communities and we know that we can't get the police to protect us. They barely even patrol areas where crime is high. I guess they're just as scared as we are. I don't know. To change this, the police has to mend their relationship with the community. That's going to be difficult since the relationship that exists with the community and police now has been that way all our lives and our parents' lives and their parents' lives. It can be done though, if the police department hired more cops who actually cared about what they are SUPPOSE to be doing as cops. Instead of hiring men who NEED to be cops to feel like men. You know the guys that got picked on in high school or the ones who never got the chicks. So they have so much to proove. If the department was heavy with cops with experience in personal skills, communication, ability, training in self defense....things of that nature - instead of hiring people who have the nerve to apply for the job. Or hiring people who are looking for a check. This job can not be just about a check. But these days....the officers are just as regular and normal as we are, because there is shortage and they seem to be taking any one who applies. We are taught in our community to maintain peace with those who can harm us or our families and that does not include cops. We are taught to stay real far away from them, especially if your a man - a black man. And I'll take it even further...especially if the cop is a black man. Now do the math, what's the percentage of black male cops in the city of Jackson. If I'm correct, its larger than that of white cops, so then if my statement has any validity to it, what are the chances of a crime being reported in Jackson by the community itself? Slim to none.

Author

Queen601

Date

2008-05-28T14:22:37-06:00
ID

130255

Comment

And you want to know why it's harder to trust a black cop? Because, if a black man can be raised in the city of Jackson and STILL desire to be a cop, he is likely to be untrustworthy. What is a cop besides a "snitch" himself/herself? And keep in mind I'm talking about the general idea...not each and every cop in Jackson. Point is, black people in this city do not have the same relationship with cops as white people in the city. It just isn't the same. I often find myself riddled with confusion at how white people talk to cops. Some of them ask, "What you pull me over for?" or "Just give me my ticket, I'm late". YOU WILL NEVER HEAR ANYONE BLACK TALK TO A COP THAT WAY...man or woman. Unless they got family members that have money and power and that isn't the norm in these parts. We are instantly concerned about a routine traffic stop turning into a car search or 19 cop cars surrounding your vehicle, or facing possible jail time. Not because we've done anything wrong either. Just because its normal activity between cops and blacks. A regular road block could turn into a two hour long search for a black man with more than one passenger in the car. Trusting cops, just isn't that easy for us.

Author

Queen601

Date

2008-05-28T14:32:41-06:00
ID

130256

Comment

Oh yeah, and good luck with getting black people to expose cops! I dont know how you'd get anyone to do that in a public manner. There's too much to loose. Unless it can be done where it's not traced back to the individual...I doubt you'll get much support in that effort.

Author

Queen601

Date

2008-05-28T14:35:38-06:00
ID

130260

Comment

It seems that a major reason for the "Stop Snitching" movement in the black community has been understated. there was a 60 minutes piece a few years ago about instances in which prosecutors let higher level criminals off for snitching on lower level guys who got time. It also detailed several serving long prison terms and the only evidence was confidential informants who got off scott free for their crimes. In Tulia, TX black people were wrongfully convicted based on unreliable and fabricated testimony by alleged snitches. These cases are common: http://www.kunstler.org/liptak4.html. YET MOST OF US WILL STILL give the police a chance.

Author

FreeClif

Date

2008-05-28T16:42:28-06:00
ID

130261

Comment

Interesting, Whitley. Re the aside on Manship: We're getting reports that police had already identified Bennett as a suspect before Melton stepped in.

Author

DonnaLadd

Date

2008-05-28T16:44:14-06:00
Support our reporting -- Follow the MFP.