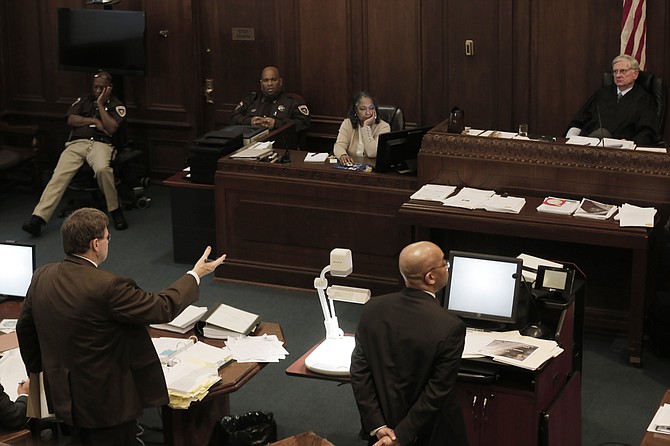 JACKSON — The Mississippi attorney general's prosecution of Hinds County District Attorney Robert Shuler Smith for conspiracy to hinder prosecution in order to aid or assist a defendant ended in a mistrial on Jan. 4, 2017, in Special Judge Larry Roberts' courtroom. That means the whole affair begins anew now, culminating in a new trial on June 12. Several of the players and testimony might remain the same even as both sides can adjust their courtroom strategy, and new information can emerge in the meantime. What really happened during the Smith trial despite the "tainted" juror who helped lead to a quick mistrial? What was revealed? What hints emerged for the next trial?
Here's a day-by-day highlight reel. Read much more, now and 
going forward, at jfp.ms/DAFiles.
DAY ONE, Monday, Dec. 19: A Diverse Jury
The first day of trial began with the process that ultimately failed to ensure a proper ending to the trial itself: jury selection.
The State dropped charges against Assistant District Attorney Jamie McBride, whom they indicted along with Smith in September, after assistant attorneys general informed the court that McBride would be testifying against Smith for the prosecution.
After jury selection, the jurors—10 black and two white; two men and 10 women—went home for the day, after the judge instructed them not to talk with anyone about the trial, use social media or have any contact with either side.
DAY TWO, Tuesday, Dec. 20: Freeing Mr. Butler
The court resumed the next morning to hear opening arguments for both sides.
Assistant Attorney General Bob Anderson told the jury of the "inside baseball" that ended with the charges investigators leveled against Smith, starting with his efforts to free Christopher Butler, a Jackson man facing drug charges from a 2011 Mississippi Bureau of Narcotics raid and later wire-fraud and embezzlement charges.
Smith's attorney, Jim Waide of Tupelo, wanted the jury to be aware of a "great personal vindictiveness" between the Hinds County district attorney's office and the attorney general's office, a tension that led, eventually, to the charges against Smith, he argued.
Waide blamed the 2015 election campaign between Smith and former assistant district attorney and current assistant attorney general Stanley Alexander for the rough feelings. Waide said for the first time that Smith had only known Butler since what he called a chance meeting in the parking lot of P.F. Chang's restaurant in Ridgeland in 2012.
Waide said that after Smith learned of the particulars of the charges Butler faced, the district attorney tried to move to drop the charges. But Hinds County Circuit Court Judge Jeff Weill blocked the effort, in the face of evidence Smith said proved that MBN planted drugs during the raid. The contents and condition of the video from the surveillance system in the home would serve as one of the pivotal points of the trial in the days to come.
The State first called FBI Special Agent Robert Culpepper to the stand to explain how he came to secure then-Assistant District Attorney Ivon Johnson as a secret informant in the district attorney's office. He said he first contacted Johnson in Natchez in a parking lot with a warrant for the contents of Johnson's cell phone.
Culpepper explained that Johnson taped three different conversations with Smith during his time as an informant during 2016. Culpepper said he handed the tapes over to the attorney general's office after Smith's arrest in June. Waide asked Culpepper about McBride, whom the FBI agent had interviewed in August 2016. Culpepper said McBride wanted to answer his questions but was afraid of being fired if he spoke.
Johnson was the next witness the prosecution called to the stand. The former assistant district attorney told the jury that he rose very quickly in his short time at the district attorney's office, starting in 2013, assigned to prosecute in Judge Jeff Weill's courtroom, and that he grew to have close conversations with Smith. Some of those dialogues, he said, centered on the Butler case, about which Johnson said Smith "had a very hands-on approach."
During Johnson's testimony, the prosecution showed the jury slides with excerpts from the secret recordings Johnson made of Smith in three separate meetings. In the recordings, Smith and Johnson discussed the Butler situation, specifically how Smith planned to "get that ass" when talking about Judge Weill.
The prosecution asked Johnson a lot about Smith's attitude toward the Butler case, which Johnson said was outside the norm. He said Smith took a personal interest in the case, and that his stated goal was to "ultimately free Christopher Butler."
Johnson said he had told Smith, early in his employment with the office, that he had accepted bribes from an old client, Marietta Harris, to lower a bond for her nephew. He said Smith told him at the time not to worry about it, that everyone makes mistakes.
DAY THREE, Wednesday, Dec. 21: Bribery and Other 'Scams'
The court began the next day with Waide's cross-examination of Johnson, which pushed for Smith's former employee to explain more about the bribery scheme he admitted to in his plea deal with the federal government for his conspiracy to commit bribery charges. Johnson had said during testimony the day before that he was unsure what the judge would decide for his sentence but that he faced up to five years and had already lost his license to practice law.
Waide asked him to name the other parties involved in the bribery scheme, whether they were in the district attorney's office, and whether the bribery still continued. Johnson said he could not point to anyone else, that he was only involved with Harris.
But Johnson did say that Smith asked him in 2015 through text messages whether he was still working with Harris. This, Johnson said, was because of a separate "scam" that Smith thought was at work within the office.
"Again the scam, the situation, are two totally different things," Johnson said.
In the other alleged "scam," Johnson said, family members gave money to intermediaries to solicit bribes for lower bonds or dropped charges for their imprisoned relatives. These community members alleged connections to the district attorney's office to the families, and after the money was exchanged, these influence peddlers would disappear. It is unclear from the testimony if there were several people that participated or a few.
It was this scam, Johnson testified, that sent Robert "Too Sweet" Henderson to him, inquiring as to why Smith would not return his requests to meet about money Henderson had collected in exchange for lower bonds. Henderson would testify later to this scheme, described as a swap of "support" for Smith's campaign for favorable treatment.
DAY FOUR, Thursday, Dec. 22: Smith v. Judges
Ivon Johnson, Smith's former assistant district attorney, appeared again on the stand for day four of the trial.
Waide started with another round of cross-examination, again probing Johnson for his reasons for pleading no contest to the federal charges for conspiracy involving bribery. The federal document names the total involved in the scheme as $15,000, when Johnson said that he had only taken $500. Johnson said the larger number was included because the overall conspiracy might grow with charges against other "unknown" participants in the future, supporting what Waide asserted was a larger conspiracy.
Johnson, during Anderson's redirect, said that it was Smith who coordinated the offices efforts to subpoena Weill and others in front of a grand jury concerning the Butler case. Johnson said that while Smith organized and led the effort that he, McBride and another assistant district attorney, Walter Bleck, all supported the plan.
The State brought to the stand several employees of the Hinds County Sheriff's Department to testify about Smith's visits to Butler in the jail.
Sanford Knott, the attorney who represented Butler during the first part of 2016, also took the stand that afternoon, describing the March 3, 2016, hearing in front of Hinds County Court Judge Melvin Priester Sr. for the wire fraud and embezzlement charges.
Knott, as Butler's attorney at the preliminary hearing, addressed the court about his client's position that day. He also mentioned Smith's interruption of those proceedings to interject his belief that the attorney general's office, through assistant attorneys general Shaun Yurtkuran and Patrick Beasley, was attempting to prevent him from investigating the 2011 MBN raid of Butler's home. Smith argued that the State had brought Butler's newer wire fraud and embezzlement charges to interfere with his earlier attempts to prove Butler was not guilty of drug charges. The newer white-collar crimes fell directly under the attorney general's office's jurisdiction to prosecute by state statute.
As a result of Smith's interjection, Priester filed a complaint with the Mississippi Bar Association, which along with his behavior toward other judges including Hinds County Circuit Judge Tomie Green, resulted in a warning to Smith.
Knott told the jury that he visited Butler in jail to inform him that the district attorney would come see him to get an affidavit signed.
Lee McDivitt, the investigator with the attorney general's office who arrested Smith on June 22 with an affidavit, was the next witness up for the prosecution. He outlined the evidence that led him to arrest the district attorney. He said that the same March 3 Knott had described was the first time that the actions of the district attorney drew his attention.
McDivitt, a member of the public-corruption division of the attorney general's office, said Smith's behavior during the hearing led to a warrant from a justice court judge (because all circuit judges recused) for the contents of Smith's cell phone, which McDivitt also seized when he arrested Smith. McDivitt said members of the district attorney's staff attempted to prevent him from getting the cell phone that day.
McDivitt said he had never seen a district attorney be so committed to getting charges dropped against a defendant, stating that it was Smith's job to put people behind bars, not to free them. He said Smith's erratic behavior at the Priester hearing led to Smith's arrest.
Judge Larry Roberts sent the jury home for a long holiday weekend, instructing them not to discuss the case or take in any media reports during the four-days intervening.
DAY FIVE, Tuesday, Dec. 27, 2016: From Drugs to Wire Fraud
In one of the more unique moments to the case, the prosecution called the defense counsel, Jim Waide, to the stand as their next witness. Prosecutor Anderson asked Waide what evidence he had that the MBN planted drugs at the Butler home, the supposed motivation for Smith's enthusiasm for Butler's freedom.
Waide said that, for his part, he leaned heavily on the investigative work of Assistant District Attorney Jamie McBride (who had been arrested with Smith and later his charges dropped) on the case, including questions about how certain cameras in Butler's house had cut out, mentioning specifically a "camera two" in the video, but admitting that most of the evidence was "circumstantial."
Then DA Smith, in his cross-examination of his own attorney, asked if Waide had ever seen anything like the case in front of the court in his time as a defense attorney. Waide said he had never "seen anything like this before," referring to the charges against Smith. Waide said the animosity between Smith, Weill and the attorney general's office had been festering for years and that, in his opinion Smith, his client, was not being treated fairly.
The State then called Kwanza Hilliard, the former girlfriend of Butler who shared the house with him that the MBN raided in 2011. She said Butler had gotten in trouble years before for drugs, that neither were dealing drugs at the time. She said the money found in the house, around $100,000, belonged to her. She even hired former Hinds County District Attorney Faye Peterson—whom Smith defeated for his first term as DA—to be her lawyer for a forfeiture hearing about the money. Waide and Hilliard both stated that, during that hearing, Peterson argued that there were problems with the video of the MBN raid. Hilliard said she was shopping at the mall during the raid and had no idea whether the MBN planted the drugs. (Neither side called Peterson as a witness.)
The next witness for the prosecution was one of the two assistant attorneys general, Patrick Beasley, who also left the district attorney's office to work for Attorney General Jim Hood. Beasley and Yurtkuran were the two attorneys who charged Butler with wire fraud and embezzlement in January 2016 in connection to an alleged scam Butler implemented while working at Mega Mattress, a local furniture outlet.
Butler, on top of his criminal charges, also faces civil litigation from the finance company associated with the store concerning that case.
Beasley said he attended the March 3 hearing in Priester's courtroom and related to the jury how Smith acted. Beasley said he had viewed the tape of the MBN raid and did not see any evidence of tampering or planting of evidence, which Priester also said during Butler's wire-fraud hearing to Smith in his courtroom. Beasley also addressed Waide's claims during earlier testimony that the attorney general's office had pressured Butler to tell them about his relationship with Smith, saying he told Knott that Butler had options.
Waide also asked Beasley about any hostility between himself and Smith, which Beasley first brushed off as one-sided. Waide then showed the court texts between Smith and Beasley from 2015, when Smith accused him of being an "Uncle Tom" and a "traitor," comments that Beasley said in court that he still did not completely understand.
Smith's attorney also asked Beasley about the timing of his call to McBride shortly before the district attorney's initial arrest in June 2016, asking whether Smith planned to indict him and Yurtkuran. "I did not know that we were about to arrest Smith," Beasley said in response, emphasizing later that his wire-fraud case against Butler had nothing to do with the earlier drug charges he still faces.
DAY SIX, Wednesday, Dec. 28, 2016: Smith and the Ledger
Assistant District Attorney Jamie McBride, formerly a defendant the grand jury indicted alongside Smith in September, took the stand for the State the next morning, although it is not clear what the prosecution wished to secure from McBride.
McBride's perspective seemed to hold authority over whether there was enough evidence to clear Butler to justify Smith's actions because the DA had asked him to assemble all the information needed to drop the drug charges.
However, during the prosecution's direct examination, McBride showed only support for Smith. McBride, whose attorney is former Mayor Dale Danks Jr., said he still had questions about the integrity of the MBN video. He indicated issues with footage from one of the cameras in particular, arguing that these "discrepancies" caused him concern. He said he did not think that Smith's actions in this case were too much, stating that the prosecutor's role is to "seek justice."
Waide also dismissed some of the offensive language that Smith used in the correspondence that the jury had seen to date. He explained that sometimes Smith lost his temper and would call McBride to "vent." He said Smith's discussions of targeting Weill and the assistant attorneys general was also a part of that tendency to vent and that he had not heard of any intention to indict Beasley or Yurtkuran.
The State then called Robbie Odom, another investigator for the attorney general's office, who explained his perspective of Smith's activities that led to his June arrest.
The prosecution used text messages from Smith's phone to show that the district attorney communicated with The Clarion-Ledger's reporter about his desire to clear Butler a month before Smith's initial arrest in June 2016, even going so far as offering to buy an ad in the newspaper for upward for "$1,000 to $2,000" on May 17 to ensure that the newspaper ran a "full-page" story about Butler, a story he was pitching to the reporter.
"Summary: political prisoners who are being held on false charges because of the AG's office and Judge Jeff Weill fighting the hinds DA," he wrote the reporter on May 17 about his Butler pitch. "It's very serious because their constitutional and civil rights are being violated. Dennis (S)weet represents another defendant and he is furious about it. I'm filing something today on Christopher butler. Thanks. I know you're busy (sic)."
The reporter, Anna Wolfe, didn't initially respond, and four days later, Smith followed up his pitch: "We're going to implement a strategy that will go viral. It's awesome and would want you to cover it before kingsnake tries to cover it on his gossip website." Wolfe texted back on May 24 that she would tell court reporter Jimmie Gates about the pitch, but she soon took over covering Smith's trial and was in the courtroom when the prosecution put the text messages on a large screen for the jury.
Smith had previously complimented Wolfe and talked about money in texts as well. "You're the best in journalism as long as you're not covering my office. Haha," Smith texted Wolfe, who previously worked for the JFP for several months. "I'll hire you personally at whatever salary you want in private business," he texted May 12. She did not respond.
The text exchange between Smith and Wolfe entered into evidence began April 28 and reveal that Smith was conducting an "investigation" of a different story, before later pitching his effort on behalf of Butler to her, and that he had provided "bank records" to Wolfe. When Smith asked her on May 2, "Did my investigation help out," the reporter responded, "Very much."
The text chain does not confirm what investigation the two were working on, but Wolfe published a story about Mayor Tony Yarber's mortgage on May 21, which relied on "bank records," but without giving a source for them. The next day, Smith texted the reporter, "Go Anna!! Socrates is scum ... I gotcha back.
The next day, Smith texted her, without context or specifics, that Donna Ladd, the editor-in-chief of the Jackson Free Press, was "hatin" and had already printed "false, slanderous things about me and my family." After the prosecution showed the texts to the jury in court, Smith told the JFP that he had no comment about the remarks.
Smith has never reached out to the JFP about any factual errors, although he has in years past complained that the newspaper had reported that former DA Ed Peters and Mayor Frank Melton had supported his early campaign, which was factual. He also told Wolfe that "if it weren't for my family, (Ladd's) newspaper wouldn't exist," a puzzling statement that appeared on a screen in front of the jury.
In fact, Smith has not returned the JFP's phone calls in recent years, except one instance during his last campaign when he told a reporter he would grant him an interview at 7:30 a.m., and the reporter declined. That reporter is no longer with the newspaper.
The district attorney chose to cross-examine Odom himself, presenting him with a copy of a transcript from a different hearing involving a grand-jury testimony of Tracey Chandler, a woman who alleged that she had given someone attached to the district attorney's office money to help get her husband, accused of murder, out of jail. Smith clearly wanted to show that he was fighting against corruption within his office, even as the prosecution attempted to show that the office was rife with bribery and corruption on Smith's watch, with witnesses testifying that he was aware of the money offers.
DAY SEVEN, Thursday, Dec. 29, 2016: 'Too Sweet' Turns on Smith
The big witness for the State during day seven was Robert "Too Sweet" Henderson, a former felon who former Mississippi Gov. Haley Barbour pardoned with the blessing of DA Smith. Henderson worked on Smith's campaign, telling the jury that during the election he solicited bribes, called "donations," from community members at the behest of Smith in exchange for lowering bonds and dropping charges.
Henderson said he acted as the go-between for Smith, negotiating three different deals. In exchange for "support," in the form of cash, Henderson would arrange the deal and pass the "support" over to Smith. Henderson said that after Smith did not follow through on his promises to the people paying for the favors, he feared for his safety. "I shouldn't be here," Henderson said, adding that Smith had put him in a "bad situation."
Henderson said he did not have a deal with the attorney general's office for his testimony. The FBI had, however, approached and arrested him after he attempted to contact then-assistant district attorney and FBI-informant Ivon Johnson about the bribes.
"He left you hanging?" Anderson asked Henderson. "Yes, sir," he responded.
After Henderson, the State rested their case.
The defense, for its first witness, called Christopher Butler to the stand. For the man at the center of the feud between the two prosecutorial agencies, Butler's testimony was muted and short, thanks mostly to his attorney, Kevin Rundlett, who objected to almost every question asked of Butler.
Butler still faces both the drug and wire-fraud charges, and as a result, as the judge said, could not predict how any of his answers could be used against him in those trials.
The same thing occurred with the next witness for the defense, U.S. Attorney Greg Davis, whose attorney objected to most questions.
DAY EIGHT, Friday, Dec. 30, 2016: Weill on Smith
The next day the same pattern continued when Hinds County Circuit Court Judge Jeff Weill took the stand, despite protests from his attorney, Frank Trapp, that the judicial-privilege precedent in Mississippi law allowed the judge to remain mum about his thought process or decision-making in any of his closed or current cases.
So, as Waide kept attempting to talk to Weill about the Butler case, Weill and Trapp both reiterated that the judge could not discuss matters over which he currently presides.
Weill did tell the court about his relationship with Smith, which he described in court documents released before the trial as "adversarial." His story in court reflected that as he recounted an incident where he seized a cell phone belonging to one of Smith's assistants when it went off during a hearing in a capital-murder case. Weill instructed one of his bailiffs to take the phone, which is not an uncommon practice for a judge.
The judge said Smith showed up later in the afternoon, banging on his chamber doors. Weill said Smith brought a television crew with him, demanding that Weill return the cell phone, which he did. Weill said that later that night he received "threatening" messages from the district attorney. This behavior led Weill to file a complaint with the Mississippi Bar against the district attorney, which Judges Priester and Tomie Green also did in response to his behavior related to the Butler cases.
As for the nol pros motion that Smith requested from Weill to dismiss the charges against Butler, the judge said the request initially to him felt "aberrant" and that it was not unusual for him to request more information before he approved such a motion to drop charges against a defendant. He said neither Smith nor his office ever complied with his request for more information.
The defense's next witness was a member of the community, Tony Davis, an active social-media gadfly well known to media for long accusatory emails of a variety of public figures and whose actions years ago led former Sheriff Tyrone Lewis to file a restraining order against him. The defense used Davis to attack the credibility of Henderson; Davis called him a "confidence man and a liar." He also said that he knew of Smith through family connections and that he believed the district attorney to be "very honest."
DAY NINE, Tuesday, Jan. 3, 2017: Annoyed
The trial moved to a different courtroom for the next day of trial, after another long holiday weekend, for the final defense witnesses, which included two members of Butler's family and Ward 3 Councilman Kenneth Stokes.
Derek McDonald, Butler's brother, testified that he became concerned about Butler after his mother began receiving letters about his conditions in jail. He said Butler had problems keeping an attorney during the intervening months before the trial, even dropping Sanford Knott in March of this year, and went months without any representation at all. He said he saw Smith and Butler speak once, during a visit to the jail in March.
Evia Butler, Christopher Butler's mother, said she was concerned about her son's safety. She said that after Butler's arrest in January for the wire-fraud charges that she began to call "everyone," including Stokes, who stepped up to the stand to discuss one of the letters from Butler that he had read on a local radio show. (His wife, Larita Cooper-Stokes, is also a Hinds County circuit judge who recused from the cases.)
Stokes, an attorney by training, said he read the letter on the radio, even asking the district attorney to appear, to draw attention to the issue, although he was not directly acquainted with anyone involved. He said his office receives a lot of letters from inmates and that his purpose for reading the letter on the radio was simply to bring attention to what he characterized as an "injustice."
That afternoon, back in the original courtroom, the jury heard the testimony of Gale Walker, a former assistant district attorney, who has a wrongful termination suit against the district attorney's office. She testified that while she worked with the office and was assigned the Butler case, Smith became annoyed with her resistance to his plan for helping Butler. She said that, eventually, the Butler case was the reason that Smith fired her.
"It had everything to do with it," Walker told the jury.
Walker said she believed she had all necessary evidence to gain a conviction of Butler on the drug charges and that Smith was afraid because he knew she could get the conviction. She said she never saw any evidence that drugs were planted during the MBN raid.
DAY TEN, Wednesday, Jan. 4, 2017:
The last day of the trial started in a similar way to the first, with the judge giving instructions to the jury, telling them to use the evidence presented in front of them during the trial and nothing else to make their determination of guilt or innocence.
During closing arguments, Special Assistant Attorney General Marvin Sanders asked the jury to remember the recorded statements of Smith introduced throughout the trial that mentioned Butler and the passion to drop his charges. He also recalled the serious-but-unconfirmed suspicions the district attorney had about the planting of drugs and that Smith, as an attorney, knew of the statute forbidding a district attorney from aiding or assisting a criminal defendant.
"He should know how to read a statute and interpret it," Sanders said. "Mr. Smith does not care who he destroys in his efforts to get Christopher Butler off."
Waide, on the other hand, first attacked the testimony of Henderson, whom he called a "psychopath." He said all the attorney general's efforts in the months leading up to Smith's arrest were to prevent Smith from indicting their own staff members. He said the prosecution had kept Butler on a string, subject to the State's every whim in an effort to pin the DA with something: "They have him in a noose." Waide evoked, in a moment that brought him close to tears, the eulogy of Robert Kennedy by his brother, Sen. Ted Kennedy—saying these two Roberts, Smith and Kennedy, only sought justice.
But none of that mattered in the end, as the jury sent a note up to Special Judge Larry Roberts two hours into afternoon deliberations asking how to deal with a juror who had a preconceived notion about Smith before the trial began. WAPT soon broke the news that the juror was a Jackson Police Department employee who other jurors said used her predisposed notions about the district attorney's habits to influence the final verdict.
The judge asked the jury to continue deliberating despite this, although when the jury sent another note back it was to inform the court that the jury was split on guilt and could not reach a verdict. Roberts agreed and scheduled another trial for June 12 when it will start all over again.
Read a substantive and ongoing timeline of the events at jfp.ms/DAtimeline and find full coverage of the DA saga at jfp.ms/DAFiles. Email reporter Tim Summers at [email protected] and follow him on Twitter at @tims_alive for breaking news.
Support our reporting -- Follow the MFP.