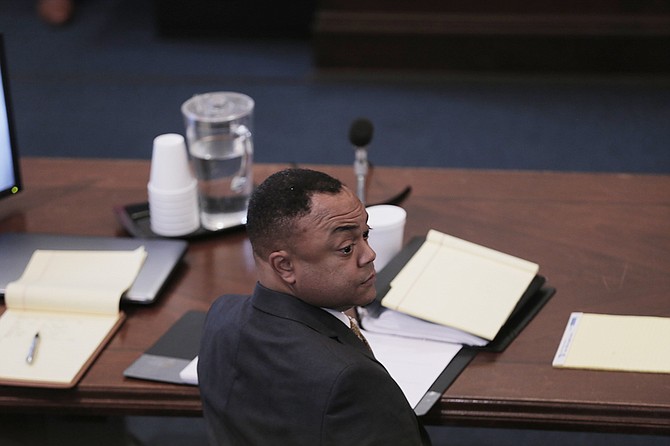 JACKSON — The State of Mississippi rested its case against Hinds County District Attorney Robert Shuler Smith Friday, bringing the first week of his second trial to a close, even as the jury had to stay sequestered through the weekend at the Eagle Ridge Conference Center in Raymond. His first trial on the same charges ended in a mistrial early this year.
When the trial concludes, the jury will only consider whether or not Smith is guilty of conspiring to hinder the prosecution of Butler in two separate cases and whether or not Smith unlawfully consulted, advised and counselled a criminal defendant in meeting with Butler on several occasions without a lawyer present.
The State is arguing that Smith did not even have to take an action to be guilty of conspiracy in the case, with witnesses explaining on the stand late in the week that an individual only has to make a plan to act unlawfully under Mississippi's conspiracy law.
"It would not be impossible for him to conspire," Assistant Attorney General Patrick Beasley said in a tense exchange with defense attorney and Atlanta mayoral candidate Michael Sterling during cross-examination. "I don't know where you practice law at, counselor," Beasley continued, "but in Mississippi all a conspiracy takes is a plan between two or more people, not an overt act."
Beasley is an assistant attorney general assigned to the Butler case who previously worked for Smith as an assistant district attorney.
Using a bank-robbery analogy, Beasley said the plan to rob a bank would be enough to send someone to prison—with the actual "overt act" of the robbery being extra cause to prosecute. This means that Smith's motives for stepping in to pursue Butler's justice do not matter for the the charges the jury will deliberate.
The State began calling witnesses Thursday who could speak to Smith's alleged intimidation of judges and prosecutors close to the Butler case. To prove that intimidation, much of the State's focus has been on the DA's involvement with a preliminary hearing on March 3, 2016, for Christopher Butler's white-collar mail-fraud charges.
Though Smith was not Butler's representative that day—and was, in fact, the head prosecutor in Hinds County—he showed up to the hearing in Hinds County Circuit Judge Melvin V. Priester Sr.'s courtroom, and caused such a disruption that it had to end early and be rescheduled for a later date. Priester also referred the incident to the Mississippi Bar.
"It appears to me that Mr. Smith's sole purpose there was to prevent the preliminary hearing from going forward," Beasley told the jury last week. He testified that it got to the point where the "judge threw up his hands" and had to adjourn because of Smith's commotion in the courtroom.
Judge Priester reiterated the unusuality of Smith's behavior and his presence at the hearing as the district attorney in a case that was not his. "It made no sense to me," Judge Priester said on the witness stand Friday. "We had the district attorney arguing for the defendant, and that's not the way the system is set up."
Priester went on to describe Smith that day as "manic" and "unable to control the flow of his thoughts." Transcripts from the hearing indicate that Priester asked Smith at least once to stand at the podium because he "was all over the court."
"I suspect his purpose was to disrupt that hearing," Priester said. "And he was successful at doing that because I essentially ended up, as opposed to holding him in contempt, cancelling that hearing and scheduling it for another day."
On the hearing's second date, Smith was a no-show, and it ultimately led to a grand-jury hearing and trial that resulted in a mistrial in May. (Butler was convicted in the drug-related case that Smith also tried to derail in July.)
Following the second preliminary hearing in the mail-fraud case, Smith wrote a letter to Butler's defense attorney in the case, Sanford Knott, about Beasley and Shaun Yurtkuran, another assistant attorney general on the Butler fraud case. The DA accused the two assistant attorney generals of acting contemptuously and in violation of Butler's constitutional and civil rights. Smith also states in the letter that Butler had a right to a preliminary trial—which was not denied to him, as Beasley pointed out last week on the stand.
Beasley spoke of being confused about the letter and Smith stepping outside of his "ethical obligations" as the district attorney.
Witnesses also took the stand to discuss Smith's alleged intimidation tactics as a way to deter the attorney general's office and judges from moving Butler's cases along. In addition to the mail-fraud case, Smith has long argued that the Mississippi Bureau of Narcotics planted drugs in Butler's home before discovering them in a 2011 raid. However, the State used recently discovered footage from Butler's home security system that shows him putting a large amount of marijuana in an ottoman himself to get his recent conviction, weakening Smith's argument that MBN had set Butler up.
On behalf of the Hinds County District Attorney's Office, Smith filed three subpoenas following the rescheduled date for the March hearing for Beasley, Yurtkuran and Judge Jeff Weill Sr., the presiding judge over Christopher Butler's drug prosecution. The State brought up a text thread between former Assistant District Attorney Ivon Johnson and Smith several times wherein the DA expresses his determination to get someone charged for violating Butler's rights.
"I'm charging someone ...," Smith texted to Johnson. "Someone will pay for this...Judge weil (sic), shaun (sic) and Patrick for obstruction and conspiracy..I don't give a damn about there not being charges somewhere..I'll put it together and just critique it when I'm done."
A staff attorney from Judge Weill's office testified that the subpoenas would have led him removed from the bench if he were indicted—even if the indictment was pending.
"That would prevent Judge Weill to preside over any of his criminal cases," said Kate Steiner, an attorney for Hinds County Circuit Judge Jeff Weill. She "absolutely" believes the indictments intimidated Weill. Those subpoenas for Weill were later quashed.
Beasley seconded that emotion in his testimony, alluding to feeling scared and intimidated by the subpoenas. Neither Beasley nor Yurtkuran went before a grand jury because the dates on the DA's initial subpoenas were incorrect and never subsequently rescheduled. He discussed a back-and-forth between the attorney general's office and Smith in issuing subpoenas after the DA issued a motion for show cause just before he sent the letter to Knott that accused Beasley and Yurtkuran of "making a mockery" of investigations taking place in the Hinds County grand jury and calling for their jailing for 6 months.
"I recommended that he be arrested for aiding a criminal defendant," Beasley said, "and after learning that he intended to indict us, I made a recommendation that he be indicted for hindering prosecution."
Beasley believed that his and Yurtkuran's indictments would hinder and "defeat" prosecution of Butler.
The prosecution concluded its case by calling several witnesses from the county jail where Butler was held in 2016. They testified that Smith checked in on numerous occasions to meet with Butler, whom he allegedly referred to as his client, although he was the chief prosecutor.
The defense began calling witnesses Monday for the second week of the trial.
Ko Bragg is a visiting journalist covering the trial of the district attorney. Read the history of the case and more about Smith's earlier trial, which ended in a mistrial, at jfp.ms/dafiles.
Support our reporting -- Follow the MFP.