JACKSON — The second trial of Hinds County District Attorney Robert Shuler Smith for trying to hinder the prosecution of Christopher Butler is different from his first trial earlier this year in at least one significant way. Recently discovered surveillance video footage from the home of Butler weakens one of Smith's primary defenses for his actions to help Butler. The newly found footage shows Butler putting a significant amount of marijuana into an ottoman in his home, as well as moving some cash around. Smith later insisted that the Mississippi Bureau of Narcotics had framed Butler in the drug bust in 2011.
The State of Mississippi had not found that footage of Butler among the many hours of security tapes from Butler's home in time for his first trial, which ended in a mistrial.
It was clear on the first day of arguments on Tuesday that the video would be the central focus of this trial, potentially significantly shifting arguments for both the prosecution and the defense. Though the video of the raid itself is close to seven years old, it only surfaced last week ahead of the long-delayed Butler trial based on the MBN evidence. After seeing the tapes, the Hinds County Circuit Court jury found Butler guilty, and Judge Jeff Weill sentenced him to 30 years, plus a $500,000 fine, because he is a repeat offender.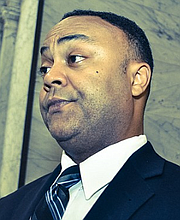 An archive of reporting on controversies surrounding Hinds County district attorneys, present and past.
Former Assistant District Attorney Ivon Johnson, who pleaded guilty to federal charges of bribery and will be sentenced in September, was questioned for nearly three hours on Wednesday, Aug. 3, taking the stand as he had in the earlier trial. His testimony pointed to texts between himself and Smith accusing the lead narcotics agent on the Butler case, Kevin Dear, who also testified of moving drugs to Butler's house.
"Ok let me make sure I heard you correctly," Smith wrote in the text, "... the video also shows dear (sic) getting dope from his car and bringing it to the house?"
Smith was not the only person who thought there might be a conspiracy against Butler. Testimony from a former Hinds County district attorney, Faye Peterson, surfaced from a forfeiture hearing in March 2013 when she alleged that there was unfair play on behalf of the Mississippi Bureau of Narcotics, which was in possession of the tapes at the time of the hearing. By then, she was a defense attorney.
"They've had this thing for two years, that piece of equipment," Peterson said, referring to the DVR system. "I don't know what they done to it, but that is the best piece of evidence in regard to what happened in that house, and it needs to be played."
Peterson's wish was granted retroactively, but those who have reviewed the video have only seen Butler placing a large amount of marijuana into an ottoman at his home during the morning of the raid.
Smith had access to all of the footage since 2014 when the FBI released it to him, court documents show. The DA long maintained that the surveillance footage would show that the drugs found at Butler's home had been planted, but he has not produced that evidence to date, including in his first trial.
After at least two years of trying to get the footage to play properly, something painted as a very complicated process, Smith's defense lawyers, the district attorney and his staff concluded that the video had been tampered with or altered in some way.
The trial continued Thursday with testimony from ADA Jamie McBride, whose texts with Smith have been displayed throughout the trial.
"My guess is someone put the dope in the ottoman that morning," McBride wrote to Smith in June 2016. "It shouldn't be that hard to find on the video."
"Ok it's all good," Smith replied.
McBride viewed the video files for Smith, although he stated in trial that he never wanted to be on the case. He is the one who reported having issues with playback. McBride said he could only view footage from the raid itself because other footage skipped from camera to camera about every half second, making it impossible to make out what was happening.
It wasn't until about last week, McBride estimated in testimony today, that he actually saw the footage wherein Butler places the drugs. McBride saw it when he met with Special Assistant Attorney General Robert G. "Bob" Anderson, McDivitt and others in the attorney general's office to prepare for his testimony.
McDivitt testified this week that he was able to locate the clips of the raid shown in court by hooking the DVR that hosted the surveillance up to a monitor and attaching a mouse and power cord—something he did not have time to do before Smith's original trial.
"It didn't take you years to figure out how to access that?" Anderson asked McDivitt about the process of retrieving video from the DVR and its hard drive.
"Probably less than five minutes," McDivitt said. "It was no different than playing a CD."
However, McDivitt said that he did not have enough time to go through the surveillance tapes ahead of the original trial of DA Smith, only time to make copies of the day of the raid in the two weeks he said he had access to it. In a well-timed fight against the clock to prepare evidence for the Butler trial, McDivitt was able to locate the footage of the raid in a matter of six days this May, he said.
The video shown in court shows different camera angles of Butler carrying a duffle bag into his home and placing marijuana into an ottoman around 8:30 a.m. on April, 19, 2011. Clips of officials executing a search warrant just after noon that same day were also shown.
James Griffin, a video forensic expert, took the stand Wednesday to reveal that when he reviewed the hard drive last month using software called DVR Examiner, no files had gone missing from the day of the raid. Griffin did not speak to what he saw on the tape, just to the fact that nothing was wrong or missing from the footage on that day.
As it was revealed in multiple testimonies, Griffin's and McDivitt's included, no one person has ever looked through the entirety of the surveillance on the hard drive obtained in the 2011 raid. Even former Assistant District Attorney Gale N. Walker, whose case against Smith for firing her is still pending, said that she never reviewed the videos, although she claims she was totally ready to take the case to trial had it not been continuously pushed down the docket.
With 16 surveillance cameras producing hour-long files for each hour of the day there is an enormous amount of data available. The hard drive is estimated to hold weeks of surveillance footage leading up to the raid.
For full coverage of DA Smith's first trial and the allegations around him, Christopher Bulter, Ivon Johnson and related cases check out jfp.ms/dafiles.