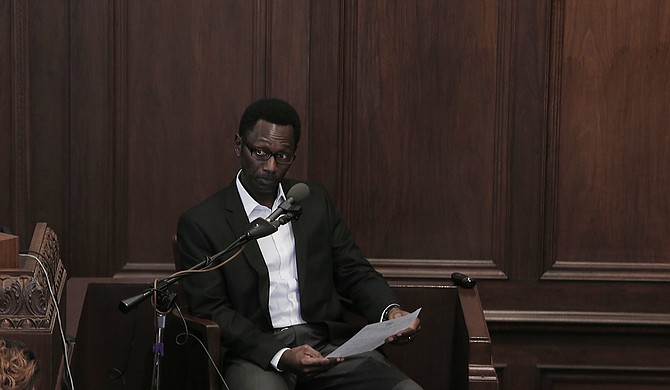 JACKSON — Staff from the Raymond detention center and criminal defendant Christopher's Butler's old attorney, Sanford Knott, dominated the much of day four of the trial of Hinds County District Attorney Robert Shuler Smith for conspiracy to hinder prosecution and aid or assist Christopher Butler in his bid to get released from jail.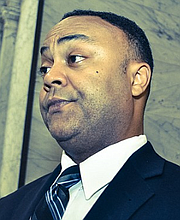 An archive of reporting on controversies surrounding Hinds County district attorneys, present and past.
The prosecution's parade of witnesses during the afternoon, from the undersheriff, to the sheriff's executive assistant, to the investigator from the attorney general's office, to Knott, all reiterated how out-of-the-ordinary Smith's visits to Butler in the Raymond jail were.
The day before the State had introduced the visitation logs from the jail, through the visitation officer Jessica Bagget, which were used as evidence for Smith's original arrest in June.
Document
The logs show tht Smith visited Butler twice in the jail, once on May 9 for five minutes and again on May 26 for almost 20 minutes. During both those visits, Smith was left alone with Butler to talk, outside the presence of his then-attorney Knott. Knott represented Butler for wire-fraud charges the attorney general's office filed against him in January, resulting from an alleged financial fraud scheme involving a furniture store where Butler used to work.
Butler also faces drug charges resulting from a 2011 Mississippi Bureau of Narcotics raid on the home Butler shared with his girlfriend at the time, Kwanza Hilliard, also subpoenaed in this trial. Former assistant district attorney Ivon Johnson, who turned state's witness and FBI informant in February, testified earlier that Smith thought the Mississippi Bureau of Narcotics had planted evidence in the Butler/Hilliard home in an attempt to frame Butler.
Smith has reiterated several times in the last several months, and through legal documents and even a letter to Knott introduced in court yesterday, that he believes the attorney genera's office is violating Butler's civil and constitutional rights through what he claims are trumped-up. He even called one of the MBN agents "rotten" in text messages seized from his phone.
Knott testified that he gave Smith permission to speak with his client but did admit that it was "highly unusual" for a district attorney to meet with a defendant outside the presence of their attorney. Knott, under Assistant Attorney General Larry Baker's direct examination, said that he had also met with members of the AG's office during that period, he thought, to discuss Butler's $500,000 bond.
"Certainly, I was interested in finding out what we could provide to get his bond reduced," Knott said.
Instead, the two assistant attorneys general, Shaun Yurtkuran and Patrick Beasley, offered "suspended time" for Butler if Knott could provide some explanation for Smith's interest in Butler's cases. They asked, Knott said, if there was something "sinister" between Smith and Butler.
Smith, convinced that the two were threatening Butler, attempted to subpoena the two attorneys to a Hinds County grand jury, and when that failed, appeared at the March 3 preliminary hearing for Butler's wire fraud charges in Hinds County Judge Melvin Priester Sr.'s courtroom, interjecting himself into the proceedings.
Knott said that the "unprofessional conduct" by some of the lawyers present caused Priester to move the hearing back two weeks. After the hearing, Priester filed a complaint with the Mississippi Bar, outlining Smith's behavior in the courtroom that day as disruptive.
However, eventually, Butler let Knott go as his attorney, and Smith penned a letter to both Knott and several Hinds County judges complaining about the two assistant attorneys general. A copy of that letter was found in Butler's cell during a search performed by Juan Chapa, a K-9 specialist and contraband officer for Hinds County Sheriff's department, who testified earlier Thursday.
"Upon failure to present evidence at his preliminary hearing by the Attorney General's office, who filed an affidavit, warrant and ultimately influenced his bond to be set at a highly unreasonable amount under the circumstances further proves my theory of this case in the Butler matter," the letter stated. "Contrary to the ruling, the Attorney General's office has violated Mr. Butler's constitutional rights in numerous ways and by continuing to confine him under the circumstances also violates his civil rights."
Special Judge Larry Roberts sent the jury home for a four-day holiday weekend, setting the court to reconvene at 9 a.m. Tuesday, Dec. 27.
Email city reporter Tim Summers Jr. at [email protected]. Read more about the Hinds County DA saga at jfp.ms/DAFiles and follow @tims_alive on Twitter for trial updates.
Support our reporting -- Follow the MFP.