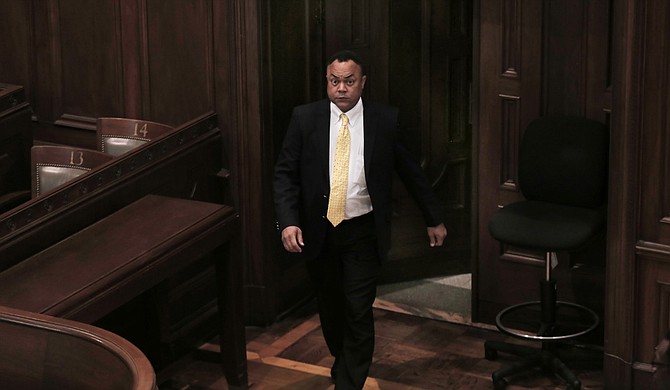 JACKSON — Former Hinds County Assistant District Attorney Ivon Johnson secretly taped District Attorney Robert Shuler Smith on several occasions over the last year, FBI Special Agent Robert Culpepper testified this morning during the trial against the county's top prosecutor for allegedly trying to help wire-fraud suspect Christopher Butler beat his charges.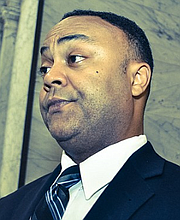 An archive of reporting on controversies surrounding Hinds County district attorneys, present and past.
Assistant Attorney General Bob Anderson called Culpepper, the first witness in the trial that started yesterday, to explain that his Jackson division focused in on Johnson after information the FBI office received in 2015 when investigating local corruption. Then, after a judge issued a warrant for the contents of Johnson's cellphone, Culpepper approached the ADA on Feb. 24, 2016, in Natchez while Johnson was shopping.
"We felt that there might be evidence of a conspiracy on there," Culpepper said of Johnson's cellphone. "One day when we knew he wouldn't be at work, we snatched the phone out of his hand, and took the phone to have the contents dumped, then had a conversation with him after that."
Culpepper said that the FBI picked up Johnson in Natchez, drove him to Jackson to retrieve the contents of the phone. During that ride, Johnson agreed to work with the FBI.
"(Johnson) said he accepted responsibility for everything he had done, told us he wanted to cooperate in any way he could, and then started working with us," Culpepper said. During the course of the next six months, Johnson would record Smith and others, including videotapes of meetings.
"[W]e had enough evidence to arrest him. But we allowed him to keep working as an ADA, because he was working under our direction," Culpepper said of Johnson. "Everything he was doing he was reporting to us several times a week, probably every day by phone. We were aware of everything he was doing so that he could potentially gather evidence of a ... conspiracy."
Anderson asked Culpepper if the attorney general's office knew then about the Johnson investigation.
"No, we kept it really tight," Culpepper said.
Altogether, Johnson recorded three different meetings with Smith, Culpepper said.
Culpepper said that during the time in which Johnson continued to work in the district attorney's office and report to the FBI that Robert Henderson contacted him about dropping the bond amount for a defendant in the Hinds County justice system in exchange for money. From there, the FBI was able to arrest Henderson as well for bribery.
Johnson pleaded guilty to bribery charges in a U.S. District Court in Louisiana earlier this year. Johnson is expected to appear in court as a witness as soon as this afternoon.
During his opening statement, Anderson outlined the three points that the State is seeking to prove about Smith.
It plans to show that the district attorney conspired to limit Hinds County Judge Jeff Weill's efforts to stop Smith from dropping charges against Christopher Butler. He issued a subpoena for the judge to appear before a grand jury.
The State also plans to show that Smith attempted to help Butler beat the wire-fraud charges earlier this year by issuing subpoenas and threatening to indict both assistant attorneys general Shaun Yurtkuran and Patrick Beasley who were involved in that case.
Anderson said Smith violated the final charge—a district attorney attempting to assist or defend a criminal defendant—when he visited Butler in jail, calling him his "client."
Jim Waide, Smith's attorney, said during his response to Anderson's opening statement that Smith was the highest law enforcement officer in the county and was attempting to ensure that Butler received justice. He called the attorney general's efforts to prosecute Smith "personal."
"There's a great personal vindictiveness between the AG's office and Mr. Smith," Waide said.
Yesterday, the attorney general's office dropped charges against former co-defendant Assistant District Attorney Jamie McBride, stating that he would testify for the State against Smith.
Dale Danks Jr., McBride's attorney, filed a Dec. 16 letter to presiding Special Judge Larry Roberts, arguing that McBride's case should be separate from Smith's because The Clarion-Ledger had published "extremely prejudicial" allegations days before the hearing, implying that Smith and McBride were involved in a bribery scheme together.
Representatives from the attorney general's office then stated in open court on the first day of trial that McBride would testify against Smith.
During his cross-examination of Culpepper, Waide asked the agent if he had met with McBride leading up to the charges against Smith. Culpepper said that McBride, during an August meeting with the FBI, had expressed a desire to give them information but feared reprisal from Smith, including termination from his position as assistant district attorney.
Email city reporter Tim Summers Jr. at [email protected]. Read more about the Hinds County DA saga at jfp.ms/DAFiles and follow @tims_alive on Twitter for trial updates.
Support our reporting -- Follow the MFP.