JACKSON — Hinds County District Attorney Robert Shuler Smith had the opportunity to ask his own attorney questions on the stand after the prosecution called Tupelo attorney Jim Waide as its latest witness during the fifth morning of testimony in the Smith trial.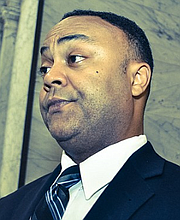 An archive of reporting on controversies surrounding Hinds County district attorneys, present and past.
Assistant Attorney General Bob Anderson asked Waide for his background, allowing the witness to describe his past as a race-discrimination attorney, specializing in police-misconduct cases.
Waide represents Smith in the trial concerning charges that the attorney general's office leveled against the DA earlier this year. The State accuses Smith of conspiring to hinder Christopher Butler's prosecution by trying to get him released from jail, pending drug and wire-fraud charges.
Anderson showed Waide copies of text messages between him and Smith in the months leading up to the DA's arrests, but Waide said the volume of messages made it difficult for him to pick and choose, stating that Smith was "at a loss about what to do."
Waide testified that he relied heavily on the investigative work that Assistant Hinds County District Attorney Jamie McBride had done up until Smith brought Waide into the case. Last week, McBride flipped to become the State's witness after the attorney general's office dropped his indictment.
In his experience, Waide said, the much-discussed video of the 2011 Mississippi Bureau of Narcotics' raid of the home of Kwanza Hilliard, Butler's girlfriend at the time, showed "circumstantial" evidence. Waide said that, at one point, the camera skipped during the tape but did not list any other evidence.
Lee McDivitt, a public-corruption investigator for the attorney general's office, stated on the stand last week that he had watched the video and seen no evidence that MBN officers planted illegal drugs in Hilliard's home. Smith has accused MBN for months of planting the evidence in the 2011 raid.
Early last year, Smith showed up in the courtroom of Hinds Circuit Judge Melvin Priester Sr. for a hearing on charges that Butler had committed embezzlement and wire fraud at the business where he worked. Smith interrupted the proceedings to repeat the allegations that MBN had planted evidence in the 2011 raid, which resulted in drug charges against Butler that were still outstanding.
"[T]hat videotape was seized by that agency and obstructed justice so that no one would see what was on that videotape, which would show that Mr. Butler was framed twice," Smith told Priester at that hearing.
"They know that," Smith added about the lawyers from the attorney general's office who were present for Butler's wire-fraud case.
Priester replied that he had watched all the tapes and had not seen evidence of drugs being planted. "Well, I personally take issue with that in that I sat through watching that video for approximately 12 to 16 hours, and there was nothing to show," Priester answered.
"Well, we have an expert who corroborates the fact that it was tampered with," Smith returned. Priester then pointed out that the possibility that the videotape was tampered with was different from Smith's claim that the videotape would clear Butler.
Priester later reported Smith's behavior in the courtroom that day to the Mississippi Bar, which issued a formal complaint in response to that hearing and other activity by Smith.
Waide testified today that his role during the "stacks" of communications he had with Smith was as a legal adviser, assisting him in his efforts to correctly navigate getting the charges against Butler dropped. Waide even said he thought it was unusual that Hinds County Circuit Judge Jeff Weill denied Smith's initial motion to dismiss the charges against Butler.
Pressed by prosecutors to say whether or not he believed MBN planted evidence, Waide would not go that far. Waide testified that, back when Smith first contacted him for advice, he was "skeptical" about whether Smith had a strong case to exonerate Butler due to Butler's "history" with law enforcement. Butler had convictions for cocaine sales and drug possession in 2000.
Waide said that he and Smith had considered a variety of legal options, including federal court. Since most district attorneys do not prosecute law-enforcement officers, Waide said he suggested to Smith that they aim for a declaratory judgment in federal court on whether Judge Weill should approve Smith's attempt to drop charges against Butler.
Then, with Waide still on the stand, Smith had the opportunity to ask his own attorney questions under oath in front of the jury.
Under Smith's questioning, Waide said former Hinds County District Attorney Faye Peterson, who is now a defense attorney, had mentioned the possibility of drugs being planted in Hilliard's home during a forfeiture hearing in 2013. Peterson was helping Hilliard retrieve over $100,000 that MBN had taken from her home during the raid to use as possible evidence.
After Waide left the stand, Hilliard testified that she had kept the money, which she got as bonuses from a company she worked for, at home because she "didn't trust a bank."
Waide told his client Smith during his questioning that he had "never seen anything like this before," speaking of the attorney general's office's efforts to prosecute Smith.
Smith even asked his attorney Waide if he thought that he, Smith, was "being treated fairly."
Waide said no.
Email city reporter Tim Summers Jr. at [email protected]. Read more about the Hinds County DA saga at jfp.ms/DAFiles and follow @tims_alive on Twitter for trial updates.
Support our reporting -- Follow the MFP.