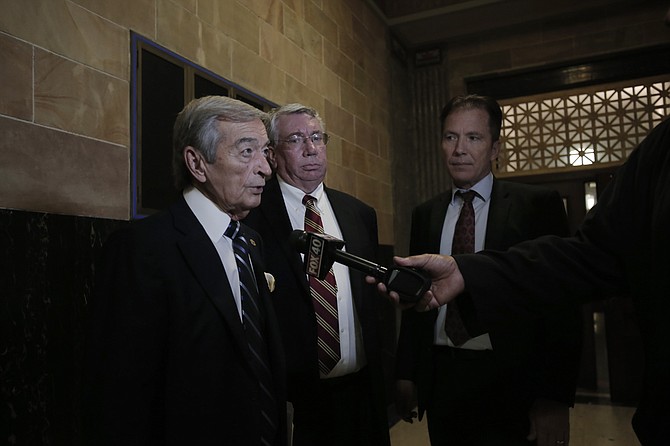 One of Hinds County District Attorney Robert Shuler Smith's former assistant DAs will testify for the prosecution in his trial for alleged tampering with wire-fraud suspect Christopher Butler, the attorney general's office said today. Special Judge Larry Roberts dropped charges against ADA Jamie McBride while jury selection was underway earlier.
"He's going to testify for us," Special Assistant Attorney General Marvin Sanders said of McBride after jury selection ended.
McBride and his attorney, Dale Danks Jr., left the courtroom Monday morning, and the court soon issued an order of dismissal into the court record. The State had charged McBride with helping Smith conspire to assist Christopher Butler, currently accused of wire fraud by the attorney general's office, with his defense against drug charges from a 2011 Mississippi Bureau of Narcotics raid on his home.
"The State has announced consistent with its duty to seek justice, not merely to seek a conviction, that the dismissal of the pending charges and indictment against Jamie McBride is in the interest of justice," the order stated.
Danks had filed a Dec. 16 letter to presiding Roberts arguing that because The Clarion-Ledger published "extremely prejudicial" information days before the hearing, implying that Smith and McBride were involved in a bribery scheme, that McBride's case should be separate from Smith's.
The two sides spent the much of the day wrangling potential jurors down to a single set of 14—12 jurors with two alternates. The final make-up of the jury included two white women, four black men and eight black women.
Judge Roberts instructed all the members to refrain from viewing any news or social media concerning the case. The trial will continue tomorrow at 9 a.m. in the Hinds County Courthouse with opening arguments and motions.
Neither Smith nor his attorney Jim Waide would comment on the dismissal of McBride's charges after the court recessed.
Email city reporter Tim Summers Jr. at [email protected] Read more about the Hinds County DA saga at jfp.ms/DAFiles and follow @tims_alive on Twitter for trial updates.
Clarification: This story originally stated that McBride would testify against Smith; it's been edited to state more clearly that he will testify for the prosecution in their case against Smith.
CORRECTION: The article originally listed Marvin Sanders's title as assistant district attorney, which has been corrected to Special Assistant Attorney General.