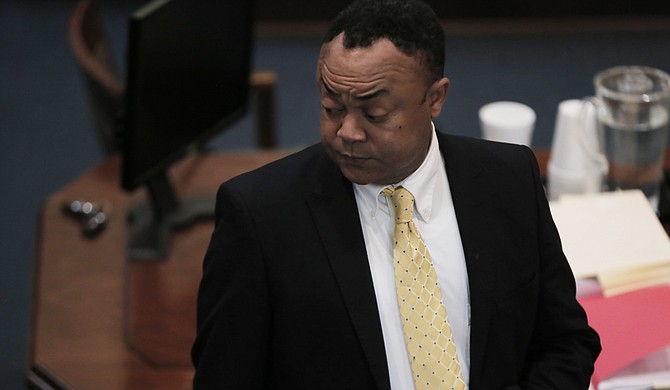 The trial of Hinds County District Attorney Robert Shuler Smith for alleged tampering with criminal cases began today, with jury selection this morning. The list of potential witnesses in Special Judge Larry Roberts' courtroom includes Smith's own attorney, Jim Waide, and Hinds County Sheriff Victor Mason.
This morning, both sides took turns combing through the list of potential jurors, a process that proceeds without press present. This is to protect the personal information of any potential jurors, whether chosen or disqualified by either side during the deliberations.
These jurors will have to decide, ultimately, whether Smith is guilty of two counts of conspiracy and one count of assisting criminal defendants. The judge will give them instructions when the attorneys finish choosing the jury to define the charges Smith faces and the parameters the jury will use to determine his guilt or innocence.
Current Assistant District Attorney Jamie McBride is a co-defendant.
"In establishing conspiracy," the first two counts the state attorney general's office leveled against Smith, "the State is not required to prove an expressed or formal agreement between the conspirators to commit a crime. It is sufficient for the State to prove, beyond a reasonable doubt, from all of the facts and circumstances of this case, together with the acts of the parties, that Robert Shuler Smith and Jamie K. McBride knowingly and voluntarily entered into a common plan with the understood purpose to commit a crime. Express language or specific words are not required to prove involvement in a conspiracy."
The jurors will have to decide, as attorneys present their cases during the course of the trial, whether the conspiracy between Smith, McBride and former ADA Ivon Johnson sought to hinder the prosecution of Christopher Butler, who was charged with wire fraud.
The third count charges that Smith, in his capacity as district attorney for Hinds County, did "consult, advise or counsel Butler by meeting with Butler in Hinds County Jail when Butler's attorney was not present, by later advising Butler's attorney in various ways to attack the criminal case then pending against Butler, and by other means seeking the release of Butler from jail."
This story is developing. Check back for updates and follow city reporter Tim Summers Jr. at @tims_alive for Twitter updates. Email him at [email protected]. Read more about the district-attorney saga at jfp.ms/DAFiles.