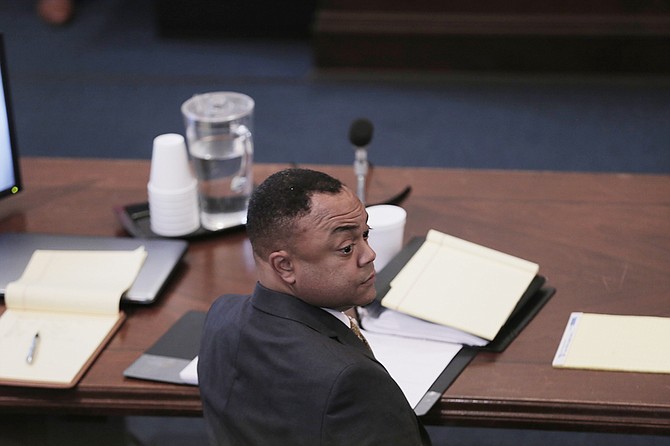 Jackson has been enveloped in a seemingly ripe "whodunit" case since 2011.
It began the morning of April 19, 2011, in the Oak Forest neighborhood of Jackson. Christopher Butler pulled up to his home in a white Chevrolet Avalanche just before 8:30 a.m. As captured on at least one of his 15 home surveillance cameras, Butler walked to his door with a duffle bag.
Another camera view showed Butler taking items out of that bag. The over-exposed surveillance video that's just clear enough to make out shows Butler dropping four gallon-sized Ziplock bags apparently filled with marijuana one-by-one into an ottoman and then closing the lid.
Later, the video shows Butler exchanging cash with other people in the house and then using a money-counter like those at any bank to sort the money from the alleged drug transaction.
Almost four hours to the minute after Butler got home that morning, Mississippi Bureau of Narcotics agents entered the residence in full gear with a search warrant granted that day. A confidential informant gave the tip, and agents were drawn to the ottoman like magnets to a refrigerator.
The $30,000 worth of marijuana was more than enough to arrest Butler. Agents took him into custody at around 6 p.m., as well as his surveillance videos.
Butler later claimed he had been framed. Someone else had planted the drugs before the narcotics agents conducted the raid, he has alleged since the raid. He wanted people to believe that he had been set up to take the fall for someone else.
At least one prominent elected official decided to back up Butler's story.

Evidence, Lost and Found
An unlikely defender took Butler at face value, risking his legal license, job, credibility and jail time in the process. Hinds County District Attorney Robert Shuler Smith, the lead prosecutor in the county that contains the capital city of Mississippi, became a mouthpiece for Butler, spreading claims across the state that MBN agents had framed Butler that day.
Smith shouted for him at a preliminary hearing and texted a Clarion-Ledger reporter that Butler was a "political prisoner." The DA and the accused claimed for years that agents had planted drugs in Butler's ottoman the morning of the raid.
But, in this whodunit, all parties involved likely knew there was video evidence that would put the Butler drug case to rest. It's just that nobody bothered to locate and reveal the file from the morning of the raid for six years. Not the MBN. Not the FBI. Not a single lawyer in the state of Mississippi. Certainly not the district attorney.
Meantime, Smith worked diligently to keep Butler from standing trial, although he eventually did last month, with the newly revealed video drawing him 30 years in prison because he's a habitual offender—and maybe because the DA had tarred and feathered the judge in the case, Hinds County Circuit Judge Jeff Weill, along the way. Weill tacked on five years to the 25-year sentence that state law required.
Back on June 22, 2016, Smith was arrested for conspiring to hinder prosecution, and he would end up in two trials—the first ended in a mistrial early this year, and the second ended this week—for charges against him for conspiring to hinder the prosecution of Butler. But not even the threat of five years in prison and losing the ability to hold public office compelled Smith to find the video that would clear up any claims of drugs being planted. Instead, he staked his reputation on allegations against state law-enforcement officers.
In the first trial, which was long and convoluted, the jury couldn't make up its mind, perhaps lost in the possibility that Butler was really being framed and Smith was delaying due process to help an innocent man stay out of the criminal-justice system. At that time, the video of Butler dropping the drugs into the ottoman was still lost in the ether.
It didn't take an expert to finally find video from the morning of the raid earlier this summer. Lee McDivitt, an investigator for the attorney general's office, just needed six days, a power cord, a mouse, a monitor and some good luck.
"It was no different than playing a CD at your house," McDivitt told the jury on the opening day of Smith's latest trial.
However, even McDivitt's team couldn't get it right the first time. McDivitt testified that his office had the hard drive for up to two weeks before Smith's original trial, but never found the incriminating evidence of Butler putting the marijuana into the ottoman.
But this time, the sequence of events was more clear-cut for the sequestered jury of five men and eight women, two of whom were alternates after a juror was excused to tend to a death in the family.
Butler is not the potential mistreated hero he was in the last trial, now facing 30 years in prison without parole due to the video from the morning of the raid. No need to wonder if Smith had been defending an innocent man this time.
The tape resuscitated the State's decaying case against Smith. This time, the prosecution hoped to reap a guilty verdict sown from testimonies from those alleging that Smith conspired to hinder Butler's prosecution in two separate cases. The State also hoped that the jury would believe that Smith also unlawfully consulted, advised and counseled Butler while meeting with him on several occasions without another lawyer present.
'Two Peas in a Pod'
Assistant Attorney General Patrick Beasley was a wise witness. He leaned into the microphone when answering questions, speaking precisely and loudly. Beasley often employed direct language from the charges accusing his former boss, Smith, of hindering Butler's prosecution by intimidating the attorney general's office and Judge Jeff Weill with subpoenas.
"I was concerned, worried and intimidated," Beasley said on the stand. "And there's a lot of other adjectives that could go along with that."
Perhaps Beasley learned from the practice he got testifying in the first trial. Or it could be the time he spent in the district attorney's office under Smith from 2008-2010 early in Smith's now three-term tenure as Hinds' lead prosecutor.
Beasley characterized Smith and Butler as "two peas in a pod" in contentious back-and-forth with defense attorney and Atlanta mayoral candidate Michael Sterling, and even instructed Sterling on Mississippi law several times.
"I don't know where you practice law at, counselor," Beasley said in response to Sterling's cross-examination, "but in Mississippi all a conspiracy takes is a plan between two or more people, not an overt act."
Perhaps Beasley wised up from all the information people inside the district attorney's office had fed him. Both men initially charged with conspiracy alongside Smith, and Assistant District Attorneys Ivon Johnson and Jamie McBride, had contact with the attorney general's office while the two offices were working to indict one another.
Beasley and Assistant Attorney General Shaun Yurtkuran, who also used to work for Smith, were the prosecutors bringing charges against Butler for white-collar mail-fraud at a mattress store he managed in west Jackson. They had initiated the charges against Smith for hindering prosecution after a preliminary hearing in March 3, 2016, for Butler's involvement with mail fraud. (His trial on those charges recently ended with a mistrial, with a new trial expected.)
Though Smith was not Butler's official representative that day—and was, in fact, the head prosecutor in Hinds County—he showed up to the hearing in Hinds County Circuit Judge Melvin V. Priester Sr.'s courtroom, and caused such a disruption that it had to end early and be rescheduled for a later date. Priester also referred the incident to the Mississippi Bar.
"It appears to me that Mr. Smith's sole purpose there was to prevent the preliminary hearing from going forward," Beasley told the jury last week. He testified that it got to the point where the "judge threw up his hands" and had to adjourn because of Smith's commotion in the courtroom.
A 'Manic' District Attorney?
On the stand for the State last week, Priester reiterated the unusuality of Smith's behavior and his presence at the hearing as the district attorney in a case that was not his. "It made no sense to me," Judge Priester told the jury. "We had the district attorney arguing for the defendant, and that's not the way the system is set up."
Priester went on to describe Smith that day as "manic" and "unable to control the flow of his thoughts, indicate that he asked Smith at least once to stand at the podium because he "was all over the court."
"I suspect his purpose was to disrupt that hearing," Judge Priester said. "And he was successful at doing that because I essentially ended up, as opposed to holding him in contempt, cancelling that hearing and scheduling it for another day."
On the hearing's second date, Smith was a no-show, and it ultimately led to a grand-jury hearing and trial that resulted in the mistrial for Butler in May.
Beasley said it was Smith's actions in March 2016 that led him to seek arrest. But it was also the motion for show cause Smith submitted just before he sent the letter to Sanford Knott, then Butler's attorney, that accused Beasley and Yurtkuran of "making a mockery" of investigations taking place in the Hinds County grand jury and calling for their jailing for six months.
"I recommended that (Smith) be arrested for aiding a criminal defendant, which is a misdemeanor, based off his behavior in March 3, 2016, hearing," Beasley said. "And after learning that he intended to indict us, I made the recommendation that he be indicted for hindering prosecution."
Butler's attorney Knott met with Beasley about possible negotiations for his client should he enter a guilty plea and provide information on Smith.
It was ultimately Knott's testimony as a defense witness in the current trial that made the best case for the State.
"My next question to you was, 'Is what Mr. Smith did in helping you try to prevent the prosecution of Christopher Butler the very definition of what you call hindering?', and you said, 'Yes,' didn't you?" Assistant Attorney General Marvin Sanders asked Butler's former attorney, Sanford Knott, on cross-examination.
"I guess it was," Knott replied after a few seconds of silence.
Knott admitted to Sanders that he had never had a prosecutor rely only on his word and that of the defendant on whether or not evidence had been tampered in some way.
Sanders' line of questioning alluded to previous testimony from Beasley, who was prosecuting the white-collar fraud charges and who used to work as an assistant district attorney under Smith. Beasley testified last week that a prosecutor needs more evidence beyond the word of a criminal defendant who "is going to say they were framed by the man."
'Someone Will Pay for This'
There is a lot of overlap in the Hinds County legal system. The two Butler cases illuminated that, as many of Smith's current and former employees did not maintain allegiance to him and chose to testify against him on the stand.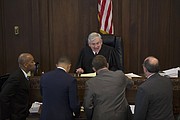 McBride, who still works in the district attorney's office under Smith, testified as a witness for both the State and the defense. 
 Judge Larry Roberts even issued his own line of questioning after dismissing the jury for a lunch break on the opening day of defense arguments in the current trial.
"Did you or anybody in your office think, 'Let's pick up the phone and call (MBN agent) Kevin Dear and tell him and that it's essential that we have the video of that morning put in viewable format?'" Judge Roberts asked McBride.
McBride replied that he believed that Travis Turner, who installed the recording system at Butler's home, would be the best person to retrieve a viewable copy from the hard drive, but he never asked the FBI or MBN's Dear for a usable copy. McBride confirmed that he had asked the agencies in the past to help the district attorney's office prepare evidence in a case.
Ivon Johnson, who pleaded guilty to bribery charges during his time as an assistant attorney general, acted as an FBI informant while still working for Smith. Johnson wore a wire on several occasions when meeting with Smith. Texts between the two men were displayed several times in court to allude to conspiracy.
"I'm charging someone," Smith wrote to Johnson. "Someone will pay for this. I'm working on this non stop...Judge weil (sic), shaun (sic) and Patrick for obstruction and conspiracy..I don't give a damn about there not being charges somewhere...I'll put it together and just critique it when I'm done."
Johnson sat with his hands clasped and legs shaking for most of the questioning in the current trial, which lasted nearly three hours for him.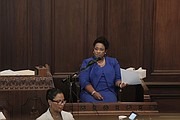 Former Assistant District Attorney Gale N. Walker also testified against Smith, who fired her in January 2014.
"I was dumbfounded, I was shattered, I was knocked off my feet," Walker said on the stand. She often turned directly to the jury on her left in response to questioning. "But as I put things together and came to my senses, it's the reason I amended my complaint—it's all about Christopher Butler and because I didn't do what (Smith) wanted me to do on that case."
But Walker was no picture-perfect employee. She had a history of writing bad checks before her time in the DA's office. She admitted to Smith that she wrote a letter on district-attorney letterhead saying the State would help her get her things out of storage—though none of this was true.
"You are qualified to do a lot of jobs," defense attorney Jim Waide said to Walker in court.
"I'm qualified to be a nurse, an attorney and a pastor," Walker replied.
"Yet, you are not able to pay your bills?" Waide asked.
"I'm not perfect," Walker replied.
Beyond Perfection
But, this case did not require people to be perfect. The law is designed to protect the flawed and is practiced by people who are not immune to human error. It perhaps could have benefitted from people who are more technologically savvy and have an innate hunger to get video evidence as soon as it was received or before accusing agents of planting an estimated $30,000 of pot. But, that's not how things unfolded in Hinds County over the last half-decade or so.
The defense did not paint Smith as a perfect person in its closing arguments. Rather, they argued that the district attorney second-guessed himself in the Butler case because he couldn't ignore the possibility of sending an innocent man to jail.
"If he were a non-responsive district attorney, he wouldn't be here today," Sterling said, inviting the jury to believe Smith was willing to put himself on the line in pursuit of justice in case Butler was innocent.
You could rack your brain for hours with hypothetical situations like the one Sterling mentioned—there are plenty of unknowns around the video conundrum, Smith's interest in Butler, and the amount of cross-talk between the attorney general's office and current and former district attorneys. 
 But, by the time closing statements rolled around Tuesday afternoon, the judge had instructed the jury to only consider facts and law, even as defense attorney Sterling's model girlfriend Eva Pigford sat on the front row and Mayor Chokwe Antar Lumumba showed up to greet Smith's family and sit for a spell on his side.
The State's discipline in trial this time around did not work, however. As this story went to press, the jury returned a verdict of not guilty on all three counts against Hinds County District Attorney Robert Shuler Smith for conspiring to hinder the prosecution of Butler.
Visiting journalist Ko Bragg is covering the Smith trial. Visit jfp.ms/dafiles for full coverage of the case.
Support our reporting -- Follow the MFP.