Attorney General Jim Hood's office just released this verbatim statement, announcing that DA Robert Shuler Smith has be re-arrested, this time for two felonies. Read earlier coverage here.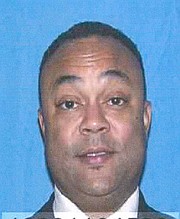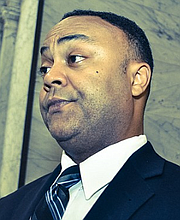 An archive of reporting on controversies surrounding Hinds County district attorneys, present and past.
JACKSON— Attorney General Jim Hood announced today that a Hinds County grand jury has indicted Hinds County District Attorney Robert Shuler Smith on two felony charges, accusing Smith of conspiring with an assistant DA to hinder prosecution of a criminal defendant.
Smith, 45, of Jackson, is charged with two counts of Hindering Prosecution in the First Degree, felony charges punishable by up to five years in prison and a fine of up to $5,000 on each count.
Additionally, the grand jury indicted Smith on a misdemeanor count of violating Mississippi Code Section 97-11-3, which states that a DA shall not "consult, advise, counsel or defend" a person charged with a crime. If convicted of that charge, Smith faces removal from office and a fine of up to $500.
"As a former district attorney, I have the utmost respect for the work our district attorneys do every day to make Mississippi a safer place to live. They are my colleagues in the fight against crime," Attorney General Hood said. "So it brings me no pleasure to prosecute one of our own. But a Hinds County grand jury has indicted Mr. Smith for serious violations of the law that hamper the ability of our criminal justice system to do its job. My hope is that this case is resolved fairly and expeditiously for the sake of the citizens of Hinds County."
The three-count indictment alleges that Smith conspired with former Assistant DA Ivon Johnson and with unnamed co-conspirators to hinder the prosecution of criminal defendant Christopher Butler in four different Hinds County Circuit Court cases. The grand jury indicted Smith for violating Mississippi Code Section 97-11-3 based on allegations that Smith met with Butler at the Hinds County Jail outside the presence of Butler's attorney, advised Butler's attorney about ways to undermine the State's case against Butler, and sought to have Butler released from jail.
Johnson pleaded guilty in federal court in July to conspiring to take money in exchange for lowering bond for a criminal defendant.
As with all cases, a charge is merely an accusation, and a defendant is presumed innocent unless and until proven guilty beyond a reasonable doubt in a court of law.
This is a developing story; follow @jxnfreepress for update alerts.
Read more about the continuing saga around District Attorney Robert Shuler Smith here.
More stories by this author
Support our reporting -- Follow the MFP.