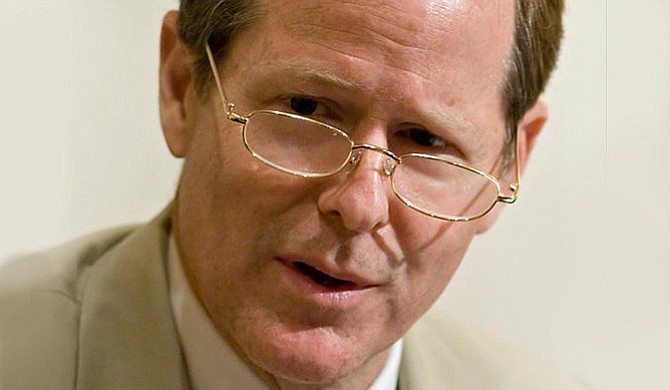 JACKSON — District Attorney Robert Shuler Smith showed up in the chambers of Hinds County Circuit Judge Jeff Weill on May 11 of this year to get a cell phone back, then sent two "threatening text messages" to the judge later that day.
Weill wrote about the incidents in a June 16 letter to Adam Kilgore, general counsel of the Mississippi Bar.
"Mr. Smith was not authorized to be in the restricted area, and after my clerk answered a loud banging on her door, she opened the door to Mr. Smith, several DA staff members, an armed DA investigator, and a WJTV news crew," Weill wrote. "He was seeking the immediate return (of) the cell phone of his administrative assistant which was taken up earlier that day by my bailiff after it rang during the closing argument of a capital murder trial."
"Mr. Smith was instructed to leave the area several times by my clerk, and then by me, but he continued to refuse. WJTV did not air the footage of the incident and declined to provide a copy upon request. However, they agreed to preserve the footage, and I urge you to request the same to aid your investigation," Weill wrote.
That letter emerged this afternoon when Jim Waide III, the attorney for Smith, filed a motion in the Mississippi Supreme Court asking for a sealed case to be put before Circuit Judge Larry Roberts, along with others that the judge could unseal Monday. Mississippi Attorney General Jim Hood arrested Smith Wednesday for felony counts for trying to help defendant Christopher Butler get out of jail.
Waide wants the mysterious Case No. 16-120 unsealed to help with the DA's defense. "Smith's having a complete copy of the file and of the transcript of the hearing in Cause No. 16-120 is necessary to his defense in a criminal case in which Smith has been indicted," Jim Waide, Smith's defense attorney, wrote in the motion.
"The transcript of the hearing before Judge Weill contains evidence that Smith has not, in fact, committed any inappropriate actions with respect to criminal defendants, and indicates the nature of matters that Smith was lawfully investigating, to indicate matters involving charges of misconduct by state officials."
Judge Weill sealed the case shortly after Smith's arrest June 22, and since then what is contained in 16-120 is anyone's guess. Today's motion by Waide does not go into any detail about the "misconduct by state officials," but does argue that it should be among the cases Roberts can consider.
"Circuit Judge Roberts has set a hearing for September 12, 2016, on a motion to unseal files," the motion states, referencing three separate motions by The Clarion-Ledger to unseal the files related to the charges against Smith. "It is in the interest of judicial efficiency for Judge Roberts to also consider whether the proceedings in Cause No. 16-120 should be unsealed."
Waide argues in the motion that Judge Weill should not preside over any of Smith's cases, due to their "adversarial" relationship, to protect the rights of the DA. As evidence, Waide included the letter detailing the odd interaction between the judge and Smith over a cell phone.
Weill's letter also touches on another defendant, Darnell Turner (also known as Darnell Dixon and whom the judge calls Donald Turner in his letter), who was listed in the attorney general's earlier affidavit for Smith's June 22 arrest, but was not included in this week's felony arrests. In June, the State also accused Smith of interfering with Turner's prosecution on several charges, including aggravated assault. The DA has known Turner/Dixon a long time, and the defendant previously helped with Smith's campaign.
"During a sealed hearing, Smith admitted to a conflict of interest and stated no objections to the case being investigated by the Attorney General. Thereafter, the Hinds County Grand Jury returned two separate indictments against Turner, which remain pending as Hinds County cause numbers 16-0-238 and 16-0-239," Weill wrote to the Bar.
"Recently, on June 10, 2016, Turner's counsel, Mr. Dennis Sweet, filed two motions on Turner's behalf, which attached confidential e-mails regarding issues of grand jury secrecy, which were printed from Mr. Smith's county email account, as is evident from the header of the e-mails, a clear violation of Miss. Code Ann. Sec. 97-11-3."
A Hinds County grand jury indicted Smith and Assistant District Jamie McBride this week; both face felonies for conspiring to hinder Butler's prosecution, but Turner is not included.
Email city reporter Tim Summers, Jr. at [email protected] See more on the DA saga at jfp.ms/DAFiles.
Support our reporting -- Become a JFP VIP.
The news business has changed dramatically in the past year, and we need your help more than ever to keep bringing you important stories about Jackson and the Metro. Become a JFP VIP with an annual membership or you can Sign up as a monthly supporter. Thanks for anything you can do to empower our journalism!