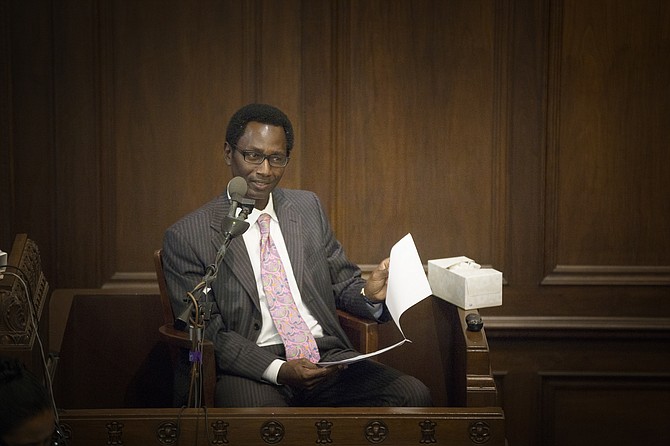 JACKSON — On the first day of making its case in the second trial of Hinds County District Attorney Robert Shuler Smith, his defense team ran into a snag today. One of the witnesses called to help Smith actually ended up confirming that he probably did what the State is accusing him of doing—hindering the prosecution of Christopher Butler for white-collar mail-fraud charges.
"My next question to you was, 'is what Mr. Smith did in helping you try to prevent the prosecution of Christopher Butler the very definition of what you call hindering,' and you said 'yes,' didn't you?" Assistant Attorney General Marvin Sanders asked Butler's former attorney, Sanford Knott, on cross-examination.
"I guess it was," Knott replied after a few seconds of silence.
Acting on Free Will
The State of Mississippi is prosecuting Smith for unlawfully consulting, advising and counseling Butler in meetings at the county jail without an additional attorney present.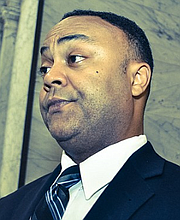 An archive of reporting on controversies surrounding Hinds County district attorneys, present and past.
Speaking generally, Knott said that district attorneys are not allowed to meet with criminal defendants without a lawyer present. He said he had not objected to Smith meeting with Butler because it did not have to do with Knott's specific case. Butler also had pending cases concerning drug possession after the Mississippi Bureau of Narcotics raided his home in 2011 on a confidential informant's tip, finding a large amount of marijuana and cash.
Knott testified that he did invite Smith to the widely scrutinized preliminary hearing for Butler's white-collar charges in Judge Melvin V. Priester Sr.'s courtroom on March 3, 2016. However, Knott said he told Smith to limit his comments at the hearing to the DA's belief that the attorney general's office did not have jurisdiction to prosecute Butler's case.
In cross-examination, Sanders' questioning brought out the fact that Smith still acted on his own free will in attending the hearing and was not brought there "in handcuffs."
Knott admitted to Sanders that he had never had a prosecutor rely only on his word and that of the defendant on whether or not evidence had been tampered in some way. Sanders' line of questioning alluded to previous testimony from Assistant Attorney General Patrick Beasley, who was prosecuting the white-collar fraud charges and who used to work as an assistant district attorney under Smith. Beasley testified last week that a prosecutor needs more evidence beyond the word of a criminal defendant who "is going to say they were framed by the man."
Exposing Confidential Informants?
In another interesting turn of events, Special Judge Larry Roberts questioned Assistant District Attorney Jamie McBride once the jury left the courtroom for a lunch break. McBride was initially charged alongside Smith, but those charges were later dropped.
Judge Roberts was particularly interested in the criminal informant whose information led to the search warrant clearing MBN's 2011 raid of Butler's home.
"My concern is," Judge Roberts said to McBride, "did you ever entertain the thought that if the Bureau of Narcotics made the video viewable of that morning that they that they would burn the CI, and they violate their promise to the CI and expose them to danger?"
"No, sir," McBride replied. "From everything I looked at I don't think MBN really knew they had the video."
Judge Roberts also questioned McBride about the surveillance video the State recently found among the 180+ hours of tape from Butler's home, showing him placing drugs into an ottoman and also the raid itself. Roberts queried logic why the DA's office had such a hard time finding the key footage on the tape—something both legal teams had issues doing. The State only found the section showing Butler with the drugs this summer and used it in July to get a guilty verdict in his drug trial, drawing him a 30-year sentence.
"Did you or anybody in your office think let's pick up the phone and call (MBN agent) Kevin Dear and tell him and that it's essential that we have the video of that morning put in viewable format?" Judge Roberts asked McBride, who had worked with Smith on the Butler case.
Judge Roberts asked this after confirming that McBride knew that Smith was alleging that someone—either an informant or a narcotics agent—had planted the marijuana there. But these suspicions and rumors did not necessarily affect the district attorney's office sense of urgency in obtaining a copy of the video to confirm or deny the allegations against MBN.
McBride replied that he believed that Travis Turner, who installed the recording system at Butler's home, would be the best person to retrieve a viewable copy from the hard drive, but he never asked the FBI or MBN's Dear for a usable copy. McBride confirms that he had asked the agencies in the past to help the DA's office prepare evidence in a case.
Judge Roberts anticipates that the defense will rest its case as early as Tuesday. Smith's first trial ended in a mistrial early this year.
Ko Bragg is a visiting journalist covering the trial of District Attorney Robert Shuler Smith. Read the history of the State's case against Smith at jfp.ms/dafiles.
Support our reporting -- Follow the MFP.