JACKSON — It all began in the P.F. Chang's parking lot, a former assistant district attorney testified Tuesday in the trial of Hinds County District Attorney Robert Shuler Smith for two counts of conspiracy and one count of aiding or assisting a criminal defendant while serving as district attorney.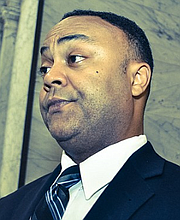 An archive of reporting on controversies surrounding Hinds County district attorneys, present and past.
This afternoon, former Hinds County Assistant District Attorney Ivon Johnson walked the jury through the secret tapes of his conversations with Smith recorded while he as an informant for the FBI after the agency confronted him in February 2016 about taking bribes. In one of those conversations, Smith told Johnson that the first time he met Christopher Butler, the man caught in the middle of this legal battle, was when the he and Butler bumped into each other in the parking lot of P.F. Chang's, a Chinese chain restaurant in Ridgeland years ago.

Johnson and Smith met three times over the last year in different locations. Johnson secretly recorded their conversations, sometimes even prodding the district attorney about his initiatives to get Butler freed from jail. In recent years, Butler was charged in a Mississippi Bureau of Narcotics sting for drug trafficking and, later, for wire fraud in a financial scam at his place of employment. Smith is charged with illegally trying to get Butler off those charges.
The first recording as of the time the two traveled to Smith's family land in Utica on April 9 for a fishing trip, Johnson said. Special Assistant Attorney General Robert Anderson presented the tapes in clips with the sections transcribed in slides shown to the jury.
The second tape was from a meeting on May 9 at Smith's family home in Jackson, and the third was a June 19 meeting between the two in Smith's office on the top floor of the Hinds County Courthouse.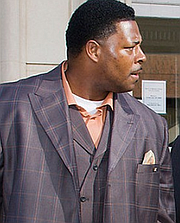 A primer on the old names surfacing in the 2016 case against Hinds DA Robert Smith.
Several new points stand out against the information released prior to the trial.
First, Johnson said he told Smith about taking bribes. Johnson, who pleaded guilty to federal charges of bribery and agreed to work for the FBI in February as an informant against Smith, said that he still faces up to five years for his charges of accepting money in exchange for lowering bonds of certain defendants. Johnson said that in 2015, before the FBI contacted him about the bribes, he told Smith about accepting bribes from an old client, Marietta Harris, in connection with lower bonds.
"His response to me was that 'none of us are perfect, but I just need to know what's going on,'" Johnson said of his boss. "'I just need to know because you don't want people around saying all kinds of stuff.' And we left it at that."
Secondly, Johnson said that the Butler case was known in the DA's office as "Smith's case." Whereas normally the assistant district attorneys would take care of case details unless they requested the DA's assistance, Johnson said Smith took a special interest in Butler. He said Smith turned down his attempts to write out the information to complete the "nol pros" motion that Hinds County Circuit Court Judge Jeff Weill asked for before he would approve Smith's request to drop charges against Butler stemming from the 2011 Mississippi Bureau of Narcotics raid on Butler's home.
Document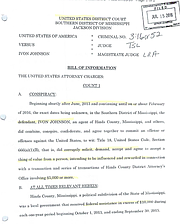 In early 2016, Johnson said, "the Butler case became the big thing in the office," Johnson said. "(Smith) and I spoke about it a great deal."
Smith was so convinced that the MBN raid was suspicious that he asked several members of his staff to review the tape from that day seized from Butler's security system. On the stand today, Johnson said he did not see any planting of drugs or manipulation of evidence; instead that he only saw an officer bring a plastic bag from his car into the house.

"The video did not show a search warrant, but the file reflects a search warrant so that's what the video looked like to me, the police executing a search warrant," Johnson said.
Smith has alleged several times that MBN attempted to frame Butler and that all of his efforts to date have been in the pursuit of justice for those drug charges.
The trial continues tomorrow morning when Smith's attorney, Jim Waide, will cross-examine Johnson.
Email city reporter Tim Summers Jr. at [email protected]. Read more about the Hinds County DA saga here and follow @tims_alive on Twitter for trial updates.
Support our reporting -- Follow the MFP.