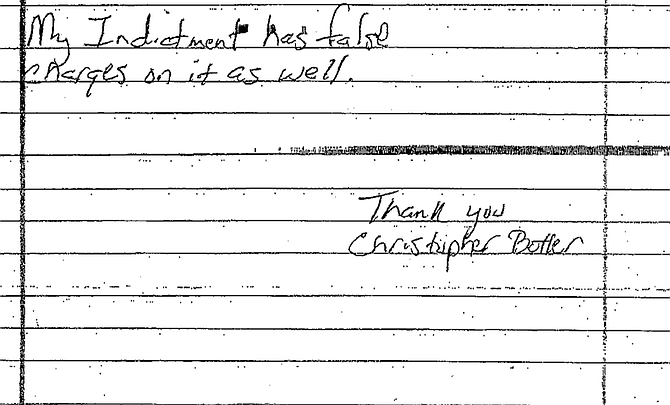 JACKSON — Defense counsel James Waide III may have revealed the name of the confidential informant who taped Hinds County District Attorney Robert Shuler Smith and then provided tapes to the Mississippi Attorney General Jim Hood's office. Those tapes could get Waide disqualified as Smith's attorney as he faces charges for hindering prosecution.
The Tupelo attorney is helping Smith fight his June 22 arrest under an affidavit listing six counts accusing the county's top prosecutor of illegally trying to help two men, Christopher Butler and Darnell Turner, beat charges dating back to 2012. Smith is early in his third term in the elected position. Both he and the attorney general are Democrats.
Smith's attorney, James Waide III, filed a motion late yesterday, Aug. 16, 2016, requesting that former Hinds County Assistant District Attorney Ivon Johnson appear in a hearing Thursday morning and that the prosecution bring the "secret tapes" with them. The State, working with the FBI, charged and arrested Johnson on July 15 for accepting a bribe to reduce the bond amount for S.B., an unidentified person charged with a felony in the county, from $15,000 to $3,500 in exchange for $500.
Then on July 29, the State arrested Robert Earl Henderson Jr., 44, for allegedly offering a $500 bribe to Johnson, in exchange for the dismissal of charges against three criminal defendants on or about June 15, 2016.
Waide's filings Tuesday include a copy of Johnson's plea agreement and a handwritten letter from Butler, with the recipient, blacked out accusing the attorney general of trumping up charges against him to get him to testify against the district attorney. Waide also pushes back on the argument that he should step down from defending Smith because the Hinds prosecutor had allegedly wanted him to defend Butler.
"The Mississippi Attorney General seeks to disqualify Attorney Jim Waide from representing Robert Smith on the grounds of Waide's knowledge concerning Smith's attempting to obtain Waide to represent Christopher Butler," Waide's motion states. "The State's Motion to Disqualify Defense Counsel is supported by a conversation which Ivon Johnson secretly recorded."
Butler, one of the key witnesses in the case against Hinds County District Attorney Robert Shuler Smith, is now being kept at an "unknown agency," instead of at the Hinds County Detention Center, Waide said, attaching documents to back up the assertion. Butler, 39, is charged with wire fraud and embezzlement for an alleged scheme at his former employer, Mega Mattress in west Jackson, where he was sales manager. The State is holding him under a $500,000 bond. Smith has been trying to get Butler out of jail for months, promising that he can prove that the Mississippi Bureau of Narcotics framed him on drug charges back in 2012. Smith has not made evidence of the setup public to date. In the wire-fraud charges, the DA maintains that the attorney general does not have the right to try Butler without Smith's blessing. State law does give the attorney general the right to charge and try white-collar crimes such as wire fraud and embezzlement, however.
Waide entered an exhibit into the court docket Tuesday asking for Butler's appearance at a Thursday hearing, which has now been postponed. Waide, a Tupelo attorney, said the document shows Butler's status from the Hinds County Sheriff's Department as "transferred" to an "unknown agency" as of Aug. 15, three days after Hood's office quoted Johnson's alleged taped conversation of Smith saying that he was trying to get Waide to represent Butler.
Hood's office argues that Waide should withdraw because those earlier conversations with Smith will make him a witness in the State's case against Smith for interfering with Butler's prosecution.
Waide made it clear in his filing that he believed that Butler's appearance at the now-postponed Thursday could keep him from being disqualified as Smith's attorney. The AG's office wished to call Waide as a witness, but "Johnson and Butler have relevant knowledge about the same matters about which the State seeks to obtain testimony from Waide," he wrote.
The defense also hints in the documents that they simply can't find Johnson now, and Waide thinks that the attorney general's office has him under wraps somewhere, which is not an uncommon practice with confidential informants..
"Smith cannot produce Confidential Information Johnson because he is unable to locate Johnson," the motion states, drawing an inference from statements from the AG's office that they are working with the FBI and that the same agency helped bring charges against Johnson. "[T]hus, the Mississippi Attorney General has control over Johnson," Waide said in the document.
But the AG's office, if it has control over Johnson, appears to have no intention to produce the witnesses.
"On August 15, 2016, at approximately 2:00 p.m., Defendant Smith's attorney notified State's attorneys Larry Baker and Robert Anderson that he requests that they produce Johnson and Butler at the hearing," the motion states. "They declined to do so, claiming the testimony is not relevant. They further state they do not know whether or not there is a transcript of the tapes."
For now, no witnesses or tapes will be revealed Thursday, nor will the district attorney get the dismissal of the charges against him that he had sought at the hearing. The attorney general filed a motion last Friday asking for the hearing to be postponed, and Special Judge James D. Bell agreed today, saying that a number of motions are pending in the case, but "none of the moitions appear to be urgent." Bell wrote that a motion to empanel a grand jury related to the case is pending and "any substantive action or inaction by a grand jury, if one is empaneled, will likely be outcome-determinative for many or all the motions pending before this court."
Email city reporter Tim Summers Jr. at [email protected] and Donna Ladd at [email protected]. Read a full archive about controversies surrounding the DA's office, and view more documents, at jfp.ms/DAFiles.
Support our reporting -- Follow the MFP.