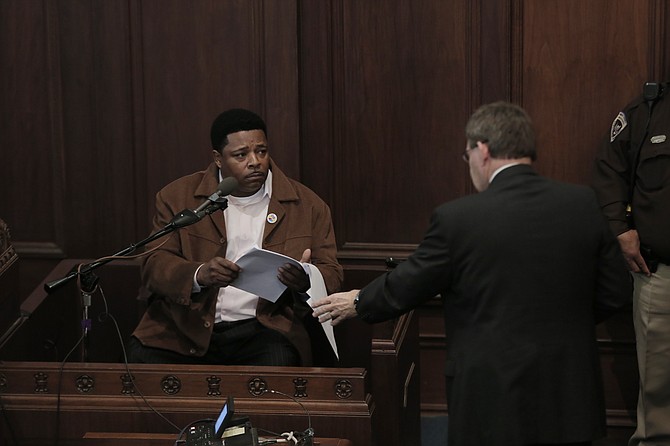 The trial of Hinds County District Attorney Robert Shuler Smith continues today with testimony from Robert "Too Sweet" Henderson. The prosecution called the member of a bribery scheme involving the DA's office, a former worker in Smith's campaign for district attorney and a recipient of a gubernatorial pardon.
Henderson said on the stand, outside the presence of the jury, that three different individuals contacted him concerning "donations" to Smith's recent re-election campaign in exchange for dropped charges in 2015. He made these statements as the defense explored objections to him as a witness.
When the jury returned, Henderson testified that three individuals—Robert Williams, Joshua Gathrite and D'Angelo Morment—approached him concerning donations to Smith's campaign in exchange for dropped charges.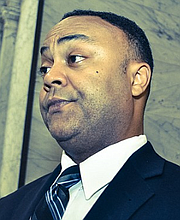 An archive of reporting on controversies surrounding Hinds County district attorneys, present and past.
Henderson said at different points of 2015, each of the men asked him for help with getting their charges dropped, because he worked for Smith's campaign, as he has multiple campaigns in the past including those of Frank Melton and Tyrone Lewis. Each man then provided Henderson with money, up to several thousand dollars, that he then brought back to Smith, who instructed him to use the cash for the campaign, Henderson told the jury.
The witness then explained that the FBI arrested him after he contacted Ivon Johnson, who was then an informant for the bureau while working in the district attorney's office. On the stand this morning, Henderson said he feared for his safety at that point because by the latter half of 2016, none of the three men had received the relief they bargained for. Assistant Attorney General Bob Anderson asked Henderson if he believed that he participated in a "scam."
"I don't think so," Henderson said. "I was doing what (Smith) told (me) to do."
Henderson even said Smith pocketed a thousand of the dollars during one of their meetings, telling him to use the rest for his campaign against Stanley Alexander, who now works for the attorney general but previously served as an assistant district attorney in Hinds County.
Smith is facing charges from the attorney general's office that he committed two counts of hindering the prosecution of Christopher Butler by aiding and assisting the defendant while serving as a district attorney. However, during the last few days, the discussions have turned to other investigations related to these matters: the "scam" Smith states he was investigating and the bribery scheme former Assistant District Attorney Ivon Johnson pleaded guilty to in federal court this year.
Document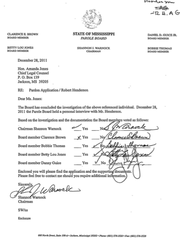 Henderson listed Smith as one of his references in 2011 in his successful pardon application to outgoing Gov. Haley Barbour for an earlier felony.
Email city reporter Tim Summers Jr. at [email protected]. Read more about the Hinds County DA saga at jfp.ms/DAFiles and follow @tims_alive on Twitter for trial updates.
Support our reporting -- Follow the MFP.