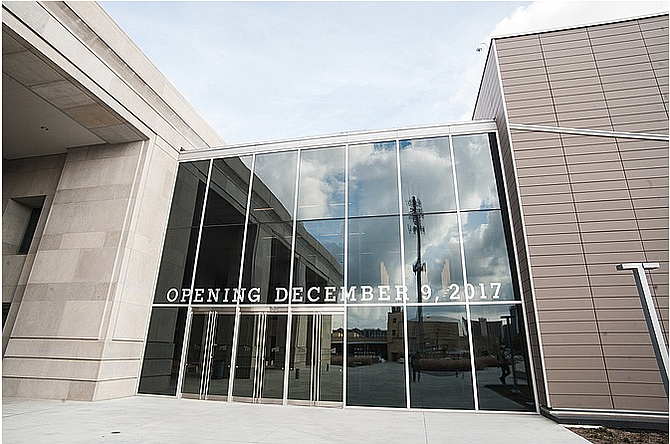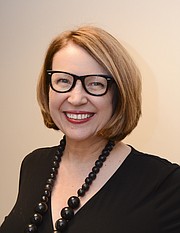 I've watched Mississippi's new civil-rights and history museums rise from the ashes of a capital city that has crumbled and stumbled since so many white folks starting fleeing Jackson when the public schools were forced to integrate in 1970. For more than a year, I have just had to cut my eyes to the right slightly to see the two museums grow into the capital city's modest skyline. For months, the humongous cranes contained the promise of something this state and nation so badly needs, and that was intentionally kept from our residents for so long—cold, hard truth.
From my 13th-floor perch, I can also see the old Capitol where Mississippi voted to secede and join the Confederacy because, they wrote, black skin could handle the hot sun in the cotton fields better than lighter complexions. I know what I was taught back at Neshoba Central in Philadelphia, Miss., in the 1960s and '70s, and it sure wasn't that hard truth. It was more akin to the adoration for the "lost cause" of slavery commemorated at the state-owned Confederate Memorial next door to the old Capitol, with its soldier high and mighty on a pedestal and a statue of Confederate President Jefferson Davis peeking out from a hidey-hole in the monument's base.
For the first time, really, Mississippi is about to step up and tell the truth about our vicious history toward African Americans. Our coming-out party this weekend is a moment that so many Mississippians, of all races, are beside ourselves over. So many have trusted the museum's promise enough to hand over blessed artifacts for it. A black friend of mine wrote a beautiful song for it. One of my former interns, a white woman who attended a private academy here and helped me cover the Edgar Ray Killen trial a decade ago, is flying in for the opening. Myrlie Evers, who gave up her hero husband to save us all, will speak.
But, now we're told, Donald Trump is dropping in to violate this sacred ground of truth, this moment of reckoning for a state that so desperately needs it. The texts rolled in fast when CNN broke the news: "Maybe he'll thank Frederick Douglass on a job well done," one said. And, "He's not welcome! He doesn't need to come." A stressful debate broke out between those who will still attend, and perhaps kneel as he speaks, and those who will now stay away.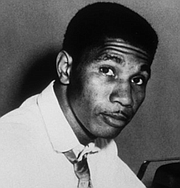 Donna Ladd explains how race history in Mississippi is vital to America's future.
Supposedly, Gov. Phil Bryant invited his buddy, Trump. We've seen glimpses of a more reasonable Bryant recently, but this must have been the young version who attended Council McCluer, a Citizens Council school with "evidence" in its library that black people are inferior. He was either clueless about the pain this would cause so many black residents and their allies, or he didn't care enough to ensure Trump did not touch foot here Saturday. Inviting Trump is a lurid distraction from what the civil-rights museum finally admits about Mississippi, even using state dollars to tell these truths. Maybe that's why Bryant invited him.
But pandering to the powerful is what leaders in Mississippi tend to do. Bryant pandered to Trump, and most powerful people in Mississippi pander back to Bryant, resigned to the government using its resources to limit the rights of "the other"—whether to love and marry anyone they want or have access to affordable health care and mental-health services. We're not a state where progressives traditionally talk back much, but that is changing, even as it still makes many people uncomfortable.
Now, Mississippians of all races are supposed to show up, be polite and smile politely as Trump desecrates the sacred ground those beautiful museums represent. His press secretary, Sarah Sanders, has already insulted Mississippians from a distance. "I think this is something that should bring the country together to celebrate the opening of this museum, and highlighting Civil Rights Movement and the progress that we've made. And I would hope that those individuals would join in that celebration instead of protesting it," Sanders told reporter April Ryan on Tuesday.
Sanders bristled at Ryan's suggestion that Trump hasn't firmly condemned racism, even in the wake of the Charlottesville Nazi marches when he made it sound like both sides were wrong. "I think he got his statement very clear when he condemned all forms of racism, bigotry and violence. There's no gray area there, and I think he made it very clear what his position is," Sanders said at her press briefing.
Yes, he has. Trump's entire campaign was based on building fear and hatred of "the other"—whether painting all Mexican immigrants as potential rapists and murderers, disrespecting a Muslim Gold Star family, saying the most hideous things about women, or even by spreading the same crime rhetoric about black and brown people that the Citizens Council pushed in young Bryant's high-school library.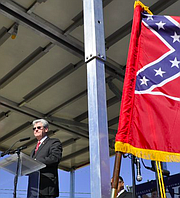 The Jackson Free Press revealed to the world in February 2016 that Gov. Bryant had declared April "Confederate Heritage Month," but with no mention of slavery.
I wrote back in December 2015 about Trump pushing lies about black crime. He had tweeted out: "Whites Killed By Blacks: 81%" alongside a masked, muscular young black man pointing a gun. That was a vicious lie. FBI data show that, in 2014, white people committed 82 percent of white homicides, consistent with recent decades. 
 But Trump wanted his voters to believe that black people were coming for them—the exact lies used to justify the lynching of black men for decades in our state (we had the most) and various actions to keep black people unequal here, as documented inside the new civil-rights museum. Trump pushes the "southern strategy" of inciting bigotry nationwide as he obsesses about gang crime or Chicago murders—but never about effective ways to prevent violent crime.
Trump has long refused to swiftly call out Nazis, the KKK and white supremacists—even as he falls all over himself to tweet outrage if a Muslim commits violence. He demands that white terrorists get the, um, benefit of the doubt. Trump may make that kind of false-equivalent statement right here in Jackson, near the livestock pens at the fairgrounds where local police locked up young protesters for hours in crazy heat. And with Myrlie Evers on the stage with him just 4.3 miles from where a white supremacist who pushed the same racist memes as Trump gunned down her husband in front of their kids.
As always, the state that was the richest from slavery is ground zero of America's race wars. But, this time, the truth will be right there near the racist on the microphone, just inside the doors of a proud, honest institution so many Mississippians have built with love, understanding and the determination that we cannot go backward, no matter how hard men like Trump try.
Follow Donna Ladd (donnaladd.com) on Twitter at @donnerkay.
Support our reporting -- Follow the MFP.