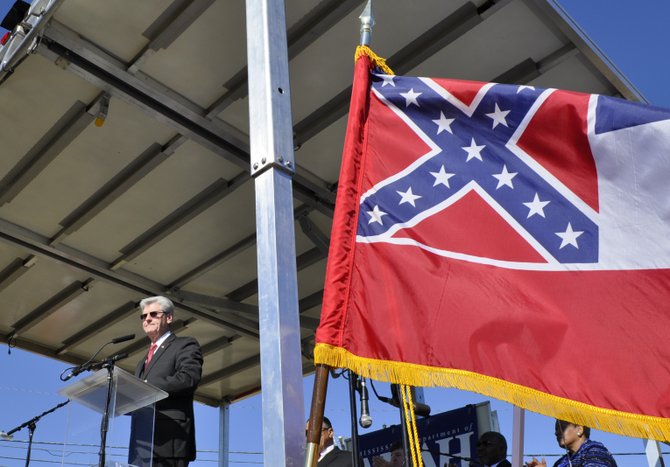 JACKSON — Two weeks before the Mississippi Legislature allowed 19 state flag bills to die in committee, Gov. Phil Bryant took out a pen and signed an official governor's proclamation, declaring the month of April "Confederate Heritage Month," a routine occurrence in Mississippi and several other southern states.
The proclamation, which does not appear on the State of Mississippi's website with other proclamations, such as about emergency inclement weather, is posted on the website of the Sons of Confederate Veterans, which is ferociously against changing the Mississippi flag to remove the Confederate battle flag—which supporters like to call the "Beauregard flag"—from its canton.
SCV is also an organization that pushes revisionist history about the Civil War and the reasons the Confederacy formed, such as selling books by James Ronald Kennedy and his twin brother Walter Donald Kennedy at Jefferson Davis' Gulf Coast home, Beauvoir, which SCV manages. The Kennedy brothers are founding members of the League of the South. These organizations stand in strong denial of the reasons the Confederates themselves said they seceded, joined the Confederacy and started the war—to maintain slavery, extend it to new states and force the return of fugitive slaves who had made their way to free states.
On Bryant's gubernatorial letterhead, the proclamation starts out by explaining that April is the appropriate month to honor Confederate heritage because it "is the month in which the Confederate States began and ended a four-year struggle." It adds that the state celebrates Confederate Memorial Day on April 25 to "recognize those who served in the Confederacy."
It then explains that it is "important for all Americans to reflect upon our nation's past" and "to gain insight from our mistakes and successes," adding that we must "earnestly strive to understand and appreciate our heritage and our opportunities which lie before us."
Bryant refuses to take a position on changing the Mississippi flag, saying it should be up to the voters, who decided in 2001 to leave the old flag in place, in a vote that fell largely along racial lines.
Mississippi, along with Arkansas and Alabama, also celebrate Confederate Gen. Robert E. Lee's birthday on the same day as the federal Martin Luther King Jr. birthday in January.
Ironically, a war-weary Gen. Lee said after the Civil War ended that its symbols, including flags, should be put "in your attics." That is the last thing the Sons of Confederate Veterans, or Phil Bryant for that matter, clearly intend to do.
Bryant has apparently made the same declaration in past years. Here is one from 2012 on the Mississippi United Daughters of the Confederacy website, discussion on the Dixie Outfitters website and on the American Renaissance website in 2013. Read more about Jared Taylor and American Renaissance here, as well as in this Jackson Free Press article about the network of organizations that influenced Dylann Roof.
Mississippi is not the only former Confederate state to celebrate the rebellion to maintain every April. The state joins Louisiana, Alabama, Florida, Georgia, Texas and, until recently, Virginia in the practice, with some calling it "Confederate History Month" instead. In 2010, Virginia Gov. Bob McDonnell, a Republican, issued a similar proclamation, it caused a major outcry. In response, McDonell issued a statement apologizing for not mentioning slavery in the proclamation:
"The proclamation issued by this Office designating April as Confederate History Month contained a major omission. The failure to include any reference to slavery was a mistake, and for that I apologize to any fellow Virginian who has been offended or disappointed. The abomination of slavery divided our nation, deprived people of their God-given inalienable rights, and led to the Civil War. Slavery was an evil, vicious and inhumane practice which degraded human beings to property, and it has left a stain on the soul of this state and nation."
Then Mississippi Gov. Haley Barbour defended McDonnell on CNN's "State of the Union," saying the outcry was "just a nit." He added: "It's trying to make a big deal out of something that doesn't matter for diddly." He also told Candy Crowley that he didn't think it mattered that the proclamation hadn't mentioned slavery. Barbour, the former head of the Republican National Committee, also said that Democratic Legislatures in Mississippi had also signed on to honoring Confederate heritage.
In 2015, the Magnolia State Heritage Campaign announced intentions to get the Mississippi "Confederate Heritage" Amendment, Initiative 46 on Mississippi's November ballot. It would have defined Mississippi as a "Christian" and "Southern" state, designed April as "Confederate Heritage Month" and the last Monday of April asa state holiday, "Confederate Heritage Day." It would have required "appropriate information about Mississippi's Confederate history, heritage, achievements, and prominent people, including Mississippi's African American and Native American veterans" in public-school curriculum, and amended the state constitution to ensure that the state's current flag remain in place.
The initiative would have made "Dixie" as the official state song and required "Dixie" to be played whenever the national anthem was played in Mississippi. It would have also prevented the consolidation of Alcorn State University, Delta State University, Jackson State University, Mississippi University for Women and Mississippi Valley State University.
It failed to get the 107,216 signatures by the October 15 deadline to make the ballot.
UPDATE Thursday morning: Bryant's spokeman, former Clarion-Ledger reporter Clay Chandler, hasn't responded to messages from the Jackson Free Press, but he did give a statement to the Times-Picayune about it, after they picked up this story this morning. He stated: "Like his predecessors -- both Republican and Democrat -- who issued similar proclamations, Gov. Bryant believes Mississippi's history deserves study and reflection, no matter how unpleasant or complicated parts of it may be," Chandler said. "Like the proclamation says, gaining insight from our mistakes and successes will help us move forward."
---
UPDATE Thursday afternoon: The Clarion-Ledger did a followup this afternoon to the above story from yesterday. Bryant spokesman Clay Chandler confirmed to reporter Jacob Threadgill that the proclamation was issued at the request of the Sons of the Confederacy.
UPDATE Friday: Bryant spokesman Clay Chandler tweeted and updated Proclamations page, which now includes Confederate Heritage Day, as well as Vernon Dahmer Day, Irish Heritage Month and Ronald Reagan Day—but no Black History Month.
For the reasons the Confederate states seceded and joined the war, read their Declarations of Secession here.
View 50 alternative Mississippi flag designs submitted by Jackson Free Press readers since July 2015.
For a different perspective on Confederate history, read Driving Old Dixie Down.
Donna Ladd is the editor-in-chief of the Jackson Free Press and a freelance journalist, often writing about race, crime and policing issues. Follow her on Twitter @donnerkay.
Editor's note: I first typed "Confederate History Month" instead of "Confederate Heritage Month" for Mississippi's version of the celebration. Some other states use "Confederate History Month" I've corrected it above.
Support our reporting -- Follow the MFP.