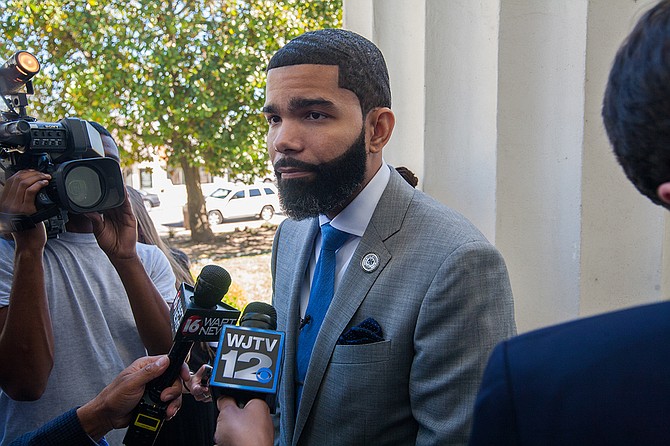 JACKSON — The City of Jackson, Gov. Phil Bryant's office, the W.K. Kellogg Foundation and the Jackson Public School District entered into a memorandum of understanding today to create a path forward for the second-largest school district in the state.
In a press conference outside city hall, Mayor Chokwe A. Lumumba announced the formation of a 15-member commission aimed at transforming Jackson Public Schools. The governor, city and W.K. Kellogg Foundation each get to appoint five members.
"This is a moment where the radical mayor and the conservative governor have worked together in order to work for the benefit of our children, and we are excited about it," Lumumba said.
The commission's main role is two-part in nature. Lumumba said the commission, which will be made up of local and national experts, will offer its expertise to the process of determining JPS' current challenges and needs, after having a series of assemblies where community members can offer critiques, suggestions and desires for the majority-black district.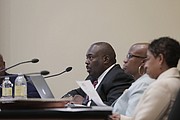 JFP's stories about the state takeover of the Jackson Public Schools district
Then the commission will issue a request-for-proposals for a firm to conduct a gap analysis of the district. Robert Blaine, the city chief administrative officer, said the total process from start to finish will take a year to complete. The W.K. Kellogg Foundation will pay for the contractor, Blaine said outside city hall this afternoon.
In the meantime, the remaining members of the JPS Board of Trustees willingly resigned as a result of the agreement, but Lumumba and the Jackson City Council will have to appoint seven new school board members to control the district. JPS Interim Superintendent Freddrick Murray will remain at the helm of the district in the meantime.
"We are so appreciative of Governor Phil Bryant, Mayor Chokwe Lumumba, the W.K. Kellogg Foundation and the community for pulling this together to make transformational changes at Jackson Public Schools," Murray said in a statement. "We have already implemented a lot of changes. We are working on the Corrective Action Plan. Everyone is committed to improving education for the District's children."
Part of the plan allows JPS to maintain local control—once Lumumba appoints the new JPS school board. Blaine said those appointments, at least for a quorum, could be filled as early as next week. JPS will continue to work on its State-required corrective action plan this school year.
Notably, the Mississippi Department of Education was not included in the MOU. The mayor said he had not spoken with State Superintendent Carey Wright personally but said the governor had.
"MDE has been apprised of this agreement in the current structure. MDE is not a part of that structure, but I will say that we are willing and look forward to work with all people of sincerity and goodwill in the process of providing a better school district for our schoolchildren," Lumumba said at today's press conference.
MDE, which has jurisdiction over all Mississippi public-school districts, still has a few takeover options for JPS if it chooses to use them, including absorbing it into the new Achievement School District, which is governed by the Mississippi Board of Education. Alternatively, the Commission on School Accreditation could vote to remove the district's accreditation.
Gov. Bryant has not signed the "extreme emergency" declaration, but that option is technically not off the table.
State Superintendent Carey Wright responded to the announcement today.
"The State Board of Education and the Commission on School Accreditation followed state law when they determined the Jackson Public School District was in a state of emergency that jeopardizes the safety, security and educational interests of the students in the district," Wright said in a statement.
"The Mississippi Department of Education (MDE) stands behind that determination. The Governor has made a decision not to declare a state of emergency and to form a coalition to pursue another way to address this crisis. As of today, the MDE has not been asked to be part of this coalition. The Jackson Public School District is still required to develop a corrective action plan to submit to the State Board of Education for approval. The plan must clearly outline how the district will correct all accreditation violations in all 58 schools."
Blaine told reporters that he has faith in the collaboration among partners, and said the governor has had extensive conversations with MDE.
"We have faith in the collective power of this agreement and the groups that are assembled and we are working in collaboration with our partners," he said. "We are not creating an adversarial relationship."
Bryant said yesterday that he had spoken with State Superintendent Carey Wright about involving MDE in the third option as well. Wright said last week that she was not aware of the rumored third option at that time.
"If we bring in national organizations that have helped turned around school districts like Battle Creek, Michigan, and Newark, (New Jersey), why can't we do that?" Bryant said Wednesday. "I also think we can raise a large amount of money. We can find the revenue needed to implement the plan, and find out exactly... how we need to go about funding that plan, and rather than using taxpayer dollars, I think we can do so with a lot of organizations that have stepped up."
Bryant seemed pleased about the plan, speaking to reporters on Wednesday.
"I think you're going to see a very good plan," Bryant said Wednesday. "Kellogg has done this before. ... Everyone has to be a part of this if we're going to move Jackson Public Schools forward. And if we don't, I don't think you're ever going to see the revitalization of Jackson if we don't have a good public-school system. If we can't get that done, you won't see people moving here. You won't see industry growing here, and that needs to happen. I think at some point we're going to have a revitalization of this capital city, and I want to be a part of that."
This is a developing story. Please check back for more details. Read more on the JPS takeoever effort to date at jfp.ms/jpstakeover.
More stories by this author
Support our reporting -- Follow the MFP.