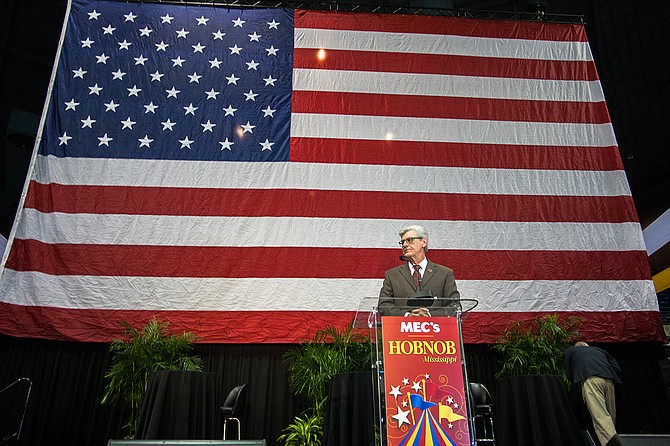 JACKSON — UPDATE: This story has been updated with responses about the JPS third option from the W.K. Kellogg Foundation, the Our JPS Coalition and the Mississippi Association of Educators.
Gov. Phil Bryant confirmed this morning that he is working with several organizations as well as the Mississippi Department of Education to find a third option to revitalize the state's second-largest school district beyond leaving it under Jackson Public Schools' control or allowing the State to run it.
Jackson Public Schools received its second "F" rating in a row last week and seemed prime for a state takeover, but Bryant hesitated to sign the resolution that would send the district into State control. Today, Bryant said he is working with the W.K. Kellogg Foundation, the Barksdale Reading Institute and the Education Commission of the States. Bryant serves as the chairman of the Education Commission's board.
The governor told reporters this morning he had spoken with State Superintendent Carey Wright about involving MDE in the third option as well.
"We believe there is a third way rather than just taking over the school system, not that I'm opposed to that, but I think there are more opportunities for us to have really transformational change in the school system," Bryant said after speaking at the annual Hob Nob event.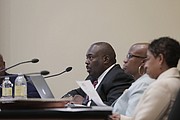 JFP's stories about the state takeover of the Jackson Public Schools district
Wright said last week that she was not aware of the rumored third option.
The governor mentioned a plan to bring about change in JPS as well as raising private money to help implement changes in the majority-black school district.
"If we bring in national organizations that have helped turned around school districts like Battle Creek, Michigan, and Newark, (New Jersey), why can't we do that?" he said. "I also think we can raise a large amount of money. We can find the revenue needed to implement the plan, and find out exactly... how we need to go about funding that plan, and rather than using taxpayer dollars, I think we can do so with a lot of organizations that have stepped up."
Bryant said several organizations have come forward and offered to help in JPS. He said that while signing the takeover resolution on his desk would have been the easy thing, he thinks there is a better way.
"I think you're going to see a very good plan," Bryant said. "Kellogg has done this before. ... Everyone has to be a part of this if we're going to move Jackson Public Schools forward. And if we don't, I don't think you're ever going to see the revitalization of Jackson if we don't have a good public-school system. If we can't get that done, you won't see people moving here. You won't see industry growing here, and that needs to happen. I think at some point we're going to have a revitalization of this capital city, and I want to be a part of that."
The governor did not name a specific date or time for an announcement about the plan for JPS but said his office is mediating the process and keeping all the main players together. The W.K. Kellogg Foundation provided the Jackson Free Press with a statement today.
"The W.K. Kellogg Foundation is committed to ensuring all children, families and communities—regardless of race or income—have opportunities to reach their full potential," Rhea Williams-Bishop, the director of Mississippi and New Orleans programs for the W.K. Kellogg Foundation, said in an emailed statement.
"Mississippi is one of four priority places for our grantmaking in the U.S., where we have an office and our staff live and work in the community," Bishop-Williams, who is based in Jackson, wrote. "Our staff are passionate and dedicated both personally and professionally to serving the needs of children, their families and communities. Our core values reflect the importance of community engagement and leadership, and we hire staff who demonstrate a similar commitment. As a result, our staff are often active participants in civic and community leadership roles, which are distinct and separate from their role as a Kellogg Foundation employee."
A member of the Jackson-based staff, Jed Oppenheim, also serves on the Jackson Public Schools board of trustees.
"In Jackson, Miss., Jed Oppenheim has been serving on the Jackson Public Schools (JPS) board of education since his appointment in 2014 by the late Mayor Chokwe Lumumba," the W.K. Kellogg statement said. "He joined the Kellogg Foundation as a program officer in 2016, and has continued to serve as a board member for JPS, outside and separate from his position as a Kellogg Foundation employee. Jed manages a diverse portfolio of grants; however, he does not make recommendations and/or decisions related to JPS. All investments related to Jackson Public Schools are managed by Yumeka Rushing, program officer for Mississippi, and Rhea Williams-Bishop, director of Mississippi and New Orleans programs."
The Our JPS coalition of nonprofits and community advocates that formed quickly after news of the impending state takeover thanked the governor for working on the third option.
"This is truly a great day for all of our children, and we look forward to working with the Governor and Mayor Lumumba, as well as proactively ensuring that any new partners in JPS's improvement have the best interests of our children and the Jackson community at heart," Pam Shaw, a convener of the Our JPS Coalition, said in a statement.
"We are grateful to those whose actions on behalf of JPS have resulted in this outcome and in an invigorated effort to support public schools in Jackson. We are proud to be a part of the coalition of determined, informed and vigorous proponents making up OurJPS, ensuring the voices of the people were heard. Our members are certainly ready to do their part to maintain this growth and enthusiasm," said Mississippi Association of Educators President Joyce Helmick said in a statement.
Read more about the JPS takeover at jacksonfrepress.com/jpstakeover. Email state reporter Arielle Dreher at [email protected].
More stories by this author
Support our reporting -- Become a JFP VIP.
The news business has changed dramatically in the past year, and we need your help more than ever to keep bringing you important stories about Jackson and the Metro. Become a JFP VIP with an annual membership or you can Sign up as a monthly supporter. Thanks for anything you can do to empower our journalism!