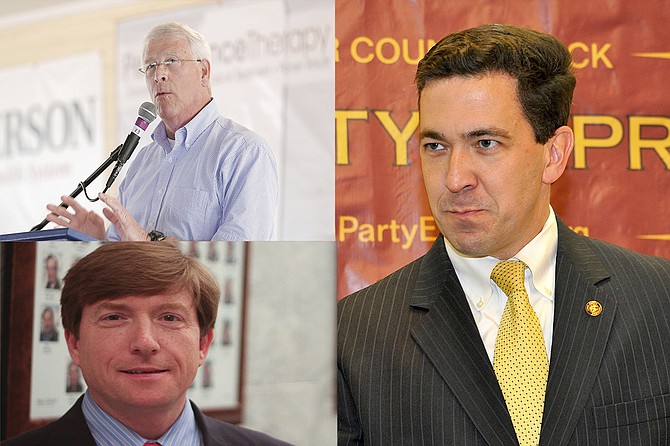 JACKSON — *This story has been updated with the list of candidates who will be on the ballot in November.
This year will be an entertaining ride for Mississippi voters, who will have elect all four congressional representatives as well as two senators to represent the state in Washington, D.C.
State Sen. Chris McDaniel, R-Ellisville, was sure to shake up the election after he announced he would challenge Sen. Roger Wicker in what was expected to be a heated primary this fall. McDaniel threw Republican leaders off earlier this year, however, when he announced his plans to drop out of the race. He announced his intentions to run in the special election to replace Sen. Thad Cochran in March..
The special election will be on the November ballot like other congressional races, but candidates' political affiliation will not appear on the ballot. Candidates vying for Cochran's seat are allowed to run with a party affiliation, however. The winner of the special election must receive 50 percent of the vote plus one, or else it will go to a run-off election. McDaniel is running against incumbent Cindy Hyde-Smith, who replaced Cochran, and Mike Espy.
In the race for Sen. Roger Wicker's seat, the incumbent will compete against Mississippi House of Representatives Minority Leader David Baria, D-Bay St. Louis, and candidates Shaw O'Hara and Danny Bedwell. See the JFP interview with Baria here.
For a list of all candidates in each race, including judicial candidates, click the 2018 Elections Sample Ballot inline in this story or visit the Mississippi Secretary of State's website.
Find responses to questionnaires from the judicial candidates in the Jackson metro area on the Nov. 6 ballot here.
All races will be on Nov. 6, the same day as national midterms. For information on voting and the election, visit this link.
UPDATED: List of Candidates in 2018 U.S. Congress Races
U.S. Senate (Sen. Roger Wicker's seat)
David Baria (D)
Roger Wicker (R, incumbent)
Shaw O'Hara (Reform)
Danny Bedwell (Libertarian)
Special Election for U.S. Senate
Tobey Bernard Bartee
Mike Espy (D)
Cindy Hyde-Smith (R)
Chris McDaniel (R)
U.S. House of Representatives
District 1
Randy Mack Wadkins (D)
Trent Kelly (R-incumbent)
Tracella Lou O'Hara Hill (Reform)
District 2
Bennie G. Thompson (D-incumbent)
Irving Harris (Reform)
Troy Ray (Independent)
District 3
Michael Ted Evans (D)
Michael Guest (R)
Matthew Holland (Reform)
District 4
Jeramey Anderson (D)
Steven Palazzo (R)
Lajena Sheets (Reform)
Hinds County Judicial Candidates
Circuit Court Judge District 7
Matt Allen
Bruce W. Burton
Pat McNamara
Bill Walker
Adrienne Wooten
Chancery Court Judge District 5 Place 2
Reginald Harrion
Crystal Wise Martin
Circuit Court Judge District 7 Place 2
Kimalon S. Campbell
Tomi Green
County Court Judge District 1
Greta Mack Harris
Bridgette Marie Morgan
Melvin Preister
County Court Judge District 3
John Fike
Yemi Kings
Johnnie McDaniels
Chancery Court Judge District 5 Place 4
Monique Brown-Barrett
Ottowa E. Carter, Jr.
Tiffany Grove
Steven P. Nixon
Circuit Court Judge District 7 Place 4
Gerald Kucia
Eleanor Faye Peterson
Joseph Anthony Sclafani
Trent Walker
Election Commissioners
James Reed, District 1
Toni Johnson, District 2
Zakiya Summers, District 3
Yvonne R. Horton, District 4
Connie Little, District 5
More stories by this author
Support our reporting -- Follow the MFP.